The Ultimate Guide to the Best Camping Safari in Kenya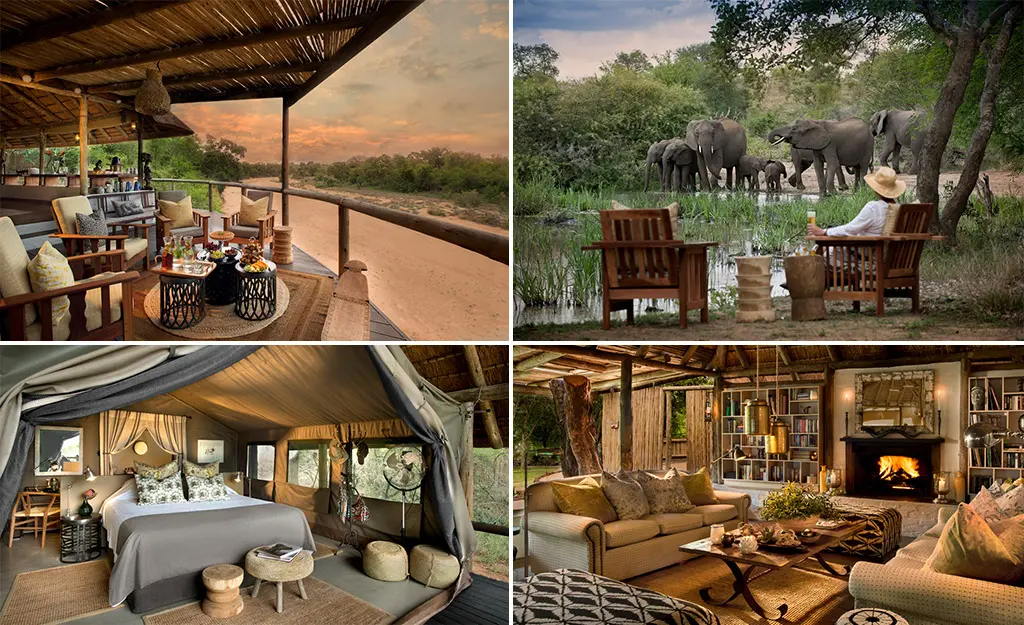 Jambo! (Hello!), So, you are making your maiden camping safari in Kenya? Or it could be a repeat, you know. Either way, you will be glad you came. Let me paint a mental picture so you know the adventure that awaits you in Kenya.
You are in Amboseli National Park at Kibo Safari Camp, where standing by its majestic swimming pool, you can see the snowcaps at the top of Mt. Kilimanjaro. Elephants and other members of the Big Five clan are only a few meters away (only separated from you by a fence).
You can view them as they stare back at you, graze, or chase their prey. That is the unique experience that awaits you during your Kenya camping holiday.
A Kenya camping safari brings you up close to untamed Africa with a rare opportunity to catch the big 5 in action in their natural habitat. It also lets you be one with nature and savor the rich culture of Kenya's 43 tribes.
However, for you to truly enjoy your camping safaris in Kenya, there are a few things you need to know. We will look at these things in this piece, but before that, here is how to book the best camping safari in Kenya.
How to Plan and Book The Best Camping Safari in Kenya
At ajkenyasafaris.com, we are committed to helping you plan the best Kenya camping tour for you and your family. We are a team of travel consultants who call Kenya home, and nothing makes us happier than seeing the broad smiles on our client's faces after taking them on a lifetime trip.
We start planning your trip through email, phone, WhatsApp, or zoom consultation, so that we hear what you want to do when you visit and tailor-make the trip to deliver a true "Out of Africa" experience.
Alternatively, email us via james@ajkenyasafaris.com or safarioffers@ajkenyasafaris.com.  Call or WhatsApp us at +254-748-258-880.
Our Most Booked Kenya Camping Safari Packages and Other Tours
 The Ultimate Guide for Kenya Camping Safaris in Kenya
In this article, our Kenya camping safari specialist, born and raised in Kenya, discusses the key things you need to know for a memorable Kenya camping tour.
 1. Kenya Camping Holidays Are not Dangerous
You are wrong if you thought a lion would wake you up in the morning while on your camping Kenya Safari (standing right outside your tent waiting to make a meal out of you). The tents are in the wild, meaning the animals can see you as well as you can, but there are professional security Maasais to keep them on their turf.
The Maasai are a community that shares the border with the famed Masai Mara National Reserve, so they are said to have an agreement with the animals. Even the fierce lion respects a Maasai warrior so much that it would walk away from its food if a warrior holding a spear approached him.
These Maasais guard the camps, and the camp's management will also give you clear orders on the do's and don'ts for your safety. With the Maasai warriors guiding the camp, you will be super safe.
Our Kenya wildlife safari guides take you deep into untamed Kenya for a chance to experience the magic as it unfolds. Luckily, Kenya Wildlife Services (KWS) has developed some safety guidelines.
Well, these are not rules but dos and don'ts to ensure your safety and the safety of the animals.
Kenya Safari Do's
Choose clothes that blend in with the bush, with no bright colors. Basically, the more you blend into the bush, the less likely it is for animals to spot you and flee before your eyes have captured enough of them.
Keep below the maximum speed limit of 40kph. Do not drive off the road, as this damages the habitat.
Stay a little while, enjoy seeing the animals, take photos and move on to allow others a turn to do the same.
Stay in your vehicle at all times except at designated areas or when your guide tells you it's safe to walk out.
Wild animals can be unpredictable. Stay in your vehicle.
Kenya Camping Safari Don'ts
Don't crowd the animals. Respect their need for space and privacy.
Always park 30 meters or more from animals and allow them to be free in their home.
Turn off your car so as not to scare them and enjoy the incredible sounds of nature.
Don't shout or make unnecessary noise. Hooting and hollering to attract the animal's attention is not allowed. It oppresses the animals and causes them to flee.
Don't litter or leave fires unattended. Always leave the park before 6.00 pm.
 2. A Camping Safari in Kenya Means Going Off the Beaten Path
A safari in Kenya is like nothing you have encountered before. A 12-day safari will allow you to venture into remote areas of Kenya and see more wildlife than you have ever seen.
Starting at the Ol Pejeta Conservancy in Nanyuki, you will get a splendid view of Mt. Kenya, the highest in Kenya and the second highest in Africa. Then head to Samburu National Reserve, where you will see all three prominent wild cats (lions, cheetahs, and leopards) in their natural habitat. Elephants are here too, and so are buffalos.
But if you decide you want to witness the largest land migration in the world, Masai Mara should be your next port of call. For a therapeutic "Me time" under the relaxing breeze of the Indian Ocean, Diani beach, Africa's leading beach destination for six years in a row, is your best bet.
Simply put, wherever you want to come and whatever you want to do during your camping safari in Kenya, you will have an extensive list of fun things to do. However, a Kenya camping safari means leaving the comfort of smooth roads and venturing into the wild through rough, dusty roads.
The classic camping holidays in Kenya are off the beaten path. So, whether you plan to rent a car and drive yourself or get a driver, we recommend using a 4×4 land cruiser that can handle the bumpy terrain.
Carry the right clothes. In Kenya, days are hot, but nights are chilly. A sturdy pair of boots with stiff rubber soles will do the job.
We recommend rubberized boots because they are lightweight and won't give you blisters even after extended walks. Stiff rubber soles keep the thorns from poking you.
 3. Try Local Cuisines for the Best Kenya Camping Safari Tours
Sorry if you planned to fit into your bikini after this vacation, but you may have to reschedule some plans. The local delicacy you will encounter in several hotels you go to is utterly irresistible.
The nyama choma (barbeque) is done to perfection and will include game meat if you fancy a bit of exotic taste. Chapati (flatbread), mahamri (made from the deep-fried dough), samosa, and some good ol' bone broth will warm your tummy daily.
Tropical fruits are always in season, so your daily dose of the vitamin (and unprocessed sugar) will be assured. Vegetables are also plenty, and most resorts have turned their backs on chemicals.
Sukuma wiki (kale), beets, spinach, and traditional vegetables you have probably never heard of are plenty and organic. Want to try some local honey and boast about the small-scale farming scene? You will get the chance to do while on your camping safari in Kenya.
Please Do Not Leave Kenya before Trying the following Kenyan Foods
Nyama Choma – Charcoal grilled meat
Chai – Kenyan tea (Kenya is one of the leading tea producers in the world)
Kahawa – Specially brewed Kenyan coffee
Ugali – a famous Kenya delicacy prepared with maize flour
Kenyan pilau – Swahili dish made with rice and beef or chicken
Tusker – The flagship Kenyan beer
Tilapia stew – a stew made with tilapia- fish from Lake Victoria
Wali wa nazi – coconut rice
Mutura – Kenyan sausage
Chapati –  Kenyan version of flatbread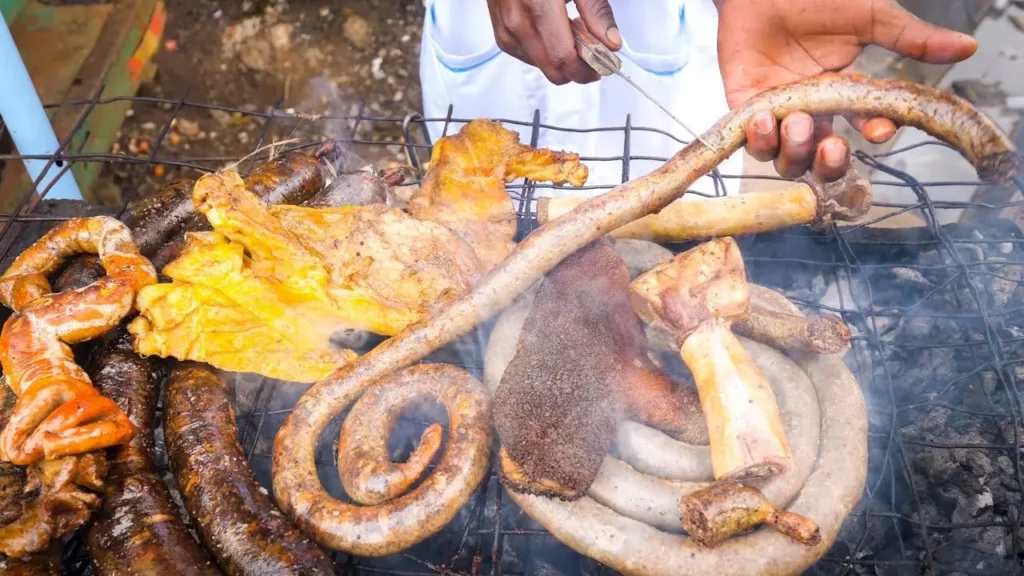 4. Best Time for Budget Camping in Kenya Safaris
Kenya enjoys good weather all year round. April and December experience the most substantial rain, but the temperature remains relatively warm. These months may not be the best to be in the wild with the rain and mud.   
But like we said, even during the wet season, Kenya has a lot of intrepid places you can visit. For instance, Diani beach, Africa's leading beach destination for six years in a row, is always ready to welcome and massage your feet with white sand as the Indian ocean breeze calms your mind.
Masai Mara, Nairobi, David Sheldrick, the Giraffe Center, and Fort Jesus are examples of other all-year travel destinations for off-peak Kenya camping safari enthusiasts. July to October are the driest months in the country, and the time the wildebeest migration in the Mara occurs.
The allure of the migration (the largest land migration on earth), game viewing in other parks, and lots of sunshine make these months popular among wildlife safari enthusiasts.
These months are Kenya's peak tourism season, so the parks will be crowded, and prices will rise. So, the best time for a budget safari is between January and May, the low season.
Prices will be significantly discounted, and the parks and campsites will be less crowded. This is also the perfect time to see the animals and their young ones. The parks are teeming with newborns as they are plenty of food.
 5. Kenya Budget Camping Safari – The Lesser Known Destinations Are a Top Choice 
Most visitors know of the Masai Mara, Amboseli, and Tsavo parks, the most visited parks in the country. These parks are great for wildlife safari experiences in Kenya, especially for first-time visitors.
But Kenya has more to offer in other parks and reserves found throughout the country.  There is joy in exploring new places. Head to the East and discover the Meru National Park, thriving and ready to be explored.
The park was once devastated by poaching, but the population of elephants, lions, and other wild animals has gone up in recent years. On a recent trip to the park, we spotted three of the big five in less than an hour!
Meru is a six-hour drive from Nairobi City. The drive to the park will take you through coffee and tea farms spanning kilometers to rice fields, pineapple farms, and small towns teeming with activity.
Meru is a great place to visit when looking for a budget Kenya safari. This area is the agricultural hotbed of the country. Bring your family with you and enjoy accommodations and game drives at a fraction of the cost you would pay in the well-known parks.
If you want a different experience, ditch the four wheels and opt for a cycling adventure at Ndeiya Camp at Ngong hills. There is a great cycling route at the edge of Ngong town to Ndeiya Camp.
The area is great for mountain climbing at Suswa and hiking in the Kedong valley. Ngong Town is a two-hour drive from Nairobi. The ride will take you climbing at Suswa and hiking in the Kedong valley.
Ndeiya Camp has no amenities and is a great spot for those willing to rough it out in the wild to enjoy a challenging climb on the nearby Mt. Suswa.
 6. Kenya Camping Holiday in Mombasa – Pitch a Tent by the Beach
A Kenya camping holiday is not complete without visiting the majestic Kenyan Coast. Kenyan beaches are something to behold, with white sands and palm trees.
But as you would expect of a beach destination that has scooped the much-coveted World Travel Awards for six years, names like Diani Beach and Nyali beach are expensive.
We would recommend you venture to North Coast Mombasa. It is lined with pristine beaches, villages, small towns, and eco-lodges that are perfect for Mombasa camping safaris. You can either carry your tent or hire one from the lodge. 
The Distant Relatives Lodge is an ideal place to camp on a budget. With their natural beauty, the untouched beaches and waters provide the perfect backdrop for a quiet evening by the sea.  
Not all camping is done in the wild. Hike to the villages and explore the region. Swim and sunbathe with birds chirping away in the surrounding forests.