8 Days Safari to Kenya - Cheap Kenya Safari Packages, Price, and Itinerary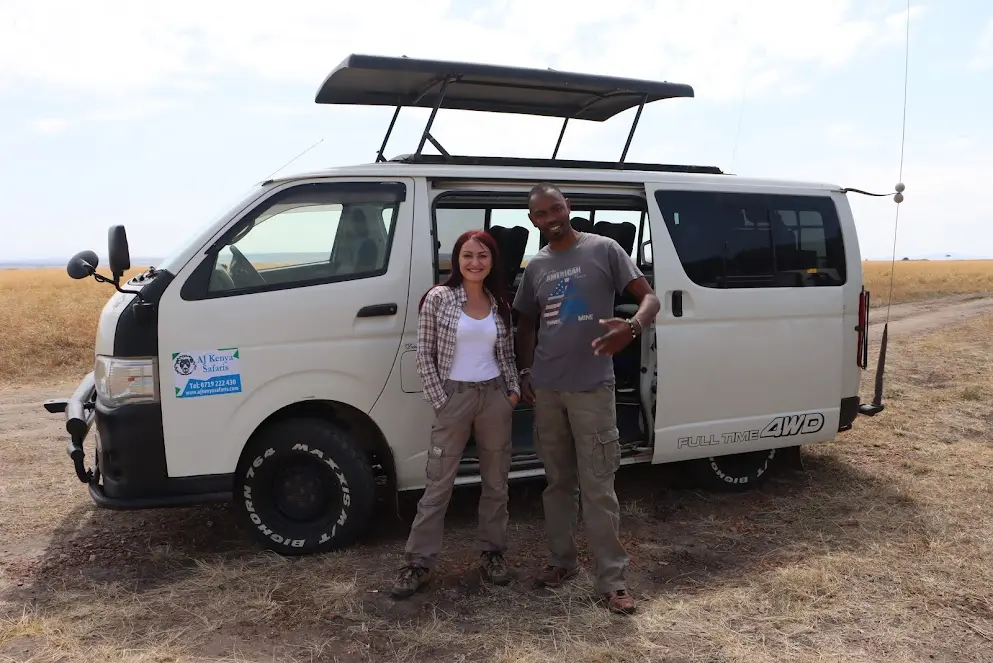 Are you looking for a cheap Kenya safari holiday? In this itinerary, our team of Kenya-born tour guides invites you to come for a budget safari in Kenya and experience the magical beauty of our country.
According to the World Travel Awards, Kenya has been the World's Leading Travel destination for eight out of the nine years, from 2013 to 2021. Masai Mara Game Reserve was voted Africa's best national park from 2013 to 2018, while Diani Beach was named Africa's leading beach destination between 2014-2019.
Sounds too good to be true? Pack a bag and experience it yourself with Aj Kenya Safaris's best cheap Kenya safari packages.
 Contact Us to Book Your Cheap Kenya Safari Packages Today
Are you wondering how you can book your cheap holiday to Kenya? You can reach us at +254-748-258-880 through WhatsApp or phone call.
We are also available through email at james@ajkenyasafaris.com or safarioffers@ajkenyasafaris.com.
Summarized Cheap Kenya Safari Holidays Safari Itinerary, Included, Excluded, and Price
Trip Details
Highlights
Day 1

Pick-Up from Airport, Transfer to Masai Mara, & Evening Game Drive

Overnight at Crocodile Camp

Day 2

Full-Day Game Drive at Masai Mara National Reserve with Packed Lunch

Overnight at Crocodile Camp

Day 3

Morning Game Drive at Masai Mara, Visit a Maasai Village, & Transfer to Nakuru

Overnight at Taidys Suite

Day 4

Full-Day Game Drive at Lake Nakuru National Park with Packed Lunch

Overnight at Taidys Suite

Day 5

Transfer to Nairobi, Flight to Diani – Spend Time in Diani

Overnight at Jacaranda Indian Ocean

Day 6 – 7

Spend Time in Diani – Beach, Hotel, or Optional Activities

Overnight at Jacaranda Indian Ocean

Day 8
Flight to Nairobi & International Flight
Items Included
Accommodation, Use of a Safari Van, All Park Fees, Flight to/from Diani, Service of a Professional Guide, and More
Items Excluded
Lunch at Diani, Money Transfer Fee, Visa Application, Laundry Service, & Tips and Gratuities
Safari Price
Per Person Sharing from USD 1585
 8 Days, 7 Nights Detailed Itinerary for Cheap Holiday Destinations in Kenya
You can go for a cheap safari in Kenya if you have a week or so in the country and end up spending the minimum. These are better safaris than a day trip to Kenya as you get to explore more.
Day 1: Airport Pick Up, Transfer to Masai Mara, & Evening Game Drive
Your designated tour guide will pick you up upon arrival at Nairobi's Jomo Kenyatta International Airport. We recommend you book an international flight that lands in the country by 4:00 am so you can start the safari immediately.
The safari guide will brief you about the 3-day cheap Masai Mara safari packages to see the start of your 8 Days Safari in Kenya. He will then welcome you to your exclusive safari van and start the road trip to Masai Mara.  Our vans are comfortable, and the guide will stop for photo-ops along the way.
One such stop is the great rift valley viewpoint. The other one is Narok town, where you can do the final shopping before reaching the jungle. You should arrive at Masai Mara at around noon, head straight to the camp for check-in, take lunch, and relax.
Seeing as it's a private safari for two, you will not need to rely on the resort's planned drives, so you can set off at 3 pm to see the sun setting in the savanna while enjoying a game drive. If you are not up to a game drive, we organize guided evening walks in the wild that start at the camp to the nearby river.
Day 2: Full-Day Game Drive at Masai Mara National Reserve with Packed Lunch
You are relaxed and have taken in your new routine, so it's time for your first-morning game drive. Drives start at 5.45 am to ensure that you are out in time to see the animals going out to hunt and graze.
On this second day of your cheap Kenya Safari tours, the hotel will pack a picnic lunch, so you don't have to come back to the camp for lunch, extending the drive for as many as six hours. You can also break the game drives into two sections – morning and evening if you so wish.
Animals you're likely to see include lions, cheetahs, elephants, buffaloes, antelopes, hyenas, various birds, giraffes, warthog, hippos, crocodiles, wildebeests, and zebras, among others.
Day 3: Optional Hot Air Balloon Safari/Morning Game Drive, Maasai Village, and Transfer to Nakuru
You can start the day with a morning game drive. This provides you with the chance to see some of the animals you might have missed the previous days. An alternative is to begin the day with a hot air balloon ride.
A hot air balloon safari is another great way to see animals in their natural habitat; let us know if you would like to indulge in this exhilarating adventure during your cheap safari holiday. It is a great experience only rivaled by Kenya Helicopter Safari Tours.
Breakfast is served in the bush unless the weather disallows it when booking a hot air balloon safari. It is accompanied by champagne. From here, the safari guide will take you for the final game drive as he heads to a Maasai village.
You will interact with this community before starting the journey to Lake Nakuru. The distance from Masai Mara to Lake Nakuru is about 290 km, a 5-hour trip in our comfortable van. You will be in your accommodation at Nakuru by early evening.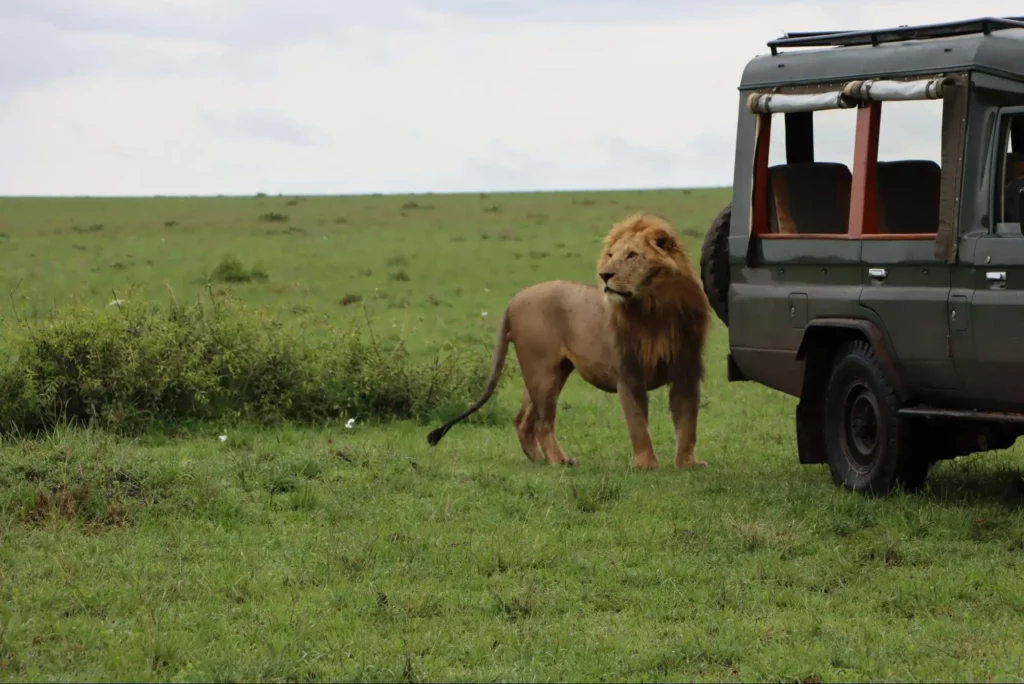 Day 4: Full-Day Game Drive at Lake Nakuru National Park with Packed Lunch
Your cheap Kenya safari package will see you carry packed lunch from the hotel and head to Lake Nakuru National Park for a full-day game drive. Lake Nakuru used to be a bird sanctuary, thanks to the millions of lesser and great flamingoes that adorn the lake's shores.
The national park doubles up as a rhino sanctuary for endangered white and black rhinos. The day starts at 6:oo am with coffee and snacks before heading out for a morning game drive. This park is home to rare tree-climbing lions, leopards, buffalos, giraffes, hyenas, gazelles, baboons, and monkeys.
The morning game drive will soon turn into a mid-morning, noon, and afternoon game drive. Our professional safari guide will leave no stone unturned today.
Day 5: Transfer to JKIA, Local Flight to Diani, & Spend Time in Diani
The journey starts at 9:00 am after you have had breakfast. The drive from Nakuru to Nairobi only takes 2.5 hours so you will head straight to the airport for your 12.20 pm flight.  It only takes 45 minutes to get to Diani Beach by air.
You will land at Ukunda Airstrip, where our hotel team will meet you and take you to the resort. You should be in your room in time for lunch.
Day 6 – 7: Spend Time in Diani Beach, Hotel, or Optional Activities
After being in the wild for five days, you could use some time by the beach. Diani beach has been the leading beach in Africa for a while, and you can engage in many activities at an additional cost.
| | |
| --- | --- |
| Diani Beach Activities | Price Per Person |
| Wasini Day Trip | USD 115 |
| Funzi Day Trip | USD 100 |
| Glass Boat Trip | USD 30 |
| 2 Dives in Diani | USD 180 |
| Whale Shark Spotting | USD 250 |
| 4 Hours Deep Sea Fishing | USD 475 Per Boat |
| Chale Island Day Trip | USD 150 |
| Funzi or Diani Sunset Cruise | USD 65 |
| Kaya Kinodo Forest Tour | USD 55 |
| 3 Hours Kite Surfing | USD 90 |
| ½ Hours Jet-Skii | USD 65 |
| Camping in Diani | USD 15 |
| Funzi and Wasini with Overnight at Funzi | USD 280 |
| Sunrise/Sunset Camel Ride | USD 50 |
Day 8: Transfer to the Airpot, Flight to Nairobi, and International Flight
You cheap Kenya safari is coming to an end. You will take breakfast today, spend time in the hotel, and then get a transfer to the airstrip to catch the 2.20 pm flight to Nairobi.
The flight lands at JKIA, making it easy to connect with your international flight.
 Items Included in the Cheap Kenya Safari Package Price
Pick up from the airport on day 1
Flight tickets from Nairobi to Mombasa and from Diani to Nairobi
Use of a safari van or safari land cruiser for Mara and Nakuru safari
Bottled mineral drinking water
Services of a professional safari guide
2-night, full-board accommodation at Masai Mara
2-night, half-and full-board acommoation at Lake Nakuru
Evening game drive at Masai Mara on day 1
Full-day game drive at Masai Mara on day 2
Morning game drive at Masai Mara on day 3
Visit a Maasai village on day 3
Full-day game drive at Lake Nakuru on day 4
Pick up from Ukunda airstrip on day 5
Full-board accommodation at Diani for 1-night
Half-board accommodation at Diani Beach for 2-night
Transfer to Ukunda airstrip on day 8
 Items Excluded Cheap Holiday to Kenya Package Price
Hot air balloon safari at USD 450 Per Person
Visas
Easter, Christmas, New Year, and other holiday supplements
Laundry services
International flights
 Safari Price Per Person Sharing for Cheap Safari to Kenya
| | | |
| --- | --- | --- |
| Dates | Using a Safari Landcruser | Using a Safari Van |
| 1st Jan – 31st Mar | USD 1979 | USD 1784 |
| 1st Apr – 30th June | USD 1805 | USD 1585 |
| 1st July – 31st Oct | USD 2179 | USD 1934 |
| 1st Nov – 19th Dec | USD 1910 | USD 1715 |
| 20th Dec – 1st Jan | USD 2363 | USD 2118 |
The above price is based on 2 adults traveling together sharing a safari vehicle and a double room. Reach us to get a personalized quote for the safari if you are a solo traveler or more than two.