A Complete Guide to Hot Air Balloon Kenya and Best Kenya Balloon Safari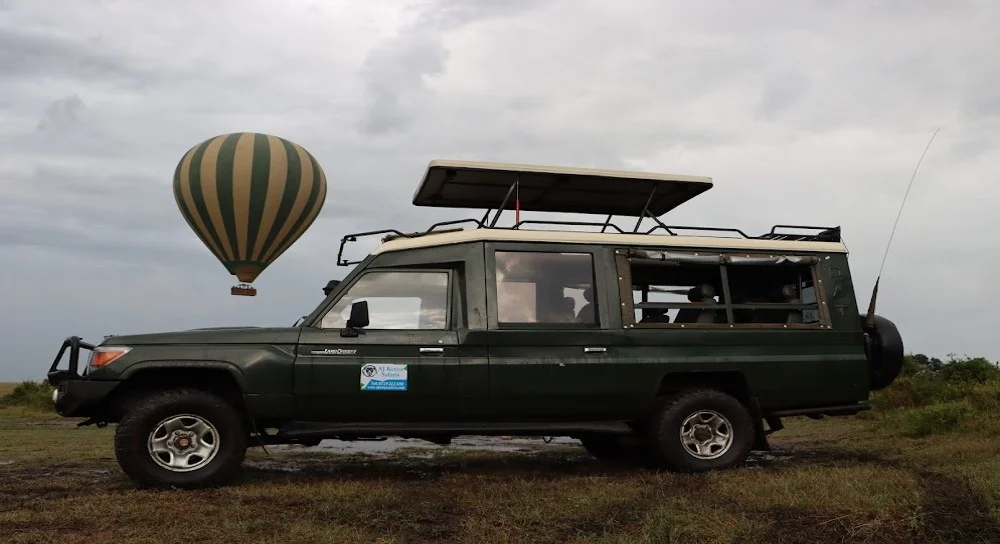 Only a few things can excite you like a hot air balloon Kenya safari. The muted colors, crisp fresh air, and the killer view of the terrain below are like a dream come true.
Combine that with the dotted wildlife you view as the balloon floats you silently above them, and you have a Kenya balloon safari worth every penny.
This piece covers everything you need about a hot air balloon safari in Kenya.
Book Your Hot Air Balloon Kenya Safari with AjKenyaSafaris.com Now
Our Most Booked Kenya Balloon Safari with Other Packages
How Do Hot Air Balloons Fly and How Do You Steer Them?
A hot air balloon works on the simple principle of cold air sinks while hot air rises. This means a hot air balloon safari is possible because the air on the outside weighs more than the air inside the envelope. Hence, the envelope floats upwards. 
To understand this safari better, you need to know a few ballooning terminologies:
Envelope

– It is the fabric balloon that holds the hot air. 

Basket

– It's where the passengers and the pilot stand.

Burners

– The apparatus for warming the air inside the envelope.

A parachute valve

– A circular fabric cut out at the top of the envelope. A chord inside the basket controls it.
How Does a Hot Air Balloon Rise and Fall?
When the pilot wants the hot air balloon in Kenya to rise, they turn the burner on, heating the air inside the envelope. Hot air weighs less than cold air, making the balloon rise.
When the pilot wants to land, they cool down the air by opening the parachute valve. To keep the hot air balloon at a certain level, the pilot turns on and off the burner at regular intervals. 
That ensures the perfect amount of cold and hot air is available in the envelope.
How to Steer a Hot Air Balloon?
The actual flying depends on the wind. However, there are things the pilot does to aid in this travel. For example, they can move the balloon right or left. That's because the wind's directions change from one altitude to the next. 
Hence, the pilot can go east by finding the easterly wind and then leave the balloon to flow with the current. Hot air balloons have black and green cables in the basket that aid in turning the basket around and facing the travel direction. 
With that in mind, the pilot can control the balloon to fly just above treetops or go several hundred feet off the ground. However, most balloon safaris in Kenya are kept close to the ground to allow photography and a closer view of the animals.
Note that the pilot will not take off if the wind moves at 30 km\h (15 mph) or more. And that's why a peaceful African morning is an ideal time for balloon safaris.
What to Expect During a Hot Air Balloon by AjKenyaSafaris.com
The process starts with you booking a Masai Mara or Amboseli safari with a hot air balloon safari with AjKenyaSafaris.com. The hot air balloon in Kenya price is USD 500. 
On the eve of the Kenya balloon safari, our team will come to the camp or lodge and brief you on what you should expect during the safari. The following day, pick you up from your Amboseli or Masai Mara lodge or camp at around 5:00 am and take you to the launch site in a luxurious 4×4 safari land cruiser. 
The launch site is like an airport but doesn't have fancy gadgets and runways. Our professional pilots prepare the balloon for take-off as you watch while enjoying coffee or tea. We then take off immediately before sunrise.
The balloon stays airborne for the next hour, during which we cover an average of 8 miles (12 km).
The balloon is highly maneuverable. It can fly just above treetops to see the wildlife clearly or rise to a distance of 1,000 ft (300 meters) for a breathtaking view of the scenery below.
After landing, we serve you a tantalizing bush breakfast accompanied by champagne. From here, we will take you for a morning game drive toward where you hand see animals during the hot air balloon ride.
The Top 6 Hot-Air Balloon Safari Companies in Kenya
Most hot-air balloon flight companies in Kenya operate in the Maasai Mara and Amboseli National Park for a good reason. These places host an impressive variety of wild animals and scenery. No safari would be complete without catching a ride around these parks on one of these hot babies.
Most animals, including the elusive leopards, are not afraid of the noiseless balloon. Consequently, you will get a better chance to view even the shyest mammals in their natural setting.
AjKenyaSafaris.com Ltd - Tour & Travel Operator
We are a reputable tour and travel operator in Kenya with over a decade of experience offering the best hot air balloon safaris in Masai Mara and Amboseli. Our professionals work with you from when you send your inquiry to when you board your international flight back home.
We take care of all your safari needs, allowing you more time to enjoy the actual safari and the hot air balloon ride while we handle the booking and everything. You can book one of our Masai Mara safari itineraries with the option of adding a hot air balloon safari.
Our Masai Mara balloon safari price is USD 475 Per Person. We accept children of 3 years for these safaris. After the ride, we continue with a full-day game drive with packed lunch and only return to the camp in the evening.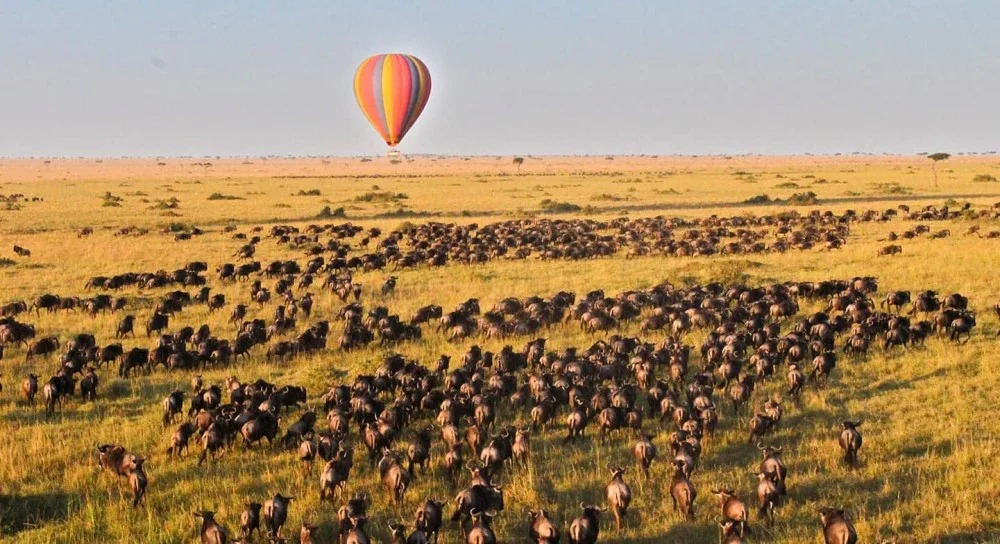 Hot Air Safari - Balloon Ride Tour Agency
Hot Air Safari Africa Eco Adventures Ltd has over 50 years of collective experience flying balloons and hosting guests in the Masai Mara and other destinations. The firm prides itself on having the most experienced pilot in Kenya, having operated balloons since 1994 with an impressive safety record.
Hot Air Safari currently has six balloons in operation. Three Cameroon 415s can carry 16 adults, one 12-seater, 8-seater, and another 4-seater ballon. The rides are usually in high demand during the high season, so you might want to make prior reservations to avoid disappointment.
Governor's Balloon Safari
Governor Balloon Safari Company started operations in 1972. A balloon safari with Governor's Balloon Safari covers Mara's forests, rivers, and plains. It is the best option if you are looking for a  luxurious Masai Mara hot-air balloon adventure. 
With this option, you get one hour of flight with unmatched photography opportunities, a champagne breakfast, and a game drive back to the lodge. Governors Balloon Safari accepts children on board, but they must be at least eight years old and 1.2 meters tall.
Skyship balloon Safaris have some of the best balloons in the market. They have a clean flight record thanks to their able team of pilots. The balloon company offers a one-hour flight around the Mara, a champagne breakfast in the middle of the savannah, and a game drives back to the camp.
Adventures Aloft Balloon Safari
Adventures Aloft fly every morning from Siana Springs and Fig Tree Camp in the Maasai Mara National Park. The flight covers the Mara rivers, forests, and plains for the next sixty minutes. 
And they also serve breakfast in the bush, complete with an open bar and butler service soon after landing.
Balloon Safari Ltd. pioneered the hot air balloon in Kenya. They made their first flight in 1976 from Keekorok Lodge in Maasai Mara. And their services include pick-up and drop-off services for visitors in different camps.
These include Mara Sopa, Mara Simba, Mara Sarova, Mara Hippo, Mara Intrepids, Base Camp, Mountain Rock camp, Acacia Camp, Sekenani Camp, and Siana Springs.
Finding a Kenya Balloon Safari Operator
Balloon safaris have a place on many people's bucket lists. And it is common to see dozens of balloons in the air in the early morning. But how do you plan?
Booking a balloon adventure is as easy as finding the balloon operator. But those last-minute arrangements will cost you a few extra bucks. So, the idea is to inform travel and tour operators like AjKenyaSafaris.com in good time, and they will include it when developing your itinerary. 
The last thing you want is to become an onlooker. Those lucky guys in the balloon will cover more ground in an hour than you can in a car. Besides, those powerful 4X4s can be pretty noisy – a thing that scares away most mammals.
We are here to help you make that advanced booking and save yourself a few dollars while you are at it. Our company has been in the tourism industry for quite some time now, and it is safe to say that there is little we don't know about creating great safaris.
We can assist you with the best Kenya balloon safari within their budgets and preferences. Besides, we take you for a full-day game drive after the hot air balloon – you don't need to get back to the camp early in the morning after the balloon safari.