Kenya Budget Camping Safaris - Everything You Need to Know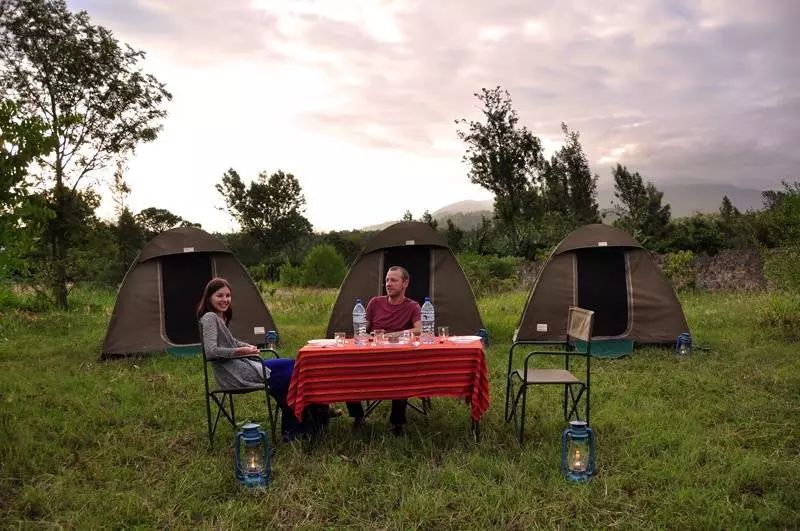 Kenya budget camping safaris are among the most adventurous ways you can choose to experience the wonders of the Kenyan bush. A Kenya budget camping safari involves sleeping on the ground in a canvas tent on a public or private campsite. It is, however, not to be confused with staying at a' tented camp', basically a hotel made of canvas tents. 
Tented camps make up the majority of accommodation options while on safari in Kenya, ranging from the very luxurious to the very basic. The most significant consideration when opting for a camping safari is budget. 
Having a small budget or choosing to spend only a small amount of money does not mean that one cannot enjoy a Kenyan safari to the fullest. A budget camping safari can be rewarding- sleeping under the stars and bringing you closer to nature with all its sights and sounds.
Most of Kenya's national parks, such as the Masai Mara, Tsavo, Amboseli, Aberdares, and Mt. Kenya, have designated camping areas run by the Kenya Wildlife Service or private providers. These camps vary in size; some can hold as few as 20 people, while some, such as the Twiga campsite at Nairobi National Park, can hold up to 400 people.
Contact Us to Book Best Camping Safari in Kenya with AjKenyaSafaris.com
Our Most Booked Kenya Budget Camping Safaris and Other Packages
Kenya Camping Safari - Public Campsites Vs. Private/Special Campsites
These camping areas fall under two categories: public and private. Below are a few things to note about each type of campsite:
Located in a well-marked and easily accessible area.

Usually large, shared by many people and there is no need to make a booking.

There will be some basic facilities in some, but not all such as toilets (usually long drop), shower area and a cooking area.

Please note that some public campsites will have no facilities, so confirm in advance to make adequate preparations as you will be required to bring everything you need.
Private/ Special Campsites
Located in strategic places such as under a good shade and might be fenced off.

Some campsites have small bandas with beds, but you must bring your bedding.

They have toilets and showers available as well as a source of water.

Most will have kitchens or a designated kitchen area where guests can cook their food.

Firewood or gas may be provided at a fee.

Most campsites will have a restaurant and shop where guests can buy essential items.

Some private campsites also hire out camping equipment such as tents and bedding. Be sure to confirm if this is the case before you go.
Organized Budget Camping Safari Vs. Independent Budget Camping Safari
When going on a budget camping safari in Kenya, you can take one of two routes: Use a tour provider (organized safari) who will arrange all logistics for you, or have an independent safari where you take charge of all arrangements personally.
Organized Budget Camping Safari
Using a travel agent for your budget camping safari might slightly increase your cost but removes the stress of planning your tour, especially if it's your first time camping. Tour agents who offer budget camping packages will usually have set departure dates to various destinations or can custom make an itinerary based on your preferences. 
If you are traveling alone, this might be the option to consider as you will meet and travel with other people and also it will cost less than if you were to hire a vehicle and equipment all by yourself. Most tour providers will use private campsites with facilities such as hot showers, toilets, and a restaurant or a kitchen where meals can be prepared for you. 
An excellent example of such a camp is the Mara Explorers Camp and Backpackers, located just outside the Masai Mara Game Reserve. It offers budget tents with shared bathrooms and camping grounds for those bringing their tents, a restaurant, and a bar.
If you go to an area without such private camping facilities, the tour providers will carry equipment such as tables and chairs, cooking essentials such as gas or firewood, and food. Transport to and around the area is likely in a shared van, truck, or vehicle. 
The tour organizers also provide tents at a cost if you do not have one and assist in assembling them. This type of camping is not very different from staying at a hotel or lodge as long as you follow a set schedule, such as for meals and game drives. 
Either way, the shared transport and low campsite charges will reduce your budget considerably while taking nothing from the fun that awaits you on safari!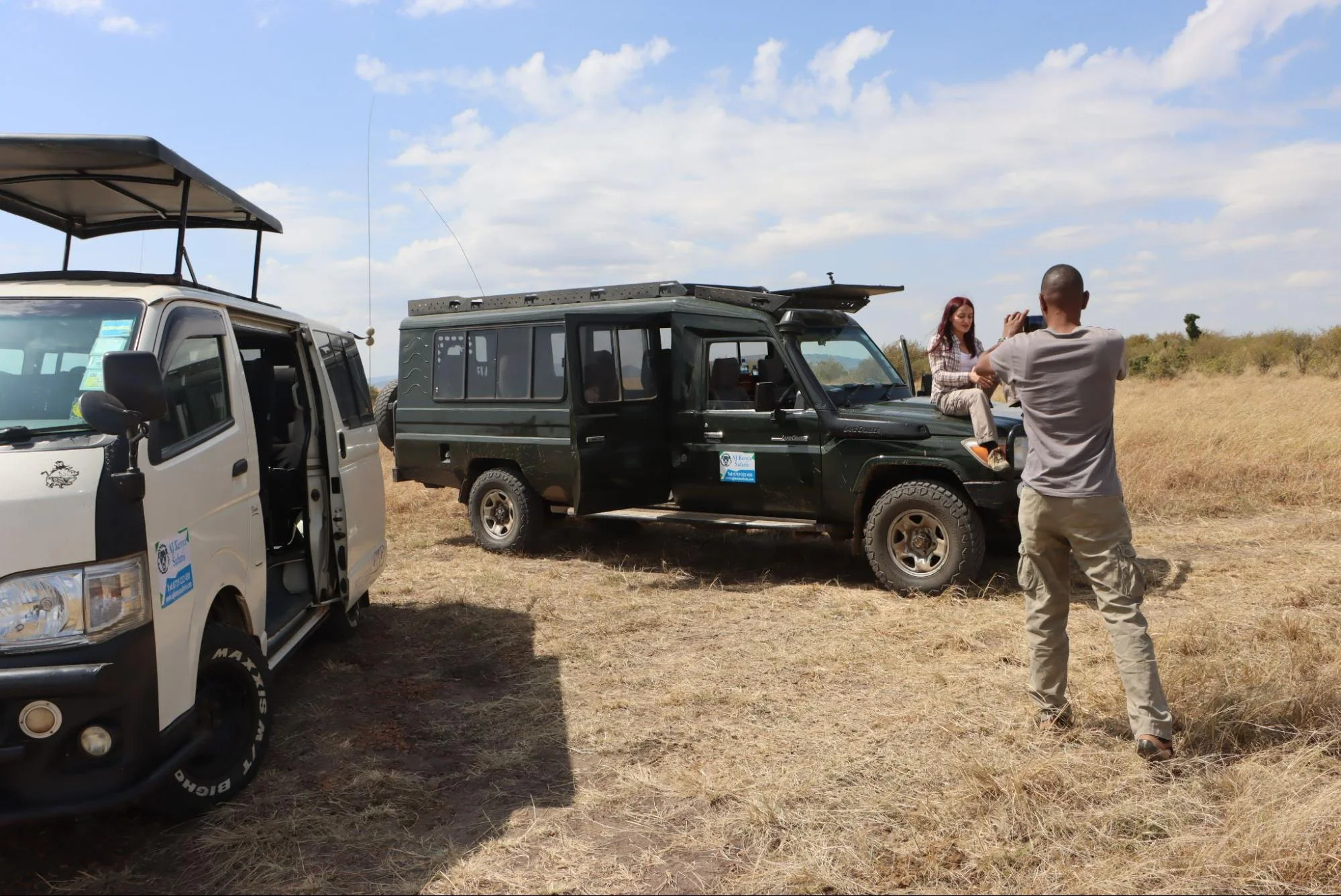 Independent Budget Camping Safari
The most significant advantage of organizing your Kenya camping tours is the freedom! Freedom to plan your safari any way you see fit without having to fit some criteria. With this freedom, though, comes some responsibility. 
It is up to you to research where you are going, find out about the weather conditions, what camping facilities are available if you are required to book in advance, etc. If you prefer a certain degree of comfort, you can book a private campsite where basics such as a toilet and shower are guaranteed.
A reasonable means of transport is essential, and a 4*4 vehicle is recommended if you go to the bush. In Kenya, you can hire a camping vehicle with camping equipment such as tents, tables and chairs, a kitchen box, a camping gas cooker, and a water container. 
Ensure that the vehicle has good ground clearance as you might be traveling over bumpy roads. Confirm that you have a well-inflated spare wheel and change equipment, and depending on how remote your destination is, consider carrying extra fuel.
If you find this equipped camper expensive, you can hire the vehicle only and lease/ buy most of the other equipment separately to reduce cost. Traveling as a group of four or five will help to bring the price down once shared.
Top 5 Tips for Successful Kenya Budget Camping Safaris
Kenya will be chilly in the mornings and outright cold in the evenings. Remember you will be sleeping outside, so pack warm pieces such as woolen socks, jackets, and, depending on the area, a thermal top. For the daytime, pack light, airy clothes and a hat to protect you against the sun.
Whether you are bringing your tent or hiring one, ensure that it is of good quality and will keep the elements at bay. The last thing you want is a tent that leaks when it rains or allows in the wind.
Remember, you are in the wild. Be aware of your surroundings and have a map of the area. Do not walk away from the designated camping areas, especially at night.
Be sure to pack enough personal effects such as medication if you are taking any, sunscreen, insect repellant, extra toilet paper, hand sanitizers, etc. It would be advisable to carry excess drinking water or water purifying tablets if you run out of water.
Do not forget to bring your camera! Carry an extra battery or power bank to recharge. A flashlight or headlamp is of utmost importance. Keep your electronics in a waterproof bag to protect them from water.