3 Days, 2 Nights Amboseli National Park Packages from Nairobi
Nairobi is the perfect starting point for unforgettable Amboseli National Park packages. Located in south-central Kenya, Amboseli is one of Africa's premier conservation areas and home to a wide range of wildlife, including elephants, lions, cheetahs, zebras, giraffes and more. 
Our Amboseli National Park packages from Nairobi provide the perfect opportunity to experience incredible wildlife in a stunning natural setting. Our Amboseli tour packages include 2-night overnight stay at one of the park's luxury lodges, offering spectacular views of Mount Kilimanjaro and surrounding landscapes. 
Our experienced guides will take you on game drives and bush walks to help you discover the park's incredible wildlife. You will have plenty of opportunities for photography, nature observation and bird watching while exploring the area's diverse habitats. 
Book Your Kenya Safari Packages with AjKenyaSafaris.com
At AjKenyaSafaris.com, we offer a wide variety of safaris that ranges from day trips to several weeks tours. Whether you are looking for Amboseli National Park packages from Mombasa or Nairobi, we can always provide you with the best tour. 
Book your 3-day safari to Amboseli Game Park today! You can reach us at +254-748-258-880 through WhatsApp/phone or james@ajkenyasafaris.com or safarioffers@ajkenyasafaris.com through email. We offer the best safari in Masai Mara and 
The Summarized, 2 Nights, 3 Days Amboseli Safari from Nairobi
| | |
| --- | --- |
| Items | Safari Highlights |
| Day 1 | Nairobi to Amboseli – Afternoon Game Drive |
| Day 2 | Full-Day at Amboseli – Game Drives with Packed Lunch |
| Day 3 | Morning Game Drive – From Amboseli to Nairobi |
| Items Included | Game drives, 4×4 safari land cruiser, professional guide, park fee, full-board accommodation, and more |
| Items Excluded | Holiday supplements, visas, money transfer fee, and tips |
| Safari Price | From USD 734 Per Person |
The Detailed 3 Days, 2 Nights Amboseli National Park Safari Itinerary
It can be hectic to do an Amboseli day trip from Nairobi – that is why we have a 3-day Amboseli tour from Nairobi . Experience an unforgettable African adventure with our Amboseli National Park packages from Nairobi! 
Day 1: Nairobi to Amboseli – Afternoon Game Drive  
A road trip to any part of Kenya is enjoyable, thanks to the many attractions you find on the way. Today we will leave Nairobi, arrive in Amboseli, and then enjoy an afternoon game drive. The Amboseli tour starts from Kenya's capital Nairobi – JKIA, Nairobi Hotel, or Apartment.
The road trip to Amboseli takes about 2½ to 3 hours, but we want you to get the opportunity to stop along the way to take some photos. We will cover about 240 km on Nairobi-Arusha road through Namanga, arriving at Meshanani Gate at around noon. The road is mainly smooth, and you will enjoy the scene.
We arrive just in time to check-in you in the hotel, take lunch, and rest before the afternoon game drive. Get ready for the proper game drive where you will see different types of animals. An afternoon game drive is best done when Mount Kilimanjaro is clear.
It is the best way to take photos with the mountain offering a beautiful backdrop. The setting combines with the unmatched view of animals, giving you the most memorable time in Amboseli. You are also likely to see a cheetah or lion make a kill before the darkness comes calling.
It is the ideal time to take in the fragile ecosystem that supports these animals and birds. We will cover different topography, including marshes, swamps, rocky thorn bushes, acacia woodland, and plains. Later we head to the hotel for the night.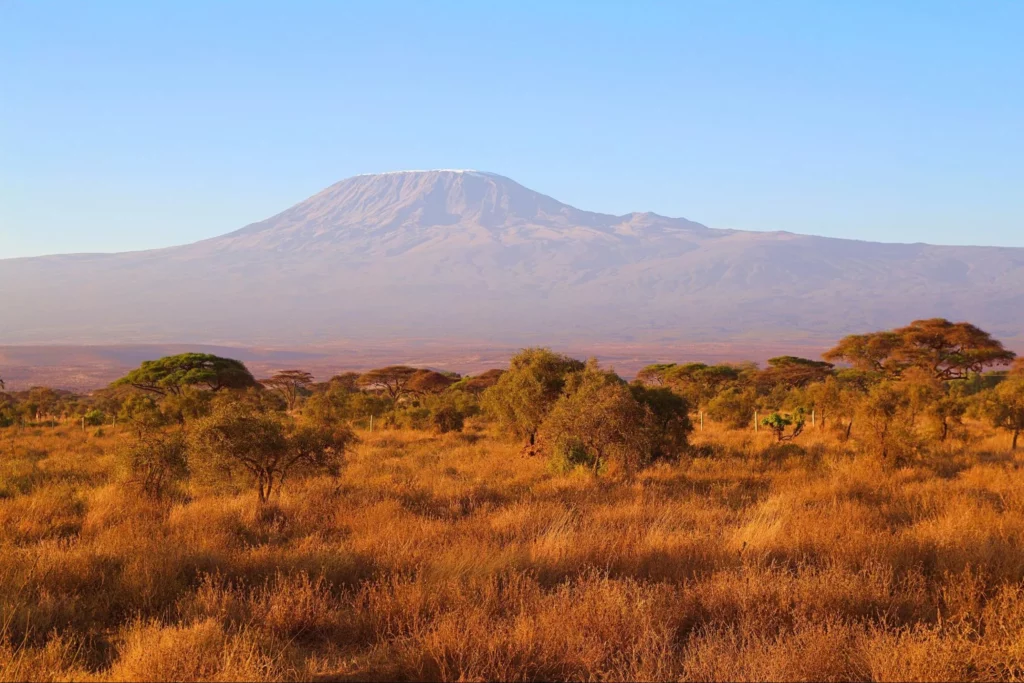 Day 2: Full Day at Amboseli – Game Drives & Packed Lunch
A full-day game drive at Amboseli National Park is a thrilling and unforgettable experience. Start your day early, just before sunrise, when the wildlife is most active. As you search for wildlife among the grassy plains of Amboseli, you will be amazed by the sights of elephants, zebras, buffalo, giraffes, and other animals roaming the landscape.
 During your game drive, you may even be lucky enough to spot some of the Big Five—elephants, lions, buffalos, rhinos, and leopards. Throughout the day you will also have opportunities to take in breathtaking views of Mt. Kilimanjaro from different angles. 
Your day of game driving ends in the evening, as you return to your lodgings. Enjoy a restful night and get ready for another exciting day of exploring Amboseli National Park!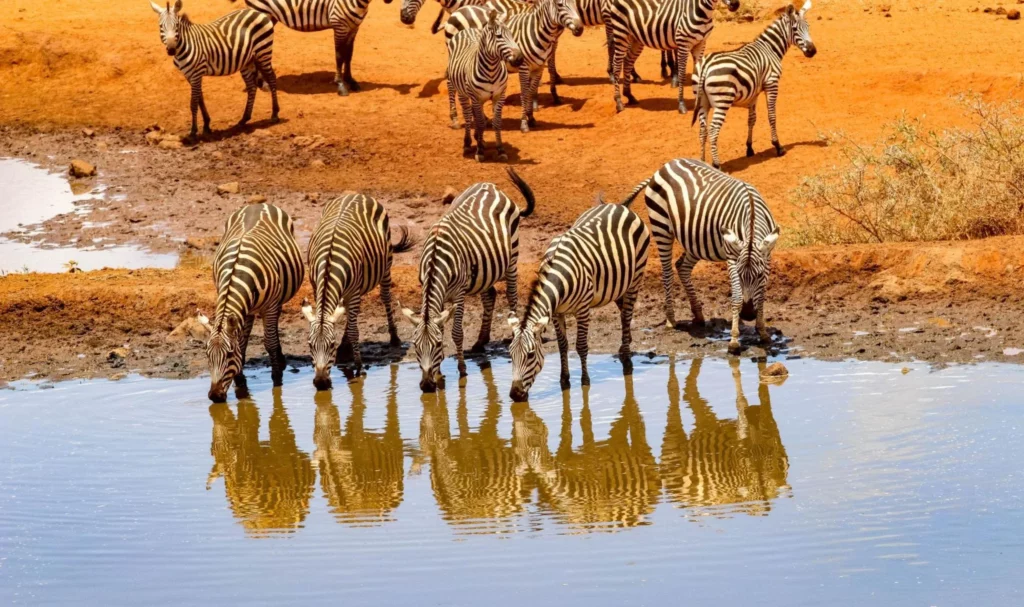 Day 3: Morning Game Drive – Amboseli to Nairobi
The third day we will enjoy a morning game drive and later head to Nairobi. Early morning game drive also offers the morning view of Mount Kilimanjaro as it emerges from a mantle of clouds. We proceed to Lake Amboseli, a vast salt pan made of permanent swamps.
The lake has most of the wildlife in Amboseli National Park with a high concentration of elephants. It also hosts Masai giraffe, eland, Burchell's zebra, buffalo, rhino, and antelopes (waterbucks, impalas, Grant's gazelles, topis, klipspringers, and duiker). You might also spot baboons, warthogs, hyenas, and wildebeests in the park.
Later, the guide heads out of the park and transfers you to Nairobi. This time we should arrive in Nairobi within 4 hours since we will not make any stop along the way.
Items Included in the Amboseli National Park Safari Cost
Pickup from Nairobi on day 1
Service of an English and Swahili speaking driver/guide
Entry fee to Amboseli National Park
Use of a 4×4 safari land cruiser with an openable rooftop
Bottled mineral drinking water – 1 liter per day 
3-meal during the safari – breakfast, lunch, and dinner
2-night accommodation at Amboseli
Afternoon game drive at Amboseli on day 1
Full-day game drive with packed lunch on day 2
Morning game drive at Amboseli on day 3
Transfer to Nairobi on day 3
Items Excluded from the Amboseli National Park Packages Price
 Tips to guide/driver
Money transfer fee
Visasa
Travel insurance
International and local flights
Holiday, Easter, Christmas, & New Year Supplements – USD 50 Per Person Per Night 
Amboseli National Park Safari Cost – Per Person – Based on 2 Pax- 2023
| | | | |
| --- | --- | --- | --- |
| Hotel/Season | Low: April – June | High: Nov- 15th Dec  | Peak: July – Oct & From 15th Dec |
| AA Lodges Amboseli  | USD 734 | USD 832 | USD 940 |
| Sentrim Amboseli | USD 854 | USD 942 | USD 1040 |
| Amboseli Sopa Lodge  | USD 839 | USD 962 | USD 1060 |
| Kibo Safari Camp | USD 884 | USD 1052 | USD 1140 |
| Amboseli Serena Safari Lodge  | USD 895 | USD 1020 | USD 1156 |
About Amboseli National Park
Amboseli National Park occupies over 392 sq. km. of the 8,000 sq. km. the ecosystem that stretches across Kenya and Tanzania. The reserve is known for being among the best game parks in Africa where adventurers can drive close to the African elephants and other wildlife.
Some of the wildlife includes giraffe, mongoose, lion, zebra, lesser kudu, dik-dik, crocodile, hyrax, wild dogs, buffalo, cheetah, leopards, and nocturnal porcupine. The park also offers over 600 species of birds.
Another attraction of an Amboseli day trip includes a visit to the Maasai community and the fantastic view of Mount Kilimanjaro. Amboseli is mainly a far horizon and big sky with dry and dusty ground and swampy springs dotted with animals.
The park has an underground water supply that forms two freshwater springs in the middle of the reserve. However, the land is often dry and dusty, making it the perfect destination for a 2-day safari. There is little vegetation where animals can hide and make it hard to spot them.
The dry conditions also ensure that most animals come to the drinking point at least once per day – you cannot miss them.