10 Days Kenya Wildlife Safari Packages - Itinerary, Price, and Guide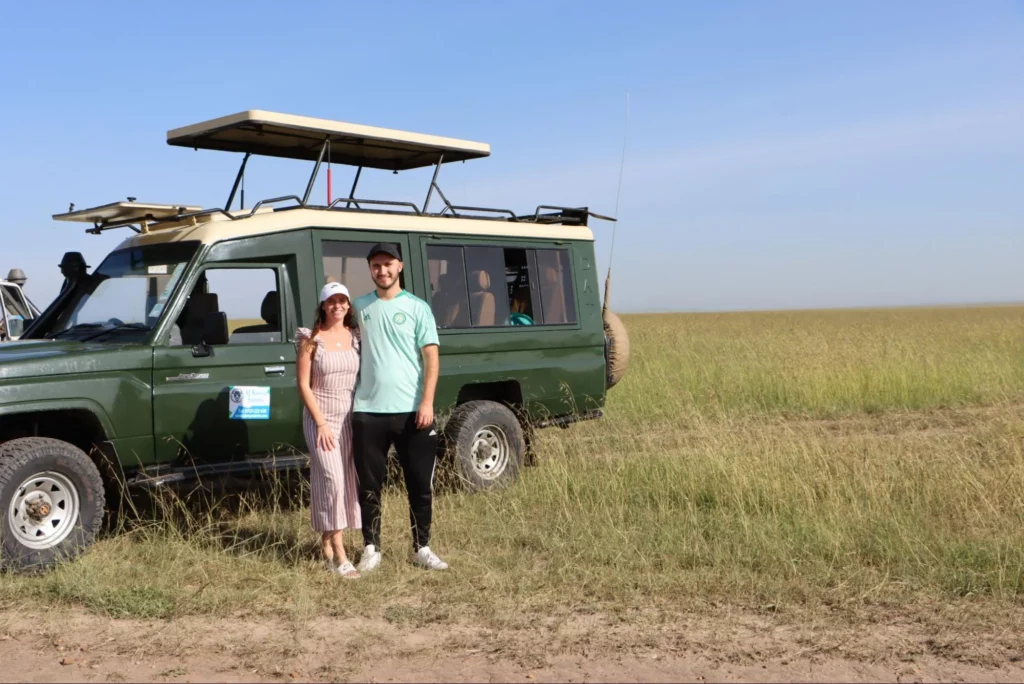 With its vast swathes of Savannah grasslands and a snow-capped equatorial mountain, Kenya is in every aspect a geographical wonder. Is there a better way to explore this land than with our 10 Days, 9 Nights Kenya Wildlife Safari Packages? 
Kenya is the hotspot of the Big Five (elephant, lion, leopard, rhino, and buffalo), a mantra for many first-time Africa visitors. It also has a photogenic coastline drenched in ancient history and culture. 
This lethal combination of wildlife, history, and white-sand beaches makes Kenya Africa's leading theater for wildlife safaris and beach holidays. Our safari consultants have orchestrated the 10 Days Kenya Wildlife Safari Packages and beach holidays to show you the best of this country.
If you book this tour from July to September, you will experience the largest land migration on earth; The Great Wildebeest Migration. Join our team of local safari guides, all born and raised in Kenya, as we take you on a memorable and adventurous vacation to the best holiday destination in Kenya. 
How to Book Your 9 Nights Kenya Wildlife Safari Packages 
It is easy to book our 9 Nights, 10 Days Kenya wildlife safari with AjKenyaSafaris.com Ltd. We are available through email at james@ajkenyasafaris.com or safarioffers@ajkenyasafaris.com.
You can also reach us via phone or WhatsApp at +254-748-258-880. 
The Summarized, 10 Days, 9 Nights Kenya Wildlife and Beach Safari Itinerary 
Next, please see the summarized 10 Days Kenya wildlife and beach safari packages. These are highlights of the trip.
Trip Details 

Highlights 

Day 1

Airport Pickup, Visit Nairobi National Museum, Snake Park, & Nairobi City Tour

Overnight at Hilton Garden Inn Airport Hotel

Day 2

Visit Giraffe Center & David Sheldrick Elephant Orphanage 

Overnight at Hilton Garden Inn Airport Hotel

Day 3

Transfer to Masai Mara & Afternoon Game Drive at the Reserve

Overnight at Sentrim Masai Mara

Day 4 & 5

Full-Day Game Drive at Masai Mara National Reserve with Packed Lunches

Overnight at Sentrim Masai Mara 

Day 6

Morning Game Drive at Masai Mara, Visit a Maasai Village, and Flight to Mombasa 

Overnight at Overnight at Nyali Sun Africa Beach Hotel & Spa 

Day 7

Mombasa Day Trip – Fort Jesus & Haller Park 

Overnight at Leopard Beach Resort

Day 8

Spend Time at Diani Beach or Hotel

Overnight at Leopard Beach Resort

Day 9

Wasini Day Trip 

Overnight at Leopard Beach Resort

Day 10

Transfer to Mombasa or Flight to Nairobi 

Items Included 

Game drives, 4×4 safari land cruiser, Local flight, Mombasa activities, Service of a local guide, and More

Items Excluded 

Money transfer Fee, Hot air balloon, International flight, Tips & Gratuities, and Optional activities

Safari Price 

Per Person Sharing 
The Detailed, 10 Days, 9 Nights Kenya Wildlife and Beach Holiday Itinerary
Discover the best attractions in Kenya with our 10 Days safari to Nairobi, Masai Mara, and Diani Beach. Here is the detailed itinerary of the Kenya wildlife safari package for nine nights. 
Day 1: Welcome to Kenya, Nairobi City Tour, & Transfer to the Hotel 
Welcome to Kenya, where a new world awaits your exploration. Our first meeting happens at Jomo Kenyatta International Airport, where we will welcome you with a broad African smile. Your safari guide will then brief you about the safari and welcome you to your safari land cruiser.
We dedicate the morning hours to heritage and visit the National Museums of Kenya. Hot on this list is the Nairobi National Museum, which was started in 1910 to preserve the natural and cultural history of the country.
The museum has a lovely botanical garden and shops where you can buy local souvenirs. The day also includes visiting the museum's famous Snake Park in Nairobi within the museum. Here you will explore different snake species and other reptiles. 
You must be tired and jet-lagged from your trip now. So we will book a cozy hotel in Nairobi, where you will check in after the morning adventure. The safari guide will leave you to relax in your hotel as you try local delicacies such as Kienyeji (mashed potatoes with greens), Nyama Choma (charcoal-grilled meat), Pilau (specially prepared rice), or your favorite international cuisine.
You visit the Bomas of Kenya for local performances and nightlife as the sun settles down. Bomas of Kenya has seen more than 10 million visitors, including some of the world's most famous politicians and celebrities.
Connect yourself with Africa's past brought to life by local music and dance from Kenya's 43 tribes. You can also buy cultural artifacts like masks, knives, food bowls, containers, and more. Indulge your taste buds in some Kenyan cuisine and try out the Utamaduni Restaurant, known for its local cuisines.
You retire for the night as we prepare to drive to Masai Mara the following day.
Day 2: Nairobi Day Dour – Giraffe Center & David Sheldrick Elephant Orphanage 
Day 2 of your Kenya wildlife tour packages will see you experience the best Nairobi tours. We dedicate the first half of your trip to the Giraffe Center, known for its effort to conserve the highly endangered Rothschild Giraffes.
The center takes serious conservation efforts and mixes them with green tourism to create an inspiring wildlife success story. It has a unique elevated platform where you can feed the giraffes up close. The zenith of this visit is a chance to hand-feed, pet, and kiss the majestic creature from the raised wooden structure.
You will be given pellets, and a guide will teach you how to feed the long-necked boys. The giraffes love it when you hold the pellets with your lips such that they can scoop them with their tongues, a.k.a the sloppy kiss.
The center is about 20 km from Nairobi CBD and is managed by the African Fund for Endangered Wildlife (A.F.E.W. Kenya), a non-profit organization. You can participate in this program by donating directly to the Giraffe Center. 
At around 10.30 am, the safari guide will head to David Sheldrick Elephant Orphanage. Home to elephant calves orphaned due to poaching, the David Sheldrick is a place of new beginnings. It began as a conservation project to rescue wild elephants in the aftermath of the 1970's Ivory poaching wars in Tsavo National Park. 
Today, it is a silver lining in wildlife conservation efforts. The orphanage is run by Daphne Sheldrick, wife of notable park warden David Sheldrick. Watch young calves get bottle-fed and walk to the nearby blind rhino's center to see the dedication of the orphanage.
You can adapt/foster a baby elephant for just USD 50. The orphanage will send you regular updates with photos of your foster child. After a day successful morning, the guide will take you to the hotel for lunch and afternoon rest. 
Day 3: Transfer to Masai Mara & Afternoon Game Drive at Masai Mara National Reserve 
Kenya Wildlife Safari Packages wouldn't be worth it if you don't head to Masai Mara. It's time to go deep into the wild. The aim is to start early today since you have a 5-hr road trip to this side of Kenya. The guide will drive out of Nairobi and make a few stopovers on the way to allow you to explore Kenya's countryside.
Some of the stopovers include the Great Rift Valley and Narok Town. Upon arrival,  the safari guide will assist you in checking into your chosen tented camps inside Masai Mara.  From where you can experience all the clichés of Africa. 
Take a silhouetted picture of the grasslands, hear the owl hoot at night, spend hours birdwatching, or simply experience the fantastic sunrise over the open horizon. Remember that you also have an afternoon game drive at the reserve today from 3 pm to 6 pm.
Day 4  & 5: Full-Day Game Drive at Masai Mara with Packed Lunch and Other Optional Activities
The Masai Mara is an endless stretch of tawny grasslands peppered with the iconic acacia trees. Several species of animals like wildebeest, impalas, gazelles, elands, zebras, lions, cheetah, foxes, hyenas, reedbucks, waterbucks, black rhinos, elephants, and Masai giraffes call the Mara their home.
Masai Mara National Reserve is the arena for the Great Migration, where more than 2 million wildebeests and zebras travel from neighboring Tanzania into the Mara. The migration season peaks between July and October. Big Cat Diary, one of the most celebrated BBC documentaries, was filmed here in Masai Mara.
The park has one of the highest lion densities in the world. It is also honored with the title of Africa's Leading National Park for six consecutive years from 2013 – 2018  by the World Travel Awards.
Masai Mara offers a true, out-of-Africa, Kenya wildlife safari experience. Starting early in the morning, we will arrange for a game drive that takes you through the heartlands of the Masai. The game drives will take you through the hotspots of wildlife activities. You return before the sun sets for evening refreshments at the lodge. 
Optional Hot Air Balloon Safari – at USD 450 Per Person 
Your 10 days Kenya wildlife tour packages can include a hot air balloon ride during your stay at Masai Mara. The experience lets you explore the savannah, not from your luxurious 4×4 land cruisers, but from the air. It will satiate your inner senses with some scenic aerial views of the reserve and costs an extra $450. 
The balloons go high enough to give you a bird's eye view of the entire park. Some typical vistas are hyena hunts, grazing giraffes, elephant herbs, and a closer view of the bird species in the trees. To make the moment memorable, we arrange for a champagne breakfast in the bush after landing.
Masai Mara Wildebeest Migration Experience – July to October
To experience the eighth wonder of the world, the Great Migration, come to the Masai Mara between July to October. During the migration, an army of over 1.8 million wildebeest, zebra, and different species of antelope march from the Serengeti National Park in Tanzania to Kenya's Masai Mara National Reserve.
This ancient voyage is a circle of life that feeds an amazing chain of carnivores. Get your cameras ready for the perfect wildlife photo moment. You will easily freeze a cheetah at full speed or a lion in its whole show of strength.
One of the central points of this journey is the River Mara crossing, where Nile Crocodiles await the incoming herds. Well, you can read a book on migration and watch documentaries, but nothing prepares you for the drama that unfolds. You have to see it yourself.
Visit a Maasai Village – Experience the Kenya Culture
During the Kenya wildlife tours, we also arrange for a cultural experience at the Maasai village. Get ready to come up close with the ancient lifestyle of the Maasai in their village.
This cultural excursion will take you through Maasai settlements, and you can spend a few hours discovering their food, clothing, music, dance, and rich history.
Day 6: Flight from Masai Mara National Reserve to Mombasa 
You now shift to the Kenyan Coast, taking a flight to the iconic city of Mombasa. The coastal town is a hotbed of Kenya's tryst with foreign cultures of India, Persia, and the Middle East. This unique symbiosis of Mombasa is well etched in its food, which will amaze you with its spicy tang.
Mombasa is an island with several tourist attractions, including Fort Jesus, Lord Shiva Temple, Jain Temple, Old Laws Court, and a Spice Market that encapsulates the region's diversity. Fort Jesus is the top attraction in Mombasa, where you will spend day 7 of your Kenya Safari Packages, combined with other attractions.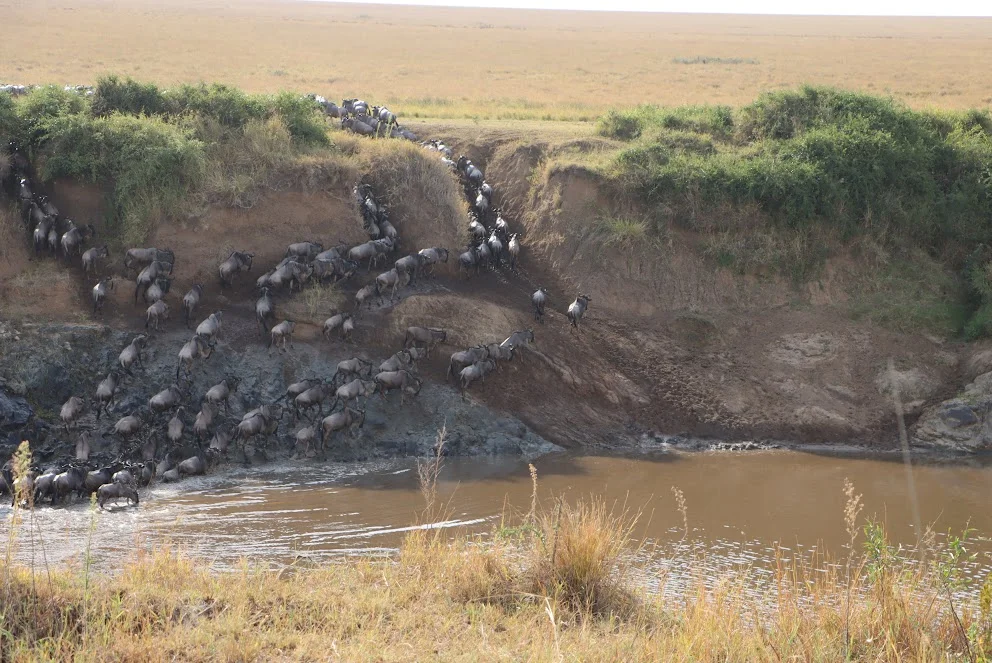 Day 7: Mombasa Day Trip – Fort Jesus, Haller Park, & More 
The plan here is to visit Fort Jesus, which symbolizes not only the history of Mombasa but also the architectural prowess of the Portuguese. You will also visit Haller Park, where you will come across crocodiles, giraffes, monkeys, and other reptiles will be seen. 
The fort is a great place to spend a day under the sun exploring the battlements and gun turrets. Your day at Fort Jesus will take you down an intriguing maze of ancient wall paintings, artifacts, pottery, and ceramics reflecting various cultures that traded along the coast. 
You can end the day with a dinner cruise from 3 pm to 9 pm.
Day 8: Transfer to Diani Beach & Spend Time at Diani Beach
You go down south from Mombasa to Diani Beach,  an hour; s drive away. Diana Beach was Africa's leading beach destination by World Travel Awards for six consecutive times from 204 – 2019.
Besides beach walks, the beach is the perfect destination for kitesurfing, sky diving, jet-skiing, and snorkeling. For a relaxing experience, let the Trade Winds of the Indian Ocean flow through your hair while you take beach walks during sunset or moonlit nights.
Day 9: Full-Day Wasini Trip with Lunch
Next, you take a boat ride to Wasini Island, which is the perfect combination of sun, sea, and sand. Wasini is a series of 5 islands that promise to soothe your soul and, with the swiftness of a bird, sweep your mind clear of any disturbing thoughts.
Vacations here are far from ordinary; they are levitating, relaxing, and therapeutic. Walk down the sandy beaches and let the tender whisper of the ocean soothe your qualms away. Take a plunge into the ocean, and feel the powerful feel of the cool blue waters against your skin.
Alternatively, immerse yourself in a host of sea activities, including dinghy sailing, scuba diving, snorkeling, seafoods, identifying various species of fish, and more.
How about swimming with dolphins in Kisite Mpunguti Marine National Park? A beach holiday in Wasini is a moment that will be edged in your mind for decades. 
Day 10: Transfer to Mombasa for Your International Flight or Flight to Nairobi for Your International Flight
You can opt to catch your international flight at Moi Internation Airport in Mombasa or Jomo Kenyatta International Airport in Nairobi.
The Price of Your Kenya Safari and Beach Packages Includes:
Round trip transport to all the destinations in our Kenya Safari and Mombasa Holiday
Multi-lingual Professional Safari Guide/Driver. (Professional Safari Escort is available upon request)
Guaranteed departures for two or more passengers booking this safari
Guaranteed window seating with an open top for easy photography
Safari vehicles carry cold mineral water
All applicable Game Park entrance fees
All meals included while on safari
Pre–tour itinerary document
Visit the destinations in the itinerary  
Game drives at Masai Mara 
Visit a Maasai village at Masai Mara 
The Price of Your Kenya Wildlife Safari Packages Excludes:
Personal expenses such traveling insurance, excess baggage fee, laundry, emails, faxes and phone calls etc
Optional Hot Air Ballooning (cost per person is 450 US Dollars).
Gratuity for Porterage/waiters at hotels, camps, and airports 
Christmas, New Year, and Easter Supplement
Sundowner bush cocktails and bush dinner.
Cost of obtaining passport and visa.
International Airfare
Safari Price Per Person Sharing for the 10 Days Kenya Wildlife and Beach Safari
| | |
| --- | --- |
| Dates/Month | Price Per Person Sharing |
| 1st Jan – 31st March | USD 2907 |
| 1st Apr – 30th June | USD 2807 |
| 1st July – 31st Oct | USD 3276 |
| 1st Nov – 19th Dec | USD 2907 |
| 20th Dec – 1st Jan | USD 3498 |