Day Trips in Kenya | Kenya Day Trips - Excursion Destinations and Packages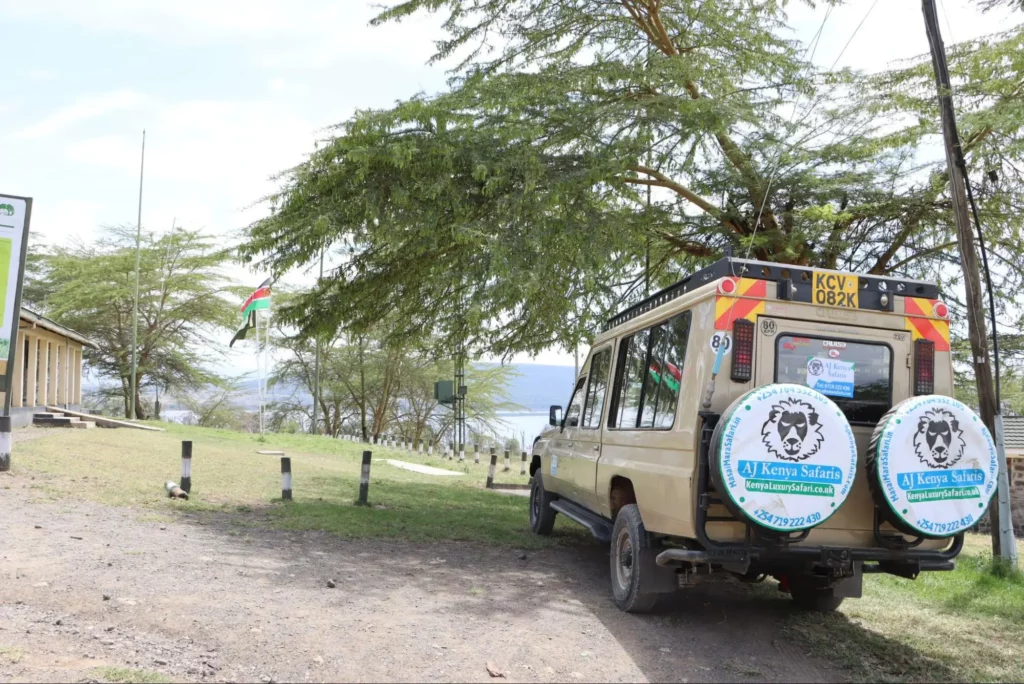 Kenya has a lot to offer, from outbound Kenya safaris to plenty of Kenya day trips options. Whether you are in Nairobi on business and do not have much time to go on a 3-day Masai Mara safari or looking for a quick safari, day trips in Kenya are your best bet. 
Our safari consultants have highlighted the top 5 Day Trips in Kenya that only require a few hours to do but will give you great memories. They are the best day trips & excursions in Kenya for you, your family, and your friends.
Contact Us to Book Your Kenya Day Trips and Excursions Now
Our Most Booked Kenya Day Tours, Excursions, and Other Packages
The Top 5 Day Trips in Kenya - Best One Day Trip Destinations Reviewed
Kenya's capital is a good city, but the neighboring magical attractions make it great since you can have the best day out in Nairobi and catch your flight in the evening. You can take dozens of day trips from Nairobi, and here are the top five.
Lake Nakuru Day Trip from Nairobi
Your day trip to Lake Nakuru National Park will give you an authentic safari experience you can boast about. More extensive parks such as the Masai Mara and Amboseli are Kenya's more popular safari destinations, but Nakuru is not far behind. 
It is unique in its way and rivals the experience of some of the other parks in the country. It is an excellent option for those with little time in the country or as a launching pad for your safari in Kenya.
Lake Nakuru National Park is located 156km northwest of Nairobi or a 2-hour drive away on good roads. The park lies on the floor of the Great Rift Valley, and its two main attractions are the lake and plenty of game, including 4 of the big 5 animals!
Lake Nakuru is a 'bird watchers paradise,' and those taking a day trip will not be disappointed. It is home to a myriad of greater and lesser flamingos that color the waters pink, quite a sight to behold.
More than 450 terrestrial bird species, such as the African fish eagle, pied kingfisher, and goliath heron, gather on the shores of this lake, creating a beautiful part of its ecosystem.
The rest of Lake Nakuru National Park is covered in wooded, bushy grassland that acts as home to over 56 species of mammals. They include the white rhino, lions, Rothschild giraffes, waterbucks, etc. Game drives through the park reveal other smaller animals, including giant pythons sometimes hanging on trees.
Another attraction to look out for during your Lake Nakuru day trip is the baboon cliff viewpoint. The baboon cliff allows you to have a panoramic view of the park, leaving you in awe of the beauty and giving you some fantastic photoshoot moments.
This park also features unique vegetation with over 550 plant species and the most giant eurphobia forest in Africa. 30km from the main gate are the Makalia falls, also worth a visit.
You can either carry packed lunch or have lunch in one of the hotels located in the park's vicinity during your 1-day safari in Kenya. There is a small shop inside the park for those on a budget that sells snacks such as soda and cake.
Day trips in Kenya to Hell's Gate National Park
Hell's Gate National Park is located 90km from Nairobi, approximately a one and a half hour's drive. The main activities that you can do here include hiking, bird watching, biking, and rock climbing.  
It is also home to the Olkaria Geothermal Station, where you can dip in the health spa after your activities at the main park. The hike here takes you through some fantastic scenery, towering cliffs, gorges, and rock towers formed thousands of years ago. 
Hell's Gate Gorge features red cliffs and two volcanic towers, Fischers and Central; both formed due to volcanic activity. Fischer's tower now acts as a popular rock climbing site. If you are an adrenaline junkie, be sure to try this climb. 
There are some guides set up at the site, and you can hire rock climbing equipment such as shoes, helmets, and ropes on the spot for a small fee. Note that only two people can climb at the same time. 
For those who prefer biking, you can hire bicycles at the entrance at a small fee of around USD 10 -USD 15. 
You might not see a large variety of animals during your Hell's Gate National Park day. Still, you may come across baboons, zebra, hyenas, hyraxes, and the occasional herd of African buffalo. 
The park is home to over 100 species of birds, including vultures, eagles, and swifts, so it is advisable to bring your binoculars if you are a bird-watching enthusiast.
Olkaria Geothermal Spa
After your hiking/ biking adventure, it's time to relax those muscles before your end your day trip! The smell of rotten eggs that signifies the presence of Sulphur welcomes you to the Olkaria Geothermal Spa, also located inside Hell's Gate National Park.
The spa pool is huge, set in the background of jets of steam that are so thick it looks like fog. The water is hot and gets quite hot in the piped areas, so be careful.
If you go on a weekend day trip, you will find the pool packed to capacity. Impromptu games of volleyball in the water are known to happen.
If you are traveling with kids, do not worry, there is a warm baby pool adjacent to the main pool. For your entry fees, you are allowed to stay in the water for as long as you like, up until the 6 pm closing time if you so wish.
Like the bikes and rock climbing gear at the main park, you can hire a swimming costume and a clean towel for a small fee. Showers and bathrooms are also available. The spa is a superb way to end your day trip at Hells gate National Park!
Places to Go for Road Trips in Kenya - Lake Naivasha and Crescent Island
Lake Naivasha is a freshwater lake located 90Km from Nairobi. It derives its name from 'Naipoosha,' a Masai word meaning rough waters. A boat ride at the lake is a must-do during your day trip if you like water activities.
You can hire a boat and life jacket from boat boys on the shores of the lake and be on your way. The boats typically run on diesel and sit five or six people.
The waters are tranquil, and if you are lucky, you might spot a bald eagle swoop in and snatch a fish or a couple of hippos coming up for air. A herd of zebra, deer, or alone giraffe grazing peacefully on the shores of the lake is another sight to behold as you continue with your tour of Lake Naivasha.
There is also an abundant birdlife with over 400 different species of birds, including fish, eagles, kingfishers, and pelicans. The boat ride safari is often combined with a visit to Crescent Island.
Crescent Island is found within Lake Naivasha and is a well-kept secret and a must-visit during your day trip as it is an authentic safari treat! You will be able to get off the boat and do a walking safari among big herds of wildebeest, zebra, gazelle, and waterbuck.
The hippos spend the night grazing and lie under the acacia trees or in the water during the day, giving you spectacular still photo moments. Since Crescent Island is not fenced, an occasional hyena will wander in from the mainland to hunt and be gone as soon as it's done.
It is not uncommon to see three generations of giraffes grazing together as those born on the island return here to give birth. A walk on the ridge at sunset as the water shimmers below and animals graze peacefully is one of the most beautiful moments you can experience.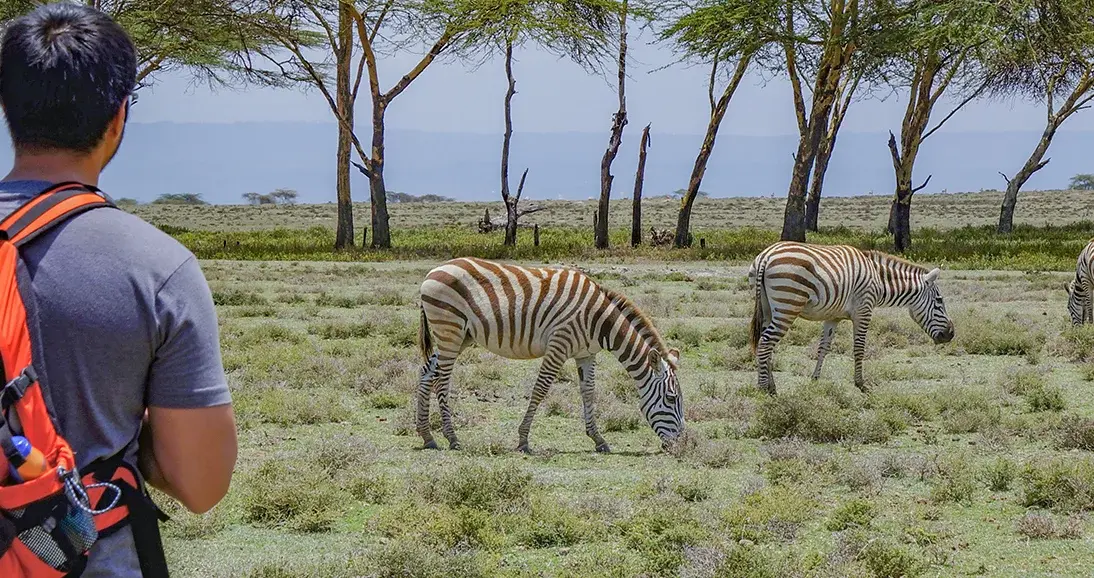 Day Excursions in Kenya to Kereita Forest
Kereita forest is part of the Aberdare ecosystem and is located 60Km from Nairobi, less than an hour's drive. The forest's conservation is spearheaded by CONVO, a group of local youth who undertake forest restoration and eco-tourism activities.
Booking is required in advance before visiting the attraction so that you can be allocated a guide. The hiking trails are moderate and filled with indigenous, exotic, and bamboo trees.
The main mammals to inhabit the forest are black and white colobus monkeys, forest hogs, bush babies, and mongooses. An occasional herd of elephants will wander through from the main Aberdare block but will generally not linger.
As you walk through the forest, your guide will take you through the car acid trail, which leads to breathtaking waterfalls dropping 60ft deep on the Gatamaiyu River. You can take a quick dip if you are brave enough.
A cave near the waterfalls is home to a bat colony, another fascinating find on your day trips in Kenya. After you are done with the serene forest walk, it's time for some adrenaline rush!
The Kereita forest adventure center offers incredible activities, including zip-lining, paintballing, archery, and mountain biking. The zip line tour is the most exciting activity and a great way to end your day trip to Kereita forest.
The Kereita zip line is the longest in East Africa at over 2,200m and run by a company called Flying Fox, certified as using the safest European standards. There are two types of zip line tours, the full tour consisting of six lines and a shorter two-line tour.
Safety and protective gear such as harnesses and gloves are provided upon payment, and safety training is done before getting on the line. The views from up there are stunning if you have your eyes open!
Whether you take the two or six-line tour, you can feel the rush in your veins long after your day trip is over.
Kenya Day Trips to Nairobi National Park
The Nairobi National Park is one of the most convenient places to visit for a day trip. The park is located in Kenya's capital city Nairobi, 7km from the CBD.
Despite its location, it is a fully-fledged park far removed from the hustle and bustle of the city surrounding it. As soon as you step into the park, you will find yourself in savanna grassland, watching predators chase prey akin to the other big parks in Kenya.
The game park boasts 4 of the big 5, including lion, buffalo, rhino, and leopard. Other than these most popular animals, you will encounter herds of herbivores such as zebra, giraffe, wildebeest, antelopes, and over 400 bird species.
You can choose to have a full-day or half-day trip to the park.  If you are having a whole day trip, it is advisable to carry packed lunch which you can eat at one of the designated picnic sites in the park.
Other parks' attractions include the ivory burning monument, the Nairobi safari walk, and the animal orphanage. You can combine your Nairobi day trip with a visit to Giraffe Centre and David Sheldrick Elephant Orphanage.