Hell's Gate National Park Guide - Things to Do and See, Park Fee, & More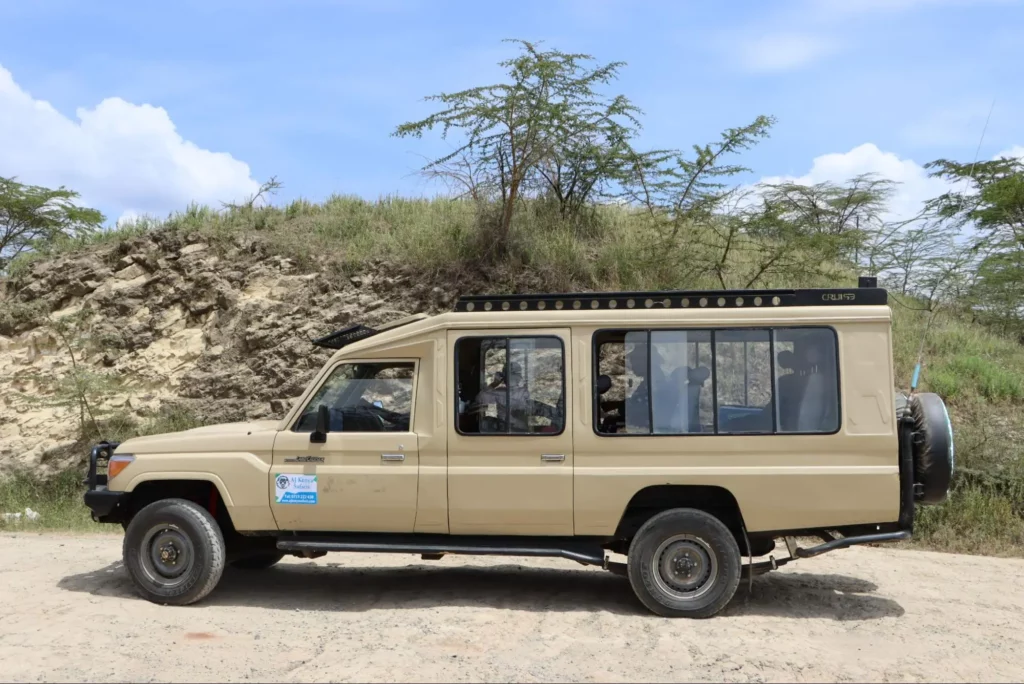 There is something about Hell's Gate National Park that tourists worldwide can't get enough of. It could be the park's volcanic history, as evidenced by cliffs, gorges, lava rock, and caves. Or perhaps, it is its hot water springs, geysers, steam jets, and hot waterfalls. 
Or could it be the serenity and calmness in the park? Whatever it is, Hell's Gate National Park is a must-visit tourist destination in Naivasha, Kenya. It is one of the smallest national parks in Kenya, but its unusual features and charm compensate for what it lacks in size.
The towering cliffs, water-formed gorges, wild animals, birds, and unique flora give this park an almost magical feel.
Book Your Hell's Gate National Park Kenya Safari Today
Call us at +254-748-258-880 or send a WhatsApp message to book your safari to Hell's Gate.  You can also reach us at  safarioffers@ajkenyasafaris.com or james@ajkenyasafaris.com. 
We at ajkenyasafaris.com are a team of local guides born and raised in Kenya. We start all our expeditions with a consultation to understand your Kenya travel plans.
We have many ideas on Hell's Gate National Park, including places to pair it with and where to stay for an unforgettable safari.
Our Most Booked Hell's Gate National Park Safaris and Other Itineraries
Hell's Gate National Park - The Ultimate Visitor's Guide
Hells Gate National Park Entry Fee
Hell's gate entrance fee is quite fair, one of the reasons why it is a popular park to visit. The rate for Kenyan citizens and residents is USD 3 per adult and USD 2.15 per child.
For non-residents, the category in which many tourists fall, the rate is USD 30 per adult and USD 20 per child. These are mainly the high season prices that run from July to March.
Hotels Near Hell's Gate National Park - Naivasha
If camping is your thing, you will be delighted to know that Hell's Gate National Park has three beautiful campsites: Olduvai, Nairburta, and Endcharta.
There are shelters where you can make a fire to prepare your meals and showers and toilets. If you are looking for a more comfortable night under warm covers and a buffet breakfast, there are a variety of lodges around the park to choose. 
Some include Lake Naivasha Simba Lodge, Lake Naivasha Sopa Resort, Fish Eagle Inn, Elsamere Lodge, and Camp Carnelley's.
How to Get to Hell's Gate National Park
You can get to Hell's Gate Park by road or air.
By Road
The park is 110 km Northwest of Nairobi and 18 km from Naivasha town. The drive from Nairobi to Hell's Gate will only take 2 hours on good roads via the Nairobi- Nakuru highway. 
It is relatively easy to get to via public transport (but will take more time), and a great way to get here is to hire a car. Hiring a tour van might make more sense if you are a big group.
By Air
Most flights to Kenya land at the Jomo Kenyatta Airport (JKIA). Get to Wilson Airport, only 16.9km away, and take a flight to Loldia airstrip, on the western side of Naivasha.
You can take a taxi to Hell's Gate to begin your adventure from here.
6 Interesting Things to Do at Hell's Gate National Park Kenya
Here are six things you can do at Hell's Gate Park and two more things you can do near this attraction.
Cycling is the most rewarding way to explore Hell's Gate National Park. It's the only activity other than hiking that allows for close interaction with the park's flora and fauna.
You can access relevant information about cycling trails at the main gate, Elsa Gate, where you can also hire bikes. If you follow the buffalo cycling circuit, look out for the breathtaking views of Lake Naivasha, Mt. Suswa, and Mt. Longonot that are visible from the park.
Hiking is a favorite activity at Hell's Gate National Park, especially on the weekends when hundreds from the country's capital Nairobi flock to break the monotony of their busy city life.
Take a wonderful hike right from the park's main gate, Elsa Gate, to the park's central valley and get treated to the fantastic sight of a variety of bush life while at it.
If you are the type that is for the calming effects of water, then take the trail that descends from the Central Tower right into the Lower Gorge. A walk through the gorge is simply magical.
You will, in some places, come across water-eroded walls so close to the point of blocking the sky view. While on this same trail, you get treated to the bewildering sight of some of the world's most captivating cold and hot waterfalls, springs, and colored rocks.
Rock climbing is yet another popular activity in the park. Fischer's tower is the most common for first-timers, but skilled climbers who are in it for the thrill can try out the Main Wall, which is stiffer than Fisher's Tower.
There's no need to carry your hiking gear, for you can hire some on-site. Those skeptical about exploring new heights alone can rely on the services of the skilled and helpful guides on standby.
The park is a must-visit for birders all over the world. It is home to over 100 bird species and is a breeding area for lammergeier vultures. The vultures' nesting points are hidden high up in cliffs to protect them from predators. The vultures can fly as far as the Maasai Mara, forage, and be back by afternoon!
Other bird species in the park are African kestrel, Imperial eagle, Arrow-marked Babbler, Chinspot Batis, Golden-winged Sunbird, and Yellow-rumped seedeater Jackson's widowbird. The park, in the months of November-April, houses migratory birds from all corners of the world.
Some may consider a spa an unusual attraction for a national park. They might be slightly put off by the rotten solid egg-like Sulphur smell in the air, but wait until they jump in! The Olkaria Geothermal Spa pool is massive, in fact, the largest spa pool in Africa.  
The water in the pool is hot but not scalding, infused naturally with minerals such as Sulphur and silica (which give the water its cloudy color). These minerals have untold benefits to your skin and body in general. There is also a baby spa pool for the young ones not to feel left out.
If you are on an impromptu tour and did not bring any swimming wear, don't worry. You can hire swimming costumes for adults and children and towels from the spa office at a reasonable rate.  
There are clean washrooms and bathrooms to take a shower after the rejuvenating dip. The spa closes at 6 pm, and there is no limit to the number of hours you can spend in the water. After a long hike or biking session at the park, the spa pool is the only way to relax your tired bones.
Hell's Gate National Park is home to an array of wild animals, including Hartebeest, Grant, Thomson gazelles, warthogs, monkeys, impala, Burchell zebra, Defassa waterbucks, giraffes, black-backed jackals, and olive baboons.
Wildlife viewing at Hell's Gate is at its best in June-October when the grass in the park is short. The scenery, however, is at its best during the wet seasons of the year, March-May.
The Maasai Culture Centre/ Manyattas
Civilization has made it increasingly difficult to come across people or communities still profoundly rooted in their culture, such as the Maasai. Since immemorial, Naivasha, where the Hell's Gate National Park is located, has been a Maasai country.
Naivasha is a corruption of the Maasai word' Nai'posha' meaning rough waters. The Maasai have called the park home for more than a century now. Maasai Cultural Center at the park offers an inside look into the lifestyle and tradition of the Maa people. 
Feel free to pop into one of the many Maasai manyattas (traditional homestead) found in the park for a brief chat and photos (always ask for permission before taking pictures).
On your way out, consider buying the popular Maasai beads and shukas (traditional wraps) as a reminder of your mind-blowing experience at the park.
Lake Naivasha is just 2.8km away from Hell's Gate National Park. This is the best place to take an uncharted boat safari. Drift around the lake as you have a pleasant view of the lake's birds, hippos, and buffalos.
The boat boys are well informed, so do not hesitate to ask questions about the lake, the area, or the animals. You can also take a boat ride to Crescent Island, an animal and bird conservatory home to animals like zebras, giraffes, and wildebeests.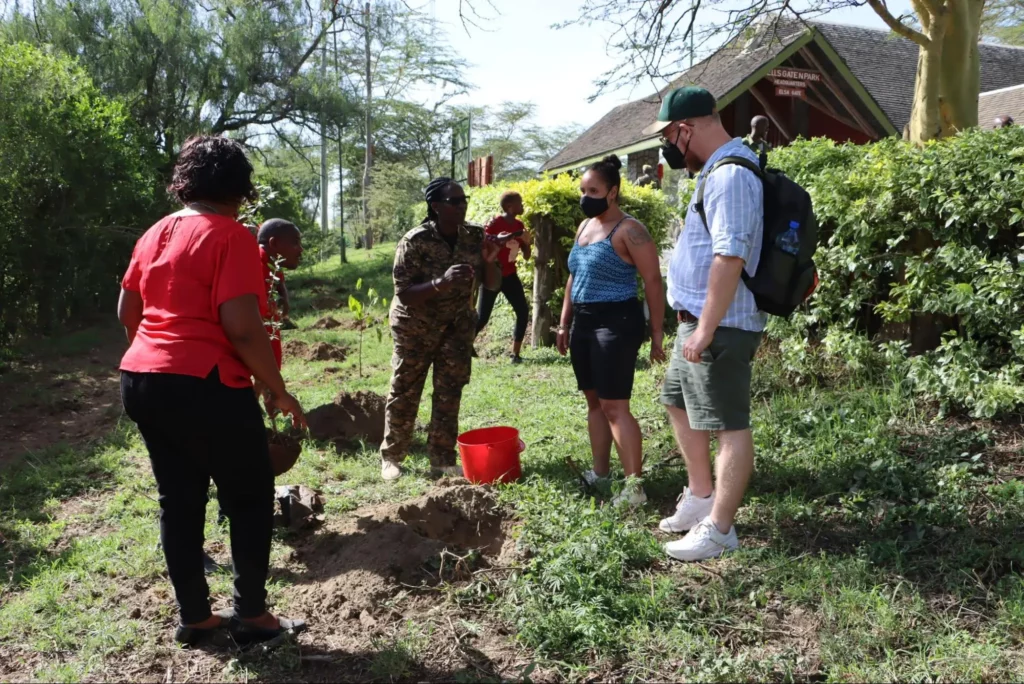 Must See Attractions While at Hell's Gate National Park
The park has a lot to offer, but below are the features that you must look out for:
Fisher's Tower and Central Tower
The two volcanic outlets are over 25m high. Fisher's Tower and Central Tower were formed simultaneously after a molten rock forced its way through a fissure to the surface. 
Local Maasai legend believes that once, a Maasai girl was led away to be married and warned not to turn back towards her homestead, but she did. She immediately turned into a stone which is now Fisher's Tower.
The two towers are a perfect viewing spot for bird nesting sites, striated cliff faces, and volcanic towers.
This Hell's Gate Gorge is one of the fascinating attractions in the park, as it is the inspiration behind 'pride rock" in the Disney movie The Lion King.
Going through the gorge reveals 'Hell's Kitchen' where steam jets can be seen gushing from the ground due to geothermal energy.  A walk further inside reveals the 'devil's bedroom.'
After inscribing your name on the bedroom wall, as many visitors have in the past, this is the end of the trail, and you will exit via the 'devil's mouth.'
However, hiking up to this point during the rainy season is discouraged. This is due to the life-threatening nature of flash floods on the gorge floors.
The caves are named after the distinctive glass-like rocks formed from molten lava in contact with water. The iron and magnesium present creates the rocks' black or dark green color.
The caves on the Buffalo Circuit have a track leading to Fischer's Tower and the Kedong plains around Mt. Longonot. The obsidian caves are perfect for family picnics and getaways.