Christmas Safari - 3 Days Masai Mara Christmas Safari Deals and Packages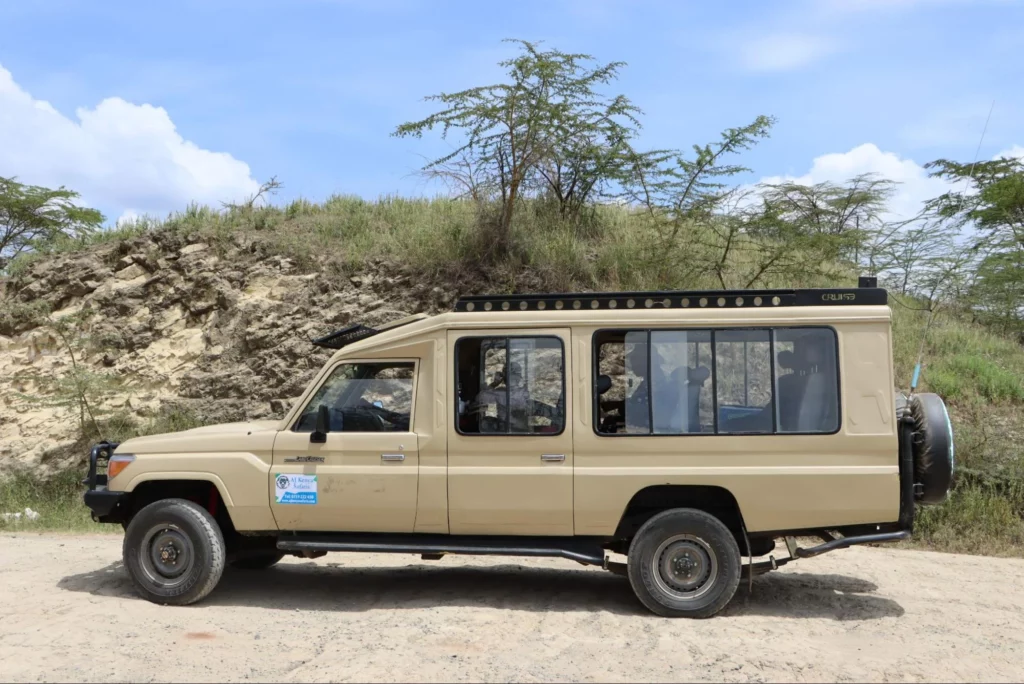 It might be the gorgeous sweep of sunrise all over the ethereal landscape of the Mara. Or the delicate unwinding of its vast wildlife-swarmed grasslands. You can never go wrong with our Masai Mara Christmas safari packages, no matter your choice.
Masai Mara National Reserve is a massive area of untamed land bustling with large wildlife varieties, dramatic landscapes, and deep, diverse vegetative cover. It measures 1,510km² and is home to the big 5, the big cats, and lots of mammals and reptiles.  
So, if you come for a Christmas safari to Kenya, you are in for lots of fun and adventure. The park nestles southwest of Kenya, approximately 281kms from Nairobi, and little introduction is needed for this UNESCO World Heritage attraction. 
Its name is among those topping the list of the most frequented parks in Africa. So why spend your safari in December at Masai Mara National Park? 
Anything that has made the list of the Seven Wonders of the World is definitely worth your time. And we offer the best Masai Mara Christmas deals in Kenya. And lastly, you get to enjoy over 56 different wildlife species when you book our Masai Mara Christmas Packages.
That, plus the over 470 bird species, exciting game drives, hot-air balloon safaris, Masai village visits, and top-tier hotels, make the Masai Mara the perfect Christmas safari destination of all time.
What's more, our Masai Mara Xmas packages are all-inclusive. They include breakfast, lunch, dinner, accommodation, park fees, transfers, game drives, and everything you need for a successful Christmas safari in Kenya.
The icing on the cake is that each of these hotels on our Christmas offer in Kenya offers special celebrations during the festive season. Once you book your Kenya Christmas vacation with Ajkenyasafaris.com ltd, you and yours will have a fun-loaded new year and Xmas vacation.
Christmas Package Holidays – Book Your December Safari to Masai Mara Now
You can book one of our Christmas holiday offers by calling us or sending a WhatsApp message at +254-748-258-880. 
We are also available through email at james@ajkenyasafaris.com or safarioffers@ajkenyasafaris.com. 
The Summarized, 3 Days, 2 Nights Masai Mara Christmas Safari Packages
Trip Details
Highlights
Day 1

Pick-up from Nairobi (Airport), Transfer to Mara, and Evening Game Drive

Overnight at Various Options

Day 2

Full-Day Game Drive at Masai Mara with Packed Lunch

Overnight at Various Options

Day 3
Morning Game Drive, Visit a Maasai Village, and Transfer to Nairobi (Airport)
Items Included
Full-Board Accommodation, Safari Vehicle, Park Fee, Flights, Game Drives, & More
Items Excluded
Christmas Supplements, Money Transfer Fee, Tips and Gratuities, & Visas
Total Safari Price
Price Per Person Sharing from USD 1010
Masai Mara Christmas Safari Packages Detailed Itinerary  
We offer the best Masai Mara packages for residents and non-residents to ensure you enjoy your December to the fullest. 
Day 1: Pick Up from Nairobi, Transfer to Mara, and Evening Game Drive
If it's a chauffeur you need, a chauffeur you'll get. We are men and women of many hats. Your designated safari guide does all the hard work for you, the day's first task being the six-hour drive from Nairobi to Masai Mara.
Now, show us a ride more scenic, and we'll show you a lie. With the drive comes a brief stop at the breathtaking Great Rift Valley viewpoint and parts of the countryside you never thought your Instagram needed.
You get to Masai Mara at noon, and the guide checks you into your lodge or camp. Here is the thing, some of us prefer to battle car fatigue in the comfort of our hotel beds. If this is you, by all means, have a blast.
Others prefer to keep the adrenaline pumping with an evening game drive. Although quieter than the morning game drive, evening game drives allow a sundowner experience of beautiful Mara.
This is also the time to spot herbivores such as buffaloes, elephants, gazelles, warthogs, giraffes, and topi as they return to their sleep quarters.
Day 2: Full-Day Game Drive at Masai Mara National Reserve 
There are different perspectives on the Masai Mara, and sunrise is arguably the best. You embark on our morning game drive just before dawn because we want that first ray of the December sun to hit when you are already inside the park.
The scenery is terrific at this time, the quiet merging with the green to create the perfect wildlife viewing ambiance. Be on the lookout for cheetahs, leopards, and lions, for morning means hunting time for these predators.
Other exciting spots are elephants, zebras, hippos, buffaloes, rhinos, monkeys, and antelopes.
You will have carried your packed lunch because today plans to have a full day of game drives. This will enable you to venture deep into the Mara, and as the Christmas sun gets hot, soon it will be noon. 
That's the time to have your picnic lunch under the shade in the open grasslands of the Mara. Do not be scared to venture out of your car. Your guide is professional, and you will be safe with him.
After the packed lunch, you dive deep into the park, looking to spot rarities such as the often elusive leopards, rhinos, and more. You will likely have spotted lions, leopards, elephants, cheetahs, and other big cats and big 5 clan members by the end of the day.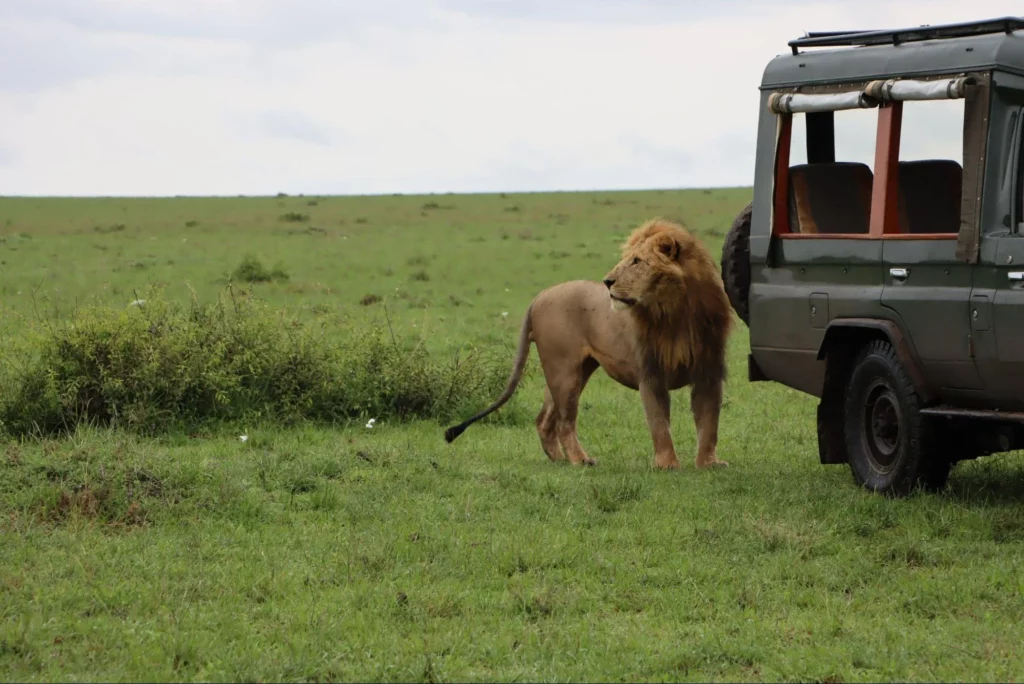 Day 3: Morning Game Drive, Visit a Maasai Village, & Transfer to Nairobi
Your Masai Mara safari is coming to an end. But not without a morning game drive. The safari guide drives you through the park for one last game drive. This game drives continue to around 10 am, the ideal time to head to a Maasai village.
The Maasais are exciting people, and today, you will learn about all their cultures and interact with them until around 11 am. From here, the safari guide will drive to Nairobi. You should be at Kenya's capital by 6 pm.
Items Included in Masai Mara Christmas Safari Packages Price
Road or flight transfers
Pick up from Nairobi – hotel or airport
Services of a professional safari guide
Use of a 4×4 safari land cruiser
All applicable park fees and government taxes
Mineral bottled drinking water during the safari
Full-board accommodation at the chosen camp/lodge
Evening game drive at Masai Mara on day 1
Full-day game drive at Masai Mara on day 2
Morning game drive at Masai Mara on day 3
Visit a Maasai village on day 3
Transfer to Nairobi – hotel or airport
Items Excluded from Masai Mara Christmas Packages
3 Days, 2 Nights, Masai Mara Christmas Safari Packages
| | | |
| --- | --- | --- |
| Masai Mara Camp/Lodge | Road Transfer Safari Price Per Person | Flying Package Price Per Person |
| Sentrim Masai Mara | USD 1010 | USD 1585 |
| Enkorok Camp | USD 1050 | USD 1625 |
| Dorobo Mobile Camp | N/A | USD 1692 |
| Sekenani Camp | USD 1250 | USD 1695 |
| Basecamp Masai Mara | USD 1260 | USD 1735 |
| Ashnil Mara | USD 1320 | USD 1745 |
| Mara Simba Lodge | USD 1182 | USD 1757 |
| Mara Big Five | USD 1200 | USD 1765 |
| Zebra Plains | USD 1260 | USD 1805 |
| Eagle View | N/A | USD 1822 |
| Mara Legends Camp | USD 1430 | USD 1955 |
| Mara Kimana Camp | USD 1510 | USD 1985 |
| Keekorok Lodge | USD 1424 | USD 1989 |
| Leopard Hills | N/A | USD 2052 |
| Sarova Mara Game Lodge | USD 1471 | USD 2115 |
| Ilkeliani Mara Camp | USD 1560 | USD 2195 |
| Mara Serena Safari Lodge | USD 1702 | USD 2227 |
| Mara Maisha Camp | USD 1720 | USD 2245 |
| Mara Crossing Luxury Camp | USD 1700 | USD 2285 |
| Lerai Safari Camp | NA | USD 2360 |
| Entim Private Wing | USD 2230 | USD 2705 |
| Entim Mara | USD 1890 | USD 2815 |
| Olare Mara Kempinski | NA | USD 2990 |
| Governors Camp | NA | USD 3031 |
| Sand River Camp | USD 2318 | USD 3093 |
| Little Governors Camp | NA | USD 3347 |
| Elephant Pepper Camp | N/A | USD 3424 |
| Mara Expedition Camp | NA | USD 4182 |
| Governors II Moran Camp | NA | USD 4615 |
| Governors Private Camp | NA | USD 4715 |
| Sala's Camp | NA | USD 5622 |
| Mara Nyika Camp | NA | USD 7078 |
| Mara Plain Camp | NA | USD 7090 |
The above price is based on two adults traveling together sharing a safari vehicle and a double room. They exclude Christmas supplements on 24th, 25th, & 26th Dec and 31st Dec & 1st Jan and are valid during the festive season from 22nd  Dec to 2nd Jan. Reach us to customize your safari if you are a solo traveler or traveling while three or more people. Hotels are subject to availability.