Welcome to Aj Kenya Safaris Ltd
We are AjKenyaSafaris.com Ltd, the bridge between you and your perfect, unforgettable mid-range or luxury Kenya safari holidays. We've been in the Kenya travel industry for over 10 years.
That's over a decade to read into the hearts of our clients and know what makes their safari great. Ten years to learn how to create bespoke, life-changing Kenya luxury safari packages. And ten years to be the best, most trusted Kenya tour operators.
Our gold-level safari guides, all born and raised in Kenya, are our biggest asset and exactly why mid-range and luxury safaris in Kenya booked with us are the best in the market. 
Our guides' knowledge of Kenya holiday destinations is ocean deep, a thing only matched by their experience, hospitality, and professionalism.
Book Your Mid-Range or Luxury Kenya Safari Holiday with Us Today.
AjKenyaSafaris.com Ltd is a Nairobi-based travel company in Kenya that is licensed by the Tourism Regulatory Authority of Kenya. We own other websites that take care of specific markets including MasaiMaraSafari.in for India and KenyaLuxurySafari.co.uk for the United Kingdom. 
You can reach us at:
We are the local experts in Mid-Luxury and Luxury safaris in Kenya, and we promise to show you our country, better than anyone else.
Looking for Inspiration? Explore Our Most Booked Kenya Safari Holidays
Best Destinations for Luxury Safari Trips in Kenya
Combined, these ten Kenya safaris destinations host over 30 different wildlife species and huge varieties of natural wonders. Think elephants, lions, buffaloes, hippos, rhinos, giraffes and more. 
However, we recognize that it takes more than just wildlife or a dreamy coastline for a destination to be a perfect luxury safari in Kenya. 
And that is why the selected destinations are tranquil, impeccably serviced, and come with top-level accommodation options.
Luxury Safari Destination in Kenya - #1. Masai Mara National Reserve
Lush unwinding grasslands. Scattered acacias. Over 90 different species of mammals. The Mara River. And over 450 bird species. To say the Masai Mara is iconic is a gross understatement. 
Spend a luxury safari in Kenya here, and gather lifelong memories on hot-air balloon safaris, game drives, and nature walks. You can also dine in the park's heart and experience the Mara landscape intimately. 
We promise that all these activities are the ultimate adventure and a gateway to hundreds of lions, elephants, and giraffes. You will also see lots of rhinos, buffaloes, impalas, wildebeests, hippos, hyenas, zebras, jackals, wild dogs, and dik-dik, to mention but a few. 
Next, we discuss the best Kenya luxury safari lodges in Masai Mara. And did you know that every waking moment spent in Masai Mara luxury lodges is a moment worth remembering? 
Here are a few we think you'll love.
If you're looking for the not-sure-what-day-of-the-week-it-is kind of vacation, then Mahali Mzuri is the place to be. This resort sits within the Olare Motorogi Conservancy and is remarkable for its stylish interiors, exceptional views, and contemporary amenities.  
And can we take a minute to talk about those 12 tented camps! They are ravishing! From their en suite bathrooms and private viewing decks to their plush beds and floor-to-ceiling windows. 
P.S: Ten suites have either king or twin-sized beds, while two have king-sized four-poster beds, accommodating two extra kids.
Sanctuary Olonana - 4-Star
Sit back and let the wildlife come to you at Sanctuary Olonana, a unique Kenya luxury safari lodge nestled in a private area along the Mara River. Every square inch of this place oozes perfection.
For example, its 14 glass-sided suites showcase soul-stirring views of the Mara River and landscape. And the newly opened Geoffery Kent suite features two ensuite bedrooms, private dining, and an infinity pool.   
You'll also be pleased to know that the Great Wildebeest Migration happens less than 30 minutes from the lodge's doorstep. And that the lodge is a recipient of the much-coveted TripAdvisor Certificate of Excellence Hall of Fame.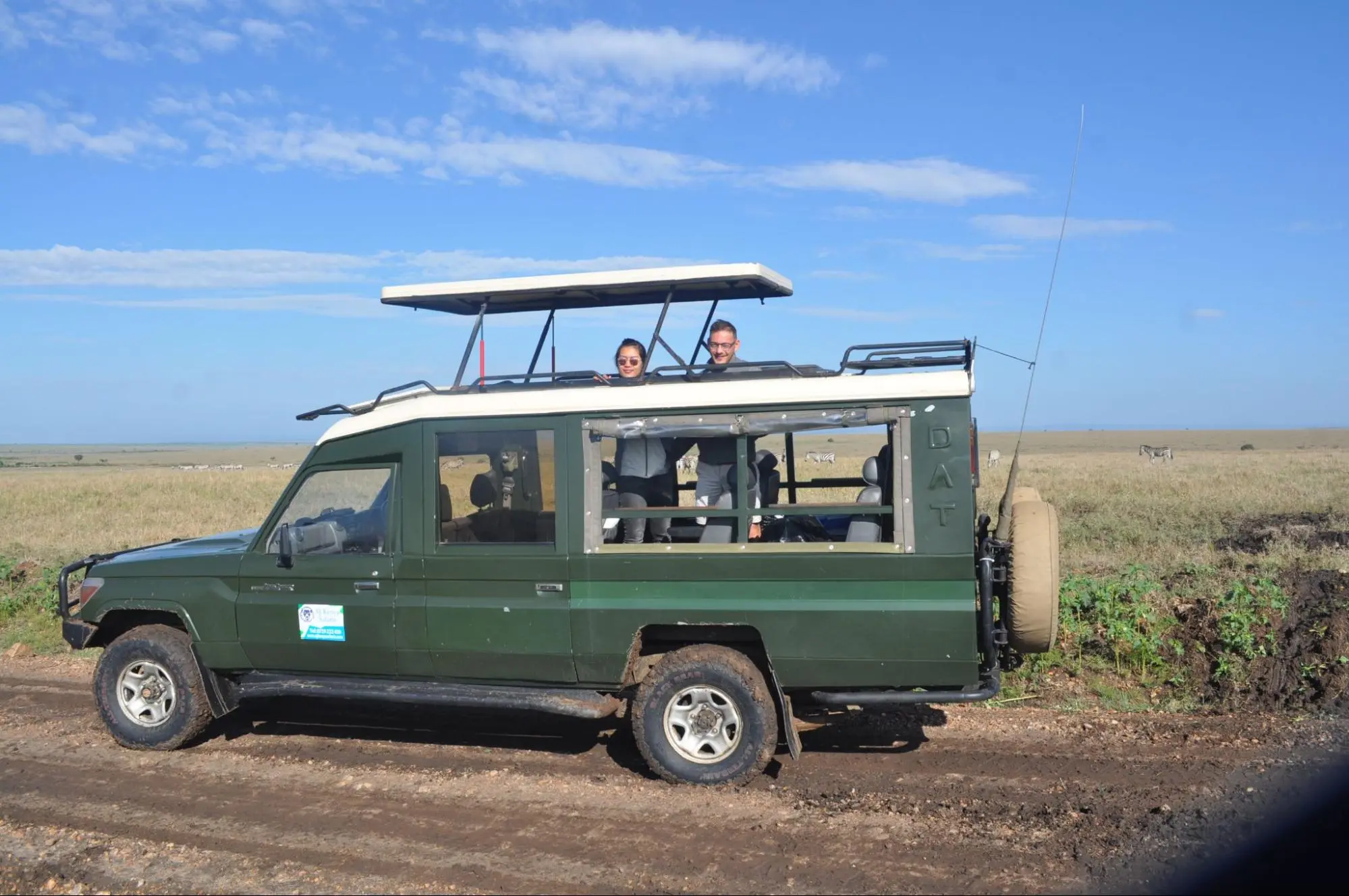 Kenya Safari Packages Destination - #2. Ol Pejeta Conservancy
Ol Pejeta is stunning, unique, and undoubtedly one of the greatest of its kind in existence. It's also captivating and a 6-time holder of Eco-Warrior's Private Conservancy of the Year award. 
So what and where is Ol Pejeta, and why is it such an attractive luxury Kenya safari holidays destination? It is sandwiched between Mt. Kenya and the Aberdare Ranges, a location hugely responsible for its beauty. 
Birdlife abounds here, and so does the wildlife, which features the Big 5, over 10,000 large mammals,  and chimpanzees. The best Kenya safaris to Ol Pejeta also take guests to the nearly Samburu game reserve. 
It also hosts two of the world's only remaining northern white rhinos and is the only conservancy in Kenya where you can find chimpanzees. The park also hosts Africa's fastest-growing rhino population! 
Quite the charmer, don't you think? Plus, it's home to these two best Kenya luxury safari lodges in Ol Pejeta.
Sweetwaters Serena Camp - 4-Star
Somewhere in the lush, wildlife-swamped grasslands of Ol Pejeta sits Sweetwaters Serena, a camp as gorgeous as the conservancy itself. The camp features 17 deluxe tents with en-suite bathrooms, free WI-FI, plush bathrobes, and private verandahs. 
We guarantee that you'll love its restaurant also, from its inviting ambience and proximity to a watering hole to its delicious international cuisines. 
Other noteworthy features include a swimming pool, conference room, and gift shop, extensive grounds, BBQ facilities (additional charge), babysitting services (extra charge), and laundry services (extra charge).
The Ol Pejeta House - 4-Star
The Ol Pejeta house is for those with a penchant for old-but-gold lodges. It's for those who like to take their meals surrounded by breathtaking views and those with a taste for the finer things in life. 
Spend your luxury Kenya holiday here, and experience the ultimate contemporary comfort. The house has two superior guest rooms with dressing rooms, two standard en-suite guest rooms with a viewing deck, a fireplace, and two deluxe rooms. 
You can also explore your surroundings by camelback ride, enjoy game drives in the park from the house, and have intimate sunset dinners. 
Other amenities within the property include room valets, a private chef, babysitting services, free WI-FI, and a spa and swimming pool.
Kenya Luxury Safari Pacakges Destination - #3. Diani Beach Kenya
With velvety sands blinding, turquoise and refreshing waters, and magical and captivating views, Diani beach sure knows how to make an impression. It's so impressive that it was voted Africa's best beach for six consecutive years!  
Spend a luxury Kenya tour here and experience Diani's magnificence firsthand. Think snorkelling, sunbathing, lounging on the beach, skydiving, and a stay at these two exceptional Kenya luxury safari lodges.  
Do all that and more while staying at the best Kenya luxury safari lodges in Diani, including:
Hemingways Watamu - 5-Star
Those with an inclination towards exceptional services and comfort will appreciate Hemingways Watamu, and rightly so. This beauty sits in the heart of the Watamu Marine Park and is punctuated by blinding white sands, turquoise waters, and an ambience to die for. 
There's everything to love about her ocean-view rooms, which feature bright, ocean-themed interiors, en-suite bathrooms, private balconies, and plush beds. 
Learn to kite-surf. Take a sunset cruise to Mida Creek. Swim, snorkel or pamper yourself to a day in the spa. Or, if you're all for toning it down, lounge around the pool as you work your way through their wine menu.
The Sands at Chale Island - 4-Star
And then there's the Sands at Chale, a luxury lodge so elegant it's considered one of the best in the country. Here, rooms reveal striking views of Chale Island, a stunning mass of turquoise water punctuated by lush mangrove forests and coral reefs. 
There's a variety of standard rooms, bandas, penthouse suites, overwater suites, and suites-on-the-rocks you can choose from.
Kenya Luxury Packages Destination - # 4. Samburu National Reserve
You'll find a lot of calm and quiet in the Samburu. You'll find insanely beautiful natural wonders.  Resorts and camps will have you redefining beauty. Unique experiences and activities that get you out of your comfort zone. And time to reflect and unwind (lots of it!). 
So who's Samburu, and why's it a must-have for exciting Kenya luxury safari holidays? It is an arid/semi-arid park situated in the Samburu District, 345km from Nairobi. 
Here, wildlife abounds, from over 900 elephants, 450 bird species, lots of predators, and the Samburu Five. The Samburu Five? Let us explain that… 
The reserve is the only place in the country you can find the reticulated giraffe, gerenuk, Somali ostrich, Grevy's zebra, and Beisa Oryx. It also hosts generous amounts of cheetahs, lions, and leopards. 
Now, wait till you hear about these two spectacular luxury Kenya safari lodges in the Samburu.
With spectacular views of the Laikipia Plateau and Mt. Kenya, Saasab Lodge is your best bet for a stunning luxury Kenya tour. 
The lodge has nine rooms with private plunge pools and exceptional Swahili and Moroccan-inspired decor. Its amenities are remarkable, from its en suite bathrooms, free WI-FI, and private viewing decks to its round-the-clock customer service. 
Explore Samburu by foot, quad bike, camel, or on a helicopter while in the lodge. Indulge in a relaxing massage while taking in Samburu's magnificent views. 
Or go on a game drive around the park and enjoy sumptuous bush dinners/lunches/ breakfasts while at it.
Elephant Bedroom Camp - 5-Star
It is a secluded tented camp with elegance, style, and luxury that provides an incredible Kenya luxury safari experience. Elephant Bedroom provides luxury in a breathtaking setting, resting along the animal-rich Ewaso Nyiro Riverbank. 
The camp is shaded by Doum palms, giving a green belt of a thriving forest at the arid Samburu National Reserve. Its notable amenities include a spacious dinning tent, WiFi, 240v charging facilities, and ál fresco' breakfast and lunch.
Kenya Luxury Holiday Destination - #5. Amboseli National Park
Amboseli is all elephants. And awe-inspiring views of Mt. Kilimanjaro. And serene, calm ambiences. It's easy to see why it's one of the most sought-after parks! 
Nature lovers will have a blast exploring its five distinct habitats, ranging from savannahs, wetlands, woodlands, and the dried up-bed of Lake Amboseli. 
They will also love her unique wildlife variety, boasting over 1000 individual elephant herds, 600 bird species, lions, buffaloes, cheetahs, wild dogs, dik-dik, zebras, giraffes, and hyraxes. 
Things to do in the Amboseli national park are game drives, nature walks, bush dinners/lunches/breakfasts, horseback riding, camping, and photography. And you can do that while staying at the best Kenya luxury safari lodges in Amboseli.
Nestled in the heart of Amboseli with soul-stirring views of Mt. Kilimanjaro, the Ol Tukai Lodge is truly what dreams are made of. Rest assured of the highest standards here, from elegantly furnished rooms to impeccable dining and upbeat bars (there're two). 
The rooms are also something to look forward to, each fitted with balconies that offer spectacular views of the park, en-suite bathrooms, air conditioning, wake-up service, a safe, and free WI-FI. 
Other amenities within the lodge include a swimming pool, spa, fitness centre, private check-in and check-out, outdoor play equipment for kids, and daily housekeeping.
Elewana Tortilis Camp - 5-Star
We'll be the ones to say it: you haven't experienced luxury unless you've stayed at the Elewana Tortilis Camp. The camp is effortlessly gorgeous, from its location- it rises from the park's grassy plains- to its views which feature Kilimanjaro and a remarkable array of wildlife. 
Looking for high comfort? This is the place to be, for there are many amenities in its 16 tented suites, which feature classy en-suite bathrooms, king or twin-size beds, and private viewing decks. 
The camp also features a dining area, bar, main lounge, two swimming pools, a spa, and Free WI-FI.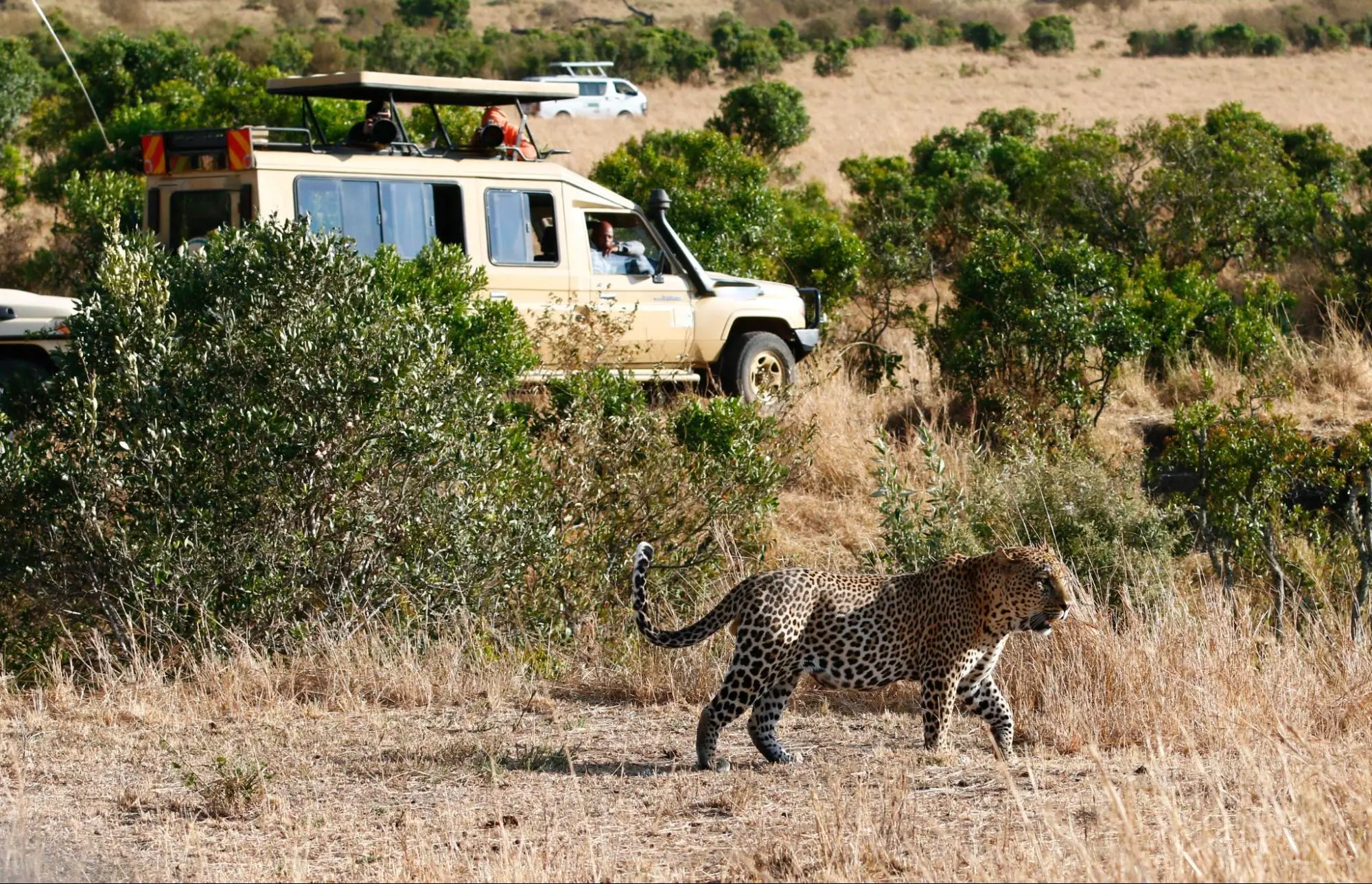 Luxury Safari in Kenya Destination - #6. Meru National Park
Meru National Park has that rare kind of beauty that is quiet and doesn't announce itself. The kind that makes you lose track of time or remember why you fell in love with your partner in the first place. 
Luxuriant jungles form part of this beauty. And coursing rivers, swamps, wildlife, and lush savannahs. 
Go on a game drive around the park and fall in love with the Meru wonders, especially wildlife. Carefully watch the zebras, elephants, giraffes, hartebeests, buffaloes, and reedbucks and marvel at its over 427 recorded bird species. 
When night falls, find comfort in these two luxury Kenya safari lodges in the Meru National Park.
Elewana Elsa's Kopje Meru - 4-Star
Unsurprising for a lodge sculpted right above a hill (Mughwango Hill), Elsa Kopje is unapologetically romantic and exquisitely styled. 
Its six en-suite cottages boast spacious bedrooms, large sitting rooms, spacious en-suite bathrooms, private balconies that open up to spectacular views of the Meru, and five doubles and one twin bed.
Come prepared to have your breath taken away by the 215,000 acres of land surrounding the lodge and the different varieties of wildlife dotted around it. Think rhinos, hippos, lions, elephants, zebras, and giraffes. 
The resort also offers excellent dining options (bush breakfasts and sundowners), a pool, spa, and guided nature walks.
Luxury Safari Destination in Kenya - #7. Tsavo East National Park
The wildlife, the landscape, the ambience! Tsavo East is a park that fascinates us all, and you won't be an exception. Fall in love with the elephants, the dust-red colour on their skin, and their cheerful, playful ways. 
There's also the Yatta Plateau, a 300km lava flow that is the largest of its kind on the planet. 
You'll also, without a doubt, enjoy the hundreds of other wildlife in the park, which include lions, crocodiles, rhinos, waterbucks, leopards, lesser kudu, and gerenuks. 
Combine that with these Kenya luxury safari lodges in the Tsavo East National Park, and you have a memorable experience.
Kilanguni Serena Safari Lodge - 3-Star
Unashamedly the most fascinating lodge in the park, Kilanguni treats guests to enchanting views of Kilimanjaro, the deep green volcanic landscapes of Chyulu Hills, and luxurious, impeccably designed rooms. 
Discover its 56 guest rooms designed to meet the varying needs of couples, families, and solo travellers with their private balconies, en-suite bathrooms, round-the-clock room services, and high-speed WI-FI. 
The lodge also features a Michelin-starred restaurant, a swimming pool and babysitting and laundry services. 
"What if we told you that paradise is a feeling, not a place? A feeling nothing conjures better than luxury Kenya safari holidays with AjKenyaSafaris.com Ltd?  
What if we told you that that breathless, weak-in-the-knees feeling isn't just a phrase they use in the novels. That it's possible to see a holiday destination so surreal it takes your breath away.
And what if we then told you that that destination is Kenya. And that no one or nothing showcases her better than our Kenya luxury safari holidays? Don't believe it? Well, there's only one way to find out… 
Book your luxury Kenya Safari package today- it's the best investment you'll ever make in yourself." James Gatheru, AJ Kenya Safari Ltd. CEO.