Valentine's Day Getaway Deals - Valentine Packages in Kenya, Offers, & Itinerary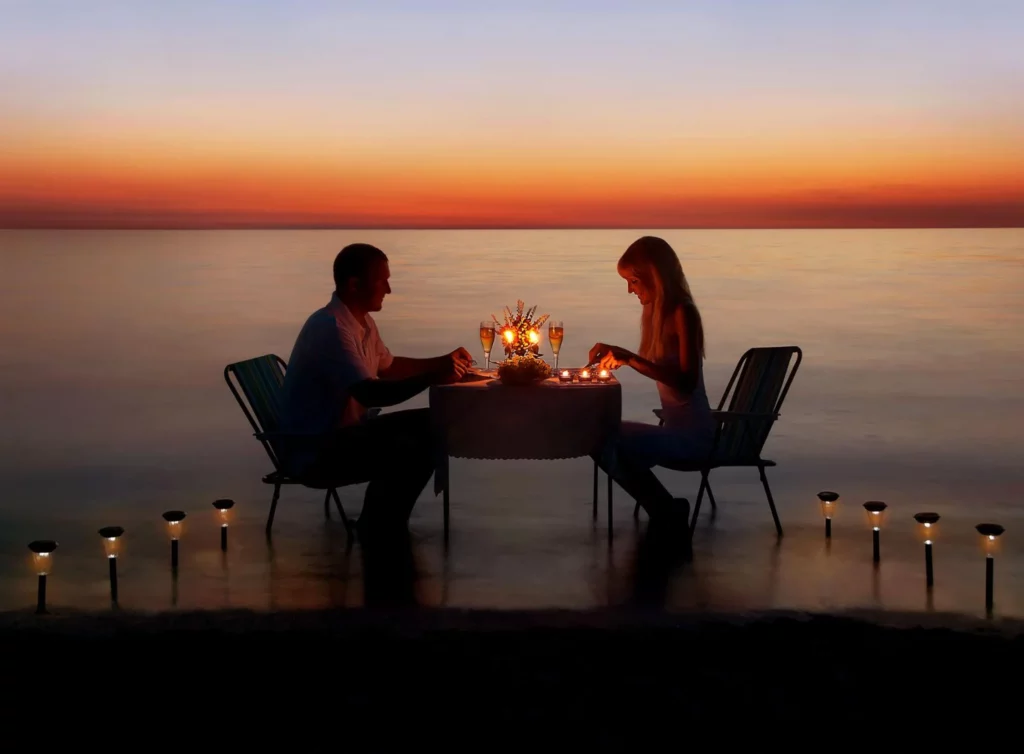 AjKenyaSafaris.com has crafted the best valentine packages in Kenya for you and your lover to keep the flames of love burning. It is an affordable 4 days, 3 nights, Valentine's day in Kenya to Diani Beach, Wasini Island, and Fort Jesus. 
In 4 short days of love, relaxation, and adventure, you will swim with the dolphins, snorkeling, deep-sea diving, and scuba diving. How about relaxing and bonding on the white sands of the pristine Diani beach? 
Swimming with the endangered turtles? ​Welcome to the unbeatable Mombasa Valentine offers.
Book Your Kenya Valentine Packages Now – Contact Us Today
We provide the best valentine's deals in Kenya for all travelers. You can book your safari today by calling or sending us a WhatsApp at +254-748-258-880. We are also available via email at james@ajkenyasafaris.com or safarioffers@ajkenyasafaris.com.
Summarized, 4 Days, 3 Nights Valentine Offers in Kenya to Mombasa Itinerary
Trip Details
Highlights
Day 1

SGR Transfer to Mombasa & Visit Fort Jesus

Overnight at Waterlovers Beach Resort

Day 2

Spend Time at Diani Beach or Hotel

Overnight at Waterlovers Beach Resort

Day 3

Wasini Day Trip with Lunch

Overnight at Waterlovers Beach Resort

Day 4
Late Check-Out & Flight to JKIA
Items Included
Full-Board Accommodation, SGR Tickets, Flight Tickets, Wasini Day Trip, Transfer Vehicles, and More
Items Excluded
Money Transfer Fee, Tips and Gratuities, Accommodation in Nairobi, Flying Doctor Cover, & Laundry Services
Safari Price
Per Person Sharing at USD 1405
The Detailed Valentine Packages in Kenya Safari Itinerary 
Make your valentine day in Kenya memorable by following one of the most romantic itineraries you will find from Kenya tour companies. Here is what you can expect to experience when you book our 4 days, 3 nights valentine's getaway packages.
Day 1: Pickup from JKIA, Transfer to SGR Nairobi Terminal & Safari to Mombasa, and Visit Fort Jesus 
Mombasa – Dinner Cruise
Your journey starts early at 6:30 am. If you are just landing, we will pick you up from JKIA and then transfer you to Nairobi SGR Terminal. We will pick you up from Nairobi hotel if you are already in Kenya. 
The four-and-a-half-hour journey to Mombasa will leave a remarkable impression on you. This is mainly because the countryside is spectacular, and with it comes an attraction that is second to none. The safari takes about 6-hrs, meaning you should be in Mombasa by 2 pm.
You will explore Fort Jesus. Fort Jesus has, for the longest time, held on to the title of the 'most visited tourist location in Mombasa.' The Fort is a trip down memory lane, a visual narration of Mombasa's past and encounters with 'foreigners.' 
It is also a depiction of the Portuguese's architectural and design prowess. You will remember the site for its beauty and perfect structures, but mostly, you will remember it for its strong stand against time. You will explore the fort and then get a transfer to Diani Beach. 
Day 2: Relaxing in Pristine Diani Beach or Spend Time in Hotel
Diani is heaven on earth and the perfect destination for a honeymoon or Valentine's in Kenya. It is a constant reminder of nature's beauty and faultlessness. If you opt for the beach, you set out early in the morning because Diani is not the girl you want to keep waiting. 
Here you get a full day of beach therapy. You relax on the shores of the beach, go for swims and dives into the ocean, surf, play beach volleyball and water games, and then, when you are tired, swim some more.
The beach is beyond words, an amazing site filled with some of the most attractive features in the world. A full day in the sun deserves some refreshments, right? So you will head to the restaurant and sample what most hail as the best Swahili cuisine.
Beach volleyball, basking in the sun, long walks along the shores of the beach, collecting shells on the beach and a lot more. Your day is going to be like none other.
Day 3: Wasini Day Trip with Lunch – Swimming with the Dolphins 
You might have heard of the Wasini Island, and if not, you are about to rethink your valentine ideas in Kenya. The Island is what Americans would dub delightful. Its features are alluring, ones that only compare or come close to Diani's.
You start by swimming with the dolphins. The creatures are captivating, soft, and so friendly. They usher you into their world, challenging the norms that that which lies beneath is dark and dangerous. They show you the rainbow side of the ocean, aside you will have the time of your life discovering.
Then comes the scuba diving. The activity lets you explore the ocean. Every curve, every stone you uncover. You discover the aqua kingdom and who knows, you might actually come across aqua man.
Snorkelling and kite surfing go well with quiet afternoons. You swim your thighs sore, and when the tide and winds are high, you surf yourselves into the evening.
The Kisite Mpunguti Marine National Park is yet another highlight of the Wasini Island. The park introduces you to all things underwater. With thousands of sea species and a remarkable underwater exploration, you get to see what they mean when they say that the ocean is another mysterious world. You see, species you only thought existed in fairy tales.
When it's evening, you take a boat ride back to Diani.
Day 4: Late Check-Out & Flight to Nairobi (JKIA)
Check out of the hotel late in the afternoon and head to the Ukunda Airport for your flight back to Nairobi. The flight lands at JKIA, where you will connect with your international one. Sadly, the  Kenya valentine package has come to an end. We are hoping to see you soon!
Items Included in Valentine Packages in Kenya Price
 Pickup from JKIA and transfer to SGR Nairobi Terminal
SGR Tickets to Mombasa
Pickup in SGR Mombasa Terminal 
Visit Fort Jesus 
Wasini Day Trip 
Full-board accommodation 
Late check-out 
Flight tickets from Diani to Nairobi (JKIA)
Transfer to Ukunda airstrip 
Items Excluded from Valentine's Day Getaway Deals Price 
All bottled drinks (Such as whiskeys, vodkas, wine, etc.)
Tips and gratuities
The Flying Doctors
Items and services of a personal nature
Money transfer fee
Safari Price Per Person Sharing of Valentine's Packages in Kenya 2023
USD 1405 Per Person Sharing
The price is based on 2 people traveling together sharing the accommodation. Kindly reach us if you would like a customized safari.