5 Star Hotels in Nairobi - The 8 Best Nairobi Luxury Hotels Review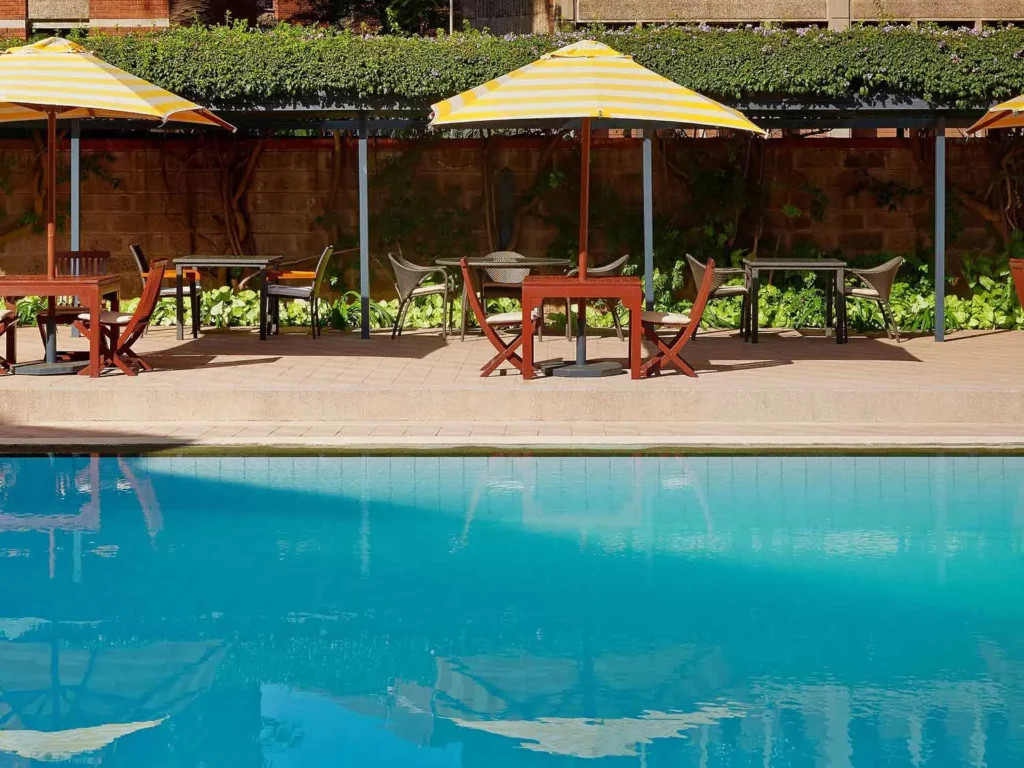 If you are looking for a beautiful place to stay during your Kenya safari, look no further than Nairobi Luxury Hotels.  Nairobi, a name derived from the Maasai phrase "Enkare Nairobi," means a place of "cool water."
The city is also universally known as the "Green City under the Sun" due to its cool climate, water catchments, and evergreen vegetation. Due to the city's proximity to the equator, there is a slight variation between the seasons.
However, most travelers enjoy being in Kenya between January and March and July and October, the country's driest months. You will enjoy the excellent services offered by classic Nairobi luxury hotels within this beautiful city.
Contact Us to Book the Best Hotels in Nairobi CBD and Nairobi National Park
Our Most Booked Nairobi Day Tours with Stay at Luxury Hotels in Nairobi
The Top 8 Best Nairobi Luxury Hotels Review
From high-class service to fantastic amenities, the best hotels in Nairobi are more than a place to spend the night. You get modern convenience and comfortable rooms when you book one of the five-star hotels in Nairobi.
You can even book a luxury hotel close to Nairobi National Park, Giraffe Center, David Sheldrick, or any other attraction in the city.
5 Star Hotels in Nairobi - Fairmont The Norfolk Hotel
Fairmont The Norfolk Hotel has 170 guest rooms and suites, eight unique event and meeting rooms, a gym, a steam room, a heated outdoor swimming pool, a sauna, a salon, a bookshop, and gift shops. It is one of the finest luxury hotels in Nairobi, Kenya. 
You will enjoy the hotel's beautiful tropical gardens despite being in the capital city. The waiters will serve you sumptuous light meals and continuous drinks from morning till midnight. It offers an ideal business traveler package, making it the number one choice for business executives traveling to Kenya.
The package is subject to availability, and it includes accommodation, a daily buffet breakfast, complimentary wireless internet, and a complimentary shared shuttle to and from Jomo Kenyatta International Airport.
Luxury hotels in Nairobi - Villa Rosa Kempinski Nairobi
Suppose you are looking for a perfect fusion of Kenyan hospitality and European luxury. Villa Rosa Kempinski Nairobi, one of the modern luxury hotels in Kenya, is the place to be. 
The hotel's iconic architecture offers a unique destination where guests can spend some time relaxing in the lavish surroundings and the rest of their time climbing corporate ladders.
At Villa Rosa Kempinski, you will have your taste buds exceptionally treated to a variety of dining options from all over the world in our four exquisite restaurants. They include Café Villa Rosa, my favorite, 88 Lounge and Restaurant, LUCCA Restaurant, and Tambourin Lounge and Restaurant.
Distributed throughout the hotel's ten floors are 200 superb rooms and suites, including an enormous four-bedroom Presidential Suite and a Premier Suite on the top floor. Having held a business meeting in this hotel, I can assure you that you will keep in touch with family and friends effortlessly and deal with business commitments using the complimentary Wi-Fi.
The highly experienced concierge team is always ready to assist you in ticket confirmations, transport to and from the airport and beyond, and shopping mall recommendations.
Best Hotels in Nairobi for Couples - Nairobi Serena Hotel
To experience exceptional efficiency, service, and five-star hospitality, choose Nairobi Serena Hotel for your vacation with family or friends. The hotel was selected as Africa's Leading Green Hotel and Kenya's Leading Business Hotel at the World Travel Awards 2016 and is a member of Kenya's Leading Business Hotel.
If you look forward to quality family time during your holiday, you will get more than bargained for at Nairobi Serena Hotel. You will have a variety of family-friendly rooms to choose from. Plenty of sports, adventure, and educational activities will thoroughly entertain children of all ages. 
The outdoor gardens and terraces also offer fantastic and safe playgrounds for the young ones. Nairobi Serena Hotel is your business venue of choice. You will have an array of executive suites, business support, product launch expertise, global connectivity, and high-profile international corporate events.
Best Hotels in Nairobi for Lunch - The Sarova Stanley
This luxury hotel started in 1902 and has continually made history by providing state-of-the-art services. I am delighted by the excellent facilities for leisure and business travelers in Sarova Stanley Hotel.
It has hosted legendary personalities such as Ernest Hemingway, Edward Prince of Wales, and Frank Sinatra. Royal safaris and notable business events have also been hosted in this hotel. If you have never tasted Thai cuisines, I highly recommend Thai Chi in Sarova Stanley hotel, where you will get the most refined Thai cooking in the region.
At Pool Deck Restaurant on the 5th floor of the hotel, you will get a rest from the hustles and bustles of the busy city and enjoy the alfresco dining concept in the open air. Thorn Tree Cafe offers delicious pizzas made using wood-fired ovens, various coffee beverages, and fresh juices of your choice. 
You will also enjoy adroitly prepared Nouvelles and popular continental dishes. There are 217 modern guest rooms, including 23 suites, all made with a luxurious blend of Victorian opulence.
All executive rooms have a cloakroom and an en-suite lounge with the climax of luxury in the Sarova Stanley hotel, the lavish Presidential, State, and Penthouse Suites. Fitness facilities, private meeting rooms, and reliable Wi-Fi make it ideal for business meetings.
Most Expensive Hotel in Nairobi - Hemingways Nairobi
I enjoyed the personalized butler services I got from the staff at Hemingways, which won the Travellers Choice 2016 Award, and I was impressed by the luxury and comfort provided. The hotel is only a 40-minute drive from JKIA international airport. 
The corporate facilities at Hemingway offer a desirable combination of proximity to the city and privacy, which is ideal for business and leisure travelers. It boasts a spacious and airy plantation style flooded with natural light and stunning in its symmetry. 
You will not fail to enjoy the long Hills' exquisite scenery from your bedroom's private balcony. The a la carte menu dexterously prepared by the Executive Chef in the private dining room is made just like you want it.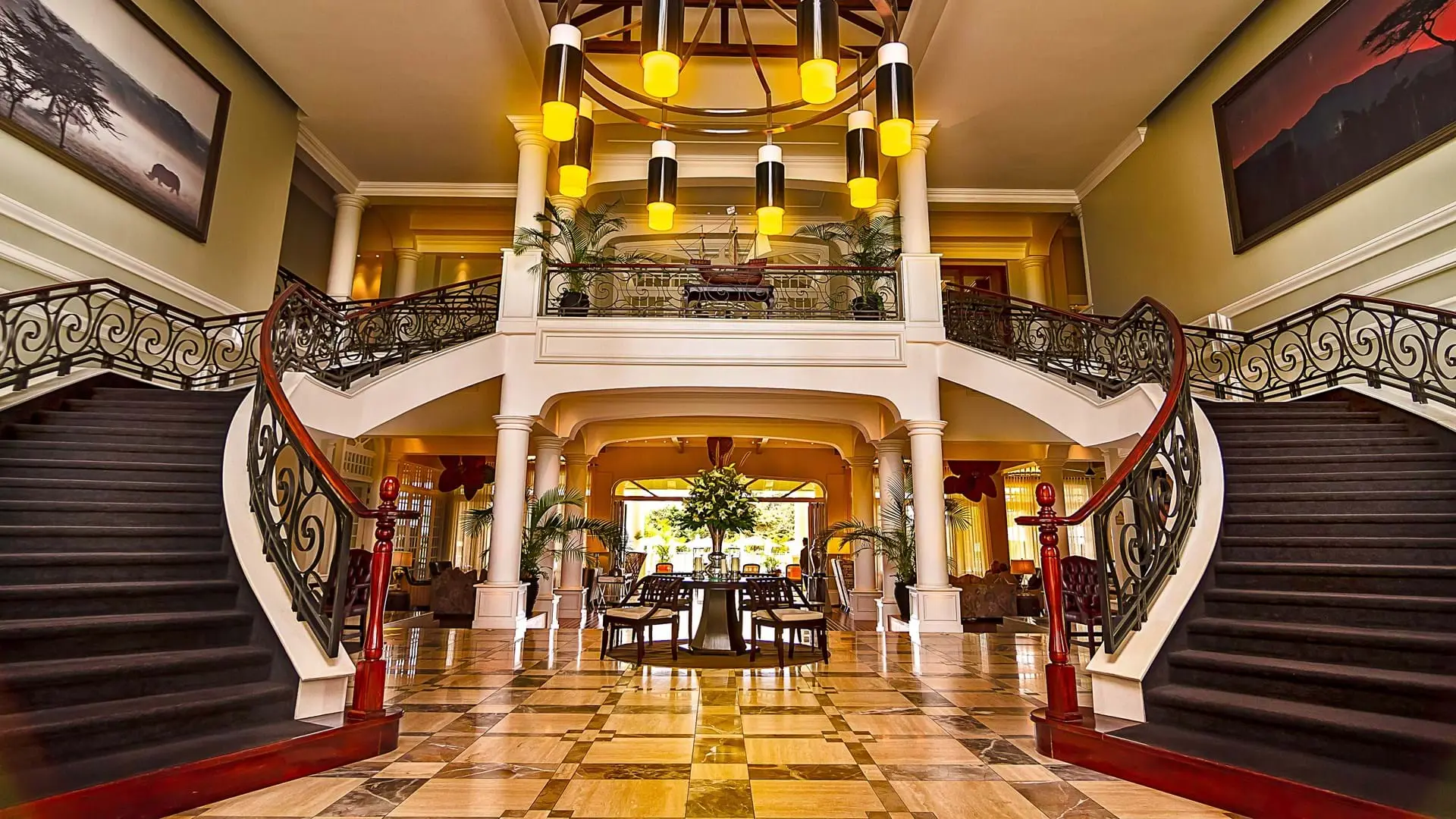 Best Hotels in Nairobi and Prices - The Boma Hotel Nairobi
The Boma Hotel is known for its proximity to the JKIA and Wilson airports at only 13 km from JKIA and 5 km from Wilson Airport. The hotel is situated at Bellevue, off Mombasa Road. It is only 5 km from Nairobi's central business district. 
This makes the hotel very ideal for both leisure and business travelers. The hotel prides itself on 148 luxury deluxe guestrooms, spa, health club, restaurants, and conference facilities, ensuring that all your needs are adeptly catered for.
Concierge, airport transfers, taxi services, luggage storage, currency exchange, and valet parking are some of this luxury hotel's amenities.
5 Star Hotels in Westlands Nairobi - Sankara Nairobi
One of the things I like about this luxurious hotel is the spacious rooms which are well air-conditioned. I could not fail to notice the competently done contemporary décor, which was on point.
All rooms feature a flat-screen TV to keep you thoroughly entertained, tea and coffee-making facilities, and free Wi-Fi, ensuring that you communicate effectively with your family and friends or catch-up during work and business.
Situated just 5 km from Nairobi's central business district, Sankara Hotel Nairobi is the perfect place where you can stay and enjoy shopping in numerous classic malls in the city. If learning about other cultures is your thing, you will enjoy visiting the National Museum, which is 2 km from the hotel.
Nairobi Luxury Hotels: Ole Sereni
At Ole Sereni prides itself in being the only city hotel by a game park. You will see giraffes, antelopes, zebras, and buffaloes lounging near the waterhole, punctuating the stunning greens and golds of the picturesque Nairobi National Park's landscape.
The experience I get from the up-close interaction with the wildlife is astounding. You cannot miss this experience which will give you moments that you will never forget with nostalgia. Dining at Ole Sereni is an enjoyable activity with various dining spots to choose from.
At Waterhouse Snack Bar, you will enjoy watching the sun go down as you want the delicious sandwiches, chicken lollipops, and British fish and chips prepared by dexterous chefs. At Eagles The Steakhouse and The Big Five Restaurant, you will enjoy yummy breakfast, lunch buffets, a la carte dinners, and, of course, the finest fresh seafood from our Kenyan coast.
The hotel, located at Nairobi's international and other regional airports, is convenient for business and leisure travelers. Its facilities include world-class restaurants, a spa, and excellent conferencing facilities.
If you want to experience East Afrifirsthandand, this is the place.