Amboseli National Park Hotels - The Top 5 Amboseli Lodges, Reviews, & Packages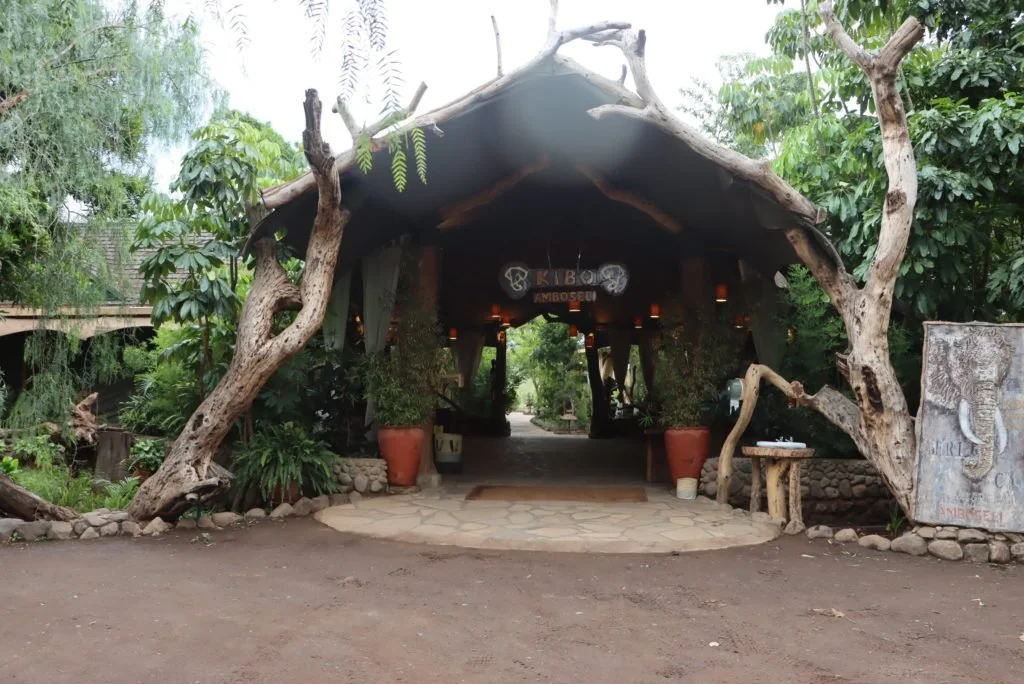 Are you looking for the best and most luxurious Kenya holiday packages? Kenya safari holiday packages on AjKenyaSafaris.com make planning your trip easier whether you are off for an all-inclusive holiday, family trip, or a romantic adventure. 
We have listed the best Kenya tourism packages you can find online today to give you an idea of what you can expect from us when you book your holiday with us. You can book these Kenya beach and safari holiday packages as they are if you are a couple or two travelers or request us to provide a customized safari. 
But booking the ideal Kenya travel packages is not enough if you don't know much about this country.  Our Kenya holiday tour consultants and guides, born and raised in Kenya, have shared the key things you need to know to have a safe, fun, and adventurous Kenya safari.
Stay at the Best Amboseli National Park Hotels with Us - Book Now
Our Most Booked Amboseli National Park Lodges and Other Top Packages
The 5 Best Hotels in Amboseli National Park Review and Reviews
We invite you to stay in any of the Amboseli National Park hotels we have shared on this list and experience the beauty of Kenya wildlife in style.
Ol Tukai Lodge Amboseli - Among the 5-Star Hotels in Amboseli
The Ol Tukai Lodge is among the few lodges where you can watch large herds of elephants and savor the magnificent view of Africa's highest mountain, Mt Kilimanjaro. This Amboseli accommodation has excellent indoor and outdoor facilities with unique collections of African art.
Amboseli Ol Tukai Lodge flaunts an elegant theme that appeals to local and international tourists. The Lodge has 80 comfortable chalet twin rooms, each beautifully made with a critical focus on satisfaction and comfortability.
However, we love this Amboseli National Park accommodation because it has specially built rooms for people with special needs. The meals are buffet-style, with the kitchen having an all-inclusive menu.
The bar is stocked with drinks of choice, such as cocktails, fresh fruit juices, beers, and liqueurs. Lunch is served on the Verandah, with some wildlife occasionally being meters away from the fence.
Zebra and Big Five (buffalos and elephants) will be the ones to join you, but please don't forget that you should never feed them.
Amboseli Serena Safari Lodge - Among the Best Amboseli National Park Lodges
Amboseli Serena Safari Lodge, part of the Serena Hotels family, is located inside the park close to the Kenya-Tanzania border. The lodge is set against the beautiful backdrop of Mt Kilimanjaro, and golden acacia trees and savannah plains surround it.
Close to it, you can view emerald green swamps fed by melting snow from Kilimanjaro. The room features a king-sized bed, mosquito curtains, a private bathroom, and a verandah where you can relax and enjoy yourself when you don't feel like leaving the room.
There are also triple rooms for those on a Kenya group safari. You enter the dining area through a timbered bridge over the melting water stream. Talk about elegance. The dining wall features hand-painted wildlife, and its décor reflects traditional artifacts of the Maasai community.
Amboseli Serena Lodge has professional chefs who cater to individual diets. The restaurant menu features a salad buffet, entrée, soup, cheese, biscuits, pudding, tea, and coffee. Vegetarian options are also available if you do not feel like experimenting with local dishes at Serena Amboseli. 
You are guaranteed to feel right at home with the expertise of the chefs who prepare mouthwatering international cosines. Amboseli Serena Safari Lodge has a spacious bar and lounge with a broad terrace and a blazing fire, serving as a standard room where guests gather to enjoy evening cocktails.
Kibo Safari Camp - Among the Best Amboseli Lodges and Camps
The Kibo Safari Camp is positioned at a place where you can watch the sunrise majestically over Mt Kilimanjaro while still enjoying the warmth of your bed. It has 73 self-contained tents which accommodate guests as per their needs.
There are single tents, double tents, triple tents, and family tents. These tents are of a world-class standard with a clothes rack, mosquito nets, a writing desk, a carpet, private flush toilets, a washbasin, and showers. 
The beds in the tents are built using bush logs, which will give you comfort and create a camping feel. Kibo Safari Lodge has a restaurant and an open terrace building overlooking the snow-capped mountain and all flora and fauna.
The camp has planted fruits and vegetables in the lodge; thus, you can be sure that your food will be fresh and delicious. Its professional chefs offer the best cuisines and cater to individual diets.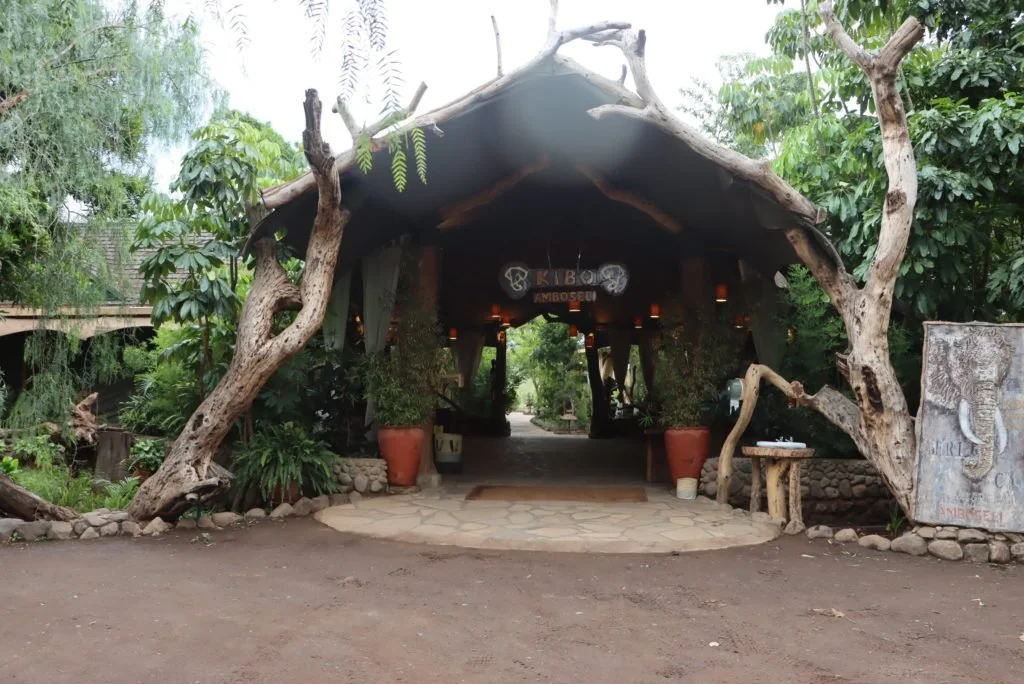 AA Lodge Amboseli - Among the 3-Star Amboseli Hotels and Lodges
AA Lodge Amboseli is an establishment under AA Group of Hotels and among the most luxurious lodges in Amboseli National Park. It is among the cheap hotels in Amboseli and is built in a 3-tier accommodation design.
Amboseli AA Lodge offers a variety of accommodation options, including superior rooms, tents, and cottages. The lodge is located 4 kilometers away from the park's main gate, 240km from Nairobi, and 16 kilometers from Amboseli airstrip.
Amboseli AA Lodge is built on 60 acres of land with a truly spectacular view of Mt. Kilimanjaro. And it has trained chefs who offer mouthwatering dishes, with the restaurant holding up to 130 guests.
There is a terrace overlooking the swimming pool where you can sit and take your meal on the hotel's front side. After the meals, guests can take a dip in the pool and enjoy themselves while at it.
AA Lodge Amboseli has a diverse list of assorted games provided for children in the entertainment hall, making it a family-friendly safari lodge. The availability of a conference hall makes the lodge best for business travelers. 
The hall is well equipped and can hold a maximum capacity of 250 delegates. The conference rooms are the ideal place for conferencing and meetings.
Sentrim Amboseli Lodge - Among the Best Hotels in Amboseli National Park
The Sentrim Amboseli Lodge borders Amboseli National Park and is 3 kilometers away from Kimana gate, 240 kilometers from Nairobi, and 15 kilometers from the airstrip. If you travel by road, it will take you 4 hours from the city but just 50 minutes to fly to the airstrip.
Sentrim Amboseli Lodge has professional chefs who cater to individual tastes to perfection. The lodge kitchen is well equipped to help the chefs to prepare mouth-watering meals. It has 60 luxurious deluxe tents spread out in the lodge and is among the cheap hotels in Amboseli.
The other facilities include a swimming pool, entertainment gadgets, and friendly customer service, which will leave you wishing to prolong your stay.