The Detailed Itinerary for the 3 Nights, 4 Days, Masai Mara Camping Safari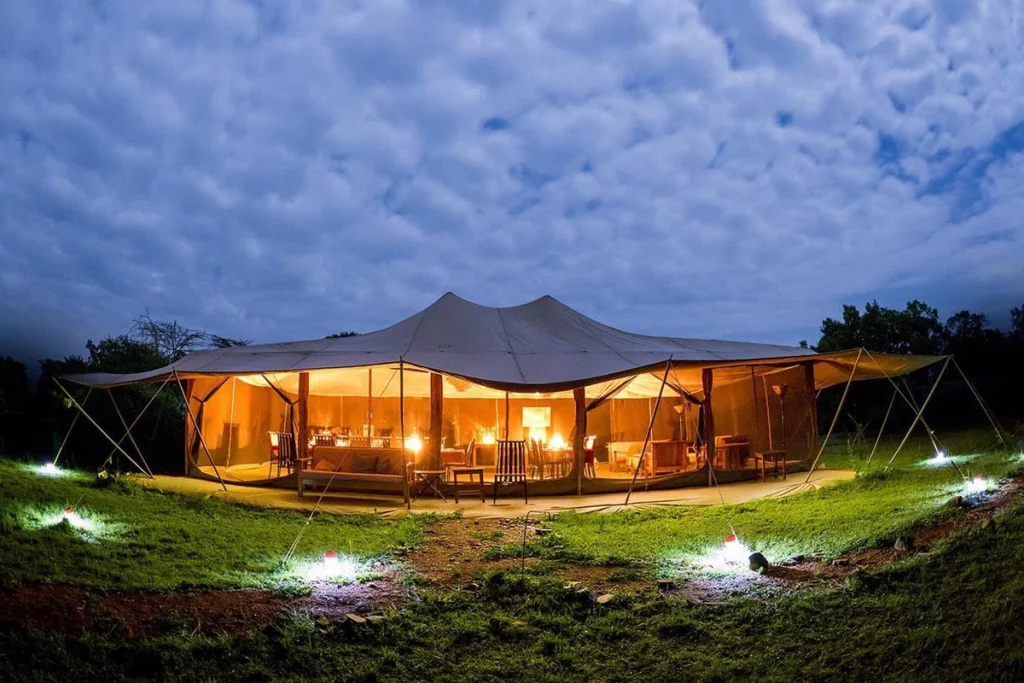 Masai Mara National Reserve is known for its large variety of wildlife and the great migration. You can witness all that with our 4 Days, 3 Nights Masai Mara camping safari. It is easy to spot the big five on our daytime game drives from the safety of the pop-up safari vehicle.
At AjKenyaSafari.com, we have a team of Kenyan-born tour guides who are experts and who will safely lead you on this exciting safari. Our Safari guides have been born and bred in the Mara and are most equipped to deal with nature, having been exposed from an early age.
Contact Us to Book the Best 4 Days, 3 Nights, Masai Mara Camping Safari
Contact us at Aj Kenya Safaris via email for this camping safari or any Kenyan safari that is convenient for you. We have packages for solo travelers, family holidays, group holidays, and honeymoon packages.
We also value feedback and would be glad to discuss our safaris or any issues you would like to discuss regarding travel. You can reach us at james@ajkenyasafaris.com or safarioffers@ajkenyasafaris.com. 
We are also available through WhatsApp or phone at +254-748-258-880.
The Summarized 4 Days Masai Mara Camping Safari Itinerary 
Trip Details
Highlights
Day 1

Airpot Pickup, Transfer to Mara, & Afternoon Game Drive

Accommodation at Various Camps

Day 2

Full-Day Game Drive with Packed Lunch

Accommodation at Various Camps

Day 3

Full-Day Game Drive with Packed Lunch

Accommodation at Various Camps

Day 4
Morning Game Drive, Visit a Maasai Village, & Transfer to Nairobi
Items Included
Accommodation, Meals. 4×4 safari land cruiser, Professional safari guide, Game drives, Park Fees, Pickups, Transfers, Bottled mineral drinking water, and More
Items Excluded
Hot air balloon, Visas, Money transfer fee, Travel insurance, Flights, Laundry, and Tips
Safari Price
Per Person Sharing from USD 1195
The Detailed 4 Days, 3 Nights Masai Mara Tented Camp Safari Itinerary 
Next, we look at the 4 Days Masai Mara camping safari tour to give you an idea of what you should expect.
Day 1: Pickup at JKIA, Transfer to Masai Mara & Afternoon Game Drive 
Our charming safari guide will pick you up from the airport when you land. The guide will give you a short briefing about the safari and then welcome you to your exclusive safari vehicle. Your road trip to Masai Mara starts now, and will see you make some stops along the way.
You will make the first stop at the Great Rift Valley Viewpoint to enjoy the view. Here You can purchase some beautiful handmade jewelry and souvenirs at the curio shop. Your next stop is made at Narok town for stretching your legs and buying anything you might need before heading to the Mara jungle camp. 
From Narok, you have about 2-hr-road-trip, and you will be in your chosen Masai Mara tented camp by noon. Our safari guide will leave you in the accommodation to take lunch, relax for a while, and then take you for an afternoon game drive. 
Day 2 & 3: Full-Day Game Drive at Masai Mara National Reserve with Packed Lunch
You camping Masai Mara safari get interesting for the next two days as you have full-day game drives. You rise at dawn when the sun is creeping over the sleepy Mara. This is the best time to catch the shy leopard heading home from a night hunt.
For bird lovers, the early risers can be spotted circling for food. You carry packed lunches from the camp and head out for this full-day game drive. The morning hours will see you follow the animal trails before settling under a tree for a picnic lunch. You then continue with the game drive until early evening.
You can also spot the beautiful gazelles, zebras, warthogs, black rhinos, giraffes, and small game quenching their thirst. Our guides know the Mara well and will lead you to the majestic lion families in plenty here. You may spot the cheetah, hyena, jackals, and foxes as they also hunt at this time.
Day 4: Morning Game Drive, Visit a Maasai Village, & Transfer to Nairobi
You rise early for a morning game drive right after breakfast. It is the chance to catch some of the animals you might have missed the previous days. The morning game drive ends at around 10 am, which is the perfect time to head to a Maasai village.
You can buy the beautiful checked Maasai Shuka (loincloth) in plenty here. You can take pictures of the beautiful Maasai huts dotted across the plains. Before starting the road trip to Nairobi, learn about the Maasai community and Kenyan culture.
Items Included in the 4 Days Masai Mara Camping Safari Price
Items Excluded from the 3 Nights Masai Mara Safari Price 
 Hot air balloon safari at USD 450 Per Person 
Travel insurance, expenses such as excess baggage fee, laundry charges, and airtime
Optional tips for porters and game guides
All other alcoholic drinks except Tusker, Kenya's flagship beer
Pre-travel expenses where applicable – Passports and visas
Easter, Christmas, New Year, and other holiday supplements 
Money transfer fee when sending
Price Per Person Sharing for the 4 Days, 3 Nights Masai Mara Camping Safari
| | | | | |
| --- | --- | --- | --- | --- |
| Accommodation | Low Season | High Season  | Peak Season | Festive Season  |
| Enkorok Mara Camp | USD 1195 | USD 1315 | USD 1630 | USD 1680 |
| Sentrim Mara Camp | USD 1255 | USD 1345 | USD 1570 | USD 1620 |
| Keekorok Lodge | USD 1264 | USD 1471 | USD 1966 | USD 2151 |
| Basecamp Masai Mara | USD 1300 | USD 1510 | USD 1795 | USD 1845 |
| Mara Big 5 Camp | USD 1330 | USD 1510 | USD 1840 | USD 1965 |
| Sarova Mara Game Lodge   | USD 1348 | USD 1606 | USD 2131 | USD 2087 |
| Mara Legend Camp | USD 1390 | USD 1720 | USD 2050 | USD 2175 |
| Mara Serena Safari Lodge | USD 1390 | USD 1558 | USD 2128 | USD 2283 |
| Asnil Mara  | USD 1402 | USD 1537 | USD 2137 | USD 1860 |
| Mara Maisha Camp | USD 1450 | USD 1585 | USD 2170 | USD 2310 |
| Ilkeliani Mara | USD 1555 | USD 1645 | USD 2170 | USD 2220 |
| Mara Crossing Camp | USD 1675 | USD 1765 | USD 2230 | USD 2280 |
| Entim Mara Camp | USD 1840 | USD 1930 | USD 2440 | USD 2490 |
| Sand River Mara Camp  | USD 2008 | USD 2449 | USD 2857 | USD 2907 |
| Olare Mara Kempiski  | USD 2356 | USD 2776 | USD 3490 | USD 3540 |
The Price is based on 2 people. Reach us to get a quote for one or more than three travelers.