4 Days Masai Mara Budget Camping Safari - 3 Nights of Camping at Masai Mara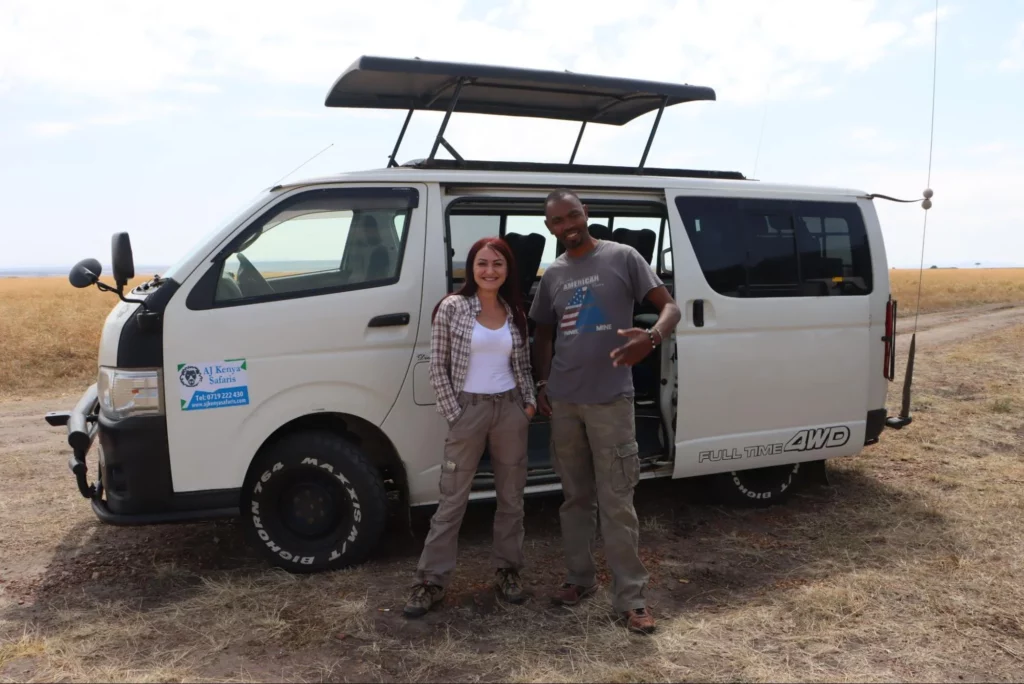 Are you a budget traveler looking for the best camping safari in Kenya? Our 4 Days Masai Mara budget camping safari got your back. It is an affordable 4 Days, 3 Night Masai Mara safari that will see you spend the nights at camping sites. 
Masai Mara National Reserve is a holiday destination to die for and extends over 3,000 sq. It is home to a diverse collection of animals, including Africa's big 5 (Cape buffalos, elephants, Lions, Black Rhinos, and Leopards).
Other famous residents in the park include giraffes, zebras, gazelles, wildebeests, cheetahs, and more. And over 500 species of birds can be spotted across the reserve, the most visited national park in Africa.
Our team has orchestrated this 4 Days, 3 Nights Masai Mara Safari from Nairobi to take you through Mara's savannahs, allowing you to experience the beauty of its scenery first-hand.
The icing on the cake is the thousands of varying wildlife populations scattered all over its lush green grasslands. The splendid sunsets and ethereal landscapes are also why this Masai Mara budget camping safari is an adventure.
Book Your 4 Days, 3 Nights Masai Mara National Reserve Camping Safari 
Contact us at safarioffers@ajkenyasafaris.com or james@ajkenyasafaris.com to book your 4 Days or 3 Days Masai Mara Budget Camping Safari with us.
We are also available via call or WhatsApp at +254-748-258-880. 
The Summarize, 4 Days Masai Mara Budget Camping Safari Itinerary
| | |
| --- | --- |
| Trip Details | Highlights |
| Day 1 | Pickup from Nairobi, Transfer to Masai Mara, & Evening Game Drive Accommodation at Various Camps |
| Day 2 | Full-Day Game Drive at Masai Mara with Packed Lunch Accommodation at Various Camps |
| Day 3 | Morning Game Drive, Visit a Maasai Village, & Evening Game Drive Accommodation at Various Camps |
| Day 4 | Morning Game Drive & Transfer to Nairobi |
| Items Included | Bush tent, Full-board catering, Game drives, Use of a safari van, Professional safari guide, Pickups and dropoffs, and more |
| Items Excluded | Money transfer fee, Flights, Tips and Gratuities, Laundry, Visas, & Hot Air Ballon. |
| Camping Safari Price | Per Person Sharing |
The Detailed, 4 Days, 3 Nights Masai Mara Budget Camping Safari Itinerary
A camping budget safari in Kenya is the best way to get close to nature and animals without spending much. AjKenyaSafaris.com tailor makes your safari to meet your needs whether you are a solo or group traveler. 
Day 1: Pick up from Airport, Transfer to Masai Mara, & Evening Game Drive
Our professional safari guide will pick you up in the morning from JKIA or Nairobi hotel, if you are already in Kenya. He will brief you about your camping safari and then welcome you to your exclusive budget-friendly 4WD safari van. 
You will start the 6-hr drive to Masai Mara, stopping one hour later at the Great Rift Valley viewpoint. The viewpoint offers drool-worthy peeks into the very delightful Rift Valley, the highlights being the valley's escarpments and the captivating Mt. Longonot at a distance.
The Great Rift Valley presents surreal photography and bird viewing opportunities. There are several curio shops along the Viewpoint, but don't exhaust your pockets. You will have multiple chances to buy souvenirs in Narok and Masai Mara. 
Your next halt comes 2 hours and 108 km later when you stop at Narok town to visit the bathroom, stretch your legs, and shop for anything you might need. You then continue with the remaining 161 km of the journey.
Upon arrival, the safari guide and the Aruba team will help you set up your tent at Aruba Camping Site, take lunch, and relax. The best Masai Mara safari packages should have an evening game drive from 3 pm to 6 pm on day 1. 
You will head out for this game drive. Watch out for various animals and enjoy the magnificent sunset before returning to the camp for dinner and a night's rest.
 Day 2: Full-Day Game Drives in the Mara with Picnic Lunch
The Mara is like fine wine; it gets fascinating by the day and always manages to surprise the visitor. You will start day 2 of your 4 Days Masai Mara Budget Camping Safari with breakfast followed by a full-day game drive. 
The plan is to venture deeper into the Masai Mara to uncover its freshly rejuvenated animals looking for food in the densely thicketed grasslands. Quite a lot goes on in the mornings, and experiencing this brilliance against the backdrop of the sunrise is truly magical.
Our guides know the wildlife's go-to spots; with this knowledge, you are provided a one-on-one experience with thousands of species. The scenery here begs for a photo, and the view of the savannah is somewhat unreal.
Hot afternoons see the animals head to the Mara River seeking to cool off and quench their thirst. The cats take advantage of this to prey on their targets. You follow them to the river and have your picnic lunch near this river. 
You continue with the game drive after lunch; soon, the afternoon turns into the early evening.  The evenings see animals, the reptiles most especially, out of their hideouts in search of food and some final sun-basking. 
Hundreds of wildebeests, buffalos, species of antelopes, and other animals scatter in the open plains for rest and grass. You will later head to the camping site for dinner and a night's rest. 
Day 3: Optional Hot Air Balloon Ride/Morning Game Drive, Visit a Maasai Village, & Evening Game Drive 
Our Masai Mara holiday packages include a visit to the Maasai village and an optional hot air balloon at an extra cost of USD 450. Masai Mara's morning game drives never get old. They help to set the pace for the rest of the day. 
You will start the day with breakfast and be at the reserve by 6:30 am. Get your binoculars ready to explore the day away at the Mara. The thousands of animals, remarkable scenery and bird life are always a fabulous treat. 
Nothing complements Masai Mara more than a hot air balloon safari. It lets you take to the sky and sink all the drama as it unfolds below you. The safari is an iconic way to experience the Mara and by far the grandest way to do it. 
You soar over the thousands of animals, ascending to reach only second to paradise. With the majestic ride comes surreal views of some of the Mara's most hidden, out-of-the-way parts. 
From it, the landscape of the Mara is outlined. The hot air balloon safari ends with a sumptuous breakfast and champagne. The safari guide will take you to a Maasai village at around 10 am. 
The Masai are a people rich in culture and jungle experience. From them, you hear of their existence in the park that boasts the largest lion population in the world. You share their laughter, song, dance, and art before returning to the camp for lunch.
The day is not over until you have the afternoon game drive. Some of the most exhilarating splendors of the Masai Mara are the pristine riverine woodlands and savannah grasslands speckled black by the exceedingly vast numbers of wildlife population. 
Our experienced Masai Mara camping safari guides are experts at spotting the rarely spotted, with rarities such as lions, leopards, cheetahs, and hyenas, making a cameo.
The Thomson's gazelle, giraffes, zebras, buffalos, rhinos, and jackals are a few of the 450 different animal species you will spot during your 4 Days Masai Mara budget camping safari. Birders are brought to the 500+ avian species that reside in Masai Mara.
You drive on through the ridiculously incredible landscape, highlighting every turf and curve of the striking Mara until evening. 
Day 4: Morning Game Drive at Masai Mara & Transfer to Nairobi
Sunrise accentuates the Mara in ways that leave you speechless. You start the day with an early game drive that brings you close to this great reserve. 
The Mara River becomes your next stop. Adorned by dangerous amounts of crocodiles and hippos, the Mara River has managed to keep audiences across the world entertained through its annual wildebeest migration.
The migration from July to October sees over 2 million wildebeests and zebras struggle across the Mara River on their long and arduous voyage to Masai Mara National Reserve from Serengeti National Park.
The morning game drive ends around 10 am, the ideal time to start the drive back to Kenya's capital. You stop at Narok town for quick lunch and arrive at Nairobi in the early evening. Our safari guide will take you to the airport for your international flight.
Things Included in 4 Days Masai Mara Budget Camping Safari Price
Pickup from JKIA on day 1
Service of a professional safari guide during the safari
Bottled mineral drinking water
Exclusive use of a 4WD safari van 
Park fees and government taxes
Full-board accommodation at Tents 
Evening game drive at Masai Mara on day 1
Full-day game drive at Masai Mara on day 2
Morning and evening game drive at Masai Mara on day 3
Visit a Maasai village on day 3
Morning game drive at Masai Mara on day 4
Lunch at Narok town on day 4
Transfer to Nairobi (JKIA) on day 4
Things Excluded from the Budget Camping Safari Price
Hot air balloon safari at USD 450 Per Person 
Laundry service 
Money transfer fee
Local and international flights 
Flying doctor cover
Tips and gratuities to safari guide 
Money transfer fee 
4 Days Masai Mara Camping Safari Price Per Person
| | | | | |
| --- | --- | --- | --- | --- |
| Camp/Lodge | Low | Shoulder | Peak | Festive |
| Crocodile Camp | USD 1065 | USD 1165 | USD 1285 | USD 1275 |
| AA Lodge Mara | USD 1080 | USD 1180 | USD 1480 | USD 1365 |
| Sentrim Mara | USD 1170 | USD 1240 | USD 1405 | USD 1365 |
| Sekenani Camp Mara | USD 1185 | USD 1315 | USD 1705 | USD 1575 |