Honeymoon Packages in Kenya - The Ultimate Guide, Itineraries, and Price
Love is beautiful; if it had its way, the world would be free of vice and hate. The road from finding your soulmate to settling into marriage is sometimes hectic. You deserve a little time with your life's love before settling into marriage, and that's why we offer the best honeymoon packages in Kenya. 
Note that we can tailor-make your honeymoon Kenya safari to suit your dream and budget. We say, "It's your honeymoon. We only help you make it more fun and romantic."
In this piece, our honeymoon experts went from one end of our beautiful country to the other to give you the definitive list of honeymoon places in Kenya and the top honeymoon destinations in Kenya. You will also find some helpful itineraries that show you your day-to-day activities.
Book Your Kenya Honeymoon Packages All Inclusive Now
Our Most Booked and Affordable Honeymoon Packages in Kenya & Other Safaris
Top 3 Selected Honeymoon Packages in Kenya Itineraries Guide
We have provided the best three honeymoon itineraries you can try and have a memorable adventure with us.
5 Days, 4 Nights Honeymoon Packages in Mombasa and Diani Itinerary
A honeymoon safari to Mombasa and Diani is the perfect way to spend quality time with your lover without spending much. It is also the best way to relax. Here is a 5-day itinerary for a honeymoon in Mombasa and Diani.
Day 1 & 2: Spend Time at Mswambweni Beach House
The Kenyan coast is known for its sandy beaches and perfect weather. Your journey starts at the Jomo Kenyatta International Airport in Nairobi to Ukunda.
Upon landing at Ukunda, our team will transfer you to the luxurious Msambweni Beach House, where you will spend the next three days. Msambweni Beach House is a private property with a beach that extends for a mile. 
It is surrounded by plantations to give you the feeling of being in nature right at the shores of the mighty Indian Ocean. The private villas make it much better and afford you even more privacy. 
You have an infinity pool that starts right from your villa to the ocean, all by yourself.  Msambweni Beach House offers Swahili, Belgian, and French cuisines and a full range of seafood.
You will have the best view of the African sunset from the comfort of your room and enjoy romantic dinners by the shoreline of the Indian Ocean. 
Engage in romantic walks along the beach, snorkeling and scuba diving, bike riding, dolphin watching at Kisite Marine Park, sailing in canoes, and golfing during your stay.
Day 3: Wasini Day Trip with Lunch
Next is the Wasini Island day trip to inch you closer to the North part of the coast. Wasini Island is at the heart of Kisite Marine Park, which is a haven for a marine-life lover.
The park is home to tropical fish, dolphins, whales, plants, and animals you may not see anywhere else in the country. The food here is always fresh from the ocean or the large garden owned by the establishment.
There are no cars, electricity, or noise in this part of the sea, surrounded by the best of nature.
Day 4 & 5: Spend Time at Tamarind Restaurant
A ferry ride will take you back to the northern part of Mombasa and later to the mainland Tamarind restaurant, which will be the crown of your honeymoon.
Tamarind restaurant is this beautiful white building overlooking the picturesque old harbor. This restaurant is famous for its Arabic dhows cruises and unforgettable candlelit dinners.
The scene at night is uniquely captivating. Seafood is the forte of this establishment. In fact, in our opinion, all honeymoon packages in Kenya should include a stay at this restaurant. 
Beach walks are the order of the day, but you can also explore water sports in the ocean. You have nature trails at Haller Park and the chance to taste all the Swahili dishes your palate can allow.
8 Days, 7 Nights Wildlife Honeymoon Packages from Nairobi
If you are a wildlife lover, you should consider a wildlife honeymoon safari to Kenya. Here are things to expect during your wildlife honeymoon safari.
Day 1: Pick Up from JKIA & Transfer to Fairmont the Norfolk Hotel
If you are flying in, our representative will meet you and the love of your life at JKIA and transfer you to Fairmont The Norfolk hotel. Norfolk is situated a few meters from the CBD and has a fantastic ambiance.
You will spend the night and head to Wilson airport the following day.
Day 2 & 3: Flight to Amboseli & Spend Time at Elewana Tortilis
Amboseli National Park is your next destination where you will stay at Tortilis camp for two nights. As you get here before lunchtime, you will settle for delicious meals in the restaurant before getting ready for the evening game drive.
You don't want to miss this as it's the best time for hunting and all the animals are out enjoying the evening sun. It's also the best time to capture the sunset.
Day 4 & 5: Flight to Nanyuki & Transfer to Fairmont Mount Kenya Safari Club
You will spend the next two nights in the foothills of Mt. Kenya. The Fairmont Mt. Kenya Safari Club in Nanyuki is set over 100 acres of land and is the ideal place for relaxation and adventure.
Apart from exploring the unique plants in this beautiful place, you get to enjoy horseback riding, croquet, golfing, swimming, and a visit to the local animal orphanage.
You can also schedule a visit to the famous Nithi Waterfall in Mount Kenya if time allows.
The dinner is an event in itself. The menu at the establishment merges several cultures to give you an authentic taste of the continent and beyond.
Day 6 & 7: Flight to Samburu & Stay at Elephant Bedroom Camp
The Samburu National Reserve borders the Ewaso Nyiro River to the south. It's surrounded by mountains, giving it the feel of an underwater sanctuary for birds and animals.
Apart from elephants (this park has over 900), you will see cheetahs, Gerenuk and the Beisa Oryx, lions and lionesses, the Grevy Zebra, Somali Ostrich, and Reticulated Giraffe, all of which are quite rare even in Kenya.
This is home to a special lion that adopted a baby Oryx! Over 450 species of birds call this park home, and the local community is welcoming and respectful of wild animals.
You get the chance to participate in the morning and evening game drives and dine at the banks of the Ewaso Nyiro River.
Day 8: Flight to Nairobi and Connect with Your International Flight
The safari may be over, but you can always schedule another. You will catch a flight to Nairobi and connect with your international one.
6 Days, 5 Nights Kenya Wildlife and Beach Honeymoon Safari
If you are torn between honeymoon packages in Kenya in the wild and the beach, you can combine the two to kill two birds with one stone. The ultimate combo honeymoon packages in Kenya should include wildlife and a beach experience.
Day 1 & 2: Flight to Masai Mara & Stay at Naboisho Conservancy
You start with the Naboisho Conservancy that borders Maasai Mara to the South West. The beauty of this conservancy is that you get to walk with Maasai warriors and watch animals from up close.
You also get to stay in tents lit only by lanterns and surrounded yourself by nature. As you only have two days, our tour guide will organize a 4-hour nature walk that will start in the morning, taking you to places in the conservancy where cars won't go.
They will bring along a picnic basket with lunch so you can lounge in the wild after the meal, or you can opt to get back to the resort. Before dinner, you can opt for the spa treatments here to relax your body and prepare for the next day's events.
Day 3 & 4: Flight to Nanyuki & Visit Mt. Kenya
Next is the indomitable Mount Kenya, where you will trek to Lake Ellis. You will take a 1.5-hr flight from the Naibosho to Nanyuki, a safari filled with adventure and beauty.
This part of Mount Kenya is the most serene and beautiful, and it's also where you spend the next two days and nights. Besides the unforgettable walks around the lake, you have access to the Nithi waterfall, which is only an hour away.
Day 5: Transfer to Nairobi & Flight to Watamu
Next up, you will take a flight to Wilson airport or drive to Nairobi for the next phase of your honeymoon. If you leave in the morning, there will be no need for a stopover in the city so that you can spend the night in Watamu.
From the airport, you will go straight to Watamu, which is along the Mombasa-Malindi highway. This journey lasts about two hours. You will be in your resort with plenty of time for dinner.
Day 6, 7, & 8: Spend Time on Kenya Coast & FLight to JKIA
In the north of the Kenyan coast is Watamu, your next destination. In this small town is the Hemingways Resort, the ultimate honeymoon destination for sea lovers.
This resort sits in the middle of the Watamu Marine National Park, home to unique birds and sea life. The white sandy beach stretches a mile and gives way to the turquoise waters of the Indian Ocean.
There are so many things to do here, including taking a sunset dhow cruise on Mida Creek, surfing, and golfing at the nearby Vipingo Ridge.
Tow days are enough for all that and some pampering at the resort's spa. If you are all for lounging and cuddling, the swimming pool at the Resort is no stranger to that.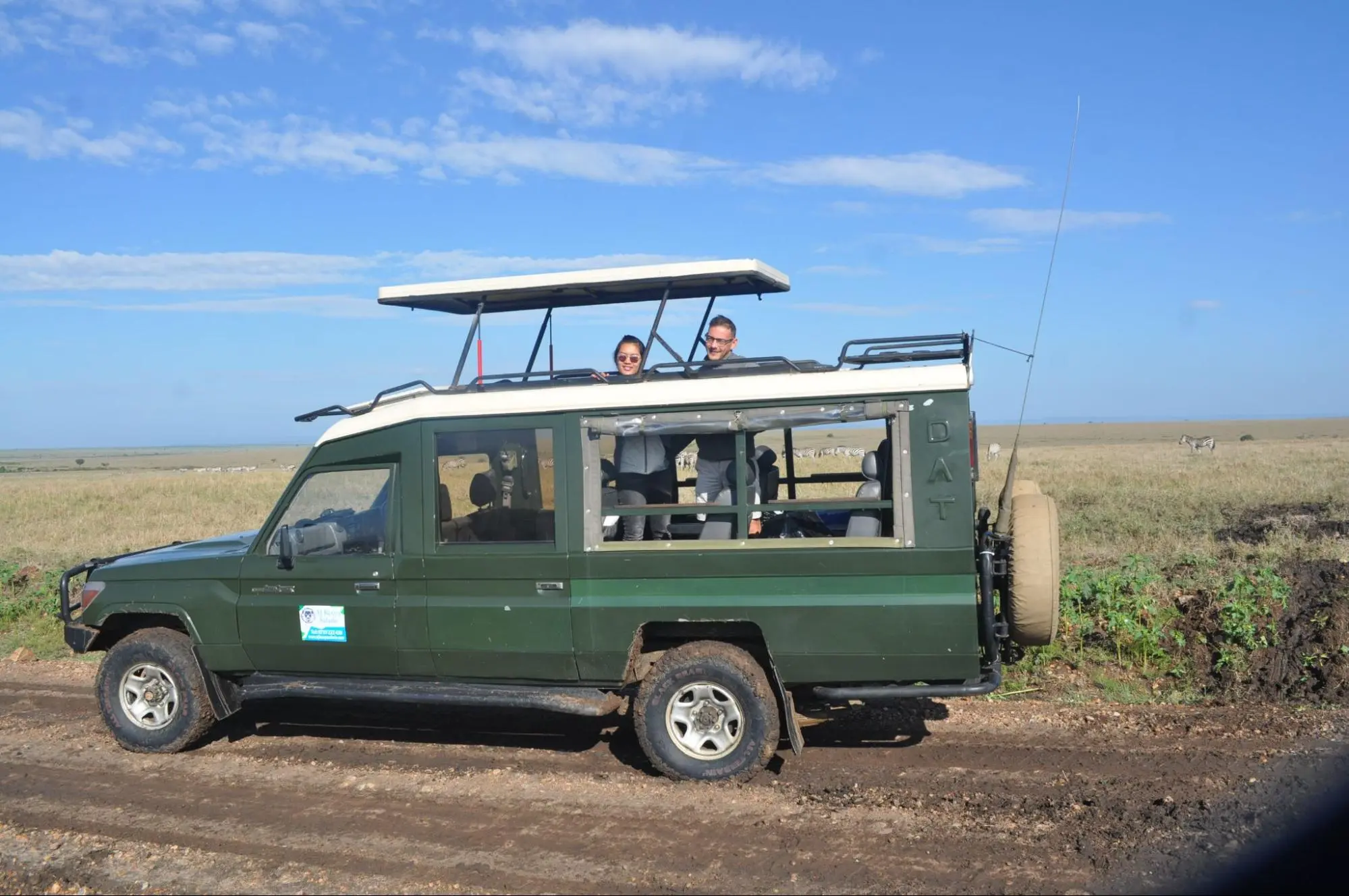 Top 5 Honeymoon Destinations in Kenya
People often assume that the actual wedding ceremony is the only event that requires adequate planning. But choosing the right honeymoon hotel, resort, lodge, or camp is equally essential.
A honeymoon is like a private after-party where couples get to spend quality time away from everything. It is the determining factor that draws the line between good and great weddings!
Kenya is undoubtedly one of the places that you should consider when looking for luxurious honeymoon destinations. Here we will discuss the top five honeymoon places in Kenya that will blow you away.
We are talking about hotels that serve mouth-watering dishes, have world-class accommodation, offer excellent customer service, and have the best honeymoon experiences.
The Swahili Beach hotel has buzzed across the entire hospitality sector. It is located 4km away from Diani-Chale Marine National Reserve, 12.5 km from Kaya Kinondo Sacred Forest, and 42 km from the Moi International Airport.
Swahili Beach resort has special reservations for weddings, covering everything from decorations to cuisines and everything in between. And the best part is, you can still spend the honeymoon on site. 
Ideally, it would be safe to say this is the real deal. The design work done on the hotel's structures is simply magical. The buildings display a perfect mix of cultural and modern building techniques.
And when night falls, and the lights come on, the place looks like nothing you've ever seen. The hotel has free Wi-Fi, spacious parking, luxurious rooms with private minibars, coffee machines, a TV with cable channels, and a state-of-the-art bathroom with new toiletries every day.
Swahili Beach Resort has five restaurants offering different cuisine that cater to individual preferences. If you are a fan of fast food, seafood, vegetarian, continental, or all the dishes, prepare your taste buds for good food, the Kenyan style.
The hotel also has three fully stocked bars. You can enjoy a drink with the love of your life right in the middle of the pool. The resort has a spa and fitness center that houses an indoor pool.
Then there are fun activities such as windsurfing, snorkeling, and diving, where you can experience the Indian Ocean like never before. During the expeditions, you get to watch the diverse creatures of the sea, swim with them, and, most importantly, take photos.
Besides that, you take long romantic walks on the private beach, collect seashells to remember this beautiful moment, and then find a quiet spot to watch the sunset together.
Here, nature provides all the thrilling romance scenes. All you have to do is show up with your spouse and start making beautiful memories in this attractive honeymoon destination in Mombasa.
We are still on the Kenyan coast. The Pinewood Beach Resort is one of Kenya's most popular romantic places. It's located along Galu Beach, 10 km from Ukunda Airstrip, 44 km from Mombasa town, and a 50-minute drive from the Shimba Hills National Reserve.
You'll be blown away by the beautiful gardens and beaches on reaching this location. But wait until you get into the tastefully built rooms with sizable windows that allow a fresh breeze to circulate inside.
The suites have a minibar, coffee and tea-making machines, beautiful bathrooms, and full-time air conditioning.  Each room also has a private chef with meals served indoors, at the Bahari Restaurant, or outdoors at the beach or by the pool.
Pinewood accepts major cards and also offers unbeatable wedding packages. They also have Maasai warriors for entertainment and photoshoots. Food lovers will have a field day with this.
If you are an engaged couple, you can sign up for exercise at the gym or outdoor activities like open water diving and surfing. There are highly experienced divers to show you around. And they are locals, so they know the best spots for spearfishing and corral views.
In the evening, you can have your private chef prepare a candlelit dinner for you and your love. Have a bottle of wine delivered to your table while listening to soothing background music, and possibly let go.
Lake Elementaita Serena Camp
Lake Elementaita Serena Camp sits on the highly acclaimed Soysambu conservancy. It's 24 km away from the fast-growing Nakuru town and 41 km from Naivasha.
This resort is not only a holiday destination but a sanctuary for wildlife, including 450 bird species such as the Great White Pelican and a mating spot for the Rothschild giraffe.
The intimate and classic camp sits on gardens dotted with acacia trees overlooking the Elementaita blue lake.  The lodge offers activities such as daytime game drives, safari walks, and night drives to see the nocturnals.
If you're lucky, you will also see leopards, hares, and the rare aardvark. But the wildlife is not the only reason this resort is one of the best honeymoon places in Kenya.
The hotel provides ample amenities such as free Wi-Fi, safe parking lots, swimming pools, and complete menus, but the accommodation settings make the resort what it is.
.The beds are soft and spacious, the air fresh and full of surprises (a bird may casually stop by for a visit), and the views are spectacular.
We couldn't stay away from the beach for too long. The Diani Reef Beach Resort and Spa is one of the highly recommended honeymoon places in Kenya for a good reason.
It sits in the pristine white sands of Kenya's south coast overlooking the beautiful Indian Ocean. The difference between this place and other hotels on the beach is the extra activities the resort offers to its clients.
Top of this list is the evening entertainment shows. These include performances from an experienced pianist who takes special requests, tribal show dances at the Maasai cultural village, vocal duos, fashion shows, acrobatics, etc.
You can have a dance with your spouse under the moon or simply let go and join the locals in their tribal dances. And if you want to test out your bathroom singing skills, you can request stage time, as you would in a Karaoke bar.
To make it even more interesting, they have theme nights. It is a unique idea that makes them stand out and also beautifully celebrates diversity. The African theme night seems to be the most colorful, a Mediterranean theme night, Maharaja, and the Sunday barbeque.
This resort will not only give you a place to sleep and food to eat but also allow you to experience Kenya in its unmodified, raw form.
Karen Blixen Coffee Gardens
This destination is neither a garden nor a café. The Karen Blixen Coffee Gardens is a hotel 20 miles from Nairobi city and half a mile from Karen Blixen Museum. The hotel sits in Karen, a posh suburb that offers the perfect escape from city life.
There are 12 cottages on the ground, built in a modern style to attract even the pickiest guests. The first eight cottages have private bedrooms and a separate lounge. The remaining three cabins are divided into doubles and share one lounge area.
There is a honeymoon suite with world-class interior finishes that seem to breathe love into the air. The cottages feature high-beamed ceilings, wood and stone floors, fireplaces, free WIFI, minibars, TVs, and private verandas overlooking the gardens.
This Kenya honeymoon safari destination gives you a more relaxed and homey feel than its competitors. 
A fully equipped gym and experienced trainers will see you through your daily workout routines. Or better still, you can decide to go for a morning jog around the resort to have a holistic view of everything. 
After a delicious breakfast, you can go out and have some fun while playing tennis or golf or have a picnic lunch. When evening comes, you can enjoy the sunset while sitting on a bench in the carefully manicured gardens.
There are huge Jacaranda, Cactus, Bottlebrush, and Candelabra trees, and over 200 types of flowers that bloom throughout the year. The restaurant has a menu featuring beef, veal, chicken, and seafood dishes. 
Fast food options such as burgers and pizzas are also at play, and to top it all off, a list of your favorite alcoholic and non-alcoholic drinks. You can take your meals in the main restaurant, on the terrace, or in one of the houses.
You will also enjoy the outdoor pool, especially on sunny days. But make sure to get some memoirs to take to your friends and family back home from the gift shop. 
And if you ever want to replenish your body, feel free to drop by the beauty parlor and have your skin exfoliated.