The Top 10 Private and Public Beaches in Kenya - Review, Guide, and Location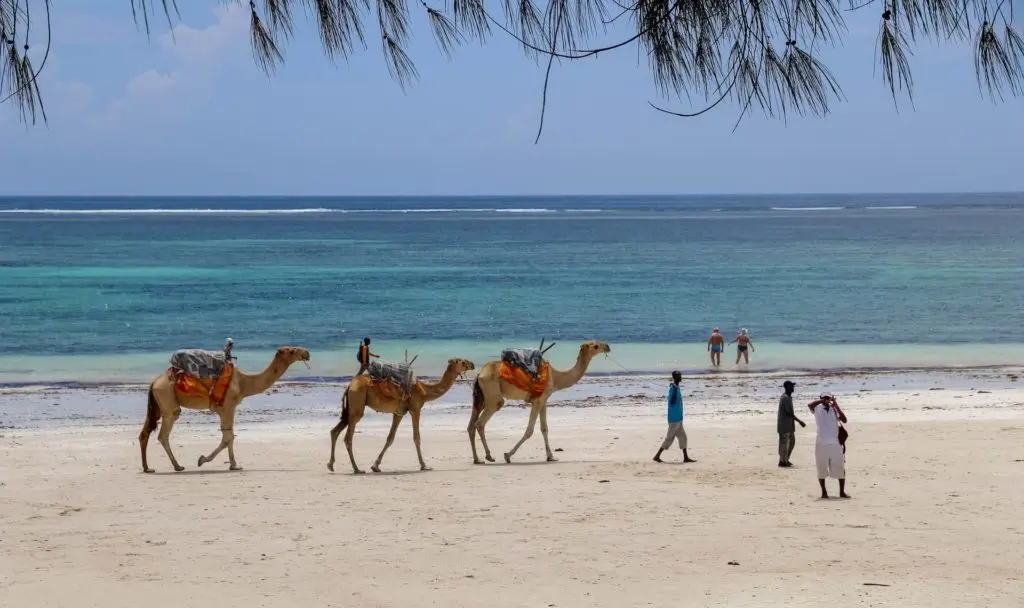 Kenya's Indian Ocean coastline is home to some of the most beautiful beaches in the world. Diani Beach was voted the leading beach in Africa from 2014 to 2019. It was also among the top 50 CNN's best world beaches. This only shows that beaches in Kenya match the world's best. 
They let you swim with endangered turtles and dolphins and even experience underwater life. Welcome to the Kenya coast, where you will find dozens of private and public beaches in Kenya 
In this article, our team of seasoned Kenya beach holiday directors – all born and raised in Kenya – reviews the top 10 beaches in Kenya. We will classify the beaches into two categories: Those on the North Coast of Mombasa and those on the South Coast of Mombasa City.
Book Your Safari to the Sandy Beaches in Kenya Now
We are available for safari consultation through phone or WhatsApp at +254-748-258-880. Our professional experts will help you develop the ideal beach holiday to meet your needs.
 You can also contact us at james@ajkenyasafaris.com or safarioffers@ajkenyasafaris.com, and we will provide you with a quote.
Our Most Booked Beach Safaris and Other Packages
Best Beaches in Kenya - North Coast of Mombasa Beaches
Mombasa's north coast is connected to the mainland by the famous Nyali bride and is a haven for water lovers and seaside alike. Its white-sand beaches stretch as far as your eye can see, only being interrupted by Kilifi Creek. 
The four most visited beaches on the north coast are Nyali Beach, Bamburi Beach, Shanzu Beach, and Kikambala Beach. We have looked at Nyali and Bamburi and other beaches on the north side of Mombasa.
The Pristine Nyali Beach, Nyali
Nyali Beach is situated in the Northern part of Mombasa, 5km from the Mombasa CBD. What makes Nyali Beach one of the best beaches in Kenya? Well, the size of the beachfront.
You have as many as 5 kilometers of beautiful shore to walk!  The shallow part of the ocean in this part is not rocky so you can walk barefoot for hours.
Nyali beach has tons of visitors on weekends, but its size can accommodate an entire city. The beach attracts football and volleyball players, and everyone is welcome to join.
Other fun things to do on Nyali beach include water sports such as kite surfing, water rafting, and stand-up paddling. Nyali beach is close to the Nyali Mall and is home to the famous Tamarind Restaurant and Dhow and Nyali Golf Club.
Lively Bamburi Beach, Bamburi
Bamburi, located 10km from Mombasa city, is home to several beaches, including Jomo Kenyatta Public Beach, one of the most extensive public beaches in Kenya. It is popularly known as Pirates to the locals.
If you love lively crowds and lots of merchants dealing in local goods, include Pirates beach in your itinerary. There are plenty of water sports here, from diving to kite surfing and paddling.
The Mombasa Marine National Park is also located here for those interested in underwater life. Snorkeling is the order of the day at Bamburi beach, and we love the conservation efforts that keep the area at its best.
The ocean is shallower at this part, so you can walk almost 4km into the sea without the tides overpowering you. The beach is easily accessible through public and private transport.
Laid-Back Vipingo, Kilifi
30km north of Mombasa is a laid-back village called Vipingo, home to Mombasa's best-kept secret: the Vipingo Beach and the Kuruwitu Beach. There is also an active conservation community within the small town that protects marine life, especially the endangered sea turtle. 
The community keeps beaches super clean. Snorkeling and diving are some of the most active water activities. When the tide is high, you can spot random dolphins or turtles. When the tide is low, you get to enjoy long walks into the ocean and marvel at the nature of the sea.
The beach's area is dominated by a dense forest and evergreen palm trees.
Active Bofa Beach, Kilifi
Along the Mombasa-Malindi highway, 60km from Mombasa city, is Kilifi, a small but active town easily accessible by road. It boasts of hosting Bofa Beach, one of the best beaches in Kenya.  
The beach is only 3 minutes away from Kilifi town, and the road to this paradise is paved with trees. The breeze that hits you on your way there makes you anticipate the ocean. Its white sandy beach extends several kilometers; a feat made even better because few people visit it.
On weekends, the shore is lined with locals grilling yummy seafood and other local delicacies that you must try. Kids and adults alike get to enjoy some football by the beach and surfing, diving, and fishing.
Don't feel like swimming or fishing or surfing? Then jog or ride a bike! You're in Bofa!
Enchanting Watamu Beach Kenya, Watamu
If you haven't been to Watamu, you are doing yourself an injustice. What does one do in Watamu? The village is near one of the best-preserved tropical forests in East Africa, Arabuko Sokoke National Park, so you can imagine how serene the town is.
Watamu beach is not only spotless but also sparsely populated, making it ideal for activities such as snorkeling, diving, fishing, kite-surfing, and SUP.
When you are done with water sports, check out Bio-Ken Snake Farm, Gedi Ruins, the Local Ocean Trust, where conservationists care for turtles, and Tribe Watersports –a leading kite surfing institution.
Accommodation is available around the hotel at varying costs, and most of the facilities are family-friendly.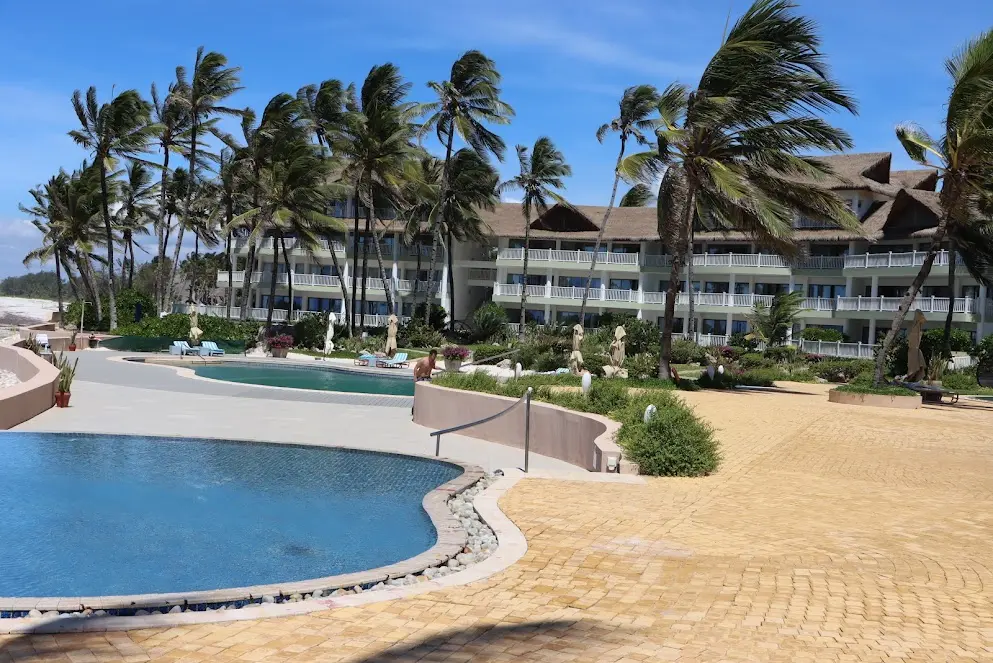 The Best Beaches in Kenya: The South Coast of Mombasa
Mombasa's south coast is an idyllic seaside attraction where you receive personalized and impeccable services in luxurious hotels and boutiques. If you use a vehicle, it might not offer the closest beach to Nairobi since you will need to use a ferry to arrive there. However, you can always use a plane and be there within 45 minutes from Nairobi.
The most famous beach here is Diani Beach, where most resorts are located and one of the best public beaches in Kenya. Other secluded beaches include Funzi Island, Chale Island, Galu Beach, and Msambweni Beach. 
Other notable ones include Tiwi Beach opposite Diani ending with Shimoni and Shelly Beach near the Likoni Ferry.
The Award-Winning Diani Beach Kenya, Diani
Diani is probably the best-known beach in Kenya, thanks to its pristine waters, humid weather, and a host of fun activities. It is located approximately 30km south of Mombasa city and is accessible through the Likoni ferry and a car ride into Diani.
The road to the beach is paved with beautiful palm trees, and the locals in the area are friendly and always willing to teach visitors their rich culture. Almost every meal in Diani beach is prepared using fresh coconut milk as one of the ingredients so that you can anticipate a mouth-watering cuisine.
Diani beach is expansive and free of coral, ideal for long walks, bike rides, and swimming. Every year, the Diani festival, a week's affair, is held on this beach, and it brings together people from all parts of the Kenyan coast. Local food, drinks, and cultural shows are at their best during the Diani Festival.
The Unforgettable Tiwi Beach, Kwale
Just before Diani is Tiwi beach, located in Kwale. It has little activity as it is located away from the road, and so the only noise you can anticipate is that of breaking waves. This makes it ideal for anyone who wants to enjoy the therapeutic "Me Time."
Snorkelers have a ball when the tide is high because the underwater world here is breathtaking. The reef lies offshore, but that doesn't make it less ideal for swimmers.
Fishing is a popular local activity in Tiwi Beach, but so is diving. The locals are great kite-surfing teachers for a small fee. The sand on the shore of Tiwi beach is stable enough for riding mountain bikes.
The only drawback of this beach is its sparse population-not, a disadvantage for many, but there are fewer accommodation facilities available. Tiwi Beach Resort is one of the few hotels around, and it is excellent and charges leniently.
The Relaxing Wasini Island, Wasini
Wasini Island & the pristine Kisite Marine National Park is a must-visit for those interested in beautiful, well-preserved spaces. The Marine Park protects and conserves the underwater world, so the entire beach is perfectly conserved and clean.
What's good here? Snorkeling, Scuba Diving, Dhow Sailing, Dolphin Spotting, Sunset Cruise, and seafood dining at the famous Charlie Claw's Restaurant.
When you are done with the ocean, the local hotels have excellent facilities like lazy lagoons, spa treatments, and cultural activities from local communities. The island is small and naturally only accessed through boats.
It is quiet, sparsely populated, and the ideal place to relax when you want to shut the world out. Wasini is like no other beach in Kenya.
Yogic Lantana Galu Beach, Diani
Lantana Galu Beach in Diani is an award-winning beach, made famous by its pristine waters, lush greenery around the beach, and the serenity in the extensive white-sand beach. The waters are ideal for swimming, snorkeling, surfing, and SUP, and the sandy beach is perfect for walks and bike rides. 
This sanctuary is so serene that it has become a home to various annual yoga retreats. Other fun activities in Lantana Galu Beach include deep-sea fishing, water skiing, skydiving, micro-light flights, dolphin dhow safaris, and the much-loved camel rides.
A 5-star hotel is located within Yogic Lantana Galu Beach, giving visitors the ideal accommodation option with award-winning spas, swimming pools, and reading nooks that any bookworm will fall for.
The Dreamy Lwang'Ni Beach, Kisumu City
If you thought the sun only sets beautifully on a Mombasa Kenya beach, you haven't been to Kisumu city. This beautiful city is home to Lake Victoria and the dreamy Lwang'Ni Beach.
Here, you will not only witness a breathtaking sunset but also enjoy a delicious meal of Ugali and Tilapia cooked as you enjoy the surreal Lwang'Ni Beach. Does it get any better?