Flying Safari to Masai Mara and Ol Pejeta - Nairobi to Masai Mara Flights, Packages, and Itinerary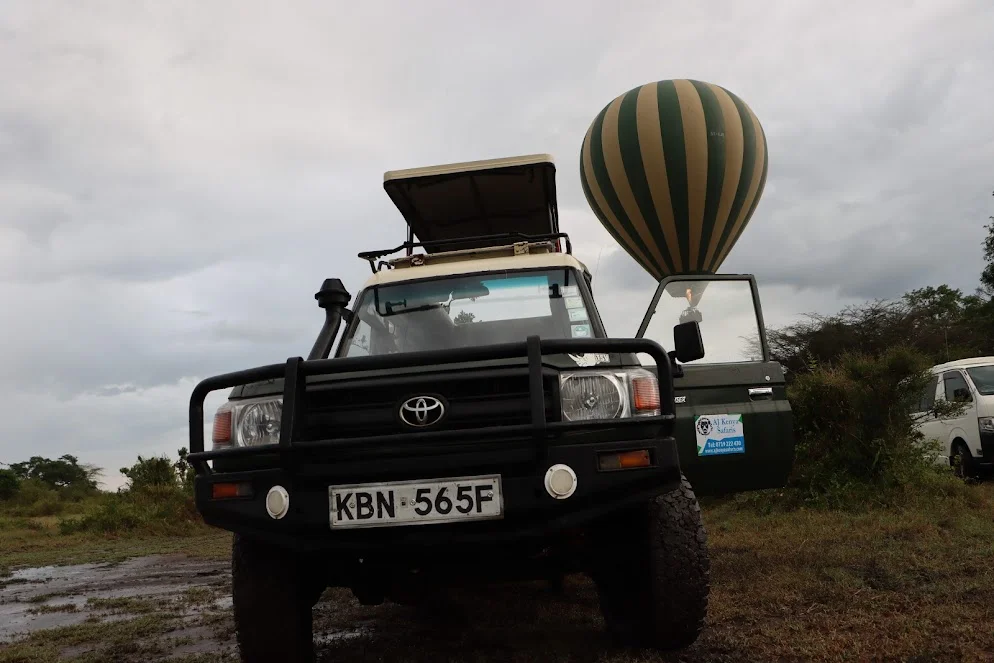 Are you looking for the best flying safaris from Nairobi to Masai Mara National Reserve to Ol Pejeta Conservancy to Nairobi? We can provide you with the best fly-in safaris that will see you catch flights from Nairobi to Masai Mara to Ol Pejeta to Nairobi.
Masai Mara is one of the largest wildlife reserves in Africa, home to hundreds of wild animals. Among them are the Big 5 and the breathtaking annual wildebeest migration. Combine your Nairobi to Masai mara flights Safari with Ol Pejeta, and you have a memorable experience. 
Ol Pejeta Conservancy is known for its conservation efforts and is the only place you can find the last northern white rhinos. It is also home to chimpanzees, big 5, and other wildlife like giraffes, zebras, antelopes, etc.
Book Your Nairobi to Masai Mara Flight Safari with AjKenyaSafaris.com
Reach our team today to book your Masai Mara National Reserve and Ol Pejeta flying safari by calling or sending a WhatsApp text at +254-748-258-880. 
You can also reach us at james@ajkenyasafaris.com or safarioffers@ajkenyasafaris.com, and we will organize the best Ol Pejeta and Masai Mara flying safari for you. We also offer helicopter safari experiences to Mt. Kenya and Masai Mara. 
Summarized, 5 Days Safari with Flights from Nairobi to Masai Mara to Ol Pejeta
Trip Details
Highlights
Day 1

Arrive in Kenya, Nairobi to Masai Mara Flight, and Game Drives

Overnight at Mara Crossing Camp

Day 2

Morning and Evening Game Drive at Masai Mara

Overnight at Mara Crossing Camp

Day 3

Hot Air Balloon Safari, Flight to Nairobi, & Head to Manor

Overnight at Giraffe Manor

Day 4

Morning Flight to Ol Pejeta & Game Drives

Overnight at Sweetwaters Serena Camp

Day 5
Morning Game Drive & Flight to Nairobi
Items Included
Morning and Evening, Flight Tickets, Full-Board Accommodation, All Transfers, Hot Air Balloon Safari, Exclusive Use of the Land Cruiser, & More
Items Excluded
Visa, Tips & Gratuities, Private Use of Safari Vehicles, and Money Transfer Fee
Safari Price
Per Person Sharing from USD 3777
The Detailed 5 Days Masai Mara and Ol Pejeta Fly-in Safari 
We have detailed the itinerary of your safari with flights to Masai Mara and Ol Pejeta in this section. The flights to Masai Mara from Wilson Airport are scheduled for 9.00 am, while the return flights are at noon. The flight to Olkio Nanyuki Airstrip takes off at 8.00 am, while the return flight is at 11.00 am. 
Day 1: Arrive in Kenya, Transfer to Wilson, Flight to Masai Mara, & Afternoon Game Drive 
Our professional safari guide will pick you up from JKIA when you land and transfer you to Wilson Airport. All air Kenya flights to Masai Mara operate from this airstrip to different parts of Masai Mara. Today you will catch a one-hour flight to Mara.
Upon landing, our professional safari guide will be waiting to transfer you to the hotel for check-in and relaxation. You will enjoy a game drive on the way. We are talking luxury on this trip, and no doubt, you will get to enjoy the finer things of life here. 
Mara Crossing Camp is among the most luxurious tented camp in Masai Mara and is situated on the bank of the Mara River. It gives you a front-row ticket to the migrating animals during the annual wildebeest migration. 
When staying at the camp, you get personalized service, with friendly staff catering and pampering you. The accommodation offers spacious tented suites ideal for families, honeymooners, and photographers.
If you are tired, you may refresh, take a nap and later enjoy the sunset from the comfort of your balcony. You will later enjoy an evening game drive and return to the camp in time for dinner. Our safari guide will pick you up for this game drive. 
Day 2: Morning and Evening Game Drive at Masai Mara National Reserve
Today, you will get up early and be in the jungle by 6 am for a morning game drive. This is the best time to catch the animals before retreating to the bushes when the sun gets hot. 
Your flying safari to Masai Mara package will see you come across various animals like the graceful giraffe, the beautiful zebras, and gazelles, all grazing peacefully on the green plains. You might also come across predators like lions, cheetahs, hyenas, and maybe a leopard. 
After the morning game drive, you will get back to the camp and enjoy the view. If you would like to skip the drive, you can comfortably relax and enjoy the stunning view from your balcony or get some pampering at the hotel spa. 
The afternoon will see you head for a game drive before the sunsets. This is also the perfect time for a game drive as the weather is friendly. You might even see lions hunting for dinner or an antelope giving birth.
Day 3: Hot Air Balloon Safari, Flight to Nairobi, & Stay at Giraffe Manor 
The third day of your Masai Mara flying safari will see you start the day with a hot air balloon safari. It allows you to experience Masai Mara National Reserve from a different level.
Flying high over the jungle is the ultimate experience for any traveler coming for a safari with flights from Nairobi to Masai Mara. The landscape below is exciting, with sprawling savannahs, riverine forests, wild rivers, and towering escarpments.
Against the stunning African sunrise, the hot air balloon safari over the Mara gives you the vantage point of viewing hundreds of wildlife. The experience ends with a champagne breakfast right in the jungle.
From here, you will enjoy a short game drive to the hotel as you go for check out and transfer to the airstrip. You will catch a local flight to Nairobi at around noon and be in Nairobi by 1.45 pm. Find out more about the service provider from the Nairobi to Masai Mara flight price from the service provider. 
You will land at Wilson Airport and get a transfer to Giraffe Manor to spend the rest of the afternoon and night. The manor is an exclusive hotel in Nairobi owned and managed by The Safari Collection.
Giraffe Manor ranks among the most Instagrammed buildings globally and rests on a 12-acre piece of land next to the 140 acres of Langata forest. Here you get to interact with giraffes and watch hundreds of birds.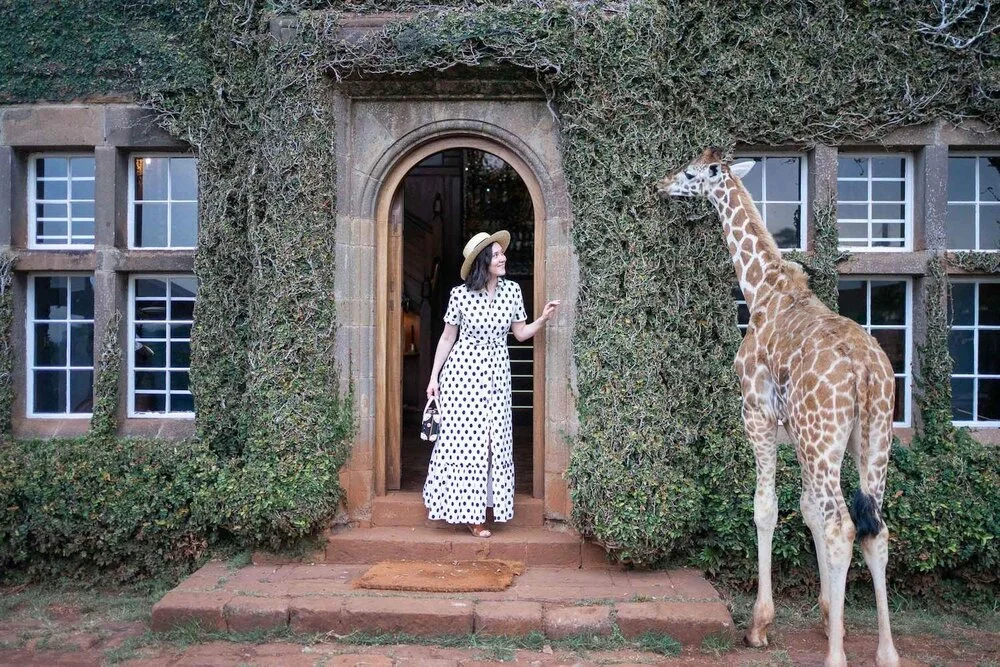 Day 4: Flight to Nanyuki & Evening Game Drive at Ol Pejeta Conservancy
You will get up late today and get a transfer to Wilson airport for a local flight to Nanyuki. After breakfast and checking out, we take you to the airstrip to catch your chartered flight to the Ol Pejeta Conservancy in Nanyuki for some more wildlife encounters.
You get to Ol Pejeta's Kamok Airstrip at 10 am and head for a game drive. From here, you will head to the luxurious Mutara camp in the heart of the conservancy. You will spend the rest of the morning here and then head out for an afternoon game drive. 
It is time to experience the best of Ol Pejeta Conservancy and see the only northern white rhinos in the world. You will also visit the Chimpanzee sanctuary and see other animals, including the Big 5. Our safari guide will show you the best of Ol Pejeta. 
Day 5: Morning Game Drive, Flight to Nairobi, & International Flight
A game drive early in the morning will reveal the stunning beauty of the conservancy illuminated by the beautiful sunrise. You might even be able to see the big 5 in various stages of hunting. An alternative is to enjoy an Mt. Kenya Helicopter Safari.
The black rhino is at home here. The endangered northern white rhino and different bird species are some of the amazing animals you are likely to see. You may also be lucky to meet the clever chimpanzees munching bananas in their enclosures. 
The safari guide will then transfer you to the airstrip for your flight to Wilson airport. We will punctually receive you in Nairobi and transfer you to the Jomo Kenyatta Airport for your international flight.
Items Included in the Safari with Flights from Nairobi to Masai Mara to Ol Pejeta
All pickups and transfers from day 1 to day 5
Services of a professional safari guide 
Bottled mineral drinking water during the safari 
All park fees and government taxes
All flight tickets – Nairobi to Mara to Nairobi to Nanyuki to Nairobi
2-night accommodation at Masai Mara on a full-board basis 
Use of a side-open land cruiser for game drives at Masai Mara
A hot air balloon safari at Masai Mara 
1-night accommodation at Giraffe Manor on a full-board basis 
1-night accommodation at Ol Pejeta on a full-board basis
Game drives as outlined in the itinerary 
Items Excluded from Nairobi to Masai Mara Flight Safari
Tips and gratuities to safari guide
Local and internal flights 
Laundry services 
Visas
Money transfer fee
Masai Mara & Ol Pejeta Flying Safari Price Per Person
| | |
| --- | --- |
| Travel Months | Price Per Person Sharing |
| 1st Jan -31st March | USD 4057 |
| 1st April – 3oth Jun | USD 3777 |
| 1st July – 31st Oct | USD 4275 |
| 1st Nov – 19th Dec | USD 3867 |
| 20th Dec – 2nd Jan | USD 4325 |
The price is based on 2 people traveling together. Reach us to get a customized quote if you are traveling alone or as a group.