3 Days, 2 Nights Masai Mara Migration Packages for 2024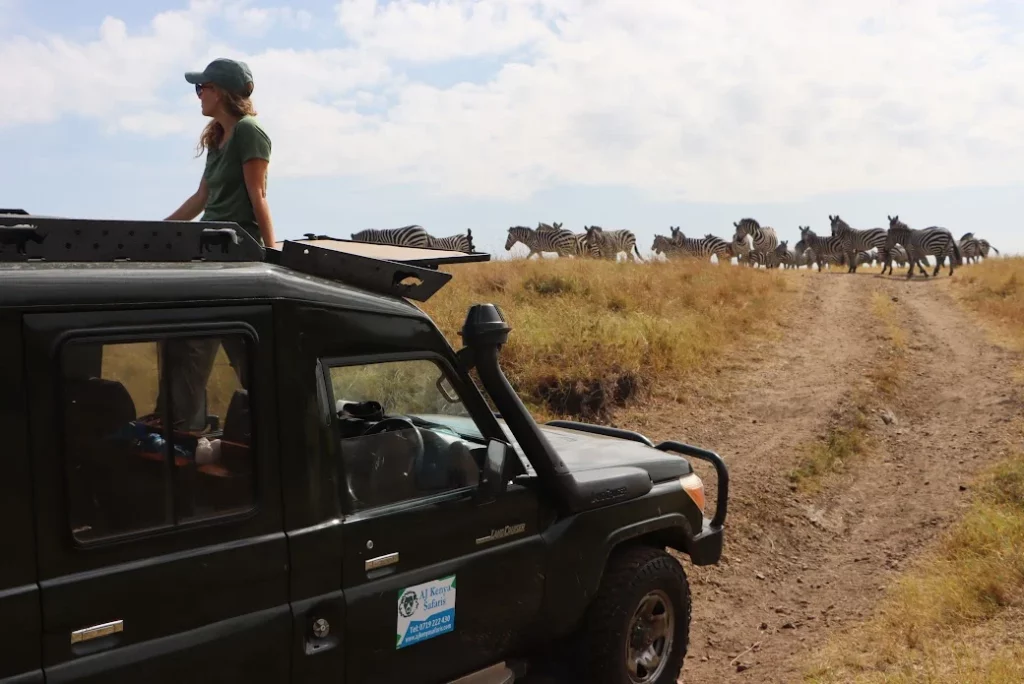 The Masai Mara National Reserve is among the largest wildlife reserves in Africa. It is home to the big five and other smaller games. The showstopper is the annual Masai Mara Migration that occurs between July and October.
At Aj Kenya Safaris, we have 3 days Masai Mara migration packages, Nairobi Safari packages, and other parts of Kenya. We are a team of tour professionals born and brought up in Kenya. We boast over ten years of experience facilitating travel in and around Kenya.
Our 3 day Masai Mara migration safari will take you from Kenya's Green City in the sun, Nairobi, through scenic highways, the picturesque Great Rift Valley to the thrilling Masai Mara. Here, you will hold your breath watching the determined wildebeest make it across the Mara River.
Book Your 3 Days, 2 Nights Masai Mara Migration 2024 Tours 
If you would like to visit Kenya for the wildebeest migration at the Mara or other Kenya safaris, contact Aj Kenya Safari phone or email and we will be happy to arrange it for you. We are flexible and can provide a tailor-made safari to suit your requirements.
You can book your 3 days Masai Mara migration tour with us now. Reach us at +254-748-258-880 via phone or WhatsApp. You can also reach us via email at james@ajkenyasafaris.com or safarioffers@ajkenyasafaris.com. 
The Summarized, 3 Days, 2 Nights Wildebeest Migration Safari Tour for 2024
| | |
| --- | --- |
| Details | Safari Highlights |
| Day 1 | Pickup from JKIA, Transfer to Masai Mara, & Game Drives |
| Day 2 | Migration Safari at Masai Mara National Reserve |
| Day 3 | Morning Game Drive, Maasai Village, & Transfer to Nairobi |
| Items Included | Transfers from Nairobi to Masai Mara & Back, Migration Tours, Park Fees, Safari Land Cruiser, Professional Safari Guide, Accommodations, and More |
| Items Excluded | Money transfer fee, Visasa, Tips, and Travel Insurance |
| Price Per Person | Luxury 2024 Migration Safari from USD 2845 Per Person |
The Detailed 2 Nights, 3 Days Masai Mara Wildebeest Migration Safari Itinerary 
Without further ado, here is the detailed, 3 Days Masai Mara migration safari package. The itinerary covers everything you will see and do during the 2 nights safari at Masai Mara National Reserve.
Day 1: Pickup from JKIA, Transfer to Masai Mara, & Game Drives 
We pick you up from the Jomo Kenyatta Airport in Nairobi in the morning. Our safari guide will be there an hour earlier to make sure you are not stranded when you arrive. You will spot them immediately as they will have placards displaying your name. 
If you arrive early, around 4 am, we will briefly stop at the Nairobi Java House in town for some breakfast before the road trip to the Masai Mara. This is also the time to check if you have the necessary travel gear for your trip. 
Some of the things that you will need will include a mobile phone, a camera, clothes, snacks for the road trip, items of personal nature like tissues, and sanitary ware. These can be purchased in the city center before we embark on the road trip. 
This is your maiden trip to Kenya, we are aiming to show you the beauty of Kenya as you sit back, relax and enjoy the cool Kenyan Climate. We will make a short stop at the Mai Mahiu for a view of the rift valley. Grab this chance to take memorable pictures of the postcard look-alike Great Rift Valley down below.
You can also purchase beautiful handmade trinkets and souvenirs from the curio shop here. From here, your wildebeest migration wonder of the world tour will take you to Narok town. We will make a brief stop here before continuing with the rest of the road trip
You will get to the Masai Mara National Reserve in the early afternoon. We check you in at the chosen camp or lodge. The hotel is strategically located at the route of the great migration and you can watch the migration spectacle even at night.
After freshening up, carry a snack along and let us get to take our first game drive in the exciting Mara. Late in the afternoon, we are likely to encounter a herd of lazy elephants trudging along. The Lion, Cheetah, zebras, and giraffes can also be sighted easily. We get back in the evening for dinner.
Over the night, expect to hear the exciting animal sounds of animals hunting and being hunted outside in the plains around. You cannot miss the unmistakable sounds of the trumpeting elephants while wallowing in the Mara River.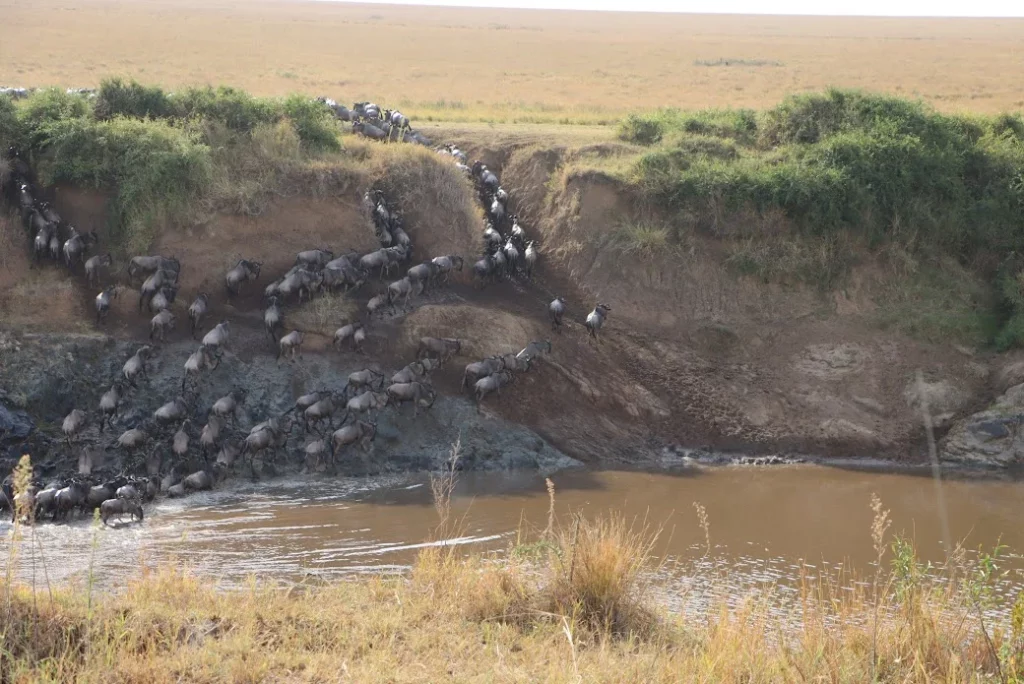 Day 2: Hot Air Balloon Safari Followed by Wildebeest Migration Tour with Picnic Lunch
We rise up at dawn for an exciting balloon safari around the Mara. The wonderful view down below will reveal the stealthy leopard and cheetah stalking their prey, the early birds skirting the grounds for worms and flowers, and other small animals grazing and foraging for food.
The view also displays the green expansive plains down below. We land after 1-1.5 hours and the breakfast sight. Here you will enjoy a bush breakfast with champagne and then continue with the morning game drives.
Our Maasai guide will pack a picnic basket so that you can spend your day out in the wild. Armed with your camera and some drinks and snacks, we will park at the Mara River and watch the spectacle of thousands of wildebeest crossing the river amid preying crocodiles. This is a breath-taking spectacle.
Watching your favorite animal make it safely through and sympathizing with the ones that do not make it.  After the picnic lunch, there is more game viewing around the park to catch sight of the big five. The park is also home to antelopes, jackals, buffaloes, hippos, birds, hyenas, jackals, rhinos, and warthogs.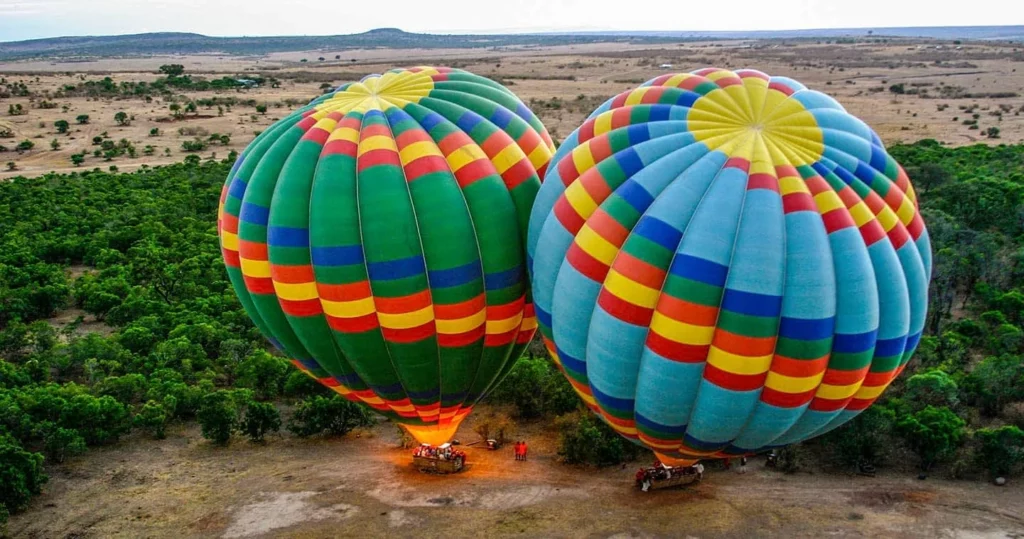 Day 3: Morning Game Drive, Visit a Maasai Village, & Transfer to Nairobi
We leave for a game drive in the early morning as the bright sunshine is bringing the Mara to life. After breakfast, we will go for the final game viewing of this safari. We park by the Mara River. We marvel at the ongoing wildebeest migration-taking place right before our eyes. 
From here, we will start the road trip to Nairobi. We will pass by the Maasai Village and get to buy more trinkets and adornments to take back home. The hospitable Maasai live in grass and mud-walled structures that you will spot here. They are deeply embedded in their culture and have learned to coexist peacefully with the wildlife around here.
We take lunch in Narok Town. The Nyama Choma (Grilled Meat) and Ugali (cornmeal) are some of the tasty Kenyan Dishes you may try. Here you can also buy more handmade adornments and beadwork from the Maasai community. We travel back to Nairobi by road. Our guide will punctually drop you at the Jomo Kenyatta airport to board your flight.
What is Included in the 3 Days Masai Mara Migration Safari Cost?
Pickup from JKIA on day 1
Services of a professional safari guide 
Bottled mineral drinking water during the safari
All park fees and government taxes
3-meals during the safari – breakfast, lunch, and dinner
2 night accommodation at Masai Mara
Stopover at the Great Rift Valley Viewpoint on day 1
Afternoon game drive at Masai Mara on day 1
Hot air balloon safari at Masai Mara on day 2
Full-day wildebeest migration safari on day 2
Morning game drive at Masai Mara on day 3
Visit a Maasai village on day 3
Lunch at Narok town on day 3
Transfer to Nairobi – JKIA on day 3
What is Excluded from the Safari Price? 
International and local flights 
Money transfer fee
Tips and gratuities 
Travel insurance
Visas
3 Days, 2 Nights Masai Mara Migration Safari Price for 2024 – Based on 2 People
| | |
| --- | --- |
| Masai Mara Lodge/Camp | Price Per Person |
| Karen Blixen Camp | USD 2845 |
| Elewana Sand River Camp | USD 2995 |
| Elewana Elephant Pepper Camp | USD 3990 |
| Saruni Mara  | USD 4435 |
| Saruni Wild  | USD 4935 |
Masai Mara Migration Time – Masai Mara Migration 2024 Dates
The Masai Mara National Reserve in Kenya is home to the world's most spectacular wildlife migration, and 2024 will be no exception. From approximately July to October of 2024, millions of wildebeest, gazelles, zebras, and other animals will migrate through the reserve on their way north into the Serengeti National Park in Tanzania. 
This is one of nature's most remarkable events, and witnessing it firsthand can be a truly life-changing experience!  The exact dates of the migration vary slightly from year to year, but in 2024 it should begin around mid-July, peaking toward the end of August and early September, and ending in late October. 
During the peak months, it is possible to witness endless herds of wildebeest and zebra thundering through the Mara River as they make their way across the plains. Other incredible spectacles that can be seen include predators such as cheetahs, lions, and hyenas hunting on the open plains and in the bush.

The Guide to AjKenyaSafari.com Ltd Migration Packages
We have different packages for different sets of travelers. Among the packages we have are:
Group Tours: We have small groups of up to 4 people and large groups of 20 to 25 people. We also arrange groups for you to join in case you arrive in Kenya alone but would like to join a group of strangers. Most tented camps are ideal for group tours. They include The Mara Explorer Luxury Camp and the Fairmont Mara safari club.
Solo Travelers: We facilitate accommodation, private vehicles, and private drivers and guides. Some of the hotels include the Serena Lodge, Mahali Mzuri, and Olare Mara Kempinski.
Family Packages: 2 adults and children: We advise you on family-friendly accommodation and activities which will keep the children occupied. Examples include Keekorok Lodge, the Mara Intrepids, and the Ashnil Mara camp.
Honeymoon Packages: We advise you to stay in hotels that offer the most privacy and personalized care. Most small lodges and small luxury camps are ideal as opposed to large hotels that have many tourists. You may also consider adults-only hotels. They include the Mara Ngenche and the Mara Ngerende camp.
Wildebeest Migration Tour Prices – The Guide 
Prices are dependent on a number of factors:
The price is a bit higher during the peak season and lowers during the off-peak season. The peak season is mainly the July to October season when there is the wildebeest migration. Additionally, there are season offers such as Christmas and Easter that you can take advantage of.
The choice of accommodation also varies in terms of the luxuries available. Some hotels will have a wellness center and spa facilities.
The price will also vary depending on the mode of transport; the road trip will be cheaper than the flight but also dependent on your preferences.