The Ultimate Serengeti National Park Safari Cost, Guide, & More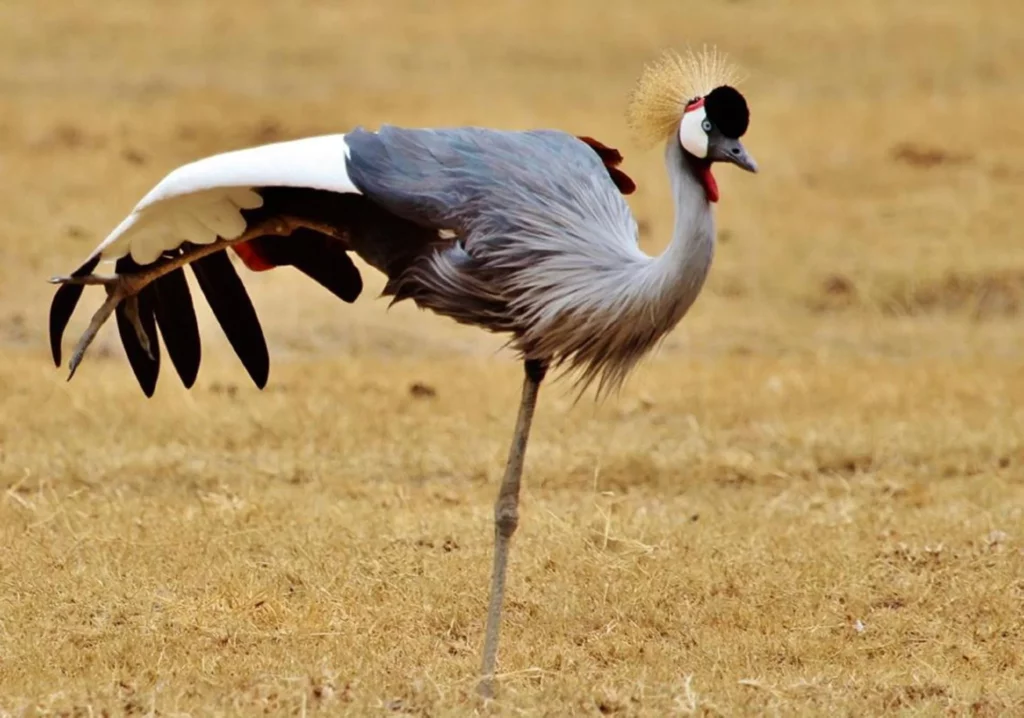 Are you looking for Serengeti National Park safari cost, guide, attractions, tours, and more? Serengeti is the oldest game reserve in Tanzania and the country's flagship tourist destination. The name Serengeti comes from the Maasai word 'Siringet,' which means endless plains.
Game drives are extremely popular during Serengeti National Park tours because of their scenic beauty and a large collection of wildlife. This includes the big 5, big cats, and lots of other mammal and bird species. In total, the park's ecosystem hosts all members of the Big 5, over 70 mammal species, and over 500 avian species.
The park has the highest lion population in Africa with slightly over 3,000 lions. It covers an area of about 5,700 square miles (14,763 sq. km), with the whole Serengeti ecosystem covering about 18,641 square miles (30,000 sq. km.)
Together with the neighboring Masai Mara National Reserve in Kenya, the park is the arena for the breathtaking Wildebeest Migration. During the event, over 1.5 wildebeest, more than 200,000 zebras and different species of antelope migrate on a round-trip from the Serengeti National Park into Kenya's Masai Mara National Reserve.
The event is so spectacular that it has helped the park clinch the coveted seat as one of the 7 Wonders of Africa. In this article, our Tanzania safari guides will give you all the tips you need when making a Serengeti National Park safari booking.
We will cover everything from the cost of Serengeti National Park safari packages to the best time to visit, fun things to do while at the park, and more.
Contact Us to Get More Info About Visiting Serengeti National Park
At ajkenyasafaris.com, we are committed to helping you plan and book the best tour for you and your loved ones.  We are a team of travel consultants who call Kenya home, and nothing makes us happier than seeing the broad smiles on your face after taking your on lifetime trip.
Book your safari now by sending us an email at  james@ajkenyasafaris.com or safarioffers@ajkenyasafaris.com.  You can also call or WhatsApp us at +254-748-258-880.
Our Most Booked Kenya & Serengeti Safari Packages
The Ultimate Guide to Serengeti National Park Tours
Serengeti National Park is one of the most renowned national parks in the world, located in northern Tanzania. Here we have looked at everything you would need to know about this park in Tanzania.
History of Serengeti National Park
Serengeti National Park is one of the oldest and best known parks in Africa. It was established in 1951 by the British colonial government as a game reserve and was later upgraded to a national park in 1981.  The park spans 12,000 square miles and is home to over two million large wild animals, including the famous Big Five: lions, elephants, buffalo, rhino and leopards.
Getting There
A travel visa is not required to enter Tanzania; you will only pay a fee of $100 to get one once you arrive. Connecting flights via the Middle East and Europe are available from the various airlines that serve the country.
Although Arusha is Serengeti's getaway, you must get there via Kilimanjaro International Airport. From Arusha town, the best option is flying to one of the seven airstrips in the park.
For guests, AjKenyasafari.com can organize a small charter plane to the various airstrips in the park from, Arusha, Maasai Mara, Kilimanjaro, and Lake Manyara. Alternatively, you can book a safari in a 4×4 safari vehicle to Serengeti from Arusha and visit several other parks on your way.
How Long Does a Serengeti Safari Take?
8 to 10 days will allow you to explore the northern and southern parts of Serengeti National Park. In my experience, rushing a safari will lead to disappointments. We advise travelers to allocate enough time for the tour to get the best experience.
Serengeti National Park Facts
Below are some of of the facts about Serengeti:
Located in northern Tanzania, the Serengeti spans 14,763 square kilometers.
It is home to the largest terrestrial mammal migration on Earth – over 1.5 million wildebeest and hundreds of thousands of gazelles and zebras move through the park every year.
The park also contains an abundance of other wildlife, including lions, hyenas, elephants, giraffes, impalas and more.
It is also known for its vast grasslands which provide a home to many species of birds and reptiles.
Serengeti was established in 1952 as a national park and was declared a World Heritage Site in 1981.
The name Serengeti comes from the Maasai word "Siringit", which means "the land that moves on forever".
Serengeti is one of the Seven Natural Wonders of Africa. 
Tourists come to visit the park for its breathtaking landscapes, diverse wildlife and unique safaris.  
It also offers visitors a chance to witness some of the most incredible natural phenomena on Earth.
Serengeti National Park Safari Cost
How Much Does a Serengeti Safari Cost? 
Luxury Safari in Serengeti costs anything from \$1000 per person sharing per day. The cost covers your food, accommodation, park fees, tour guides, and transportation.
Mid-budget vacation costs anything from $300 USD per day. It covers your accommodation, meals, park fees, transportation, and guide fees.
A budget trip in the park costs $200 per person per day. You will travel in a tour van with a group of 8 travelers. The cost will cover your meals, accommodation, camping activities, and transport.
To access the park, travelers must pay an entrance fee to access the park for their various safari activities. Serengeti National Park charges 60 USD for non-residents adults [JC4] and 30 USD for children aged 5-15. No charges apply for children below five years.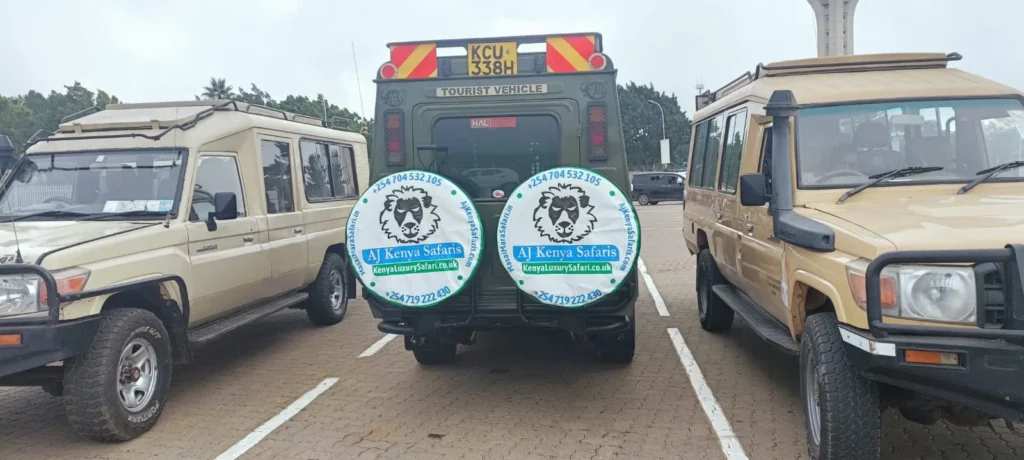 Serengeti National Park Best Time to Visit
When is the best time for a safari in Serengeti? Serengeti offers unforgettable safari experiences throughout the year. The Serengeti ecosystem hosts a variety of vegetation, which ensures the steady presence of wildlife throughout the year.
However, many travelers avoid the heavy rains between March and May and prefer visiting the park during the dry season – when wildlife concentrate near water bodies and can be easily sighted.
The best time to visit Serengeti is between July and October when you will get the best chance of seeing the great Wildebeest Migration. During this time, almost two million wildebeests and large herds of zebras are in the northern plains of Serengeti.
You will get an opportunity to see thousands of them crossing the Mara River. This, in turn, attracts different predators, which make the crossing a dramatic open-air theater. In February, half a million wildebeest will give birth. Calving time attracts predators such as lions, crocodiles, cheetahs, and leopards.
Serengeti National Park Accommodation
Accommodation  is available in all types of Serengeti accommodation, from luxury tented camps to budget-friendly lodges. Many of the camps and lodges are situated within the park itself, allowing guests to experience wildlife sightings from the comfort of their rooms or tents.
Accommodation outside the park's boundaries also offers great access to nearby attractions, such as cultural visits to nearby villages or safaris. The Serengeti National Park offers luxury lodging options for those looking for a special safari experience. Luxury lodges feature private rooms and suites with full amenities, including air-conditioning, satellite TV, bathrooms and in-room facilities.
For those on a budget, there are plenty of affordable lodges and camps located within the park. Many of these offer basic accommodations such as shared bathrooms and open-air tents. While accommodation is simple, guests can still expect great service from staff and excellent access to wildlife-rich areas.
For a unique experience, you can also stay in one of the Serengeti's mobile "fly camping" adventures. These involve moving from place to place and setting up camp along the way. All the necessary equipment is provided, such as tents and sleeping bags, but no permanent structures. 
Serengeti National Park Airport & Airstrips
The Serengeti National Park is easily accessible by air, with many of the nearby airstrips offering direct flights from Masai Mara or Arusha. The park also has its own airstrip, located in the central Seronera area of the park. 
From here, visitors can reach destinations such as Lake Natron and Kogatende. Many of the private safari companies offer chartered flights to and from these airstrips as well.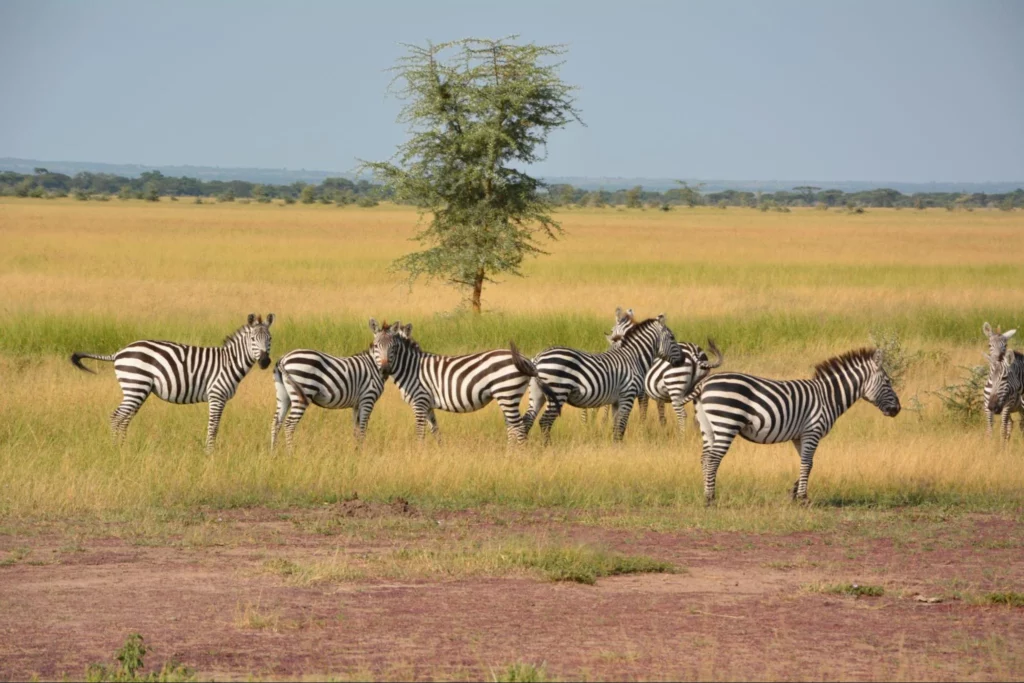 Top 10 Activities to Do During Serengeti Safari Holidays
There's nothing quite like an adventure in Tanzania's iconic Serengeti National Park. Famous for its spectacular wildlife, from the large herds of wildebeest to the big cats and birds of prey, a safari in Serengeti is an unforgettable experience. 
To maximize your trip, here are 10 things to do during your Serengeti Safari holiday:
 1. Morning, Afternoon, & Full-Day Game Drives
Serengeti is among the best national parks in the world for wildlife viewing. You will see the big five, millions of wildebeest gatherings, and thousands of hoofed animals. Day and night game drives are available; you can do both depending on the animals you want to see.
 2. Night Game Drives
Night game drives in Serengeti allow travelers to view their surroundings from a different perspective. You will also be able to see predators hunting different animals such as bushbabies, aardvarks, nightjars, and civets.
 3. Wildebeest Migration Tours 
Nothing will ever overwhelm your heart more than witnessing 1.5 million wildebeests, thousands of zebras, elands, and gazelles crossing the Mara river and crocodiles pulling down a few of them.
The Great Migration is not a single event; it happens all year round and never ends. But the movement and timing of animals keep shifting because of weather changes. If you want to witness millions of animals crossing the river Mara, please let us (AJKenya Safaris) know.
We will plan your Serengeti vacation right and ensure you enjoy seeing the Great Wildebeest Migration.
 4. Hot-Air Balloon Rides
Hot-air balloon trips are the most popular while on a safari in the Serengeti plains. You cannot explain the feeling of soaring a thousand miles above the Serengeti ecosystem. You will enjoy the unique view of animals and the great migration from the skies.
The hot air balloons carry 8 to 16 tourists across the Serengeti plains. The flights start at 5 am and last for about an hour. The balloon safari is expensive, but the experience is worth it.
 5. Bush Dinners, Lunch, & Breakfast
Nothing is more romantic than taking meals under the stars near a bonfire. Regardless of where you come from, you will not get hungry. Most of the restaurants offer special meals; from traditional cuisines to BBQ buffets.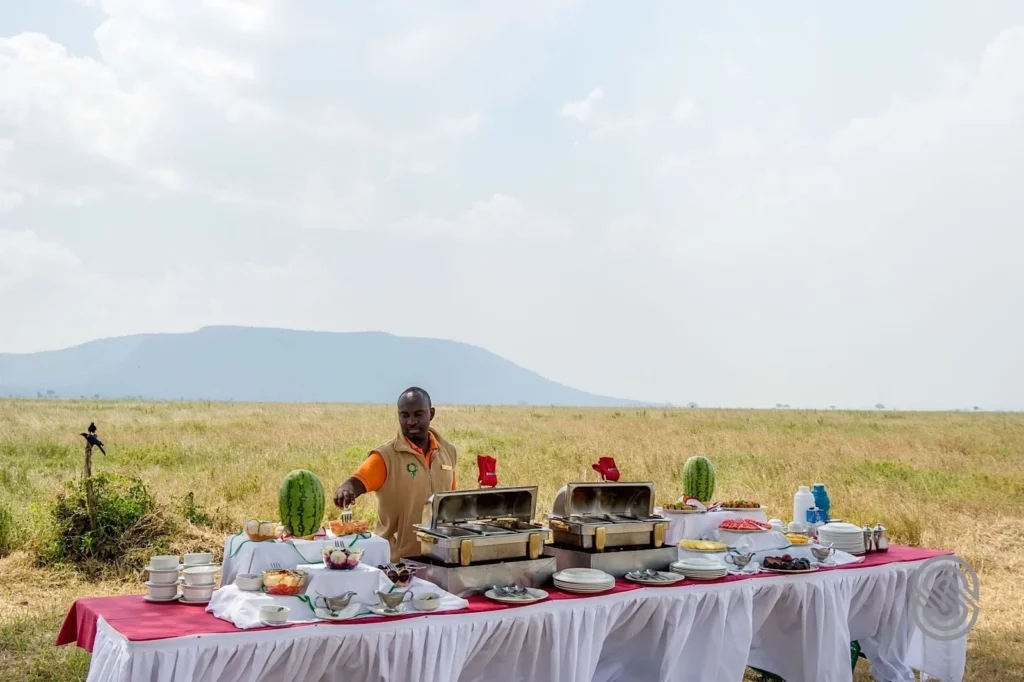 6. Step Back in Time at Oldupai Gorge
Oldupai Gorge (also called Olduvai by locals) lies a few miles south of Serengeti. It is the best stopover for tourists traveling between Serengeti and Ngorongoro Crater. The 30-mile long ravine was home to ancestors over two million years ago.
Oldupai Gorge is where Mary Leakey discovered human fossils. This discovery completely changed our understanding of human evolution. The Museum contains artifacts and information related to fossil discoveries; the Laetoli footprints, the Gorge, and the Leakey's family.
The Laetoli footprints are said to have been left by our ancestors 3.6 million years ago. It is wise to stop by the Museum to refresh and learn new things away from wildlife.
 7. Get an Aerial View of Serengeti
Most tourists use hot air balloons to get better views of the Serengeti plains. Nevertheless, if you are looking for a cheaper price, you can go for a shared regional charter flight.
The planes carry a maximum of 13 travelers and move between the 7 Serengeti airstrips. However, the view of the plains below from the hot-air balloon is second to none.
 8. Visit a Maasai Village
A Serengeti National Park safari is not complete without visiting the Maasai community. These magnificent people have called this area home for centuries. The Maasai people have a rich culture and history which is interesting to learn.
There are several Maasai villages around Serengeti and many tourists take trips to the villages for a chance to experience their traditional way of life. Maasai people are friendly, and you will learn more about their customs, cultural practices, and see their beautiful art.
You can support the community by buying their beautiful handcrafted ornaments made from local materials using traditional methods by women.
 9. Savor the History of the Serengeti at the Stop at the Serengeti Visitor Center
The Serengeti Visitor Center is in the Sonorera area. It is open daily from 8 am to 5 pm. The center offers informative exhibits of Serengeti's history, its wildlife, and the ecosystem.
The center has a picnic area where couples can take their lunch. There is a shop where you can buy gifts for your loved ones back at home. Also, you will enjoy cold drinks and coffee in the center's café.
 10. Visit the Moru Kopje
Moru Kopje is a gigantic rock formation in central Serengeti. It is among the best places for game viewing. The rock provides shade for animals such as leopards, lions, black rhinos, and cheetahs.
Besides the spectacular annual Wildebeest Migration and the stunning sunsets, the vast plains of Serengeti offer unforgettable experiences to visitors. This UNESCO World Heritage Site also hosts the largest concentration of the biggest predators in Africa.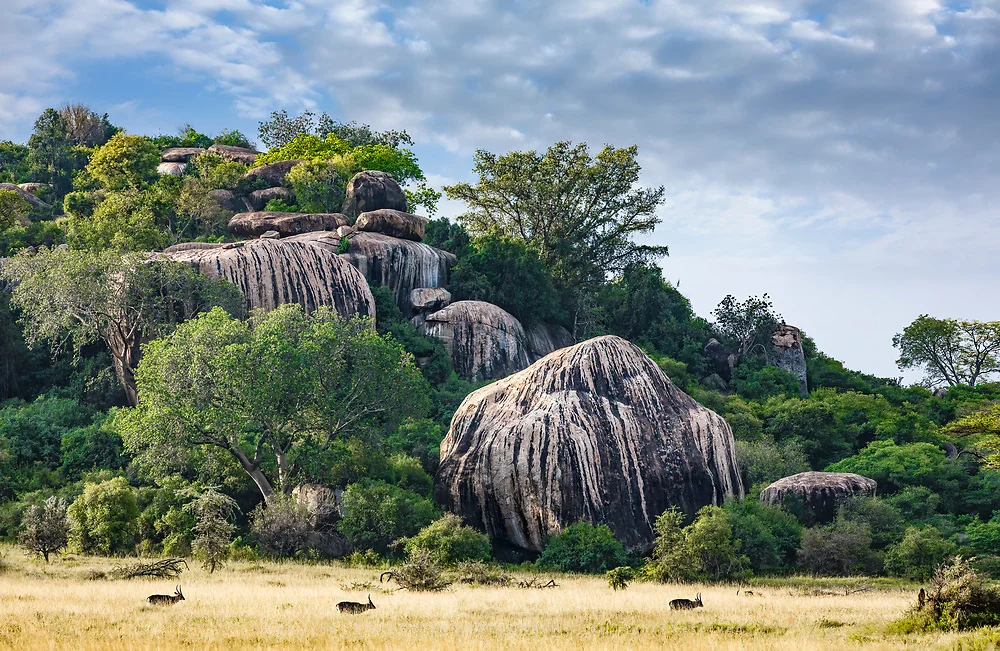 Serengeti National Park Safari Cost – Sections of the Serengeti
Because of its huge size, the park is divided into three sections: Southern/Central Serengeti, the Western Corridor, and Northern Serengeti.
 1. The Central and Eastern Section
The southern/central section (also known as Seronera Valley) is the most popular in Serengeti.
If you desire to see the highest concentration of wildlife in minimal time, consider traveling to Seronera. Its vast stretches of savannah, baobab trees, and towering acacia offer the most attractive sceneries in the park.
 2. The Western Corridor
The most prominent feature of the western corridor is the Grumeti River. Between late May and July, the river offers one of the most outstanding river crossings as millions of wildebeests migrate in search of grazing lands and water.
 3. Northern Serengeti
Spin your wheel north and you will reach Northern Serengeti (Lobo area). It is endowed with hills and more woodlands, alongside the main highlight – the Mara River. In early May, millions of wildebeests, zebras, and antelopes make their way North, where most of them remain till June.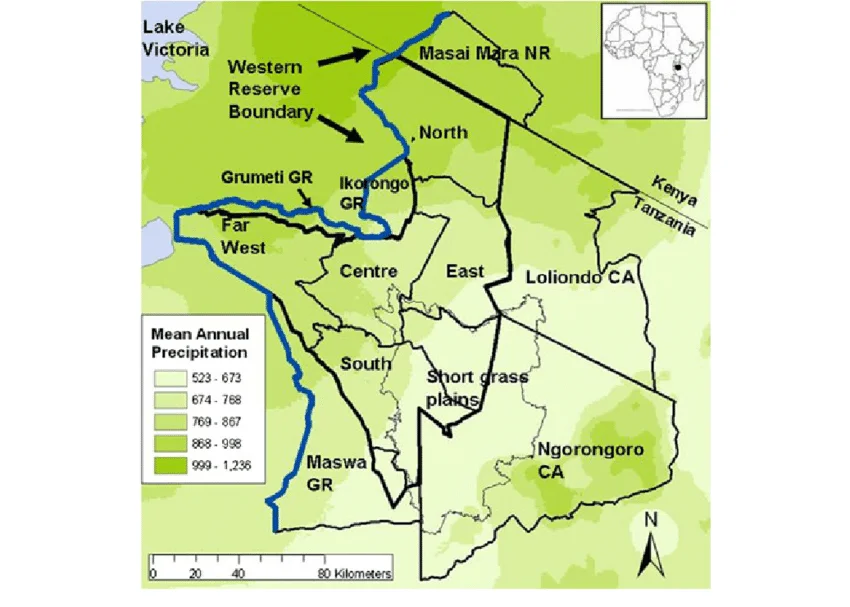 Serengeti National Park Animals – Wildlife 
Being one of the greatest jungles in the world, Serengeti harbors a large variety of wildlife, including the famous Big Five (elephant, lion, buffalo, leopard, and black rhino).
Strict measures have been taken to protect the dwindling number of black rhinos and other endangered species. Some omnivores that inhabit the park in large herds include:
Wildebeests (1.5 million)
Zebras (300,000)
Elephants (2,700)
Hippopotamuses (500)
Buffalos (70,000)
Giraffes (4,000)
Elands (7000)
Hartebeests (18,000)
Thompson's gazelles (900,000)
Topis (27,000)
Warthogs (15,000)
Black rhinoceroses (200)
Impalas
Hares
Porcupines
Major predators include:
Lions (4,000)
Leopards (1,000)
Cheetahs (225)
African wild dogs (300)
Hyenas (500)
Crocodiles
Over 500 bird species also inhabit the park, with the most popular ones being:
Ostriches
Black crakes
Red and yellow barbets
Ficher's lovebird
Hartlaub's turaco
Ashy starling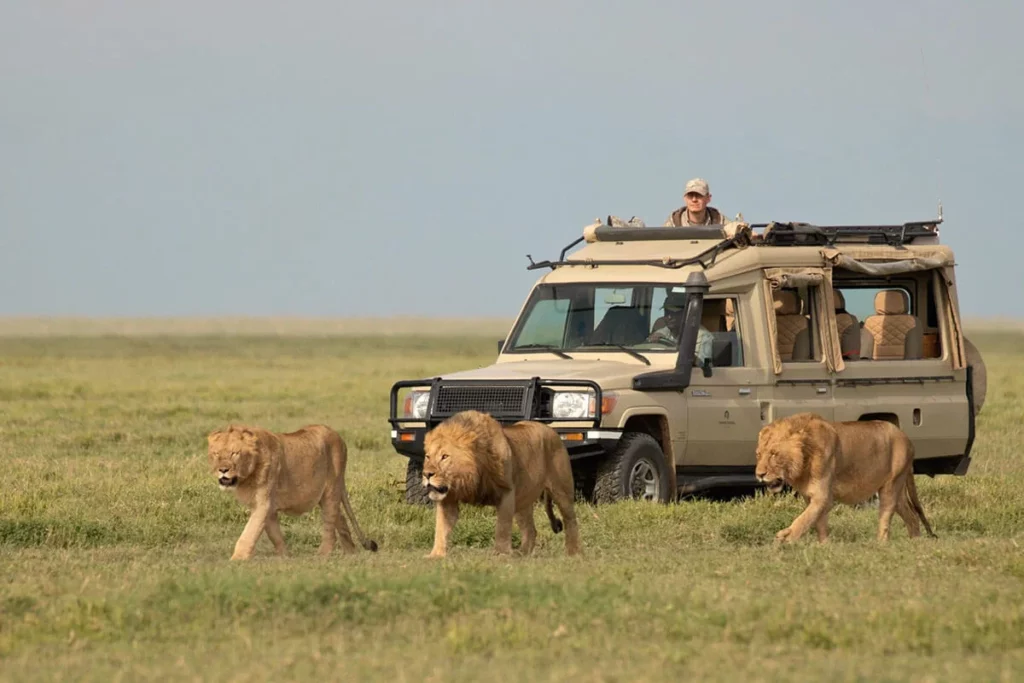 Serengeti National Park Safari Cost and Tour Planning Tips
When planning a tour to Serengeti National Park, there are a few things you should keep in mind in order to make the most of your experience.
When planning a tour to Serengeti National Park, there are a few things you should keep in mind in order to make the most of your experience. Below are some tips on how to plan the perfect Serengeti tour.
Take time to research different safari companies and guides. It's important to choose a reputable guide who has detailed knowledge of the local terrain and wildlife.
Plan ahead – ensure you make reservations as early as possible to guarantee the best safari experience.
Try to book during the dry season, which is between December and February or June and October. This is when wildlife sightings are at their best, as animals congregate near permanent water sources in search of food.
Decide on a vehicle – whether you want to experience the park from the comfort of a car, prefer an open-air option like a jeep or safari truck, or would rather go on foot.
Consider your accommodation – there are a variety of options available in the park ranging from luxury hotels and lodges to tented camps.
Bring the right gear – make sure to bring sunscreen, insect repellent, a hat and sunglasses, comfortable clothing and shoes, and a waterproof jacket or poncho for when it rains.
Pack binoculars – these will come in handy for spotting wildlife from afar. 
Don't forget your camera – you'll want to capture all the wonderful moments you experience during your tour.
Allow some time for rest and relaxation – this is a great opportunity to take in the scenery and photograph wildlife from afar, or just enjoy a spot of bird watching.