The Ultimate Guide to Kenya and Tanzania Safari Packages - AjKenyaSafaris.com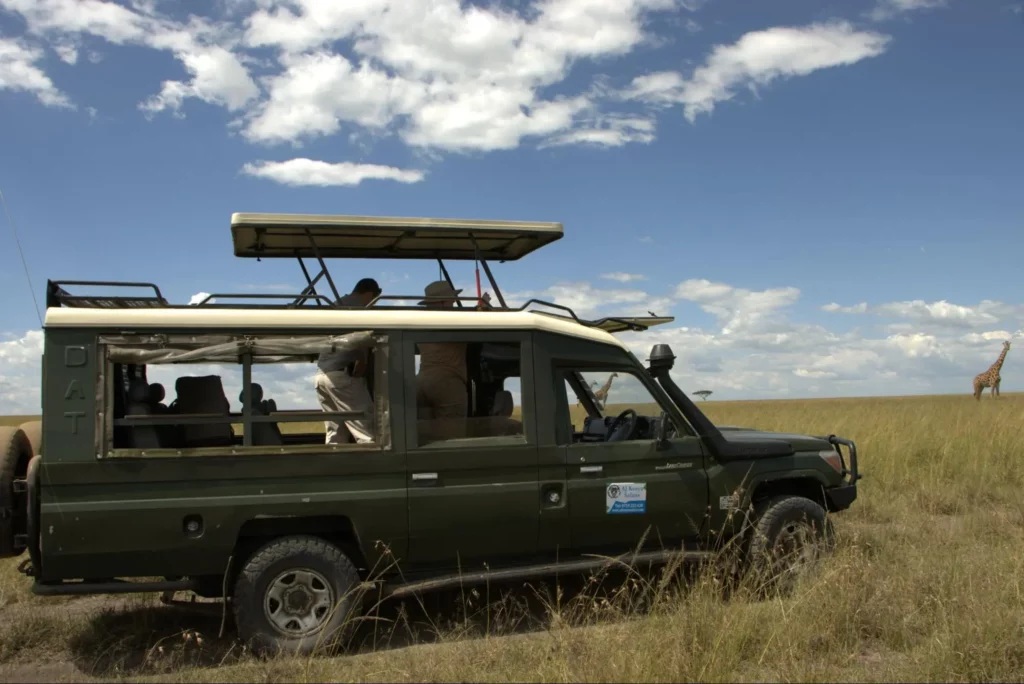 Are you looking for the best and most affordable Kenya and Tanzania safari packages? Look no further! AjKenyaSafaris.com offers the best Kenya and Tanzania packages. But what should Kenya and Tanzania Tour Packages cover? This guide will give you everything you need to know about these East African countries. 
Kenya and Tanzania are, without a doubt, the most celebrated African safari destinations. The two neighboring countries, located in the eastern corner of Africa, share more than a border and a national language, Swahili. It's in Tanzania's Serengeti and Kenya's Masai Mara where the great wildebeest migration comes to life.
Other than this breath-taking wonder of the world, this part of Africa is home to the famous Mt. Kilimanjaro, a staple on many bucket lists. And the white sandy beaches of Kenya's Diani and Tanzania's Zanzibar are the ideal honeymoon destinations.
Travel to Kenya and Tanzania Today by Booking Your Safari Now
Our Most Booked Kenya and Tanzania Safari Packages and Other Safaris
Kenya and Tanzania Travel Guide - Top 6 Destinations and Things to Do
Your Kenya and Tanzania packages from India, Dubai, the USA, UK, or other parts of the world can't be complete if you don't visit the destinations below.
Masai Mara National Reserve, Kenya
Masai Mara is arguably the most sought-after safari destination in Africa. This intriguing game park is located in Kenya's Narok County, 280 KM North West of the capital city, Nairobi. It is home to the thrilling 8th wonder of the world, the Great Wildebeest Migration.
It is here that millions of wildebeest attempt to cross the crocodile-infested Mara River from the Serengeti every year. The ensuing battle for survival makes this phenomenon a must-see item in your Kenya and Tanzania packages.
Besides the great migration, the Masai Mara is one of Africa's most wildlife-dense parks. This means you will encounter hundreds of other animal species, from lions, cheetahs, elephants, and hyenas to grazers like giraffes and zebras. 
For bird lovers, the Mara will intrigue you with over 470 species of local and migratory birds. If a dose of adrenalin is just what you need, you can take in the magic atop a hot air balloon. Masai Mara also allows you to interact with and learn from the famous Masai tribe.
The best time to visit the Masai Mara is between July-October when the great migration takes place. If these dates don't coincide with your plans, you will be happy to know that the Mara is an all-year destination with much to see and do.
We recommend spending at least two nights at the reserve to take it all in comfortably. This iconic park boasts some of the most luxurious bush accommodations, such as Sir Richard Branson's Mahali Mzuri, Mara Bush Camp, Governors Camp, and Sand River Camp.
Serengeti National Park, Tanzania
The Serengeti National Park is the epitome of an African safari. This vast and iconic game reserve sweeps across Northern Tanzania, about 235 Km from Arusha. It was declared Africa's leading national park in 2019, 2020, & 2021, edging stiff competition from Kenya and South Africa. Masai Mara won this award from 2013 – 2018. 
The Serengeti acts as the starting point of the great wildebeest migration. Every April, millions of wildebeest and zebras start their journey north, driven by the whims of the weather as they search for greener pastures.
Around June, they congregate on the banks of the Grumeti River, continuing further north to arrive at the Mara River, sometimes between July and August. This long journey means numerous opportunities to catch the herds during their trip, which makes for fantastic game viewing.
Outside of the migration, however, the Serengeti boasts hundreds of animal species, including the African elephant, lions, buffaloes, cheetahs, and millions of grazers. You can elevate your experience by taking in hot air balloon rides, bush picnics, and guided nature walks.
The Serengeti offers excellent game viewing all year round. The dry months of June-October are the best time to visit if you want to catch the great migration from the Tanzania side. The fastest way to reach the Serengeti is to fly from Arusha into one of the many airstrips in the park.
Because it is vast with so much to see, we recommend that you spend a minimum of four nights here. Accommodation is plentiful and varied; you will find something for all budgets. Our favorite places include the Four Seasons Safari Lodge, Cottar's Safaris, Serengeti Serena, and Ikoma Tented Camp.
Amboseli National Park, Kenya
Amboseli National Park is located in Kenya, about 160 km from Kenya's capital, Nairobi. It is one of Kenya's most picturesque parks, the only place where you will find herds of elephants grazing with the snow-capped Mt. Kilimanjaro in the background.
For this reason, it is famously known as the home of the African elephant due to the large population of elephants found here. This park features five ecosystems: acacia woodlands, open plains, rocky thorn bush, marshland, and swamps.
Besides breathtaking views of the majestic Mt. Kilimanjaro, you will also encounter buffaloes, hippos, hyenas, and over 400 bird species. Of course, the gentle giants are the stars of this show, and the observation hill will give you magnificent views of the elephants in the swamps.
The best time to visit the Amboseli is during the dry months of June to October. You can quickly get here by road from Nairobi or fly from Wilson Airport into the Empusel gate airstrip. If adventurous, you can pitch a tent on the ground with the stars watching over you.
For a little bit more luxury, we recommend staying at Ol Tukai Lodge, Elewana Tortilis Camp, or Kibo Safari Camp.
Mt. Kilimanjaro, Tanzania
If you are an avid climber, then Mt. Kilimanjaro must be on your bucket list. This majestic, snow-capped mountain is located in north-eastern Tanzania, about 80 kilometers from Arusha. It is the world's tallest free-standing mountain and the highest point in Africa, at 5895 meters.
Mt. Kilimanjaro is a member of the exclusive club of the 'seven summits,' the highest mountain peaks in the world's continents. This makes it a highly sought-after climbing destination, and over 30,000 trekkers walk its paths yearly.
One of the most appealing features of this iconic mountain is that it does not require any technical climbing skills; you only need to be moderately fit. Mt. Kilimanjaro has six well-designated climbing routes, all converging at the summit.
The most popular routes are Marangu and Machame, particularly crowded during the peak season. Other courses are quieter but longer.
The best time to climb Mt. Kilimanjaro is the dry months of January and February or August and September. These are also the busiest months, with crowds of people determined to put their mark on Uhuru Peak. If you want to avoid the crowds, March or October would be a good time, just before the rainy season.
The number of days you spend climbing will depend on your route, fitness levels, and other factors, but on average, a climb can take anywhere between five and nine days.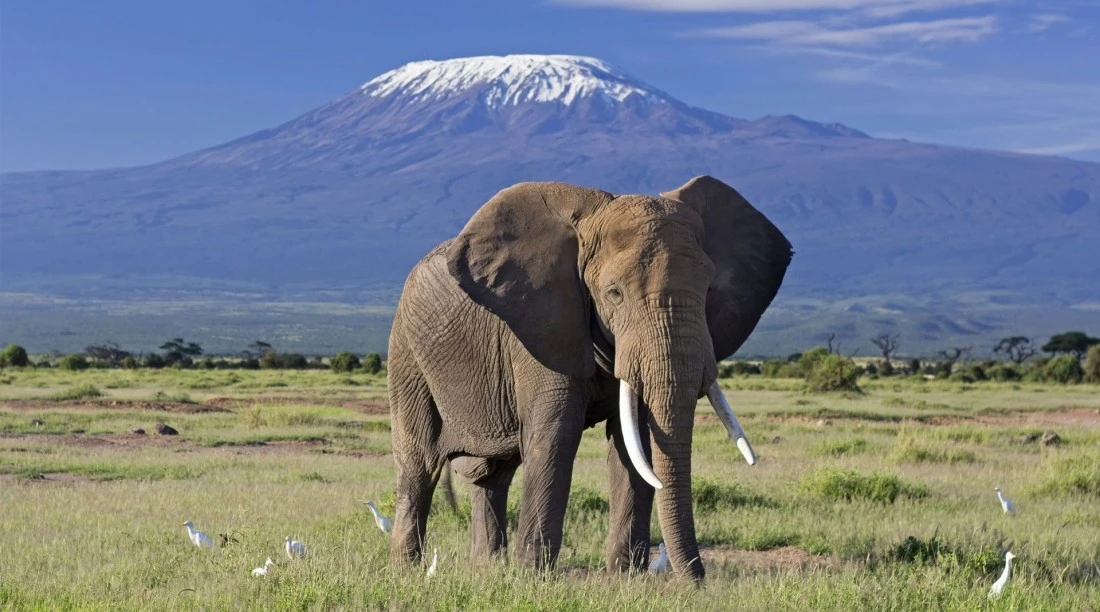 Diani Beach is a little piece of heaven hidden away on Kenya's north coast, about 30km from the city of Mombasa. This 17km stretch of pure white sands is sandwiched between lush green forest and the turquoise blue waters of the Indian Ocean.
If you are looking for the ultimate honeymoon getaway, then Diani should be on your list. No wonder this majestic beach won the title of Africa's Leading Beach destination six times, between 2014 – 2019
Kenya is home to the famous phrase 'Hakuna Matata, meaning no worries. Nowhere else does this saying come alive than in Diani, where time stands still, beckoning you to leave your worries and relax. 
As is typical with a beach, you can choose to spend time lying on a hammock with your favorite book and drink or walk barefoot on the soft sand. For the adventurous, Diani is world-famous for its water sports. 
You can try skydiving, fishing, snorkeling, windsurfing, or kite surfing. There is a lot to do on land, including a visit to a sacred forest and monkey sanctuary. Try some of Kenya's most famous coastal dishes and the freshest seafood.
Diani Beach boasts some of the most luxurious accommodation on the Kenyan Coast. Whether you are traveling as a family or a couple, there is something for everyone. Some of our favorite hotels are the Swahili Beach Resort, Diani Reef Beach Resort & Spa, and Leopard Beach Resort.
Because it is a coastal town, the weather in Diani is excellent all year round.  The best way to get there is to fly to take a one-hour flight from Nairobi to the Ukunda airstrip.
Zanzibar Beaches, Tanzania
Zanzibar Island is an archipelago located off the coast of the Indian Ocean in Tanzania.  It has two main islands, Unguja and Pemba, and several smaller islands. This corner of east Africa is world-famous for its magnificent sandy beaches, water sports, and electric nightlife.
Zanzibar has won numerous tourism awards, and its old city of Stone Town is a UNESCO Heritage site. There is a good reason why Zanzibar is one of the most sought-after honeymoon destinations.
Its beaches are covered in soft, white sand, surrounded by palm trees and the glare of blue ocean waters. You can choose to retreat to one of the smaller islands for a truly private and idyllic experience. The sunsets in this paradise are mesmerizing, and few things compare to its beauty.
Zanzibar is also renowned for its fantastic water sports, including snorkeling, diving, windsurfing, kayaking, and water skiing. Away from the adventure, Stone Town offers numerous options for souvenirs and its famous spices.
Like any romantic destination worth its salt, Zanzibar has some of the most luxurious beach hotels you can dream of. We recommend Dream of Zanzibar, Baraza Resort & Spa, and Zuri Zanzibar.
To get to the island, take a direct flight from major Tanzanian airports to Zanzibar International Airport. You can also take a ferry from the port of Dar-es-Salaam and have the best African safari to Kenya & Tanzania, Zanzibar.
Ngorongoro Crater, Tanzania
Ngorongoro Crater is one of the world's most breath-taking natural wonders. This crater found in Tanzania's Arusha district is the largest volcanic caldera in the world. Other than being a geographical wonder, it hosts one of Africa's largest concentrations of wild animals.
It also features unique flora and fauna, such as the Lerai Forest, which comprises Yellow Fever Trees. The Ngorongoro ecosystem also consists of swamps, springs, and grasslands and was declared a UNESCO World Heritage site in 1978.
The plains of Ngorongoro come alive with herds upon herds of animals such as zebras, wildebeest, buffalo, and gazelles. A safari here is also a great time to encounter the endangered black rhino, the jungle king, leopards, and the rare bat-eared fox.
Besides the crater, take in surrounding sites, including the Olduvai Gorge. This is arguably one of the most important archaeological sites in the world. If you are a bird lover, you will enjoy visiting the Empakaai Crater, a smaller soda lake that houses millions of flamingos.
Because of its unique climate, the Ngorongoro Crater has animals all year round, which means you can visit anytime.
Peak seasons get pretty crowded, and if you would like a quieter safari, you might want to visit in the low season of April and May. The easiest way to get here is to fly from Arusha to Lake Manyara Airstrip. 
There is no accommodation in the crater itself, but you will enjoy fantastic rim views. We recommend the Ngorongoro Crater Lodge, Ngorongoro Sopa Lodge, or the Ngorongoro Serena Lodge.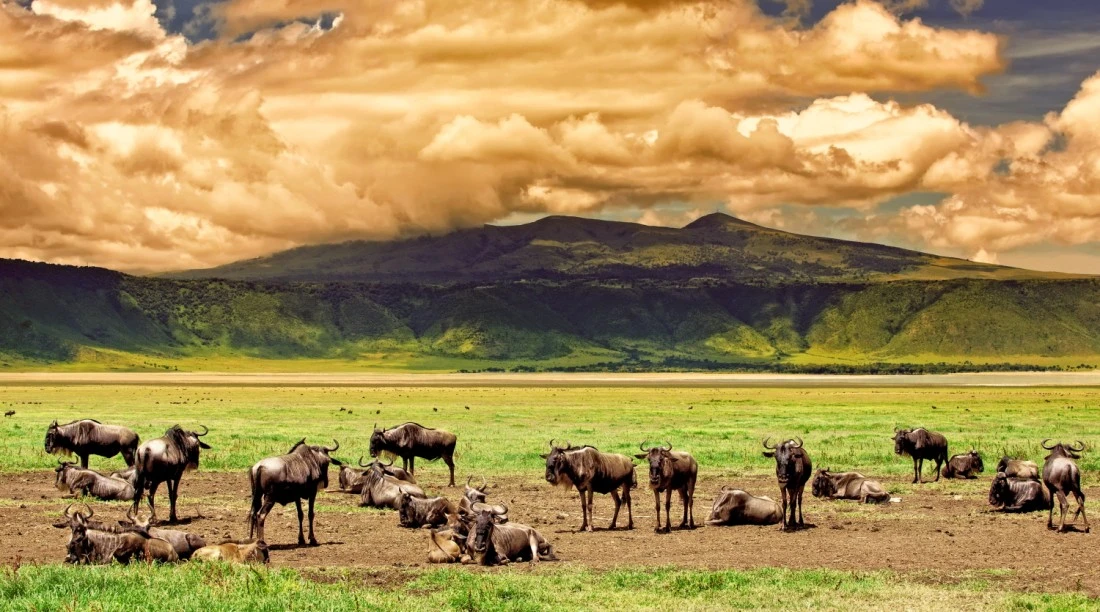 Kenya and Tanzania Safari Packages - FAQ
Kenya and Tanzania safari Tripadvisor offers excellent reviews about what you can expect during an adventure in this region. Here are more questions and answers about Kenya and Tanzania safaris.
Is Safari Better in Kenya or Tanzania?
If you are like most safari enthusiasts, you are wondering which destination has a better safari experience, Kenya or Tanzania. We will admit that this is one of the more challenging questions we get.
Both countries offer fantastic game viewing experiences, breath-taking natural beauty, intriguing cultural aspects, and surreal beach experiences. Our obvious answer is that you should visit both countries on a combined Kenya-Tanzania safari itinerary or two separate safari trips.
But if the choice comes down to just one destination, consider these factors:
Landscape and Climate
Kenya and Tanzania share a border, meaning their landscapes and environments are similar. The shared border stretches over 700km, most of it an extensive plain that is the Serengeti Game Reserve in Northern Tanzania and the Masai Mara Game Reserve in Southern Kenya.
Both countries have coastlines along the Indian Ocean, which explains the beautiful beaches. In terms of landscape, both feature highlands and plains, and one significant difference is that Tanzania is much larger than Kenya.
Regarding climate, both countries experience similar seasons, which are mainly wet and dry. The wet season runs between April and June, and the dry season between July and October.
November and December are 'short rains season,' and January through March is a dry, hot season. For both countries, June and July are cold months, with temperatures at 20 °C or slightly lower.
Average temperatures in the hot months (August to May) range between 25-28°C, with the coastal areas being warmer and more humid.
The seasons and temperatures may vary, but only slightly. It is safe to say that Kenya and Tanzania do not have significant differences in landscape and climate. 
Kenya Boasts More Developed Infrastructure & Accommodation Options
When it comes to infrastructures such as roads, airports, and railways, Kenya is more developed than Tanzania. More international flights land in Nairobi and movement from one place to another is more convenient.
The type of accommodation you get will depend on your destination and budget, and both countries have great options ranging from budget to super luxurious tented camps.
Strictly speaking, Kenya has more accommodation options in the form of hotels, lodges, camps, guest houses, and Airbnb. This makes it slightly cheaper than Tanzania.
Budget & Costs
The cost of your safari in Tanzania and Kenya will be determined by many factors such as the duration, when you visit, where you will stay, activities, and your means of transport.
In general, because Kenya is a more developed country than Tanzania, you have several options for transport and accommodation, which might lower your cost.
Tanzania is much larger than Kenya, meaning you might have to take more domestic flights to get between places, driving up your cost. Tanzania also has more exclusive accommodation options, which require top dollar.
Game Viewing & Unique Attractions
The main attraction in Tanzania is the Serengeti, and in Kenya, it is the Masai Mara. Both counties offer fantastic game viewing opportunities and other special activities such as hot air balloons and cultural visits.
Regarding unique attractions, Tanzania boasts Ngorongoro Crater, Mt. Kilimanjaro, and the beautiful island of Zanzibar. Kenya boasts the flamingo-filled Lake Nakuru National Park and the breathtaking Diani Beach. 
If we look strictly at unique attractions, Tanzania might have more to offer.
Language & Culture
One of the most prominent aspects of East African culture is the Maasai community. You have undoubtedly seen the colorfully dressed, beaded tribe that lives across Kenya and Tanzania.
This is only one part of it, as both countries have numerous tribes, each with different traditions that have infused into the collective cultures. Religion is a big part of life, with Islam and Christianity being the major religions in both countries.
The official language in Kenya is English and Swahili, while in Tanzania, it is Swahili.  This is unlikely to impact you negatively while touring Tanzania as the guides speak fluent English.
However, you might be disadvantaged when haggling at the local market. Visiting markets and interacting with locals is one of the activities we have lined up for you in our Kenya-Tanzania safaris.
What is the Best Time for Safari in Kenya and Tanzania?
Kenya and Tanzania are both all-year destinations, meaning you will enjoy fantastic game viewing opportunities regardless of when you visit. If you are targeting the great migration specifically, the best time to visit is between July and October.
Is Safari Better in Kenya or Tanzania?
A safari in either East African country will be equally exciting. Because they neighbor each other, they have similar climates and landscapes. Their parks also have a dense wildlife population, fantastic beaches, natural wonders, and fascinating cultures.
Is Tanzania Safer than Kenya?
Both Nairobi and Dar es Salaam are large, cosmopolitan cities. As with any other modern city, you must exercise extra caution as you move about, especially at night. Because of past terrorism threats, both countries have enhanced security around major cities.
Insecurity is little to none in the national parks, where you are likely to spend the most time.
Which Are the Best Places to Visit in East Africa?
As discussed, some of the best places to visit in East Africa are the Serengeti, Ngorongoro Crater, and Zanzibar in Tanzania.
For Kenya, the best places to visit are the Masai Mara, Diani Beach, and Amboseli National Park.  For avid climbers, we recommend attempting Mt. Kilimanjaro or its counterpart, Mt. Kenya.
How Much Does it Cost to go on Safari in Kenya?
A safari to Kenya or Tanzania can be cheap or expensive, depending on your budget. This is because you can choose to have a luxurious, mid-luxury, or budget safari. We have different safari packages to suit your needs.
Still, as a guide, our packages start from USD 600 per person per day for a luxury safari, USD 400 per person for mid-luxury, and USD 250 per person for a budget safari.
Is Tanzania Good for Safari?
Tanzania is one of the best safari destinations in Africa. It is home to the world-famous Serengeti Game Reserve, the origin of the great migration. A safari here will also take you to Ngorongoro Crater, one of the most majestic natural wonders.
The beaches of Zanzibar are the ultimate way to wind up a bush safari, with white sandy beaches welcoming you to relax and let your hair loose.