The Ultimate Guide to Climbing Mount Kilimanjaro for Beginners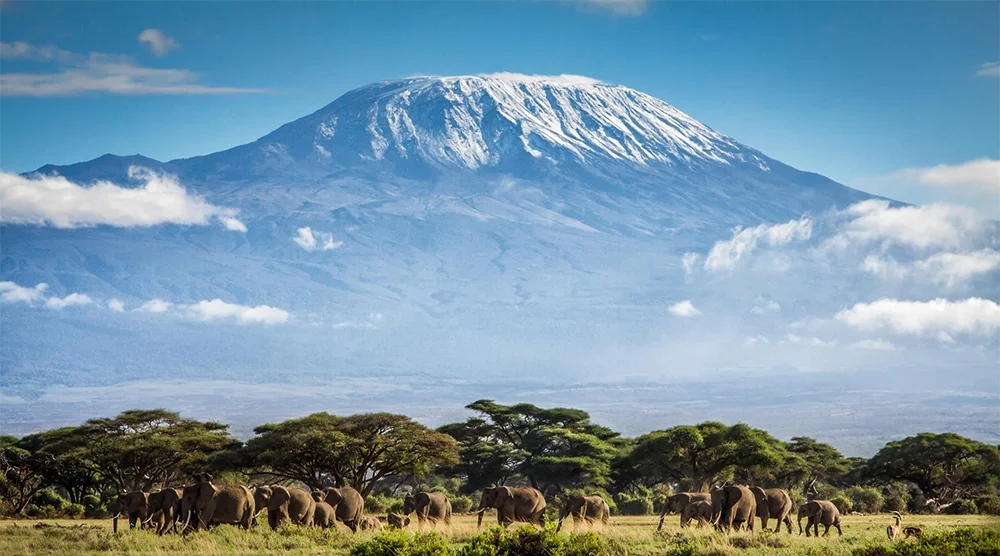 Climbing Mount Kilimanjaro is an incredible and unforgettable experience. Known as the "Roof of Africa", Mt. Kilimanjaro is the highest mountain on the African continent, towering at a majestic 19,341 feet (5,895 meters). The trek up Mt. Kilimanjaro summit is one of the most popular in the world, and climbers come from around the globe to take on this challenge.
The route for climbing Mt. Kilimanjaro is divided into several distinct sections, each offering unique scenery and conditions for climbers. Most routes start from the south or west side of the mountain and traverse up through rainforest, alpine desert, and arctic zone before reaching the summit. While there are many different routes that can be taken up Mt. Kilimanjaro, the two most popular are the Marangu and Machame Route.
If you are planning to climb this mountain in Tanzania,, read on our "Climbing Mount Kilimanjaro for Beginners Guide." Our trekking experts have put this in-depth guide together to give you all the information you need to plan a safe and memorable Kilimanjaro safari.
Do You Wish to Climb Mount Kilimanjaro? 
We encourage you to contact us via email at james@ajkenyasafaris.com or safarioffers@ajkenyasafaris.com to get started. We are also available by phone or WhatsApp at +254-748-258-880.
See Our Most Booked Safaris to Kenya and Tanzania 
Mount Kilimanjaro Facts & Kilimanjaro Summit  
We have listed out some incredible Mount Kilimanjaro facts that will take you on a journey.
It is the tallest mountain in Africa, and it stands on its own.
Kilimanjaro has three volcanic cones created in it, the Mawenzi, Kibo, and Shira.
The mountain is close to the equator, but it is crowned with ice.
The glaciers are over 11,000 years old.
They used to be more than 100 meters deep and they extended over 2000 meters from the mountain top.
However, due to global warming, the glaciers have been evaporating at an alarming rate.
Experts project that by 2050, the glaciers will be completely gone. So, if you are planning to visit Tanzania and hike the mountain, do so now.
Half of the people who attempt to climb the Mountain fail – you have a 50% success rate.
The young and old climb the mountain and make it to the summit.
About 25,000 people attempt to summit Mt. Kilimanjaro annually.
The trek up the mountain takes you through 5 different climatic zones varying from rainforest to the alpine desert and, eventually, the glacial Arctic. Climbing will cost you about 1000 US Dollars to 4000 US Dollars depending on several factors such as the number of climbers in your group, the season, your climbing guide, and more.
Experienced mountain climbers can trek Kili without specialized equipment, but as you might expect, hiking the worlds' standing mountain is not an easy task. You will need to prepare adequately and, ideally, work with a licensed trekking guide or tour operator.
The best trekking agency and tour operators will provide a dedicated guide, a cook, porters, water, food, and camping gear. Your choice of climbing guide profoundly influences your chances of trekking Kilimanjaro and summiting successfully. So, choose a tour operator, such as Ajkenyasafaris.com Ltd, with years in business and a high success rate.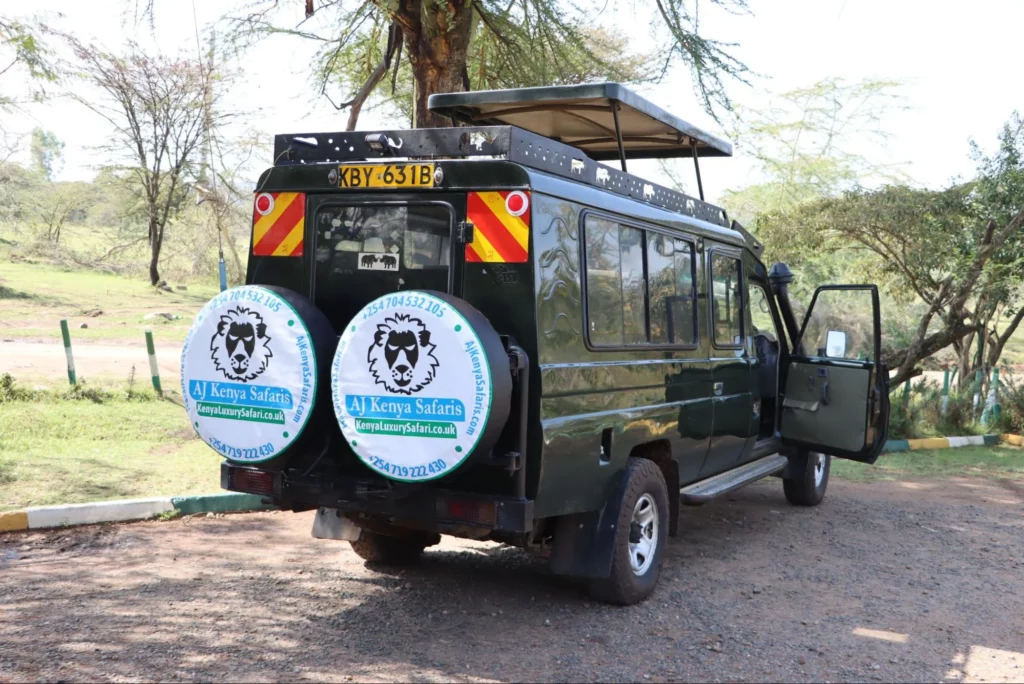 What is the Best Month to Go to Mt Kilimanjaro? A Month by Month Guide
The weather around the mountain is predictable, with both rainy and dry seasons. You can climb the mountain all year round, but some months are more comfortable than others. We advise against climbing during the rainy season unless you are an experienced backpacker, and you have done it before.
Generally, the period between December and March and June to October is dry with the lowest chance of rain. Also, the sky is usually clear, which offers better viewing. As you might have guessed, these are also the peak climbing seasons. 
Below is a month by month guide on what you might expect during various months:
January & February
These months are colder, and you are likely to encounter snow on the summit. The routes are less crowded. For quite a trek, this is the ideal time to climb Mt. Kilimanjaro.
June, July, August, September, & October
The weather is warm and pleasant. This is another best time to climb the mountain Kilimanjaro, but equally the most expensive. The trekking is busy and noisy due to large groups of travelers.
March, April, and November
These are the wettest months in Mount Kilimanjaro, and it is not the ideal time for climbing unless you are an experienced climber.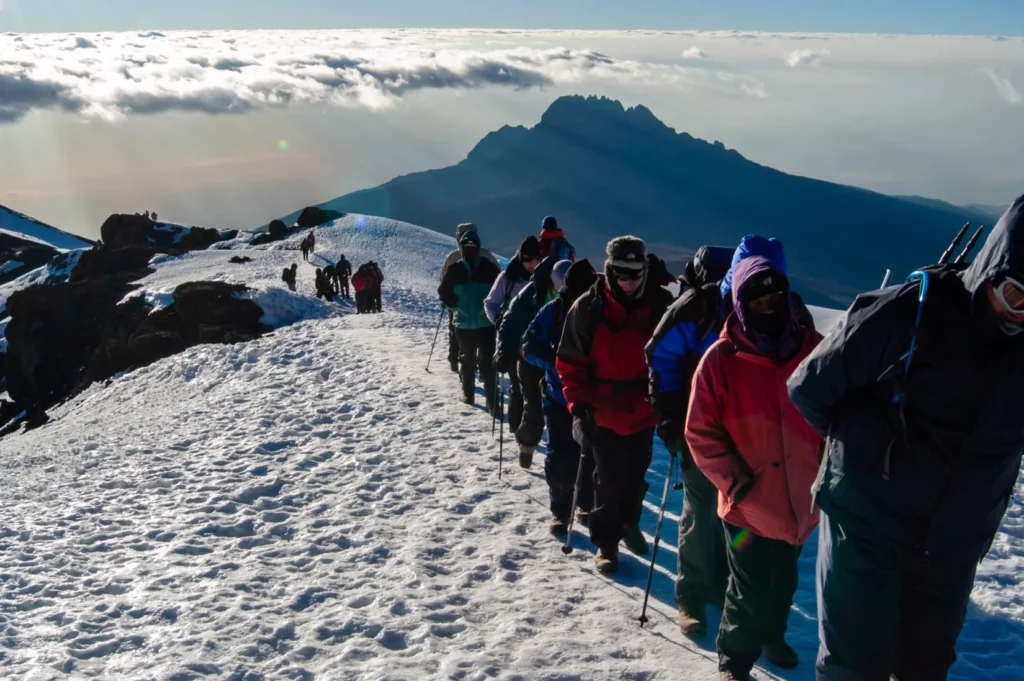 Kilimanjaro Full Moon Climbing Dates 2024, 2025, & 2026
The view when the rays of the full moon lit up the peaks and glaciers of Mt Kilimanjaro is truly spectacular. So, whenever possible, plan your hike to coincide with the full moon. Also hiking during the full moon has extra benefits.
The clear sky and extra brightness increase visibility during the trek, and most notably, during the summit attempt. To help you time your hike, the table below shows the expected full moon date till 2026.
| | | | |
| --- | --- | --- | --- |
| Month /Year | 2024 | 2025 | 2026 |
| January | 23rd | 10th | |
| February | 21st | 8th | |
| March | 23rd | 9th | |
| April | 21st | 7th | |
| May | 20th | 6th | |
| June | 18th | 4th | |
| July | 17th | 3rd | |
| August | 16th | 30th | |
| September | 28th | 28th | |
| October | 28th | 28th | |
| November | 26th | 26th | |
| December | 26th | 26th | |
Planning and Climbing Mount Kilimanjaro for Beginners
Climbing Mount Kilimanjaro is no small feat, but it can be done with proper preparation and the right resources.
1. Budget Your Trip
A Kilimanjaro trek will cost you 2,400 US dollars to 8,000 US Dollars per person. The fee includes park fees, food, camping, guides, transport to and from the mountain. Make sure your guides and porters are well trained, your food is decent, and your camping tent is in good condition for quality sleep.
While the shortest routes are cheaper, the chances of reaching the summit are reduced by poor acclimatization. So, only choose the shorter routes if you are a seasoned mountain climber, not because they are cheap. In addition, make sure you have a well-trained guide who can handle emergencies.
2. Get a Tour Operator
Chances of getting to the Kilimanjaro summit are 50%, but you can increase your chances by choosing the right tour operator. It is compulsory to trek Kilimanjaro with a guide. There are cheaper independent guides available at the gate, but organized trek operators such as AjKenyasafaris.com offer a memorable experience and a backup in case of an accident. It is good to prioritize your safety over cost.
3. Prepare for Success
Mountaineering training is necessary for a smooth trekking experience. Practicing hikes will help you choose the right hiking boots, try them out, and minimize the chances of debilitating blisters often associated with ill-fitting shoes. It is also good to get a medical check-up days before climbing Kilimanjaro mountain.
4. Climbing Mount Kilimanjaro Packing List
It is essential to pack everything you need. The climate changes a lot as you climb the mountain. Ideally:
Carry a suitable sleeping bag to have a good night's sleep.
You will also need sun protection at lower reaches, and warm clothes at the summit.
Make sure your tour operator has safety equipment in case of an emergency.
Carry spare batteries for the camera and a photocopy of your passport.
Carry cash to tip your guide.
5. Get Acclimatized
Altitude sickness is the main reason people fail to reach the summit. Acclimatize yourself to the mountain's extreme attitude by choosing the longer route to the summit. The longer route will help you to ascend gradually without hurting yourself. Certain medicine and water help to lessen the effects of altitude sickness, remember to carry them.
The illness can affect anyone, and the symptoms include fatigue, headaches, dizziness, short of breath, and nausea. If the symptoms persist after medication, be prepared to descend. Learn your limits and do not push them.
6. Choose Your Route
There are 7 main routes up Mt. Kilimanjaro, and they vary in terms of traffic, difficulty, and scenic beauty. You should choose the best path for easy trekking but successful hiking. The time to reach the summit will depend on the route you take. Hikes can take 5 to 10 days. Note that the longer routes have the highest success rate, and they will allow you to ascend gradually at your own pace.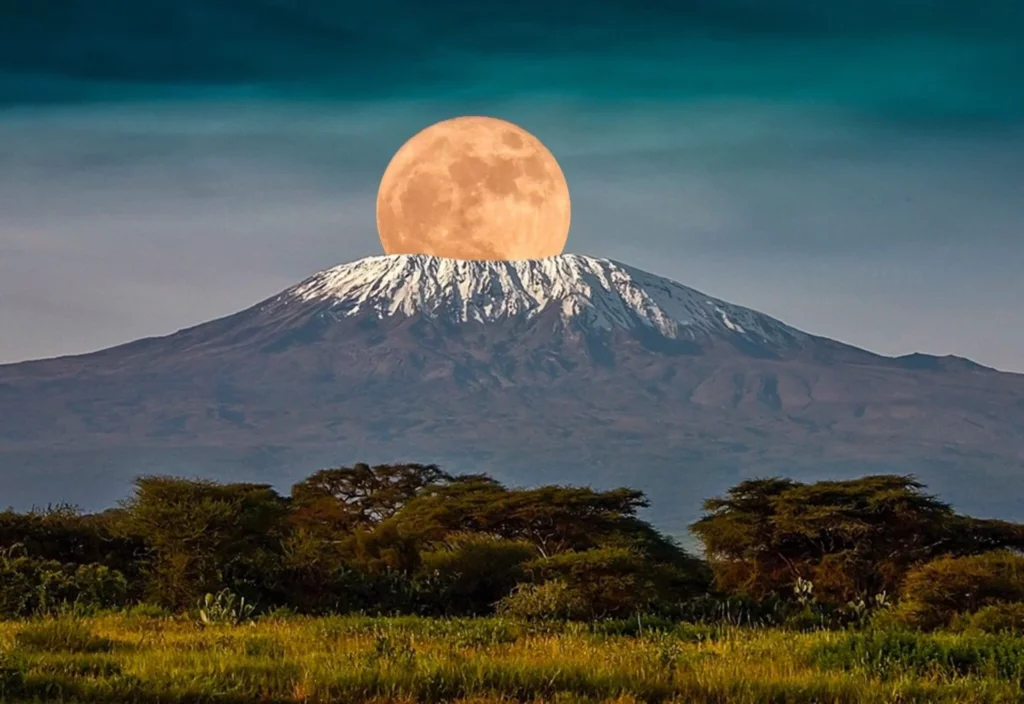 What is the Best Route to Climb Kilimanjaro?
The best route for climbing Mount Kilimanjaro depends on your individual needs and experience. There are several routes that you can use, which include:
 1. Marangu Route
Marangu is also called the Coca-Cola route, and it is the classic Kilimanjaro route. Most of the residents consider the route is easiest, for its gradual slopes and communal sleeping huts along the way. It will take you 5 days to reach the summit. However, experts do not recommend this route because it is crowded, and the success rate to get to the summit is low.
 2. Machame Route
Machame Route, also known as the Whiskey route, was opened as the tougher route alternative to the Marangu route. The route is crowded, especially in the rain forest section. The path is steeper and offers beautiful scenic scenery than the Marangu route. It has a higher chance of reaching the summit. You will take 6-7 days to climb Machame. It is also the most affordable path offered by AJKenyasafaris.com ltd.
 3. Lemosho Route
It is among the newest routes in the mountain. Most tour operators highly recommend the Lemosho route. It has fewer crowds compared to Machame and Marangu. The route stands out for its beautiful scenery with the panoramic view of Mt. Kilimanjaro from all sides. It will take you a minimum of 6 days to climb lemosho. For slower hikers, the route will take you 8-9days, which is a good time for acclimatization and increases your chances to reach the summit.
 4. Northern Circuit Route
Travelers with plenty of time should consider this route. It will take you nine days to reach the Northern Circuit route. It is the longest choice in terms of distance traveled and time. The extra time taken allows you plenty of acclimatization, which leads to a better summit success rate. The route has breathtaking views.
 5. Rongai Route
The Rongai route is the only way to climb Mt. Kilimanjaro from the north, and the path is near the Kenyan border. The road is less crowded, and it is best if you are traveling during the rainy season. The route will take you 6-7 days to complete. The views are not best compared to the Marangu route.
 6. Shira Route
You will approach Mt. Kilimanjaro is from the west, and it is nearly the same as the Lemosho route. The difference is that when climbing Shira, you will be transported to Shira gate instead of starting your trek at Londorossi gate. The Shira route will allow you to skip initial sections of the mountain, and this will put you at a higher risk of altitude sickness due to the high starting point. The route will take you 7-10 days.
 7. Umbwe Route
It is the most challenging route recommended for only experienced hikers who can acclimatize quickly. The route involves steeper, severe slopes, and climbers take six days to climb. The route is less crowded and has panoramic views. Choose a longer route to maximize the chances to get to the summit.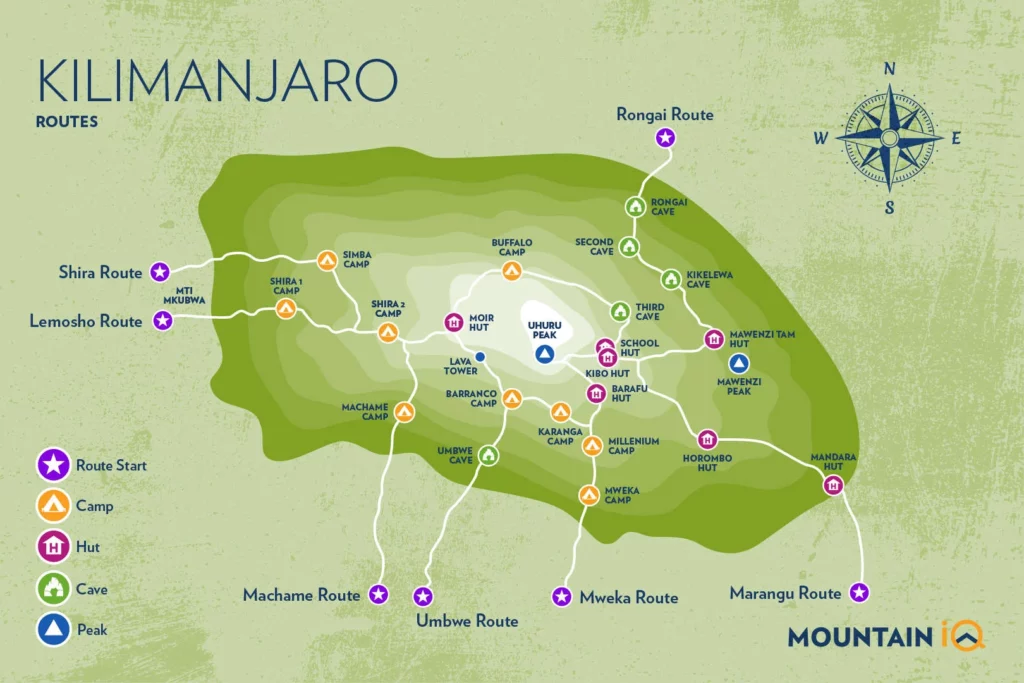 The Best Mount Kilimanjaro Tour Providers
AJ Kenya safaris is a Kenyan tour operator based in Nairobi and with operations in Kenya, Tanzania, and Uganda. We provide special tours that cater to each traveler's demand, be it wildlife safaris, Mt Kilimanjaro trekking, honeymoon packages, and more.
We have highly qualified guides that offer memorable and safe trekking experiences. We provide special meals to people with allergies. There is a free birthday cake for travelers who want to celebrate their birthday on top of the highest mountain in Africa. With us, you have the best chance to successfully trek the mountain.
Climbing Mount Kilimanjaro FAQs
Below are some of the commonly asked questions about climbing Mt. Kilimanjaro.
 1. How fit do you need to be to climb Mount Kilimanjaro?
If you have never gone for a hike, start 3 months before climbing Kilimanjaro. Look for hills, nature trails, uneven grounds, and mountains within your reach. Walk often as much as you can to train your body to trek for several hours. Climbing Kilimanjaro is unique because you do not need mountaineering equipment and technical skills. Beginners can make it to the summit.
 2. How long does it take to climb mount kilimanjaro
Climbing Mount Kilimanjaro will take you 5-10 days, depending on the route you will use. However, reaching the summit is not guaranteed; statistics show that more than half of the climbers do not make it to the top.
 3. What I wish I knew before climbing kilimanjaro?
Always carry what you need when trekking because most of your gear will be carried by the porters who will be setting up and cleaning the camping site along the way. However, you are recommended to bring a few items in your backpack. They include:
A hat for warmth.
Oft jacket.
Waterproof breathable hood jacket.
Thin gloves.
Waterproof breathable pants.
Trekking poles.
Electrolytes tablets.
Water bottle.
Snacks high in energy and calories.
Toilet paper, sunscreen, lip balm, hand sanitizer, and a camera with extra batteries.
 4. Is Kilimanjaro harder than Everest?
Kilimanjaro trails up to the high camp are easier than Everest camp trails on foot. Everest trails have more up and down throughout the trek, and the trail is more challenging when descending because you will cover a longer distance.
 5. What is the most famous mountain to climb?
Everest is among the most famous mountain peaks in the world because it stands at 29,035feet above sea level. The Everest mountain attracts many experienced climbers looking for challenging heights.
 6. How many Mount Kilimanjaro deaths are recorded?
Mount Kilimanjaro is a dangerous mountain to climb, and the number of fatalities recorded on the mountain are quite alarming. It is estimated that over 80 people have died on the mountain since the early 1900s. Most of these deaths occur due to altitude sickness, hypothermia, and falls. Other causes of death include heart attacks, dehydration, and lightning strikes. The most recent death on the mountain was recorded in 2019, when a climber died due to acute mountain sickness. 
 7. Is climbing Mount Kilimanjaro difficult?
Climbing Mount Kilimanjaro difficulty is subjective, as it depends on fitness levels and altitude acclimatization. However, in general, the summit of Kilimanjaro is considered to be a relatively easy hike when compared to other challenging peaks. It is also known for its relatively gradual elevation, which reduces the risk of altitude sickness. That said, many people still find the climb to be difficult due to its length, rugged terrain and unpredictable weather conditions. 
 8. Is climbing Kilimanjaro worth it?
Climbing Mount Kilimanjaro is absolutely worth the effort due to its awe-inspiring views and challenging terrain. The view from the summit is breathtaking, and reaching the top of Africa's highest peak is an incredible feat. Furthermore, the trip itself can be a great way to challenge yourself and push your limits, as well as an opportunity to be immersed in a unique culture.