The Ultimate Guide to Tsavo West National Park – Everything You Need to Know
There are many parks in Kenya where you will find a variety of wildlife, but in Tsavo West National Park you will see more than wildlife. The presence of numerous scenic views in Tsavo West offers more than just animals. You can also enjoy bush walks, camping, hiking, and safari walks.
Tsavo National Park is the largest park in Kenya and this enables it to host a larger population of animals than most parks in Kenya. Surely, the beauty and magnificence of Tsavo West have stolen the hearts of both local and international tourists making it one of the most visited parks in the region.
Book Your Tsavo National Park with Us Today – Contact Us
We are the leading tour and travel company in Kenya. You can book your safari with us by reaching out through Phone/WhatsApp +254-748-258-880. You can also reach us through james@ajkenyasafaris.com or safarioffers@ajkenyasafari.com. 
Our Most Booked Tsavo West National Park Packages and Other Tours
Facts About Tsavo West National Park in Kenya
Tsavo National Park is among the oldest parks in Eastern Africa having been established in 1948 and covering an area of 13,747 square kilometers. The park is located near Voi Town in Taita Taveta County and is divided into East and West sections by the Nairobi-Mombasa highway and the SGR railway.
Tsavo West is more popular as it has magnificent sights, better infrastructure, and an abundance of wildlife mainly due to its numerous water sources. The park is run and managed by KWS but local guides are used to help the tourists explore the park as they are well conversant with the park's landscape.
Activities and Things to Do at Tsavo West National Park
Perhaps you can't make up your mind on whether to visit Tsavo West or Masai Mara National Reserve. Yes, the two are popular but very different. Tsavo West offers you many exciting, unique, and challenging activities that you may not experience anywhere else. Its scenes and landscape are out of this world.
Rock climbing, bird watching, camping, nature walks, and game drives are just some of the things you will enjoy at Tsavo West.
 1. Tsavo National Park Animals Viewing
If you haven't had a game drive at Tsavo West National Park, then you haven't experienced a real game drive in African Savannah. The Park is not just popular with sceneries such as Mzima springs, but it also offers one of the most magnificent game viewing in the world.
Scrublands, open grasslands, belts of riverine vegetation, and Acacia woodlands fused with all manner of animals and birds make the park a must-visit for any tourist. Some animals easily spotted at the park include hippos, lions, rhinos, buffaloes, gazelles, zebras, crocodiles, and herds of African Elephants.
The game drives are ideal in the morning hours or late afternoon when most animals are active. When it's hot, many animals retreat into the thickets.
 2. Tsavo National Park Bird Watching
There is no better place to learn more about birds than Tsavo West National Park. Your camera needs to be on not to miss some of the most unique birds in the world. Tsavo West National Park is home to over 500 species of birds including the eastern black-headed oriole, golden palm weaver, pied kingfisher, and Verreaux's eagle owl.
Although you will encounter many of these bird species all year round, the migratory ones are seen between November to April as this is the time they fill the skies. However, the rainy season comes during the same months of November and April and it's good to keep this in mind so that you are well prepared.
 3. Camping and Trekking at Tsavo West Park
Camping will be the icing on the cake during your tour of Tsavo West National Park. Spending the night in the jungle creates the ultimate experience during such tours. Enjoy a night of natural entertainment from the different sounds of hundreds of animals that come alive at night. Our guides will be at hand to assist you anytime.
You can also enjoy a guided safari walk near your campsite where you will get an opportunity to come up close with some animals in the park.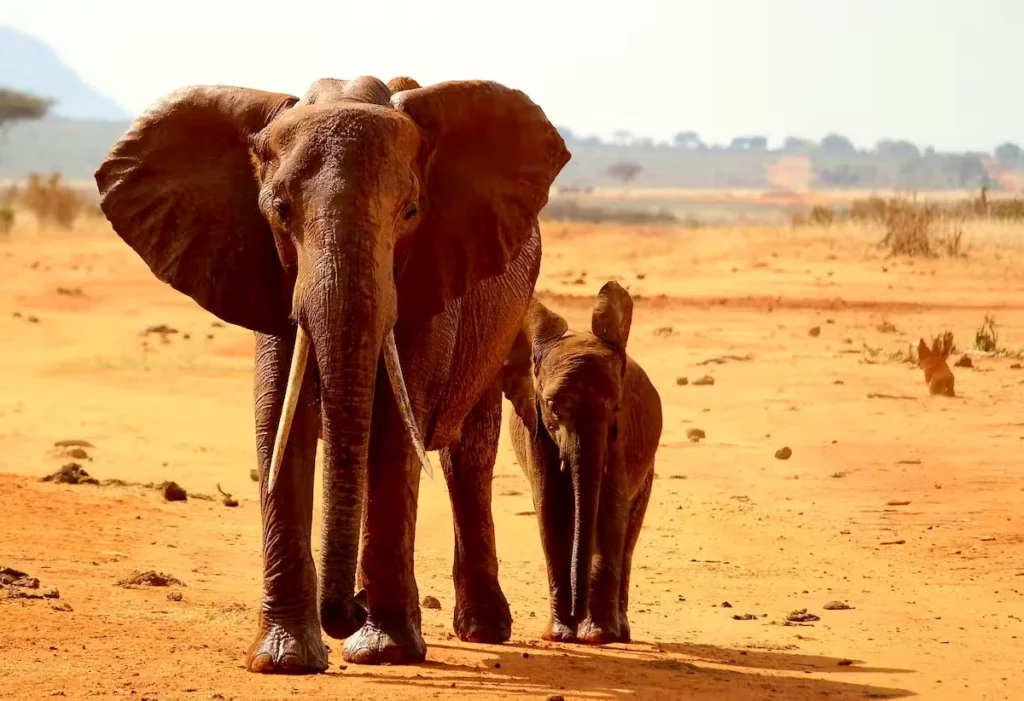 The Top Attractions in Tsavo West National Park
Tsavo West National Park is well known for its large herds of elephants and amazing landscapes on top of other wild animals. The park also carries a rich history as it is part of the larger Tsavo Conservancy the home to the infamous 'man-eaters of Tsavo'.
Today the man-eaters might not be there, but there are hundreds of other lions and other cats you will find in the vast park. Other major attractions include.
 1. Five Sister's Hills
This is one of the many volcanic features found in Tsavo West. It's one of the stunning scenery that you will find in this park. The hills consist of a low ridge of black lava outcrop that is in the shape of a cone and is inhabited by long luscious grass creating an amazing scene.
 2. Mzima Springs
Mzima Springs are a series of natural springs that originate from a natural reservoir under the volcanic lava rocks of Chyulu Hills. The springs are one of the most visited places in Tsavo West. A visit to the park is not complete without a tour of the springs.
In the spring you get to see hippos, crocodiles, vervet monkeys, and hundreds of birds that feed on fruits growing on trees that depend on the stream.
 3. Shetani Lava Flow
The lava flow is believed to have been formed about 500 years ago when locals saw an eruption of molten lava from the ground. This unique phenomenon led to the locals believing that it was the devil coming to the earth and hence the lava flow's name 'shetani'. 
Shetani Lava flow consists of vast folded black lava rocks that cover about 50 sq km across the savannah near Chyulu Hills. You can also visit the Shetani caves nearby for more exploration. However, you will need a flashlight to enter the dark caves.
 4. Chaimu Volcanic Crater
Chaimu Volcanic Crater gets its name from the Kamba language meaning the 'devil's crater'. It's a tall rising hill formed by black lava stones. The first indication that you are approaching this amazing feature is the changing color of the soil from red to black.
You can decide to climb the crater as there are paths to the top, or just take some memorable photos near this beautiful scenery.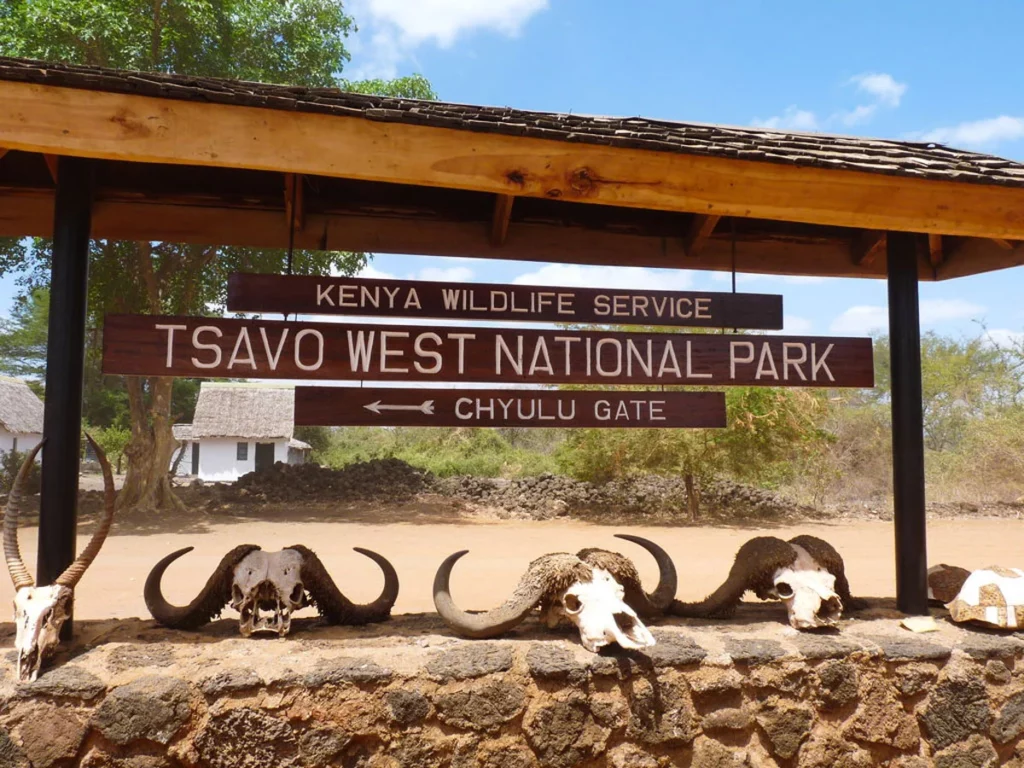 Tsavo West National Park – FAQs and Answers
Tsavo West National Park is ranked among the most popular tourist destinations in Kenya due to its diverse wildlife and sceneries. Every year tens of thousands of tourists visit this famous park. Many of those visiting for the first time end up coming again as one can never get enough of Tsavo West.
Here are some of the frequently asked questions about Tsavo West National Park that will help you know more about the park.
 1. What is the Best Tsavo West National Park Accommodation? What are the Best Tsavo National Park Lodges?
Tsavo West accommodation caters to all manner of visitors. There is a variety of housing available within the parks that range from budget to high-end. Some budget-friendly camps in the parks include Man-Eaters Camp, Voyager Ziwani Camp, Severin Safari Camp, and  Lake Jipe Safari Camp, among others.
The high-end camps and hotels include Finch Hattons Luxury Tented Camp, Leopard Lair Cottages, Kipalo Hills Lodges, and Kilaguni Serena Safari Lodge. Other good accommodations available in Tsavo West include Taita Hills Safari Resort and Spa, Salt Lick Safari Lodge, Lion's Buff Lodge, and Satoa Camp.
 2. What is the Best Time to Visit Tsavo West National Park?
The most appropriate time to have a tour of Tsavo West National Park is between January and March as this is the dry season in that part of Kenya. During this time your movement within the park is easier and also you will be able to spot many animals as warmer temperatures are ideal for breeding.
It is also during the dry season activities such as camping, hiking, mountain climbing, and other outdoor activities are done at ease. However, visiting parks during the peak season has some challenges, especially with accommodation as many hotels are fully booked. 
Thus, if you plan to visit the park during this time you will need to have proper planning before embarking on your visit.
 3. How Do I Get to Tsavo West National Park?
There are different ways you can get to Tsavo West including air, road, and railway. The most popular way is taking a flight to Nairobi or Mombasa. Once you land in Nairobi or Mombasa, you can use a short flight, board a vehicle or use a train to head to Tsavo West National Park.
 By Road
Probably this is the most convenient way to get to Tsavo West National Park if you plan to be in Kenya for several days. A vehicle will take about 7 hours from Nairobi and about 4 hours from Mombasa. The road trip is exciting and comfortable because we use luxury vehicles for our clients.
 By Railway
This is another means you can use to reach Tsavo West from Nairobi or Mombasa. This method is cheaper, but the main disadvantage is its rigidity as train movement is fixed. The train will take you up to Voi SGR Terminal whether you board from Nairobi or Mombasa. From here, you will get a transfer to the park by our tour vehicles.
 By Air
If you don't intend to stay in Kenya for long, then it is advisable to take a flight to Tsavo West to save time. There are six airstrips within the park. The airstrips are in different parts of the park and they include Lake Jipe airstrip, Kamboyo, Kasigau gate airstrip, Kilaguni, Maktau, and Finch Hatton's airstrip.
You can board your flight from Jomo Kenyatta International or Wilson airport in Nairobi or Moi International Airport in Mombasa.
 4. Which is Better? Tsavo West or Tsavo East
Both parks offer a unique experience to visitors although Tsavo West is more popular due to its varied wildlife, easier movement, and amazing scenes. Some of the attractive scenes at Tsavo West include Mzima Springs, Lake Jipe, and Shetani Lava flow. The park also hosts all the big five.
However, Tsavo East is more expensive, and it is common to see a large population of elephants and other big animals in this park. Other attractions at Tsavo East include the crocodile-infested Galana River and the world's most prolonged lava flow, the Yatta Plateau.
 5. How Much Does it Cost to Visit Tsavo National Park?
Many factors will determine the cost of visiting Tsavo National Park ranging from means of transport, accommodation, and activities you intend to do. You will pay an average of US40 for budget accommodation, US80 for mid-range, and around US300 for luxury accommodation per night.
Other costs you may incur include game drives and safari walks approximately US50 per person, while bush walks will be around US20 per person.
 6. What is Tsavo West Known For?
Tsavo West is known for its magnificent wildlife and breathtaking landscapes that make visits to the park an unforgettable experience. Natural scenes, swamps, exintic volcanic craters, rocky peaks, sharp outcrops blanketed by greenery, and rolling plains are some of the scenic landscapes at the park.
The park is also home to diverse wildlife due to its numerous water sources. Elephants, rhinos, lions, giraffes, and antelopes are found here in large numbers. Other animals include leopards, cheetahs, wild dogs, zebras, hyrax dik-dik, hippos, and crocodiles. There are also over 500 species of birds found at the park.
 7. Is Tsavo National Park Good?
The park is home to a diverse range of wildlife including cheetahs, lions, rhinos, elephants, buffaloes, and giraffes. Tsavo also has one of the best scenic landscapes in the region. There are rivers with riverine vegetation, waterfall, lava flows, and mountains making the place unique.
The location of the park near the coast makes it a perfect destination for a combination of a beach holiday and a safari tour.