Kakamega Forest National Reserve - Kenya's Hidden Jewel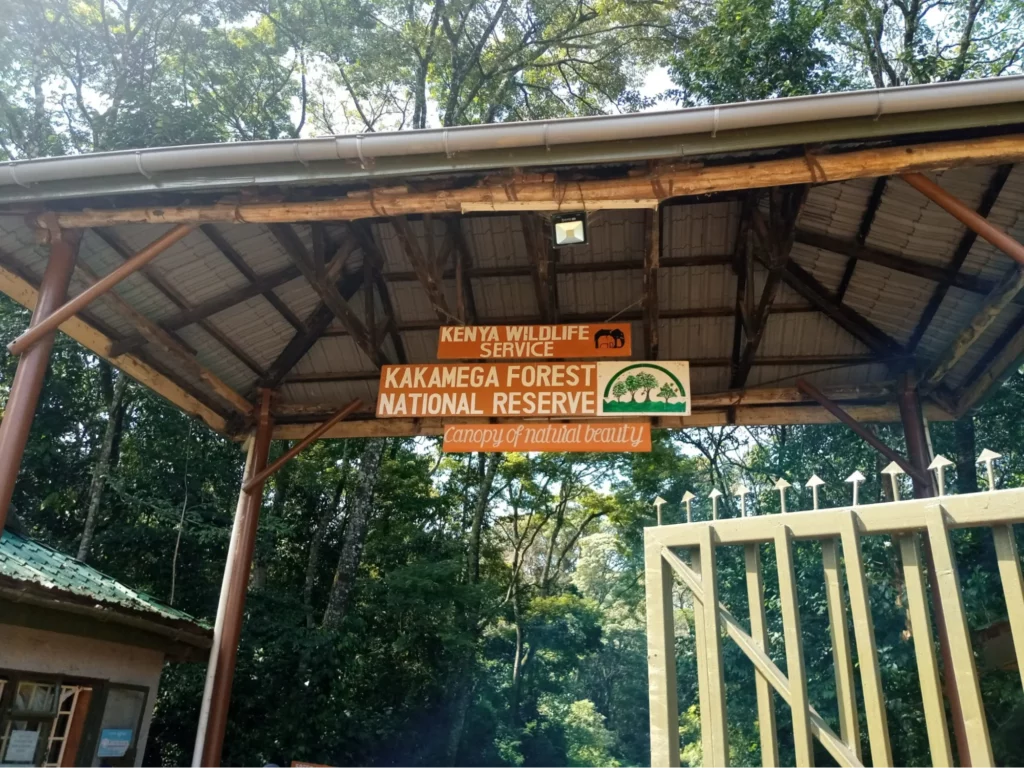 The Kakamega Forest National Reserve is where beauty meets magnificence. Her fantastic ambiance, beyond perfect sceneries, lush green vegetation and vast wildlife population, make the Kakamega Forest National Park a bewildering beauty we are sure you would enjoy exploring.
The world is quickly changing. Mother Nature today is not the woman she was yesterday; she is, today, a little haggard and worn out. It was only yesterday that she was oozing beauty. Then, every Central African country was beautifully decorated by the Guineo-Congolian forest that generously trickled down from coast to coast.
The situation is a little different now, and this is where the Kakamega National Park comes in. The Forest National Park is the only one of her kind remaining in Kenya. Her ability to survive away from the rest of the Guineo-Congolian forest is a fact that fascinates botanists and zoologists from all over the world.
Book a Safari to Kakamega Forest National Reserve with Us
We encourage you to contact us via email at james@ajkenyasafaris.com or safarioffers@ajkenyasafaris.com to get started. We are also available by phone or WhatsApp at +254-748-258-880.
Our Most Booked Kakamega Forest Activities and Other Tours 
Overview of the Kakamega Forest National Reserve
The Kakamega National Park is a small fragment of the larger Kakamega Forest. The park evenly spread out on a 36 km 2 area is situated close to the Kenya-Uganda western border in the then Western Province, Kenya. On her eastern edge lies the semi-forested Nandi Escarpment spread out across the Great Rift Valley, GVR, western edge.
Kakamega Forest Vegetation
The Kakamega National Park is a tropical rainforest. Nonetheless, due to her thickness and extensive nature, environmentalists have not managed to finish floristic studies at the Kakamega National Park. It is, however, speculated that the forest holds over 161 shrub and tree species and a large area covered by grass.
You are also likely to come across 150 tree species and 60 orchard species, 9 of them located exclusively at the park. Additionally, you are likely to see the; red stinkwood, Elgon teak, white stinkwood, crotons, and over 60 fern species.
Kakamega Forest Climate
Being a tropical rainforest, the Kakamega National Park has a warm, temperate climate and is viable for visitation all year long. Temperatures here are relatively constant with day temperatures averaging at 86 F from September to January.
Night temperatures average at 53F from August to April. For the other months, average day temperatures fluctuate between 82F-91F while night temperatures average between 50-52F.
Rainfall here averages at 2.08mm per year with rainfall being heaviest (long rains) in April and May, drier in June and short rains from August to September.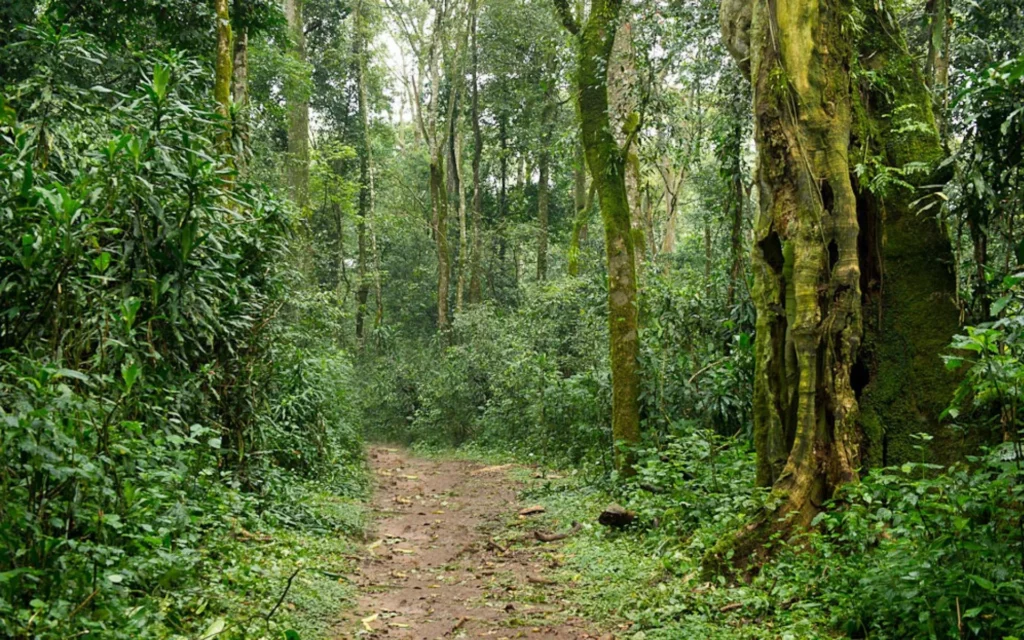 What to See at the Kakamega National Park
The Kakamega Forest National Reserve is a hidden jewel we are more than glad to help you uncover. Her remote location has seen her fail to feature on lists of 'promising Kenya Holiday Destinations,' but it is this mysteriousness that adds to her beauty and charm.
See nature in its untainted form, let's go out on an exciting treasure hunt mission. And here is a list of stimulating activities we can engage in while at it:
Kakamega Forest Animals – Wildlife Watching
When not too busy having your mind blown away by the lush green sceneries of this paradise, maybe you could take a look at the myriad of games in the park.  The park is home to a variety of wildlife, but the playful primates always carry the day.
Cardinals in the park include the; Blue Monkey, monkeys with red tails, black Colobus monkey, Sykes monkey, white Colobus monkey, Potto, olive baboon and the De Brassai's Monkey.
Other mammals you are likely to see in the park include; the bush pigs, bushbucks, mongoose, Potto, porcupines, the red and blue duikers, Hammer-Headed fruit bats, flying squirrels, tree pangolins and the Dik-dik.
Kakamega Forest Birds – Bird Watching
Records show that over 90% of the tourists who visit the park do so with the aim of getting acquainted with the massive population of birds. The Kakamega National Park is one of the very few locations where highland and lowland birds freely interact.
The park is home to over 367 species of birds with 45 of them confined to only that region of the country. The park is home to two globally endangered bird species; the Chaplin's Flycatcher and the Turner's Eremomela plus the African Gray Parrot which is an endangered species in the region.
Other birds to look out for in the park are;
Quails
Ibis
Guinea Fowls
Raptors
Grey Heron
The blue-headed Bee Eater
Pink-backed Pelican
Storks
Hornbills
Great Blue Turaco
Kakamega Forest Butterfly – Butterfly Watching
The Kakamega National Park houses over 4800 species of colored butterflies and an additional 6000 species of the less colored butterflies, moths. Common types of butterflies are the;
Forest Mother of Pearl
Mocker Swallow-tail
Regal Swallow-tail
Black-tipped Diadem
Kakamega Forest Snakes – Types of Snakes
The forest is home to different kinds of lizards, reptiles and amphibians. Its naked are mainly from West Africa and include Gaboon Viper, Bush Viper, Forest Cobra, Rhinoceros Viper, and Jameson;s Mamba.
Kakamega Forest Hiking
The park has several well-marked trails that you can efficiently use without the guide's assistance. You will, beyond any reasonable doubt, enjoy the liberating moments all by yourself.
However, our knowledgeable, experienced guides are the difference between an enjoyable trek and a mesmerizing experience that you will live to remember. We strongly recommend that you take a guided walk and taste nature at the hands of our professional guides.
kakamega Forest Camping 
If camping is your cup of tea, then the Kakamega National Park is the place for you. The park is one the best places to camp in the country. The campsites in the park allow you a close encounter with the animals without necessarily having to worry about one of the hungry beasts eating you whole.
Coupled with the serene surroundings, cool atmospheres, and gorgeous backdrops, nothing beats a night out of the wild at the Kakamega National Park.
Kakamega Forest National Reserve – Monitored Walks
For one to safely walk around the Kakamega National Park, they have to be well acquainted with the complex demography of the place. Our team of born-and-raised in Kenya tour guides are that and more.
Nothing is as liberating as a walk, and the walks become even better in the presence of a trustable guide. It is in these walks that you will get to see the smaller animals you did not get a chance to see before.
Kakamega National Park – Photography
Everyone loves the idea of freezing a beautiful moment, an encounter with the park will leave you taking thousands of photos. Bringing your camera with you is mandatory lest you miss out on capturing some of these once in a lifetime moments.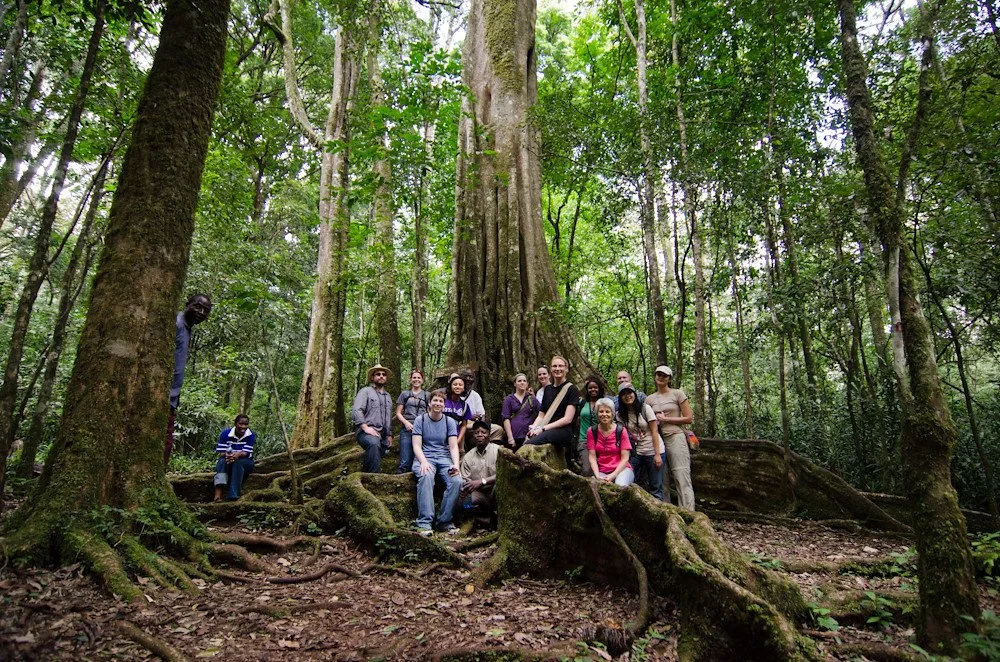 Kakamega Forest Accommodation
The park has a wide range of rest places ranging from Kenya Wildlife Service campsites to guesthouses. We Aj Kenya Safaris book the best resting place prior to your landing in this magnificent country.
And if you want something a little more comfortable than a campsite at Kakamega forest then we have Rondo Retreat and Golf Hotel.
Getting to Kakamega Forest National Reserve
Upon your arrival to the international airport our driver will pick you up and take you to your hotel in Nairobi where you will spend the night, and if energetic enough, we give you a detour around the best city in East Africa, Nairobi.
Due to the huge distance between Nairobi and Kakamega, we book chartered flights to and from the park. We, however, recognize the fact that some of you are for the long exiting road safaris and that is why we make vehicle travel arrangements on your behalf.
Ensuring you enjoy a cheap, comfortable and gratifying Kenyan safari is always our primary objective.
Kakamega Forest Entry Fee – Park Fee
Below is a table showing the entry for Kakamega Forest National Reserve. Visit the official KWS site for the latest fee. A child is between the age of 5-17 years. Students pay the child rate when traveling with a recognized institution.
Travel Month

July to March

March to June

Entry Fee

Non-Resident Adult USD 25

Non-Resident Child USD 15

Rest of Africa Adult USD 20

Rest of Africa Child USD 15

East African Adult KES 300

East African Child KES 250

Non-Resident Adult USD 20

Non-Resident Child USD 15

Rest of Africa Adult USD 15

Rest of Africa Child USD 10

East African Adult KES 250

East African Child KES 200