Kenya Tour Packages - The Top 4 Affordable Kenya Safari Packages from Nairobi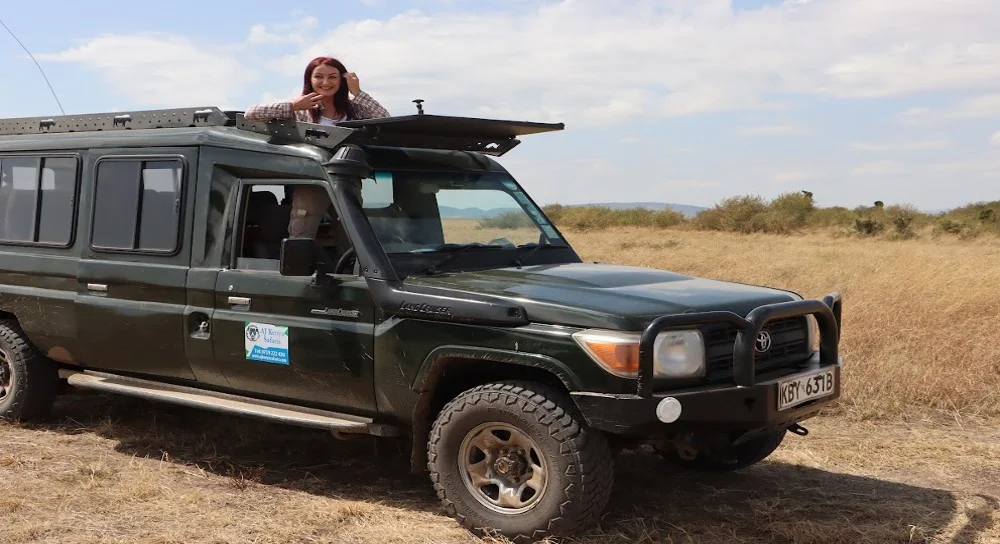 Kenya is the kind of a lady you start an affair with and not feel guilty about it. Her natural beauty is mesmerizing, and the weather is perfect for all types of Kenya tour packages like long walks along the beach, adventurous hikes in her scenic mountains, and relaxing & swimming in her lakes and oceans.
We know of her beauty. She is our birthplace and has, throughout our lives, taken us to escapades we would love to share with you through our Kenya safari packages. That is why we are best suited to present the top 4 Kenya tour packages to you. 
Or is there a better way to explore a new country than with the people born and raised there?  In this article, our safari consultants share four affordable Kenya safari packages. We can confidently say, "Yes, these will give you a true African safari experience and maximum value for your money."
How to Plan a Tailor-Made Kenya Holiday with AjKenyaSafaris.com
We plan these Kenya tour packages jointly or in isolation, depending on our client's preferences. For example, you can book just the three days in Naivasha and leave out the rest of this package.
For queries about these packages, reach us through a call or Whatsapp at +254-748-258-880. You can also email us via safarioffers@ajkenyasafaris.com or  james@ajkenyasafaris.com.
Kenya is our birthplace. We promise to show you our country better than anyone else.
Our Frequently Booked Kenya Tour Packages from Nairobi and Other Safaris
The Top 4 Most Exciting Kenya Travel Packages from Nairobi
We provide unmatched Kenya tour packages to top-rated destinations. We ensure we specialize in offering only safari to Kenya to give you the best holidays. Here are some of our leading tour packages to Kenya.
3 Days Naivasha Kenya Safaris from Nairobi
They say, "Save the best for the last," But we ask, "Where is the thrill in having the desert when your tummy is all packed-up?" Naivasha is precisely that; the desert. So, let us start our four-location Kenya tour package here.
Naivasha is only 100 km from Nairobi, a two-hour drive. Perhaps, her proximity to Nairobi is why she is so popular among people searching for budget weekend getaways in Kenya. It is the perfect destination for anyone looking to escape the bustle of the noisy Nairobi city.
Naivasha's most notable feature is Hell's Gate National Park and Lake Naivasha, the second-largest lake in Kenya. The lake is scenic and provides the perfect conditions for mind-blowing boat rides, bike rides, and bird watching. The conservancy within this small town – Crescent Island –  is a site worth exploring.
Things to do in Naivasha: Day One
Early risers get gold. We minted to start your journey early. 8 am is right because 10 am should get you in the town for a fun-filled exploit. After settling into the camp, spend most of the day getting acquainted with the surroundings.
Explore the neighborhood on your own. Allow her to charm you. Walk around the lake and let its blue waters speak to your soul. Get a boat out and brace yourself for your merriest ride yet. 
In the evening, how about we taste the Kenyan nightlife? A bottle of Tusker – Kenya's flagship beer – over Nyama Choma (specially charcoal-grilled meat) should be the dinner.
Once you are exhausted, we will escort you to your lodge so that you can relax and rejuvenate for the real adventure, which starts the following day.
Things to do in Naivasha: Day Two
Daybreak is perfect for walks and hikes. The Hell's Gate National Park, which is only 4 km away from Naivasha town, is the best place for one. The park has menacing rocks that are an open invitation for every daredevil climber.
Explore every inch of the park. See the different wild animals in it. Get to have a one-on-one encounter with the place that has inspired countless best-grossing Hollywood films such as the Lion King.
No need to stress about carrying your climbing gear; the camp provides them. Suppose rock climbing is not your thing. Worry not. Bike riding around the park is entirely safe.
Buffalos, antelopes, and a variety of bird species are a few of the animals you can expect to see; birdies will have a blast in Hell's Gate National Park with over 200 species to explore. You will probably have enough time left to explore the Obsidian caves. Those intrigued by mysteries will fall in love with the caves.
Things to do in Naivasha: Day Three
How about a tour around Crescent Island? The island, within Lake Naivasha, is home to impalas, some cheeky monkeys, vibrant birdlife, giraffes, and waterbucks. The island has plants unique not only to Africa but to the world. This is thanks to the efforts of the conservancy.
Since it is elevated, it gives visitors an enchanting view of Mount Longonot. At night, watch hippos emerge from the lake to grunt and graze.
Helicopter Kenya Luxury Safari Packages to Mount Kenya
If Naivasha is charmed, get ready to awaken by Mt. Kenya, the beauty with a glorious white crown on her head. Mt. Kenya is the second-highest free-standing mountain in Africa and is scenic. You might want to bring your camera with you because the sceneries here are one you would love to carry home.
The lush green rainforest in the mountain is beyond words beautiful. Coupled with a giant waterfall, this site is one set to leave a lifetime impression on you. Over ten small lakes in the mt Kenya region provide magnificent romantic setups for picnics or trips.
Kongoni Camp is a must-stay camp for those that would love to wake up to the beautiful view of the mountain. The view is, however, most transparent after midday, once the fog has cleared.
Lake Alice and Michelson are close to the campsite and ideal for boat rides and picnics. The only drawback is that it gets chilly in the evenings, so you may have to stay indoors or layer up properly.
Things to Do at Kongoni Camp
Hikes and mountain rides are some activities that will make your stay at the camp nothing short of spectacular. If you are not yet up for another hike, you would most definitely want to check out the Ngare Ndare Forest.
The forest, home to over 200 species of trees, is a stone-throw away from the camp and has excellent outdoor activities, including zip-lining, cannoning, game drives, rock climbing, bird-watching, swimming in natural pools, and forest walking, among others.
The choice is yours. We say, "It's your Kenya tour package; it has to be exactly how you envisioned it." Our work is to make it more fun and adventurous.  
The Ol-Pejeta Conservancy, home to two of the last remaining Northern White female rhinos, is close by and ideal for game viewing. Take a helicopter ride for an even more scenic view of Mount Kenya's glacier-capped peaks. 
Note: Mount Kenya Safaris are usually done with a helicopter. Find more details here.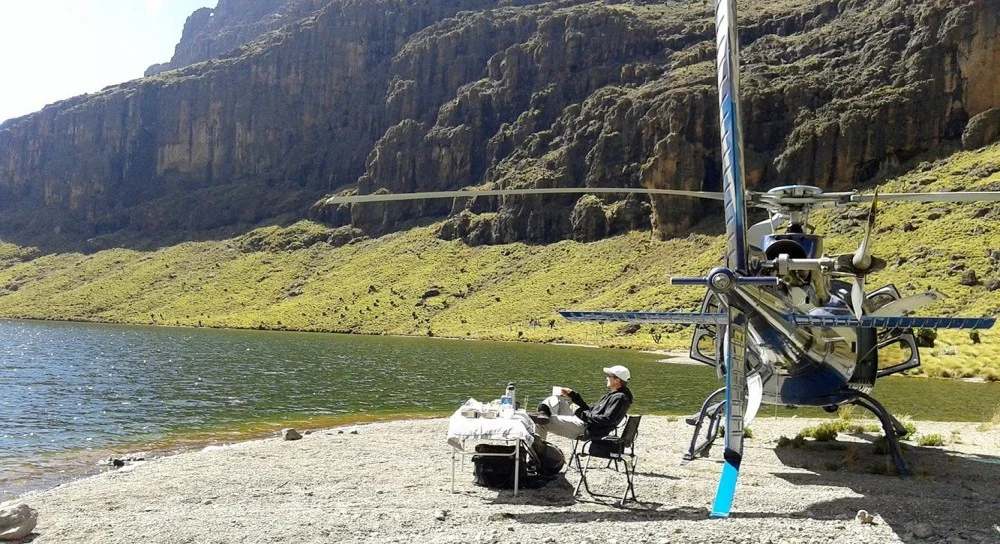 Domestic Holiday Packages in Kenya – 3 Days in the Historic Kisumu
You cannot compare Kisumu to any other city in the world. The town is uniquely beautiful. One that stands out, even among some of the most famous cities in the world. It is home to Lake Victoria, a lake famed for being the largest inland lake in Africa and the second largest in Africa.
Kisumu is home away from home. The people here are friendly, and the weather is primarily hot. Remember to carry your sunscreen. We plan to book your stay at Kiboko Bay Resort.
Kiboko Bay Resort, which is 7.9km away from Kisumu, offers you a once-in-a-lifetime encounter with over 200 species of birds. The resort is a fisherman's paradise, saying that the food here is directly sourced from the sea.
The safari lodge is perched near a jetty from where you can watch the African sunset and be serenaded by the majestic feet and hippos grazing close to the cottages at night.
There is beauty in uniqueness, and as previously stated, Kisumu is a unique city.
Things to do in Kisumu – Day one
There are a multitudinous amount of places to visit while in Kisumu. Day one should be exploration day. Let us drive you around the city as you catch the feel of what being surrounded by beauty feels like.
Talk to the people here and probably get to learn one or two Swahili words. Walk along Lake Victoria and let the cool lake breeze soothe you where the scorching sun burns the most. Visit Kit Mikayi, a 40m high rock formation whose existence is enshrouded by legend, and hear the ten myths surrounding it.
Visit Kibuye Market and get to know what it is about his market that attracts tens of thousands of people from all over East Africa daily. This open-air market has so much going on that you will get lost in the passionate bargaining of traders.
Things to do in Kisumu – Day Two
The Islands within Lake Victoria are to die for. The beauty of the flora in them is one word alone cannot capture. After visiting their spas, you'll get a relaxing feeling that no one can put a price tag on.
The ambiance here is priceless; the serenity here is nothing words can conceptualize. The quietness of the islands is paramount because they are located away from the strident city.   
Visit Ndere Island, an island fiercely guarded by Nile crocodiles. The island is home to various birds, impalas, and hippos. Boat rides here are an everyday activity as a fishing place. That is one of the reasons to consider adding Kisumu to your Kenya tour packages.
The Ruma National Park will help you spot animals such as the Roan antelope, leopards, buffalos, hyenas, Rothschild Giraffes, velvet monkeys, bush pigs, Impalas, honey badgers, and several birds.
A visit to Kisumu Museum, which has been open since 1980, is the ideal way for visitors to internalize the setting of a typical Luo homestead. There is so much to learn about the community and the culture of the Luo people at large.
Hakuna Matata in Malindi - Cheap Tour Packages in Kenya
Kenya is a great country. She freely and so big-heartedly lets everyone share in her beauty and diversity. She enables every nation to in on her beautiful mountains, lakes, museums, cultures, parks, and oceans.
And so, departing from Kenya without visiting her oceans is tantamount to sin, which is why we have  Kenya safari and beach tours.  Malindi is one town to visit if you desire to have your mind blown away by Kenya's beautiful sees.
A little beach therapy never hurts anyone; on the contrary, it is therapeutic. Malindi is accessible through air or road, which means whose access you don't have to worry about; we cater for all your transport needs.
Things to do in Malindi
If you are into history, you must check out the Vasco da Gama Pillar. The pillar was an essential part of the trade in the 1400s and was first built in East Africa by the Portuguese to ease the transport of traders headed to India.
This monument has stood the test of time, literally. It takes you back to a time, giving you a peek into how colonialism and the slave trade impacted the day-to-day lives of the Kenyans at the coast, both the good and downright ugly.
It helps you appreciate the diverse Kenyan cultures, and most importantly, it redefines your definition of beauty. Next up is the Malindi Marine National Park. The park helps you discover the ocean and its marine life. The park is cathartic, with the sea here creating new life within.
It is home to sea turtles, organ-pipe coral, and Thalassia seagrass. If you are lucky, you could spot a whale shark, so have your camera ready. You will need to stop for a bite as you explore, and it doesn't get better than La Rosada. 
Apart from having delicious meals, the restaurant also serves some of the best cocktails in Malindi, so you don't want to miss this. You don't want to skip a visit to Marafa depression, also known as Hell's Kitchen or Nyari, a stunning underwater sandstone gorge with red and white walls.
The locals have a story behind the sunken gorge that is too good to miss. When you are done with all that, explore the local cuisine and enjoy the quiet life of Malindi.