Lake Nakuru Safari - The Ultimate Guide, Things to Do, & Attractions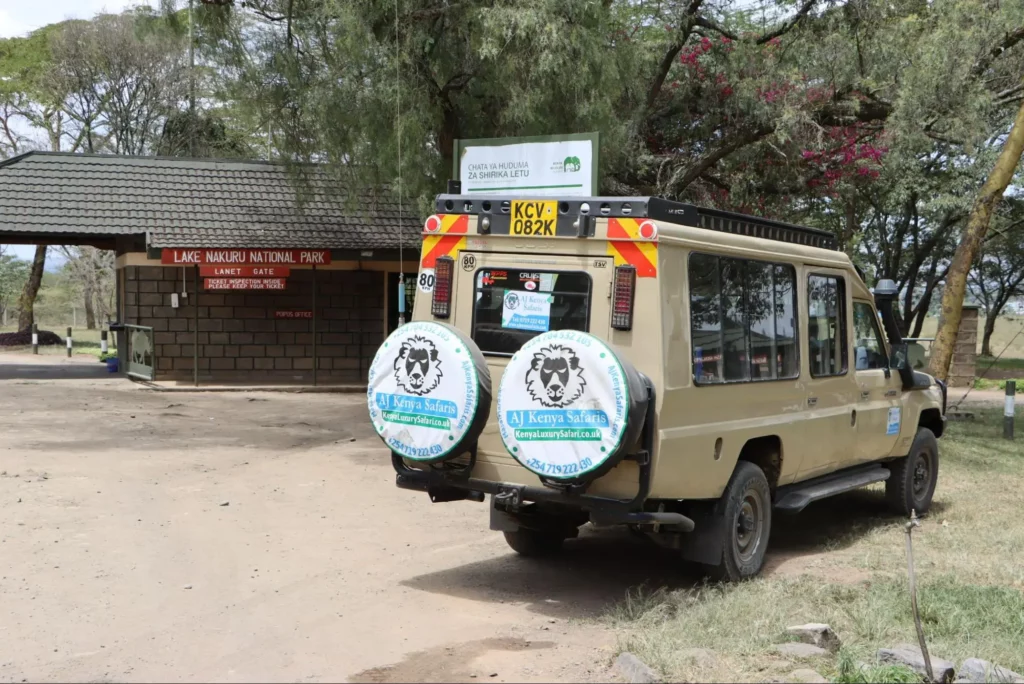 Kenya wildlife safaris, camping safaris, or bird-watching safaris cannot be complete without going for a Lake Nakuru safari. Lake Nakuru National Park is vastly famous for the thousands of greater and lesser flamingos that adorn it.
It is located 156km west of Nairobi at the edge of Nakuru town, roughly a two-hour drive, making it ideal for a day tour or a stopover during a circuit tour. For example, you can make a stopover here during a Masai Mara & Amboseli safari since the distance from Lake Nakuru to Masai Mara and Lake Nakuru to Amboseli is reasonable.
Lake Nakuru deserves a 1-night tour of its own. You can make it a three- or four-day tour if you want to explore other neighboring attractions such as Menengai Crater, Lake Elementeita, Mt. Longonot National Park, and Kariandusi Archaeological Site. 
You can also visit Lake Naivasha, Crescent Island, Olkaria Hot Spa, Kigio wildlife conservancy, Hyrax Hill Prehistoric Site, Kariandusi Pre-historic Site, Crate lake, and Ol Donyo Eburru.
Lake Nakuru is relatively small compared to other national parks in Kenya, with an overall area of 188sq Km, but don't let its size deceive you. It exhibits a diverse ecosystem, including a lake, savanna grassland, rocky ridges, and woodlands.
It is a UNESCO World Heritage site, and it is protected by the Ramsar Convention on wetlands of international importance. It is a prime park managed by the Kenya Wildlife Service that you should consider visiting when in Kenya.
Book Your Lake Nakuru Safari with AjKenyaSafaris.com Ltd Today
Our Most Booked Lake Nakuru National Park Safari and Other Tours
Top 3 Most Interesting Lake Nakuru Safari Attractions & Things to Do
Lake Nakuru National Park is named as the lake, and the word Nakuru comes from a Masai word that means "Dust or Dust place." It consists of different tourist attractions that make it rank top among Kenya destinations.
Lake Nakuru Safari Attraction #1. Lake Nakuru
Lake Nakuru is a shallow alkaline lake fed by rivers Njoro, Makalia, and Nderit, all originating from the Mau Forest Complex. It is world-famous for the multitude of pink flamingoes that adorn its shores, earning its description as 'the greatest bird spectacle on earth.'
Lake Nakuru Flamingos are of two species, greater and lesser flamingos, with the latter being the majority. To differentiate between the two birds, look at their beaks closely. The greater flamingo's beak is pink with a black tip, and the lesser flamingo features a deep red nib.
A Lake Nakuru safari also unveils over 450 bird species, including pelicans, cormorants, herons, African spoonbill, glossy ibis, storks, and many others. The lake is an important foraging site for the flamingos that come here for the algae and a breeding ground for white pelicans.
Early morning is the best time to start your Lake Nakuru tour as this is when thousands of birds congregate on the shores, going about their business as they feed on algae or look for fish in the water.
This should be a short drive if you are staying inside the park, but those coming from Nairobi must depart as early as 5 am to arrive in good time. By 11 am, the birds will have started flying away, and while some will still linger, the sea of pink will not be as dramatic.
Lake Nakuru Safari Attraction #2. Lake Nakuru National Park
The other significant attraction during a safari to Lake Nakuru is the park itself. A Lake Nakuru National Park game drive through it reveals over 50 species of wild animals, including four of the big five.
Other than lion and leopard, other predators, you should expect to see include hyenas, jackals, cheetahs, and wild cats. The park has large herds of grazers, including zebras, giraffes, impalas, and other animals such as baboons and velvet monkeys.
The giraffes seen at Lake Nakuru National Park are mostly the Rothschild giraffes brought here from western Kenya as part of a conservation effort after the state noted that the species were declining at an alarming rate.
Also, the park is an important breeding and protection area for the endangered black rhinos. Black rhinos were introduced in the 1980s and have grown into healthy numbers. At some point, they seemed to exceed the park carrying capacity, and the state put a program to relocate some to other areas such as Borana, Solio, and Ol Pajeta Conservancies.
White rhinos are also abundant in the park, making the park the best place to see both species without much struggle. If you are lucky, you might spot the highly endangered African wild dog seen in the park several times, but there is hardly a guarantee.
You can easily combine a Nakuru safari with Masai Mara with our 4 days Masai Mara Lake Nakuru Safari.
Lake Nakuru Tour Packages Attraction #3. Vegetation
Lake Nakuru is the most extensive euphorbia forest in Africa. The area around the lake comprises alkaline swamps and marsh. The surrounding area transition to savanna grassland where plains game can be seen and yellow acacia trees in the elevated areas.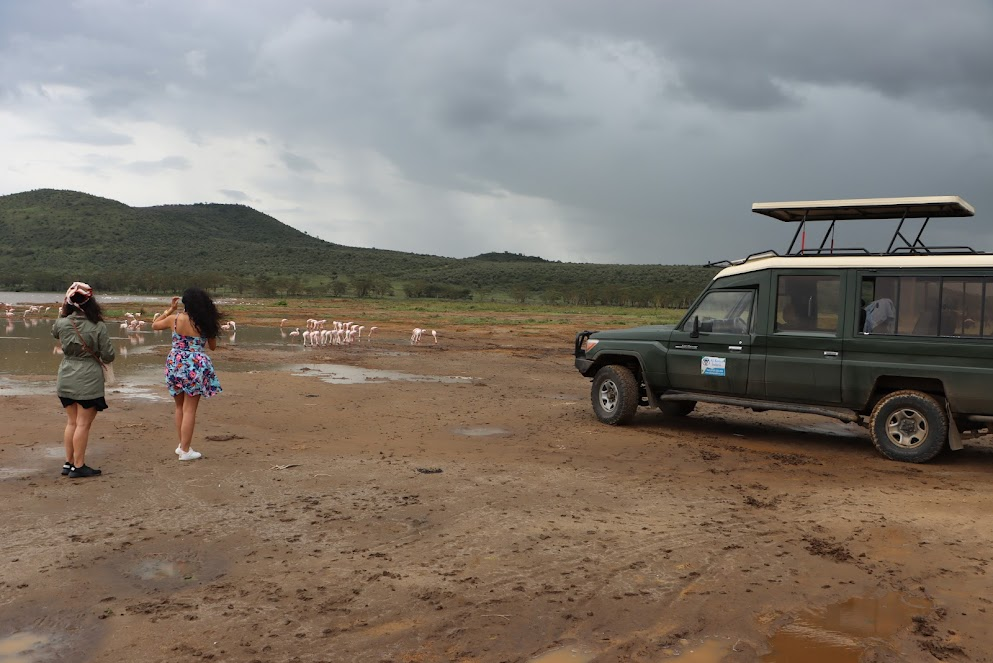 Other Interesting Things to Do During a Lake Nakuru Safari
Viewpoints –  Lake Nakuru National Park has vantage points from where you can view the lake and its surroundings. These viewpoints include Baboon Cliff, located at one end of the park at an elevation, allowing for great views of the lake below.
Baboon cliff is an excellent point to watch or photograph the thousands of birds in the lake. This viewpoint gets its name from the large families of baboons that live nearby. Other viewpoints are Lion Hill and Out of Africa. 
Out of Africa is a less frequently visited point as the incline is steeper. Still, it offers sweeping views of the park and fantastic photo opportunities, and you should not miss it during a Lake Nakuru Safari.
Makalia Waterfalls – The Makalia falls are located at the extreme southern end of the park, and it accords you a chance to take a light hike to the falls. Makalia falls reach33ft from a high cliff and is quite a sight during the rainy season when the Makali River fills up.
Cycle with the Rhino – Every September, the Kenya Wildlife Service holds a 'Cycle with the Rhino' biking event in and around the park to garner support for the rhino sanctuary. The event has become increasingly popular, with more people participating every year.  
The 2017 'school edition' event had over 600 participants, and its main aim was to raise funds to repair the electric fence that helps keep the rhinos safe. Conservation enthusiasts planning a Lake Nakuru Safari in September can participate in this epic cycling competition.
Picnic Sites – Lake Nakuru National Park has designated picnic areas where you can have lunch during a day safari. Makalia, near Makalia Falls, is one of the most picturesque sites. The baboons will watch your lunch closely.
The Baboon Cliff is another exciting place to have a picnic. A nature trail leads to the cliff, and picnic tables and washrooms are available. Other picnic sites in the park include Acacia and Pelican.
Lake Nakuru Safari - Accommodation and Places to Stay
Depending on your budget, there are various places to stay during your visit to Lake Nakuru National Park. Accommodation ranges from lodges to tented camps and camping grounds for those wishing to sleep under the stars.
Some of the lodges in the park include Lake Nakuru Sopa Lodge, Sarova Lionhill, and Lake Nakuru Lodge, the oldest lodge in the park. Flamingo Hill Tented Camp and Lakira Camp are good options inside the park. Mbweha camp is another option located in a private conservancy on the park's outskirts.
Various campsites are located in different areas of the park, including Chui, Rhino, Reedbuck, Makalia, Soysambu, Kambi Nyuki, Kambi Nyati, and Backpackers. All these are affordable, and guests must bring their camping equipment. 
Some campsites such as Makalia by the Makalia River have good facilities such as showers and flushing toilets.
Naishi Guest House is ideally located in the center of the park, shaded by acacia trees offering great views of the park. KWS owns it and, together with an annex, can sleep up to 8 people.
For those who do not wish to spend a night at the park during the Lake Nakuru safari or are on an onward journey to other areas, there is plenty of accommodation in Nakuru town also catering to all budgets. 
Some of the hotels in Nakuru town are Taidy Suites, Merica, Bontana, Jarika, Hotel Cathy, and Midland Hotel. There is a host of guest houses and even self-catering holiday homes available.
Best Time to Visit Lake Nakuru National Park
Generally speaking, Lake Nakuru is an all-year park, meaning you can visit it any time of the year. It is important to note, though, that the lake's alkalinity contributes significantly to the formation of algae that the flamingo feeds on. 
When it rains heavily, alkalinity in the water is reduced, hence fewer algae. As a result, the birds might migrate to other soda lakes such as Lake Elementaita and Lake Bogoria, and during these times, the lake has fewer birds.
For those who come primarily to see or photograph the sea of flamingos, it is best to go outside during the long and short rain seasons when birds are in plenty, typically between January – March or July- October.
The park is versatile, and guests going on a Lake Nakuru safari when the flamingo numbers are low will hardly be disappointed as the plains game and other birdlife will more than compensate for it.