The Top 11 Lake Nakuru National Park Hotels - 5 Inside the Park & 6 Outside the Park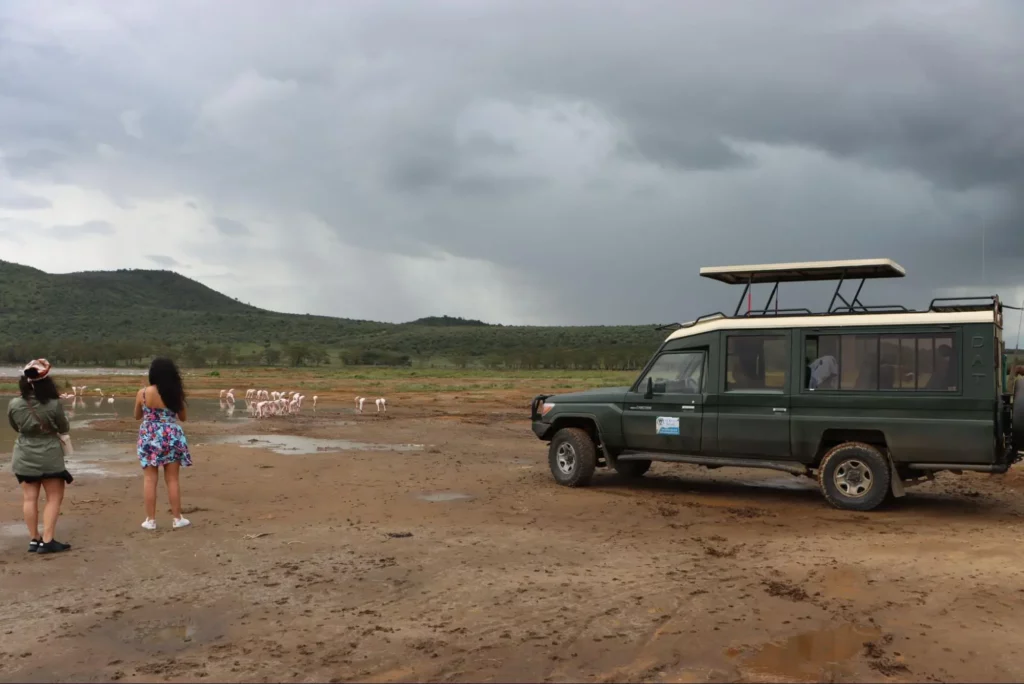 One thing you should consider when planning your holiday to Lake Nakuru National Park is the accommodation. There are dozens of Lake Nakuru National Park hotels and lodges, making it hard to choose the best one.  
You shouldn't pick a hotel based only on your budget, but with consideration of the accommodation location (outside or inside the park), food quality, levels of service, and more. Lake Nakuru National Park, also known as "the bird watcher's paradise," is one of Nakuru's major tourist attractions.
Nakuru city is the capital of Nakuru County and the fourth largest town in Kenya. It derives its name from "Nakurro," a Maasai word meaning a dusty place, and lies about 1850 meters above sea level.
The town gained the status of a township in 1904,  became a municipality in 1952, and got a city charter in 2021. Nakuru is a large city experiencing exponential growth. Apart from tourism, small scale-agriculture, dairy farming, and manufacturing are the backbones of Nakuru's economy.
Reach Us to Book the Best Hotels in Nakuru and the Best Hotels in Lake Naivasha
You can reach us through email or phone to book the best lodges in Nakuru. Send us an email today at safarioffers@ajkenyasafaris.com or james@ajkenyasafaris.com to get started.
Call us at +254-748-258-880 or send a WhatsApp message to book your safari to Lake Nakuru National Park and stay at the top accommodations.
Our Most Booked Lake Nakuru National Park Packages and Other Itineraries
The Top 5 Lake Nakuru National Park Hotels and Lodges - Inside the Park
You can spend the day exploring Lake Nakuru National Park and retire right in the park when the night comes. Here are the best hotels inside Lake Nakuru National Park.
Overlooking Lake Nakuru and the scenic Lake Nakuru National Park surroundings, Lake Nakuru Sopa Lodge is located on a range of hills forming the Great Rift Valley's western boundaries. It is about a 40-minute flight from Nairobi to Naishi airstrip or 165 km from Nairobi on the Nairobi-Nakuru-Eldoret highway.
Nakuru Sopa Lodge prides itself on being a preferred destination for any private, conference, or incentive event since it offers unmatched hospitality not found in other hotels and lodges. Some of the services in this unique lodge include babysitting, catering for special diets, laundry, and hairdryer services, among others.
Facilities at the lodge include complimentary Wi-Fi, conference rooms, telephone, swimming pool, gift shop, and wheelchair-accessible rooms. If you have never had mouth-watering African-themed cuisines in the open and the bush, this is the place.
And while at it, have a proper Maasai warrior-style interaction culminating in energetic traditional dances. Exciting activities while staying at Lake Nakuru Sopa Lodge include taking a game drive at the park.  You can also swim as it is among Nakuru hotels with a swimming pool.
Lake Nakuru Lodge is where comfort and excellence flow freely, far away from the hustles and bustles of the city. You can enjoy all this after paying for your Lake Nakuru National Park entrance fee as it is the custom for lodges inside the park.
It's about 165 km from Nairobi city or a 25-minute flight to Lake Nakuru National Park airstrip for visitors using charter aircraft and 4 km from Nakuru town. The lodge blends perfectly with the green surroundings, and visitors are always in awe at the animals browsing on the acacia trees and other vegetation in the environment.
The lodge prides itself in 95 spacious deluxe rooms, 2 suites, and the infamous Zebra room, which is 100 years old- making it possible to accommodate up to 120 guests. Its deluxe rooms have en-suite bathrooms with permanent showers and glass sliding doors, while the suites have a sitting room and a veranda.
The conference rooms are well-equipped with modern facilities that ensure business travelers get exceptional services while holding business meetings. Cuisines at Lake Nakuru Lodge's Mutarakwa restaurant are delicious and are served on live cooking counters. They include thrilling bush barbecues, African nights, sundowners, and outside catering.
At night, after enjoying a luscious dinner, sit down and relax at Mama Nikki, where traditional dancers will entertain you with vigorous and melodious Kenyan traditional dances. There is a lot of game-watching to be done while staying at Lake Nakuru Lodge.
Lake Nakuru National Park is internationally known as an animal sanctuary, and you will be able to watch large flocks of Flamingos and Pelicans feeding on the shores of Lake Nakuru.
Other animals in this animal paradise include White and Black Rhinos, Baboons, Giraffes, Zebras, Waterbucks, and the territorial lion.
Flamingo Hill Tented Camp
Located close to Lake Nakuru National Park's main gate, Flamingo Hill Tented Camp offers all the luxury you wish at the average lake Nakuru lodge prices. It comprises 30 lavish tents adorned in calming tones, wrought iron, natural woods, and crisp cotton.
The camp offers an incredible experience that you cannot afford to miss. Facilities in every tent include a bed and a mosquito net, a writing desk, WC and flush toilets, and an en-suite shower with hot and cold running water.
You will also have a private veranda from which you can enjoy scenes of the beautiful plains. Other facilities include free Wi-Fi, a decent restaurant, a fire pit, and friendly and supportive staff.
The taste bud tantalizing cuisines served by knowledgeable chefs at the camp's restaurant will leave you wanting for nothing more as far as meals and drinks are concerned. Guests taking special meals will also be excellently catered.
After dinner, you can grasp your favorite Flamingo Hill cocktail, take your position at the open lounge overlooking the scenic plains and enjoy your African sundowner.
The major activity that will quench your adventurous thirst and give you a first-hand experience of our beautiful Kenyan wildlife and landscapes is taking a game drive within Lake Nakuru National Park.
After an incredible time in the bush, you can enjoy a relaxing massage at the camp's spa and later enjoy the breath-taking Kenyan sunset.
If you are looking for 5-star hotels in Nakuru town, you must consider staying at the Cliff Hotel in Lake Nakuru National Park. The accommodation is only 2.5 hours away from Nairobi and is situated on top of a 100 m high rock.
It has 10 luxury camps opened in 2018 that combine a boutique hotel, a tented camp, and a safari lodge, constructed and furnished in a European style. Each tent rests on a solid foundation facing Lake Nakuru, offering a 180-degree view of this paradise. 
While the hotel's exterior is African-themed, the interior combines beautiful international design to provide a modern feel. You can sit on its veranda to gaze at the rising sun, go on a game drive, take a deep at the infinity pool, or watch birds.
Sarova Lion Hill Game Lodge
This luxurious hotel is located inside Lake Nakuru National Park, about 160 km from the capital city of Nairobi and 4 km from Nakuru town. If you use a flight, it will only take you a 30-minute drive from the park's private airstrip to the lodge.
The scenery around Sarova Lion Hill and the comfy atmosphere will ensure utmost relaxation. You get all that while avoiding the cost of the most expensive hotels in Nakuru. The lodge has 67 magnificent villas, divided into 64 standard rooms and 3 suites, giving you an array of choices to suit your needs.
The picturesque views of the tall acacia trees and the pink ostrich birds lacing Lake Nakuru in the comfort of your room give you an out-of-this-world experience that you don't want to miss. Its gardens and walkways in the Lodge are breathtaking. 
You will enjoy tea/coffee-making facilities, a patio, minibar, a bathroom with an en-suite shower, and other facilities from the villa-style accommodation.
The conference facilities, which include 2 conference rooms, LCD projector, Wi-Fi, TV and DVDs, writing pads, flip chart boards, pens, and markers, are designed to meet your needs.
Your dining experience at Sarova Lion Hill Game Lodge is like you have never had before. You will have the freshest vegetables from the Lodge's vegetable garden and local and internal dishes.
At the Flamingo Restaurant, Sarova's dexterous chefs prepare and serve all your meals "al fresco," They enjoy catering to all your meal preferences and special dietary needs where applicable.
Enjoy exciting game drives in Lake Nakuru National Park, where you can do lots of bird watching, visit the Rhino Sanctuary and the Baboon Cliff, or better still, enjoy the beautiful sceneries of the Great Rift Valley.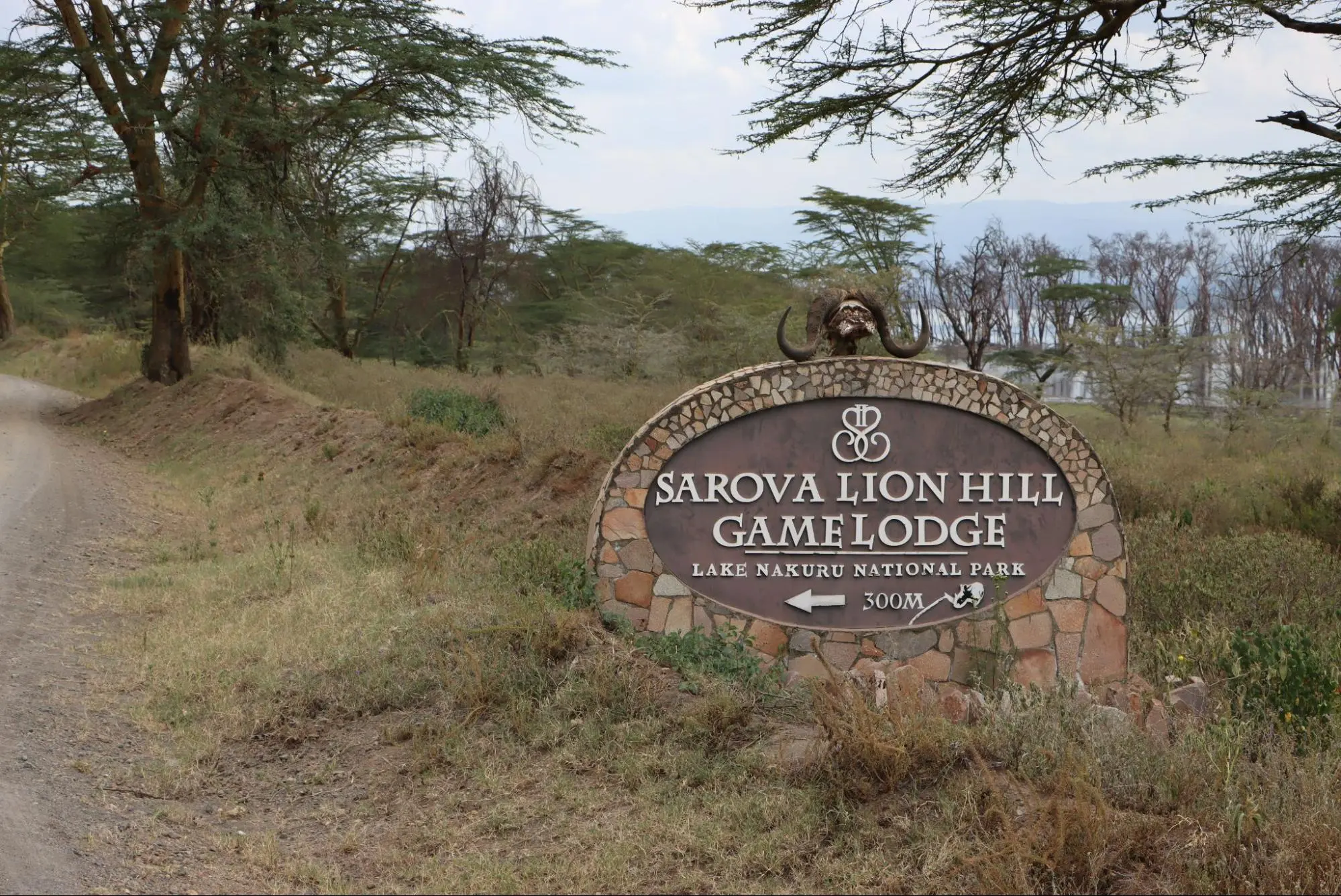 The Top 6 Best Hotels in Nakuru - Budget-Friendly Accommodation in Nakuru Town
It is recommended to stay outside the park if you are traveling on a budget. This means finding affordable hotels in Nakuru CBD or cheap hotels in Nakuru with swimming pool near Lake Nakuru National Park.
Although Midland Hotel is not situated inside Lake Nakuru National Park, it is considered one of the Lake Nakuru National Park hotels. The hotel is 9 km from the National Park and 10 km from Menengai Crater, which is also an exciting tourist attraction in Nakuru.
Known for outstanding African hospitality since 1906 and havings hosted Queen Elizabeth the Queen Mother at one time, Midland Hotel sits on two acres of land in the heart of Nakuru city.
The hotel's strategic location makes it ideal for travelers on transit. The facilities at Midland Hotel include two conference rooms with complimentary wireless internet, a PA system, an LCD projector, and screens, ensuring that your business meetings run as smoothly as possible.
The fact that there are no off-the-shelf packages means that the guests receive personalized attention from our qualified staff, giving us a superb service delivery reputation. Dining at Midland Hotel is an experience out of this world. 
I highly recommend the mouth-watering spit-grilled chicken with rich golden color from barbecued over a charcoal grill served at Terrace Restaurant. There are different delicious cuisines served as well.
At Flamingo Grill Restaurant, you will enjoy a buffet breakfast with a choice of a carte or buffet lunch and dinner. All your dietary needs will be catered to professionals if you are a vegetarian.
Some exciting activities include a game drive in Lake Nakuru National Park or a nature walk from the Hotel to Menengai Crater, after which our talented resident guitarist will entertain you.
Jumuia Guest Hotel Nakuru
Jumuia Guest Hotel is managed and operated in a Christian value environment to ensure total customer satisfaction. It is only a 5-minute drive from Lake Nakuru National Park.
Business travelers, leisure seekers, and honeymooners will benefit from the Hotel's ideal location and families looking for a perfect getaway or corporate meeting or conferencing venues. The hotel prides itself in Deluxe, King, and Executive Suites featuring a comfortable bed with a net, a desk, a TV set, tea/coffee making facilities, and a shower.
Private bathrooms feature a bath and comfortable slippers. Other facilities include conference facilities with complimentary free Wi-Fi, a garden, a restaurant, private parking, and a children's playground.
You will also have a games room and a tennis court at your disposal. A 24-hour front office desk service ensures that guests are attended to at all times. A game drive to the Nakuru National Park will give you a rare opportunity of observing Kenyan wildlife living in one area and right in their natural habitats.
The animals to be observed include Flamingos, Pelicans, Rhinos, Buffaloes, Baboons, and numerous species of birds, just to name a few. Menengai Crater is also ideal for hiking, or you can visit Hell's Gate National Park, which is just a 1 hour's drive from the hotel.
The white-washed tower of Merica Hotel is centrally located in Nakuru City's central business district next to Nyayo Gardens and the General Post Office. The hotel, a pioneer in the hospitality industry, has been known as a true oasis of comfort and relaxation.
It prides itself in 89 standard rooms, 4 Junior Suites, and an Executive Suite. All rooms are well-equipped, featuring a flat-screen TV, a private bathroom fitted with a bath, complimentary toiletries, and slippers.
The interior décor is uniquely done, giving each tastefully furnished room its color theme for utmost comfort. Take your time to relax in the sauna, steam bath, or Jacuzzi, or have a muscle-relaxing massage at the spa or workout in the Hotel's state-of-the-art gym.
The facilities at Merica Hotel include 5 conference rooms that can accommodate 100 to 300 people. They are fully equipped with a complimentary wireless internet connection and secretarial services.
Free private parking, car hire, and hairdresser's services are also offered in the Hotel. African dishes at Merica Hotel are my favorite, primarily because of the attractive prices offered. International cuisines prepared by qualified chefs ensure that all guests feel at home far away from home.
After a delicious meal, you can enjoy your favorite beverage, Merica's famous cocktails, or hot beverages like milk, coffee, cappuccino, or espresso.
Lake Nakuru National Park, Hyrax Hill Anthropological Site, Hell's Gate National Park, Menengai Crater, and Lake Elementaita are exciting tourist attractions you can visit during your stay.
Eagle Palace Hotel is located right inside Nakuru City Central Business District, only 9 km from Lake Nakuru National Park. You can enjoy scenic views of Lake Nakuru from the Hotel, which offers a 24-hour front desk service to ensure you are served at all times.
The hotel has well-equipped Empire, Superior, Superior Deluxe, and Royal Suite rooms which are elegantly made to ensure comfort and total relaxation. Some of the services offered include 24-hour in-room dining and laundry, housekeeping, room, car hire, valet, and secretarial services, among others.
The conferencing facilities at Eagle Palace are excellent and can accommodate a small group of 16 to a large group of 300 persons. An LCD projector screen, overhead projector, phone line, photocopies, scanning, typing, scanning, and a PA system are provided at an additional fee.
However, a conference package includes high-speed internet, an international lunch buffet, two tea breaks, pads, pens, markers, and flip charts. Your palate will be enticed by the delicious continental dishes served at the all-day-dining restaurant.
You will start with a breakfast and, later on, lunch and dinner buffet offering an array of starters, salads, desserts, and main courses. Personalized a la carte meals are also available on request.
If watching birds is your thing, carry your pair of binoculars because you will have numerous species of birds to watch at Lake Nakuru National Park, among other wildlife.
These include Flamingos, Buffaloes, Zebras, Baboons, Lions, Rhinos, and Giraffes. Your sunglasses and a tube of sunscreen will come in handy while going for a nature trail at Menengai Crater.
Located right in the heart of Nakuru City, Legacy Hotel is already a favorite for leisure seekers and business travelers from Kenya and beyond. Menengai Crater is only 10 km away, while Lake Nakuru National Park is 9 km from the Hotel.
The pocket-friendly prices and personalized services from the friendly staff will make your stay at Legacy Hotel and Suites unique and one that will linger in your mind for a long time.
The Hotel has 56 rooms categorized into Deluxe, Standard, and Twin rooms for you to choose from. All rooms are spacious and are equipped with a flat-screen TV, a private bathroom, slippers, and complimentary toiletries. And have been refurbished to a high-quality, contemporary style.
Other facilities include a 24-hour front desk, fitness center, ample parking, 1 main restaurant, and a lounge bar. The conferencing facility provides 6 meeting rooms and is well equipped and features free Wi-Fi internet. This makes it ideal for meetings, product launch events, team building, and leadership training, just to name a few.
The conference package includes a complimentary conference room, stationeries, 1-liter bottle of Mineral water, 2 tea/coffee with snacks, lunch, dinner, and one soft drink. If you are a fine dinner, you will enjoy the a la carte continental cuisines prepared and served by adroit chefs at the hotel's main restaurant. 
After a delicious meal, you can enjoy your favorite drink at the lounge bar. Thrilling activities at the Legacy Hotel and Suites include going for a game drive in Lake Nakuru National Park, visiting Hell's Gate National Park, or, better still, going for a nature walk at Menengai Crater.
Shopping in various malls and open markets in Nakuru city is also an exciting activity that you will thoroughly enjoy.
Nakuru Milimani Guest House
Do not let a tight budget hinder you from enjoying your Lake Nakuru National Park safari. Nakuru Milimani Guest House offers pocket-friendly prices to all clients seeking accommodation.
As one of the hotels in Nakuru Milimani's upper-class residential area, the hotel overlooks the beautiful sceneries of Lake Nakuru National Park and Nakuru city. Well tendered trees house sets of birds, and mature and exquisite gardens surround the hotel.
All guest rooms are spacious and en-suite, featuring luxurious furnishings and modern furniture, ensuring high-quality accommodation for all our guests. They also have individual and intricate color schemes, a wardrobe, a dining area, a patio, and are fitted with DSTV, LCD screens, and DVD players.
Other facilities include complimentary wireless internet and ample parking. Self-catering facilities ensure that you eat what you want when you want. A well-equipped business center guarantees that business travelers carry out their business commitments as smoothly as possible.
Lake Nakuru National Park, Hell's Gate National Park, and Menengai Crater are tourist attractions you can comfortably visit from the hotel. You can also take nature walks or simply cycle in serene environments.