The 7 Best Tented Camps for Camping in Nakuru Review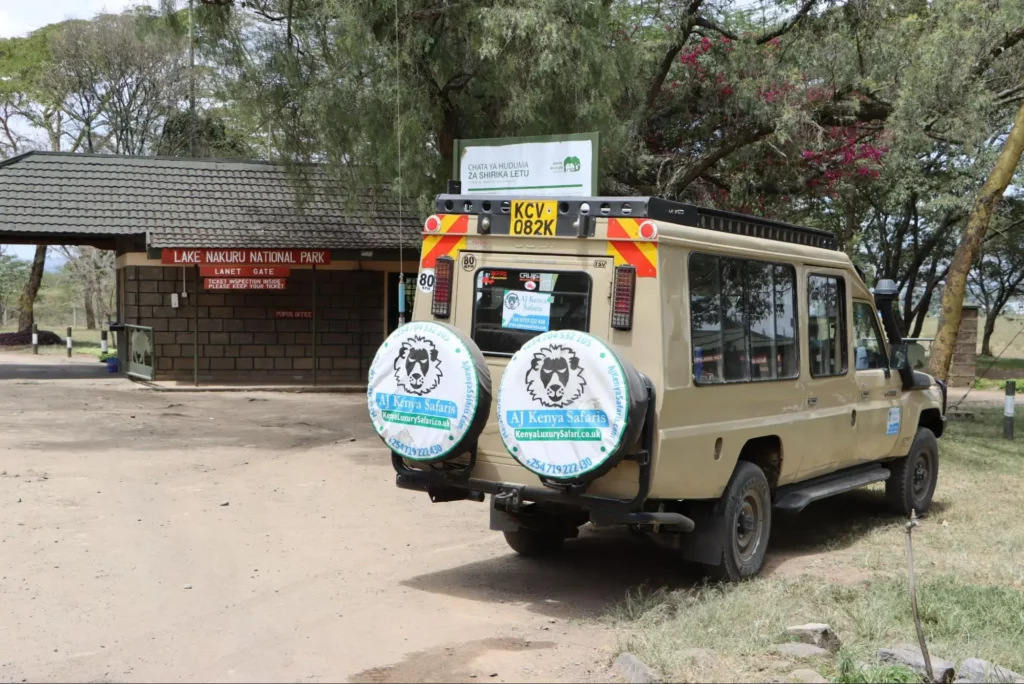 Have you ever imagined a night out in the bushes as you enjoy the wild and unwind the African way? If yes, camping in Nakuru should top your priorities.
It offers great activities that bring hours of enjoyment and an opportunity to connect with nature. In this article, our team of Kenya camping safari guides, all born and raised in Kenya, discusses the top 7 camping sites in Nakuru.
How to Plan Your Camping Safari with AjKenyaSafaris.com
Our Most Booked Camping Safaris in Kenya and Other Packages
The Best 7 Tented Camps in Nakuru National Park Review
Accommodation choices at Lake Nakuru National Park are critical to a successful holiday in Kenya. You shouldn't decide based on your budget only but also preferences, location, food quality, facilities, and more.
There are dozens of places to choose from, like Oloiden Camp Site Nakuru, Makalia Falls Campsite, Rhino Camp Nakuru, Punda Milias, Mbweha, and others. Here is a review of the top 7.
1. Punda Milias Nakuru Camp
If you are looking for a luxury camping site in Nakuru, then Punda Milias Nakuru Camp is your best bet. The camp sits in a private and secluded area, 15km from Nakuru town, 5km from Lake Nakuru National park, and only 2hrs 30min drive from Nairobi city.
The camp's bushy surrounding allows you to enjoy engaging activities like guided nature walk, game drives, and the ambiance of sleeping in an African bush. The property features luxurious camping tents, a swimming pool, and a world-class restaurant. 
Each tent has a big romantic bedroom, a stunning private bathroom, and a personal balcony where you can sit and enjoy the beautiful bushes stretching around the camp.
Punda Milias Nakuru Camp has professional chefs who prepare mouth-watering meals that perfectly cater to individual tastes. You will find local delicacies such as Nyama Choma (charcoal-grilled meat), Kienyeji (mashed potatoes), Mara (fermented milk), and more.
Punda Milias Nakuru Camp Accommodation Options
On visiting Punda Milias Nakuru Camp, you will be surprised by their numerous accommodation options that include:
a. Buffalo Cottages
The cottages are elegantly designed with private driveways, world-class bathrooms, cozy furniture, and a vast collection of reading items. The rooms have a private patio ideal for relaxation. 
If you are a camping holidays aficionado, the buffalo cottages at Punda Milias are home to you.
b. Banda
You can choose from the eight pandas available at the campsite. Each comes with its unique features, but what is expected is the extensive private veranda fully fitted with authentic furniture to boost relaxation. 
You can choose to take a hot or cold outdoor shower from their shared bathroom.
c. Dorm Tent
The facility has a ten pax dorm tent fully furnished with five pairs of bunk beds. This is a perfect facility for people in large groups, e.g., friends.
d. Family Tent
Punda Milia family tents are a home away from home. Each family tent has a queen size bed and bunk beds that can house an entire family.
e. Luxury Safari Tent
These are high-end safari tents in a secluded area and are perfect for honeymoons, private parties, or family getaways. The stunning bathrooms, extended verandas, and quality furniture make the facility even fancier.  
f. Hippo Cottage
This is the epitome of class and exclusivity. The cottage offers a romantic feel thanks to its oversized round bed, well-sorted artifacts, and furniture. The kitchen area is well equipped, and guests enjoy self-made meals. 
Breakfast is provided in bed, but if you want the rest, you can organize it with the management.
Kikopey Beach Camp provides an exhilarating camping and bird-watching experience. The camp is situated at the heart of Kikopey town in Gilgil Nakuru, 120 km from Nairobi city and a one-hour drive (29 km) to the Lake Nakuru National Park.
Kikopey Beach Campsite stands at an altitude of 1670 meters above sea level and neighbors the iconic Kariandusi Pre-historic site. It is perched away from the hustles and bustles of the town, making it the ideal place for anyone who wants to relax and have a good night's sleep under the stars.
Its proximity to Lake Elementaita allows adventure seekers to savor more than 350 migratory and endemic bird species, including the famous flamingos. The lake is recognized globally for its diverse bird life and as the world's only breeding ground for white.
The site boasts luxurious safari tents, and visitors can opt for a room with either double or single beds. This camping site features a well-manicured picnic garden that adds a romantic and relaxing feel to the bushes. It also has free ample parking spaces with high-end security.
Food and drinks are provided on request at an extra fee, but the property features a fully-equipped kitchen where you can prepare your meals. What's more, if you are planning a wedding or a team-building event, the property management will facilitate the event for you. 
The friendly camp staff will also organize Hikes or a visit to Delamere Soysambu game conservancy and Kariandusi Prehistoric Site to make your day memorable.
Eagles Point Camp is perched right at the shores of Lake Elementaita and is one of the cheap camping sites in Nakuru. The camp is an 18 minutes-walk from Lake Elementaita and 2km away from the viewpoint. 
It has five standard rooms with exquisite interiors, a hot shower, a balcony overlooking the mountain, and 24-hour high-speed WI-FI connectivity. Its Lake Elementaita restaurant has well-trained chefs who will prepare mouthwatering dishes. 
The camp's bar is always fully-stocked with both alcoholic and non-alcoholic drinks. Its lush gardens, extensive playground for the kids, and flat cycling grounds make it appropriate for the whole family to enjoy.
Mbweha Camp is located at the southern border of Lake Nakuru, overlooking the fantastic views of the Eburru and Mau ranges. It is surrounded by indigenous trees like euphorbia candelabra and yellow barked acacia. 
The camp features ten roof-roofed cottages with king-size beds and hot showers. It has a high-class restaurant with professional chefs who prepare continental-style cuisine. The sided dining area and lounge are spacious to maximize the guest's views. 
Food is served in the dining room or your cottage on request. Free WI-FI is available onsite to keep you connected.
In our opinion, this is one of the best destinations for Camping in Nakuru. Its proximity to the Lake Nakuru National Park opens up exclusive activities, including game drives, mountain biking, bush walks, and hiking.
Other places to visit in Nakuru during your stay here include Soysambu, Lake Elementaita hot springs, Kariandusi prehistoric site, Menengai Crater, and the Hyrax Hill. 
Picnic lunches, bush dinners, and breakfast are also available on request.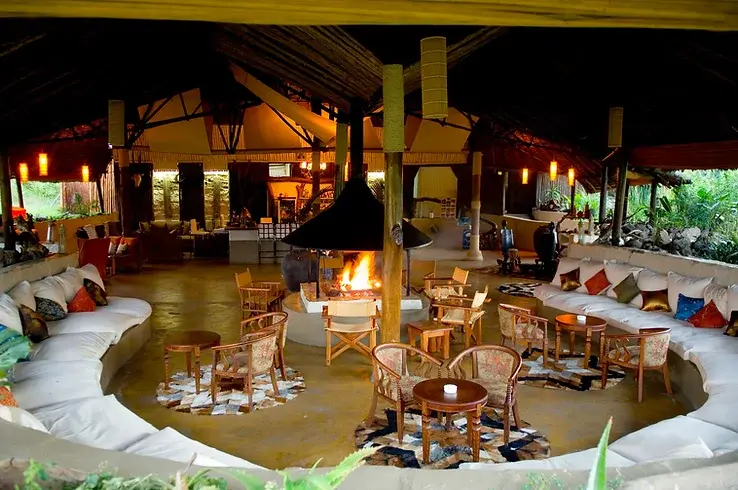 Mwewe Camp is located on Lake Elementaita, blessing it with a unique view of over 400 bird species from Lake Nakuru National park and Longonot Park. The property features 12 luxurious tents equipped with private bathrooms and queen size beds.
The tents are surrounded by rolling plains providing a great view of birds, zebras, gazelles, and hippos. Mwewe Camp has friendly staff and professional chefs who prepare international and local cuisines to suit everyone's taste. 
Enjoy alcoholic and non-alcoholic drinks served by the camp's friendly staff in the onsite bar. We suggest you try Tusker, the flagship Kenyan beer.
The property features ample, highly secured parking and beautiful gardens where guests can relax and enjoy drinks and meals as they browse the web using the free WI-FI.
Other exciting activities offered on the site include; guided nature walks, camping, fishing, boat riding, mountain climbing, and bird watching. If you are looking for the best tented camps in Nakuru, then Mwewe Camp is the ideal place.
Rhino Campsite Nakuru is located at the heart of the Lake Nakuru National park, approximately 160 km from Nairobi. The campsite sits on a well-manicured farm, and guests can opt to reside in their four-bedroom farmhouse, the guest house, or pitch tents around the farm.
Rhino Campsite farmhouse is of world-class standards. It is well equipped with two queen size beds and can accommodate over ten guests. The guest house features an all ensuite bathroom area, a lounge with satellite TV, and a kitchenette.
Its outside ground can accommodate over 300 guests, and one can choose to pitch or rent a tent. The campsite has professional chefs who will prepare African cuisines but at an extra fee. There is also a cooking area where visitors can prepare meals.
The Rhino campsite in Nakuru is ideal for team building, children's day out, biking activities, and on request, guests can have a game drive in the Nakuru National park. Visitors can light bonfires under the skies as they catch up with other guests.
7. Flamingo Hill Camp Nakuru
Flamingo Hill Tented Camp is just 9 km from Nakuru town and is situated at the high-rise Lake view estate. The camp is within the famous Lake Nakuru National park, and visitors can view the over 400 bird species and wildlife in their natural setting.
It boasts deluxe guest rooms with a world-class bathroom, a balcony that opens up to the bushes, and a large sitting area with a fireplace. Guests can relax in the lush gardens as they enjoy the cool breezes and browse for free using the 24-hour WI-FI connectivity. 
The camp features a large car park and round-the-clock security. Its bar is fully stocked with both alcoholic and non-alcoholic drinks. The restaurant is on another level, and all guests are treated to breakfast, lunch, and dinner buffets. 
You can opt to unwind in their Olympic size swimming pool, and kids can play in their extensive gardens during a family camping in Nakuru adventure.