Meru National Park Guide, Activities, and More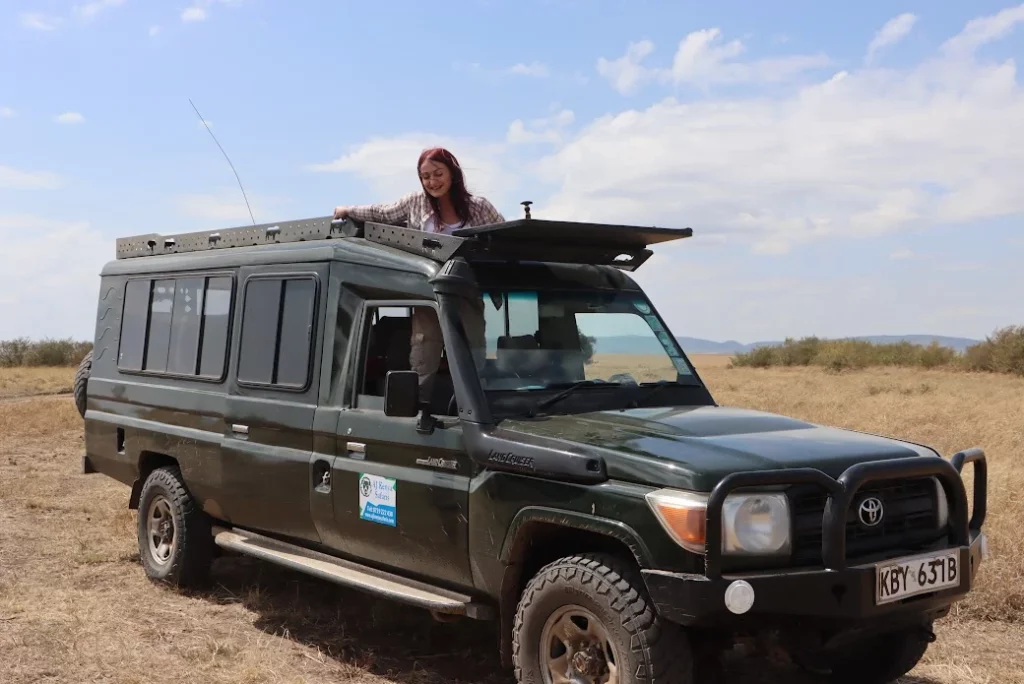 Paradise in the wild; the only words befitting of this wonderful haven. The Meru National park is a stunner by all means. Her mesmerizing beauty and limitless fauna put her at the top of every 'great national park in Kenya' list. 
The park's scenery is in straightforward terms enthralling. With her comes breathtaking views of swamps, meandering rivers artistically lined with palms, thick woodlands and a spectacular view of Mt. Kenya. Talking of Mt. Kenya, a view of the snow capped mountain from this park will surely have you picking your jaw from the floors.
Meru National Park Contacts for AjKenyaSafaris.com Ltd
99% of the people who travel with us say they will tour Kenya with us again, and 99% of the people who tour Kenya with us say we delighted them. That's 100% customer satisfaction which you might not get from other travel agencies.
Book your safari now by sending us an email at  james@ajkenyasafaris.com or safarioffers@ajkenyasafaris.com.  You can also call or WhatsApp us at +254-748-258-880.
See Our Featured Tours and Most Booked Packages
Overview of the Meru National Park
Although the park was established in the late 60's, it was not until it was featured on the film Born Free that the world got to know about it. The Meru National Park is the perfect definition of wild and beautiful. Stretched over 870km2 of land covered in lush green grass, the park has cemented its position as one of the leading tourist destinations in Kenya.
The Meru National park is doubtlessly stunning, not that we expect less considering that she is beautifully bisected by 13 rivers and some streams from the Mt. Kenya and the Nyambeni Mountain Rage.
It is her three-in-one trait that has, perhaps, put her at the top of her game. Tourists who pay for access through the Meru National Park's Ura or Murera gate get unlimited access to the Kora National Park, Bisanadi National Reserve, and the Mwingi National Reserve.
Weather & Climate
The weather in Meru National Park is warm and humid throughout the year. During the dry season which runs from November to April, temperatures typically range from 16°C (60F) during cold nights to 34°C (93F) during hot days. 
The rainy season usually starts around May and runs through October, bringing with it higher humidity and heavier rainfall. During this time, temperatures remain fairly high but there is usually a drop in the afternoon when showers occur. 
Meru National Park also experiences periodic winds that can bring dust storms and cooler temperatures depending on the direction they are blowing from. Due to its location near the equator, days and nights are of roughly equal length throughout the year.
Meru National Park Charges 
Meru national park entrance fee for foreigners is USD 70, while that for Kenyans is KES 1500. In addition, camping fees are USD 10 per person per night and vehicle entry fee is KES 1000.
Best Time to Visit Meru National Park
When looking to visit Meru National Park, the wisest decision is to go during the dry season between mid-June and mid-October. During this season, temperatures are more moderate and rain is minimal – both of which make wildlife viewing easier. 
Because there are less crowds during this time as well, it's also a great opportunity to get up close and personal with the animals. However, if you're looking for a unique experience, it's worth noting that the wet season (November to March) is known for its lush green landscape and heavy rains – making it an interesting time of year as well. 
Either way, visitors can expect warm temperatures all year round.
Getting to the Meru National Park
The Meru National Park can be accessed from every corner of the earth be it New York, Sydney, London, Beijing, Tokyo or California. All it takes is a direct flight to the Nairobi based Jomo Kenyatta International Airport from where you can travel to the park; either by road or by air.
By Road
All weather roads link the park to Nairobi. There are two routes to the park;
Route one; from Nairobi to Nyeri-Nanyuki-Meru-Mau to the main gate at Murera Gate. This route covers a distance of 384 kilometers.
Route two; from Nairobi-Embu-Meru-Mau and finally to the main gate, Murera Gate. This course covers a distance of 350 kilometers.
By Air
Although the park has 16 airstrips, only four of them are used to access the park. They are; Kinna, Masanduku, Murera, and Mulika airstrips. The Wilson Airport offers daily day flights to the park.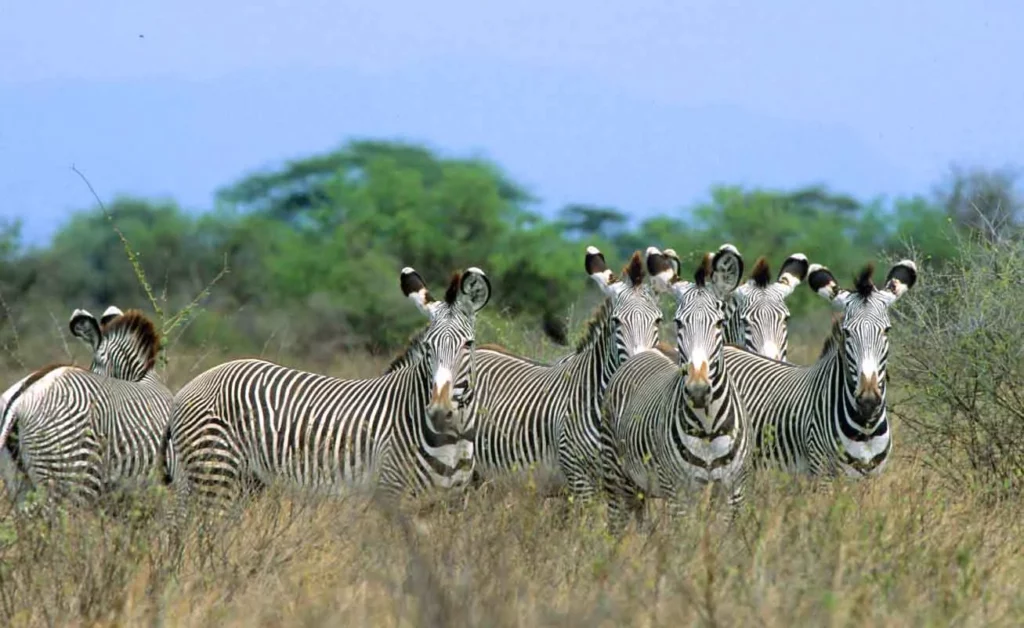 Top 4 Meru National Park Activities
The Meru National Park in Kenya offers a wealth of activities for visitors. Some of the most popular activities include game viewing, bird watching, and fishing.
 1. Game Viewing
For a park previously faced with the poaching menace, the numbers of game life are impressive. The National Park offers a nonchalant view of some of the rarest game animals in the world.
Some of the wildlife includes; Dik-Dik antelope, lion, cheetahs, elephants, black rhinos, Oryx, Grevy's zebras, leopards, buffalos, giraffes, and hartebeest.  The rivers in the park abound with animals like the hippos and crocodiles.
Catfish and barbus fishing are allowed along the River Tana and for those in campsites.
 2. Bird Watching
Birders will fall desperately in love with the Meru National Park. The park boasts of over 300 bird species including weavers, Red-necked falcons, bee-eaters, kingfishers, starlings, rollers, Pel's Fishing Owl, sunbirds, Heuglins courses, and the Brown-backed woodpecker.
 3. Cultural Visits
Visitors to Meru can also learn more about the local culture through cultural visits. These visits include music and dance performances as well as traditional pottery making demonstrations.
 4. Hiking, Camping, & Fishing
 Hikers can explore the park's beautiful landscapes, from rocky hills to rolling plains. Visitors can also camp in the park, taking in the stunning views of the surrounding landscape. There are plenty of campsites available for those looking to spend a few days in Meru. 
Fishing is also possible at Meru, with a range of freshwater species available.
Attractions at the Meru National Park
There is a lot to see and explore at the Meru National Park. Apart from the stunning sceneries and wildlife, the park is home to exquisite attractions such as Adamson's fall, Tana River and views of the ever-dazzling Mt. Kenya.
We also can't help but amaze at the beauty of the swamps in the park. The marshes are mostly located in the northern part of the park. The Bwatherongi, Mururi, and Malika swamps are some of the permanent wetlands in the area. 
These marshes come in handy during the dry seasons, not only to the thirsty animals looking for water but also to the tourists since the swamps are excellent wildlife viewing sites during that period.
The most substantial attraction of all has to be the Meru Rhino Sanctuary. It lies on an 80km2 well-secured piece of land. The sanctuary located on the western side of the park's main gate is home to more than 20 white rhinos and 20 black rhinos.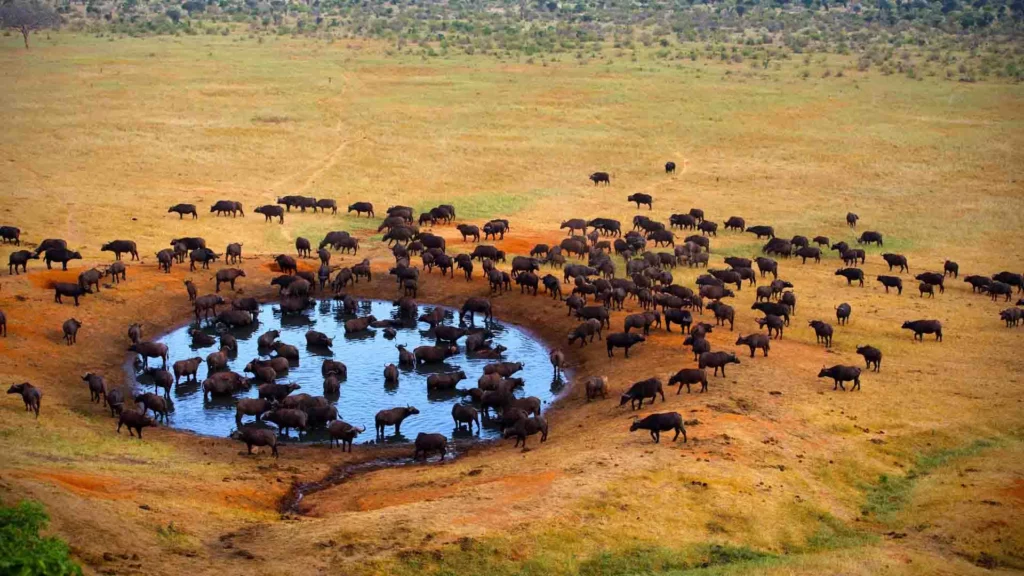 Meru National Park Accommodation – Top 5 Meru National Park Lodges
Meru National Park, located in central Kenya, is a breathtaking natural paradise. From its spectacular wildlife to its unique culture and history, Meru has something for everyone. With so much to offer, visitors need quality accommodation options that can provide the perfect base for their stay in this incredible area. Here are five of the top lodges available in Meru National Park: 
 1. Elsa's Kopje Lodge 
Named after Elsa the lioness made famous by Joy Adamson's book Born Free, Elsa's Kopje is a luxury lodge set atop Mughwango Hill overlooking Meru National Park. Guests here will have access to private game drives throughout the park as well as guided walks with Maasai warriors. 
 2. Leopard Rock Lodge 
Located in the heart of Meru National Park, Leopard Rock Lodge is a cozy lodge atop a rocky outcrop with stunning views of the park's river and hills. The lodge provides vehicle access to some of the best wildlife viewing areas in Meru and guests can also enjoy guided nature walks as well as sundowners on the veranda.
 3. Rhino River Camp 
A traditional safari camp located at the gateway to Meru National Park, Rhino River Camp offers comfortable accommodation with modern facilities in an idyllic riverside setting. Guests will have access to game drives throughout the park, birdwatching activities and even night game drives!
 4. Kina River Camp 
Located along the banks of the River Ura in Meru National Park, Kina River Camp offers luxurious tented accommodation. With full access to 4×4 vehicles, guests can explore the park on game drives and guided walks with experienced rangers.
 5. Kingupuru Luxury Tented Camp 
Set on a remote hillside overlooking the Kingupuru Valley, this luxury camp is perfect for those seeking an intimate and secluded escape. Offering daily game drives within Meru National Park, guests can also take advantage of their well-stocked bar and spa facilities for a truly memorable stay.