Days Tours in Nairobi - Nairobi National Park and Giraffe Center Day Tour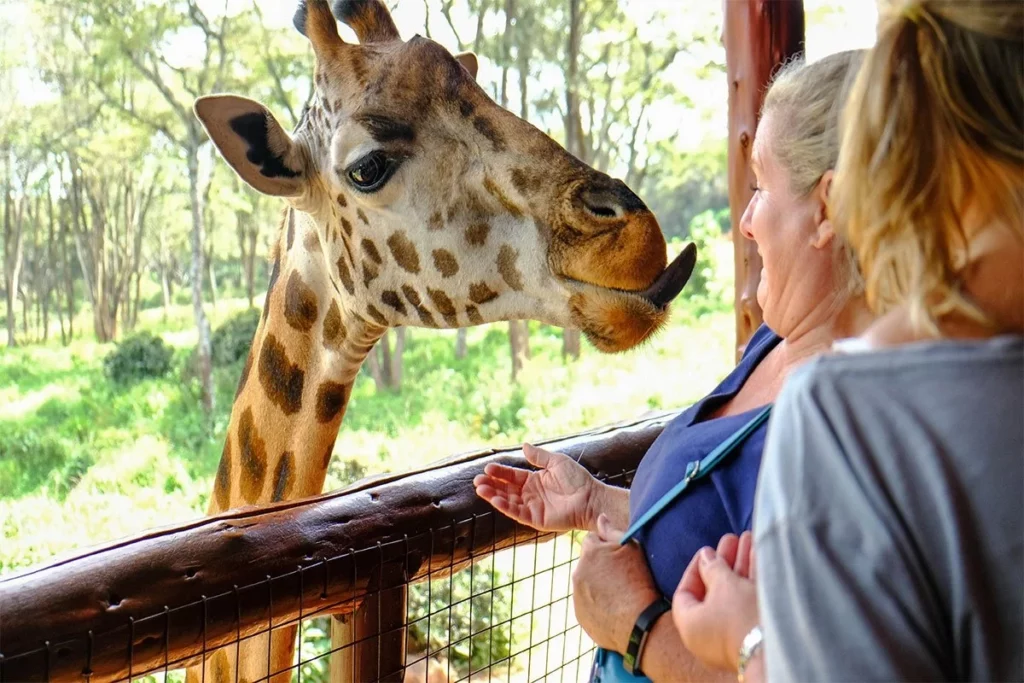 Nairobi National Park and Giraffe Center day tour offers a unique opportunity to see some of Kenya's most iconic wildlife up close. The tour begins with a game drive through the Nairobi National Park, where you can see lions, buffalos, and other African animals in their natural habitat. 
Then, it's off to the Giraffe Center, where you can feed and observe these gentle giants up close. The center is involved in giraffe conservation programs in Kenya and elsewhere in Africa. It also has a gift shop and an educational facility where visitors can learn more about these magnificent animals.
Our safari consultants have crafted the day tours in Nairobi to introduce you to the best of Nairobi National Park and the Giraffe Center in a luxurious safari land cruiser. We will pick you up from the designated pick-up area, take you for a whole-day safari, and then drive you to the agreed drop-off location in Nairobi. 
How to Book Your Nairobi National Park and Giraffe Center Day Tour 
Before we share the details of this Nairobi National Park and Giraffe Center day tour, let's start by looking at how you can contact us. Contact us (WhatsApp or call) at +254-748-258-880 for bookings and inquiries. We are also available at james@ajkenyasafaris.com or safarioffers@ajkenyasafaris.com. 
The Summarized Giraffe Center and Nairobi National Park Day Tour Itinerary 
| | |
| --- | --- |
| Trip Details | Highlights |
| 7: 00 AM | Pickup from Nairobi & Transfer to Nairobi National Park |
| 8:00 AM to 1:00 PM | Game Drives at Nairobi National Park |
| 1:00 PM – 2: 00 PM | Lunch Break & Transfer to Giraffe Center |
| 2:00 PM – 4:30 PM | Giraffe Center |
| Items Included | Safari vehicle, Park Fees, Bottled mineral water, Pickup & Drop off in Nairobi, Professional safari guide, & Activities |
| Items Excluded | Lunch, Snacks, Accommodation, Pickup & Transfer Outside Nairobi |
| Safari Price | Per Person from USD 119 Based on 6 People |
The Detailed Nairobi National Park and Giraffe Center Day Tour Itinerary 
Below is the detailed itinerary/guide of the Nairobi Day Tour that takes you to Nairobi National Reserve and the Giraffe Center.
7:00 AM – 8:00 AM: Pickup from Nairobi (Hotel, JKIA, or Residence) & Transfer to Nairobi National Park
Your Nairobi Day tour starts early. Our professional safari guide will pickup up from the agreed location – JKIA, Nairobi hotel, or Residence. Our driver arrives at the pick-up location 30 minutes before the agreed pickup time to ensure everything is in order.
After greeting, the tour guide will brief you about your Nairobi National Park half-day tour and the visit to Giraffe Center. If you are from JKIA, Nairobi National Park from the airport is only 33 minutes away. 
8: 00 AM – 1:00 PM: Game Drives at Nairobi National Park 
Upon arriving, the safari guide will pay the Nairobi National Park entry fee and then drive inside the park. The guide will give you enough time to visit the washroom to ensure you feel comfortable as they pay the entry fee.
You should be driving through the gate straight into the thick forest for about 10 minutes a few minutes later. The animal sighting should start when you reach the savannah section, where you can easily spot the wildlife.
You may spot Topis, elands, antelopes, zebras, gazelles, and giraffes during the initial stages of the game drive.
The safari guide will continue to look for these animals, and soon you will find yourself at Kingfisher Picnic Site. Everyone loves to take photos to capture the memory; the guide will stop here for a few minutes.
The second part of our game drive should see the driver take you around the park for about 2 hours. This time you might get to spot lions, rhinos, buffalos, and more antelopes and zebras. You also head to one of the several dams inside Nairobi National Park to look for hippos and crocodiles.
This time you might also come across birds that feed and live in/near water bodies and waterbucks.
1:00 PM to 2:00 PM: Transfer to Giraffe Center and Lunch Break 
The guide will head out of Nairobi National Park and drive toward the Giraffe Center. Our driver will stop along the way to give you time to pop-in in at a hotel and take lunch. The drive can take up to 40 minutes.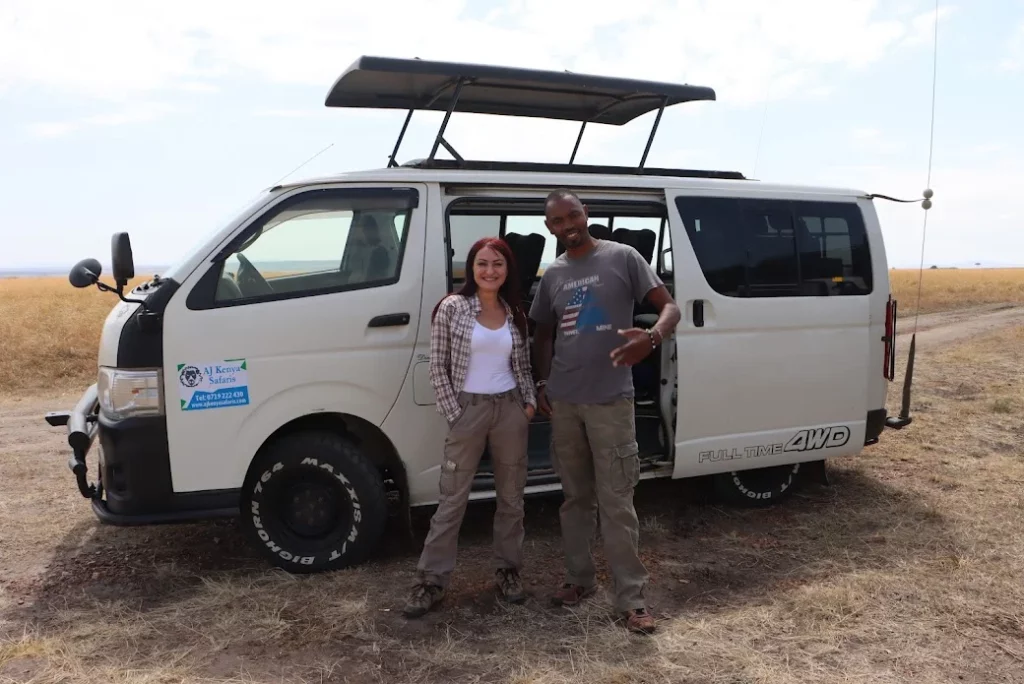 14:00 PM -17:00 PM: Feed, Kiss, and Pet a Giraffe at Giraffe Center
After lunch, you head to the Giraffe Center for a relaxing afternoon, where you get intact with the Giraffes. This is the opportunity to take photos while feeding the giraffes pellets using your hand or mouth.
Get into the cultural center surrounded by the standing podium to learn about the conservation stories. You will also spot some wild pigs and dozens of birds perching in the trees. You don't need to worry about the Giraffe Center entry fee; it is included in the package.
From here, the safari guide will transfer you to JKIA or the agreed dropoff location. 
Items Included in the Nairobi Day Tour Price 
Pick-up and drop-off within Nairobi – JKIA, Nairobi Hotel, or Residence 
Bottled mineral water 
Service of a professional English and Swahili speaking driver/guide
Nairobi National Park entry fee
Giraffe center entry fee
Use of a 4×4 safari land cruiser or safari van
Half-day tour at Nairobi National Park for game drives
Afternoon tour of Giraffe Center 
Items Excluded from Nairobi Day Tour Price
Meals, soft drinks, snacks, and other food or drink items.
Tips to guide
Lunch 
Accommodation 
Safari Price Per Person for Nairobi Day Tour 
| | | |
| --- | --- | --- |
| Travelers  | Using a Safari Van  | Using a Safari Land Cruiser |
| 6 Pax | USD 119 | USD 134 |
| 5 Pax | USD 127 | USD 145 |
| 4 Pax | USD 140 | USD 163 |
| 3 Pax | USD 163 | USD 193 |
| 2 Pax | USD 205 | USD 250 |
| 1 Pax | USD 335 | USD 425 |
A Complete Guide to Nairobi National Park
Nairobi National Park (NNP) is a game reserve in south-central Kenya, about 10 km south of the central business district (CBD). It is among the oldest game reserves in Kenya and was established in 1946.
The park covers a small area of just over 117 sq. km. and lies between 5,000-6,000 ft. above sea level. Nairobi Park consists of thick woods at the entry, wooden convergence of several rivers, and rolling plains and valleys.  
Its vegetation is that of dry savanna, making it the perfect habitat for wildlife. The reserve offers a variety of trees, such as Acacias, Cape Chestnut, Muhuhu, Kenya Olive, and other thorny types.
It is home to hundreds of animals, including Four of the Big Five (Lion, Rhino, Buffalo, and Leopard). A day tour to Nairobi National Park and Giraffe Center gives you a 99% chance of spotting the Lionesses, Rhinos, and Buffalos.
Other animals you will likely see include Topics, Waterbucks, elands, antelopes, zebras, gazelles, giraffes, baboons, hyenas, wildebeest, and hippos. A good day should also see you spot cheetahs, crocodiles, and at least 20 bird species, out of the over 400 varieties in the park. 
A Complete Guide to Giraffe Center 
The Giraffe Center (GC) is an exciting conservation story that started in 1979 at the home of Jock Leslie-Melville and his wife, Betty. The couple began to raise a single Rothschild giraffe at their home in Langata when there were less than 120 Rothschild giraffes in Kenya. 
They decided to call their organization African Fund for Endangered Wildlife (AFEW), commonly known as the Giraffe Center. Since then, this species of giraffe, which has no spots under the neck, has grown to over 300, with most being taken to Lake Nakuru National Park.
Giraffe Center has also seen these giraffes occupy Ruma National Park, Nasalot National Reserve, and Mwea National Reserve. As for where is the Giraffe Center located in Nairobi, the center is located about 20 km from the CBD.
Here you can pet a giraffe, kiss a giraffe, and take photos. You sight these tall creatures onboard a platform that lets you see them eye-to-eye. The platform is built around a cultural center where you can pop in and learn one or two things about conservation, the giraffes, and even donate some money.
You should not miss the opportunity to feed the giraffes with pellets using your mouth. Also, avoid approaching these tall animals without a pallet – they can head-butt you. There are also some wild pigs and different varieties of birds.