The Top 6 Nairobi City Tours - Destinations Review and Prices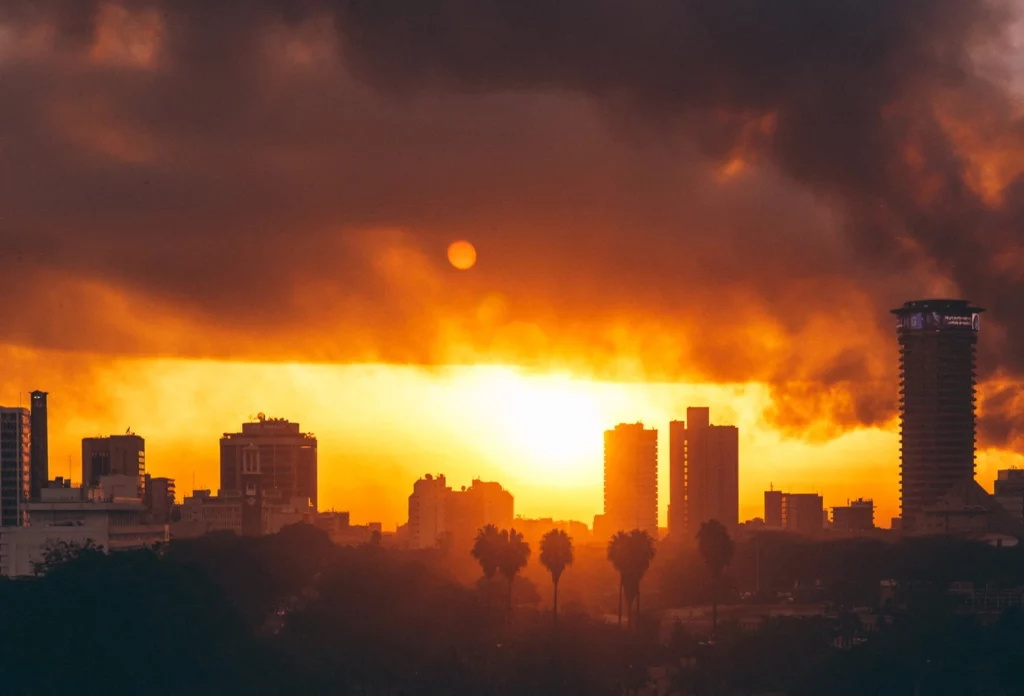 Nairobi County is full of attractions that include natural wildlife, historical sites, and skyscrapers. Most of these charms are located within the city, making it possible to combine two or three destinations during Nairobi city tours. 
They include Nairobi National Park, Giraffe Center, David Sheldrick Elephant Orphanage, Nairobi Animal Orphanage, Nairobi Safari Walk, Nairobi National Museum, and other attractions. 
In this article, the AjKenyaSafaris.com team has compiled a list of the top 5 Nairobi tour destinations you should ensure you visit during your safari. Before that, here is how you can book our Nairobi excursions and our top Nairobi tour package safaris.
How to Book Your Nairobi City Tours with AjKenyaSafaris.com
Our Most Booked Nairobi City Tour Packages and Other Safaris
The Top 6 Nairobi Day Tours Destination - Must-Visit Places
Next, we look at the best places you can visit in Nairobi during your 1-day safari in Kenya. They are the best destinations for a short safari in Kenya.
Morning Half-Day Tours in Nairobi at Nairobi National Park
Nairobi park is about 30 minutes from the central business district and is among the first destinations you find on a Nairobi city tour itinerary. It is "The World's only Wildlife Capital" and covers 117 square kilometers, compact enough for game viewing.
The park was established in 1946 and attracts visitors from different parts of the world due to its unique wildlife. It is mainly an open grassland at the backdrop of the city with scattered acacia trees and a small thick forest.
Nairobi Park is home to various animals, including giraffes, hyenas, buffalos, leopards, lions, rhinos, cheetahs, leopards, and over 400 bird species. There are also picnic facilities for group activities like team building, picnics, film and video production, weddings, bush dinners, and corporate events.
A Nairobi National Park tour should see you visit most of these sites, such as Impala, Kingfisher, Mokoyiet, and Historic Ivory Burning Sites. Nairobi National Park Entry Fee for an adult is USD 60 (or 40), while for a child is USD 20.
11 am to 12 pm David Sheldrick Elephant Orphanage Visit
David Sheldrick Elephant Orphanage is situated near Nairobi National Park and was established in 1977. It is a haven for rhino and elephant calves rescued from various game parks in Kenya. These babies are often separated from their families due to different causes like poaching.
It is a destination that can melt your heart during Nairobi city tours as you learn about how these claves got rescued.
David Sheldrick is only open between 11 am to noon for public visits, making it the best destination to combine a Nairobi National Park and Giraffe Center safari. David Sheldrick's Elephant Orphanage entry fee is USD 15 per adult and USD 5 per child.
Afternoon Tour at Giraffe Center
Giraffe Center is an exciting place to visit with your family or friend on weekends. It is a rehab center for the Rothschild giraffe that opened in 1979 and has seen the number of these animals increase rapidly.
At that time, around 120 Rothschild giraffes were left in various reserves in Kenya – today, they are over 300. You will find most of the giraffes released from this center at Mwea National Reserve, Lake Nakuru National Park, Nasalot National Reserve, and Ruma National Park.
The center combines the conservation exercise with various enjoyable activities to make your visit memorable. You can feed, kiss, or even pet a giraffe standing on a wooden platform, which is a thrilling experience.
The land also provides shelter for warthogs and different species of birds, which you can spot during a guided walking safari near the Gogo River Bird Sanctuary. Giraffe Center entry fee for adults is USD 15, while for children is USD 7.5.
Nairobi National Park, David Sheldrick Elephant Orphanage, & Giraffe Center Package Price
If you are in Nairobi for a day and looking for the best Nairobi city tour itinerary, you should consider visiting the three destinations. At AjKenyaSafaris.com, we provide you with the best full-day Nairobi tour to Nairobi National Park, David Sheldrick Elephant Orphanage, and Giraffe. 
Below is a breakdown of our Nairobi day tour package to Nairobi National Park, David Sheldrick Elephant Orphanage, and Giraffe Center. Also, check out our Nairobi National Park and Giraffe Center itinerary.
| Traveler | Using a Safari Van | Using a Safari Land Cruiser |
| --- | --- | --- |
| 1 Pax | USD 350 | USD 440 |
| 2 Pax | USD 220 | USD 265 |
| 3 Pax | USD 178 | USD 208 |
| 4 Pax | USD 155 | USD 178 |
| 5 Pax | USD 142 | USD 160 |
| 6 Pax | USD 134 | USD 149 |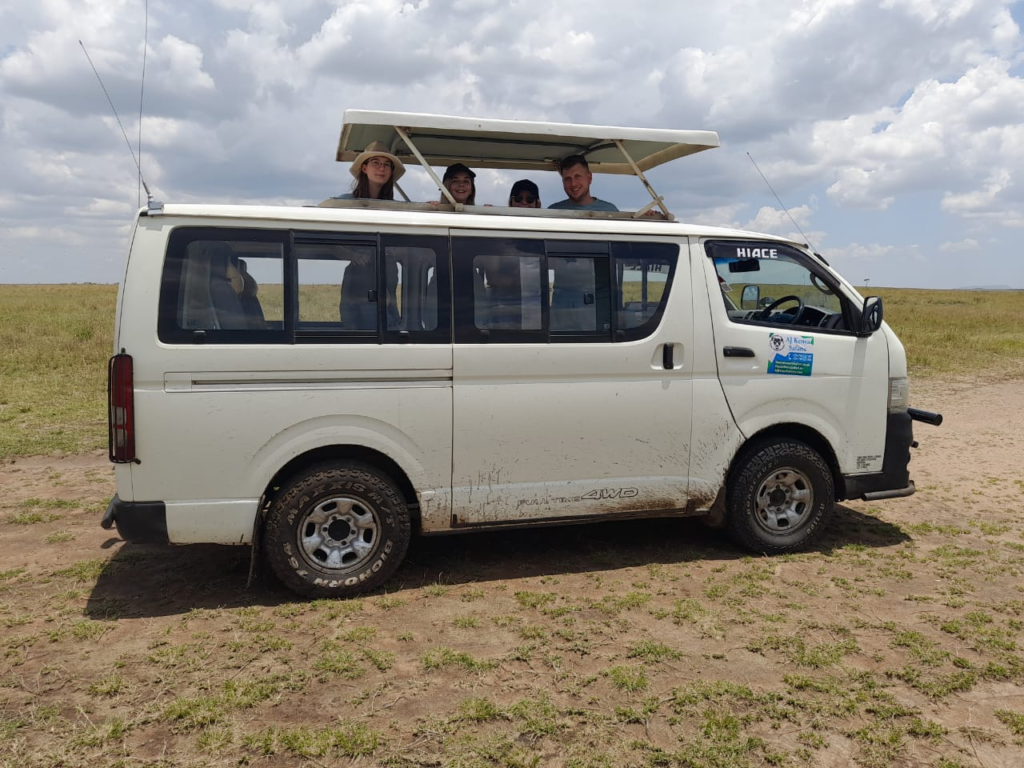 2-Hour Nairobi Animal Orphanage Visit
Nairobi Animal Orphanage is located inside Nairobi National Park. It is a home for formerly wild animals rescued from different reserves. Its location makes it a must-visit destination during the Nairobi day tour, and it sees over 200,000 tourists annually.
The center was opened in 1964 and is an excellent destination for an afternoon family outing, where children can see these animals in proximity. It might not give you the experience of seeing these animals in their natural habitat, but you get a personalized feel.
You get to learn about the individual animal from the educational description of the shelters.
There are two attractions at Animal Orphanages: Animal Adoption Programs and Close-up Views of Animals. The center often rescues animals like hyenas, rare Sokoke cats, jackals, cheetahs, lions, warthogs, monkeys, buffalos, baboons, and leopards.
The Nairobi Animal Orphanage entry fee is USD 25 per adult and USD 15 per child.
2-Hour at Nairobi Safari Walk
Nairobi Safari Walk is one of the best places to tour in Nairobi city. It is a 76-acre nature park with several animal species indigenous to Kenya. The attraction is just 10 minutes from the Nairobi central business district, making it an easily accessible tour destination for most tourists. 
The safari walk is open daily from 10 am to 6 pm. A visit to the walk is an opportunity to see some of the rare and endangered animals found in Kenya, such as the black rhino, Grevy's zebra, and the African wild dog.
It is also home to over 100 bird species making it a paradise for bird lovers. A visit to the Nairobi Safari Walk will be a memorable experience. The Nairobi Safari Walk entry fee is USD 25 per adult and USD 15 per child.
Afternoon Visit of Nairobi National Museum and Snake Park
The Nairobi National Museum is one of Kenya's most popular tourist attractions. It is located in the heart of Nairobi and houses a collection of artifacts that tells the story of Kenya's history and culture. 
The museum also has a library, a theater, and a garden. Visitors can learn about the country's wildlife, people, and history. It is open every day except Mondays and is a great place to learn about Kenyan culture.
Snake Park is one of the main attractions at the museum. It is home to various snakes, including the black mamba, cobra, and viper. The park also has several other animals, such as lizards and turtles. The entry fee for the attraction is USD 12 per adult and USD 6 per child.