Nairobi Safaris - The Top 10 Best Things to Do in Nairobi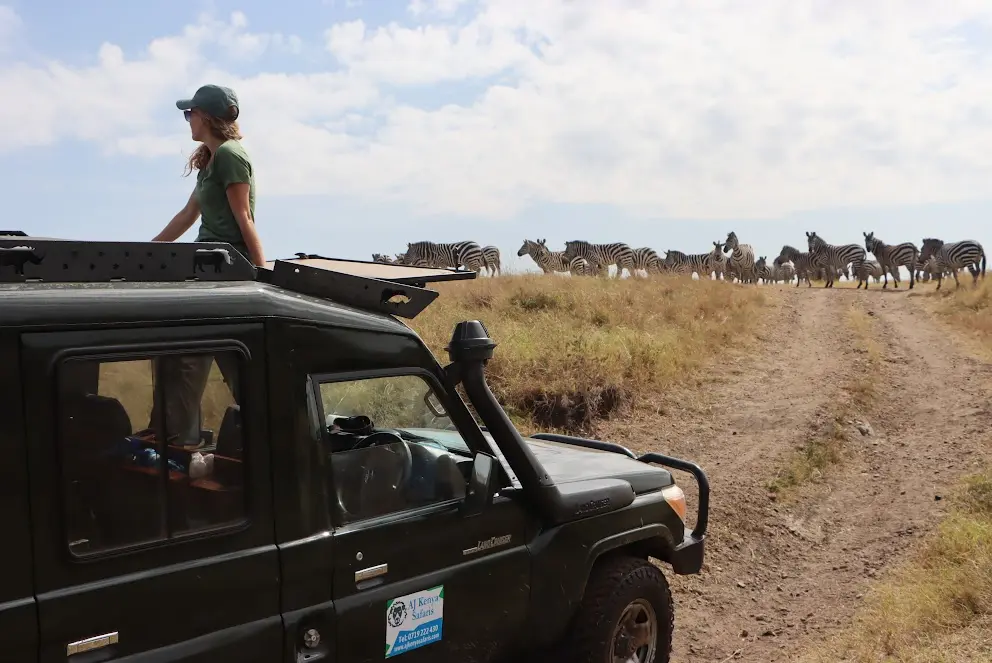 In part 1 of this guide, we shared handy Nairobi safaris tips, including the origin of the word Nairobi. We also share what you need to know about Nairobi weather and why it's essential to learn basic Swahili before coming for a safari near Nairobi.
We also highlight why Nairobi is popular as the world's safari capital and East Africa's business hub. This article will share the top 1o things to do in Nairobi that you should not miss exploring during your safari in Kenya.
Before that, here is how you can book your Nairobi safari tour with the AjKenyaSafaris.com team. 
 Contract Us to Book the Best Nairobi Tour Packages with Us 
We will be glad to assist you in drafting a custom, budget-friendly, and adventurous Kenya safari itinerary. But more than anything, we will be pleased to be your tour guide and help you explore Kenya like a local.
At AjKenyaSafaris.com, we say it's your safari; it has to be the way you envisioned. We only help you make it more fun and adventurous. Kenya is beautiful, scenic, and marvelous; we will be happy to help you explore it.
You can reach us at james@ajkenyasafaris.com or safarioffers@ajkenyasafaris.com to book your safari. We are also available at +254-748-258-880 for WhatsApp and phone.  
At Aj Kenya Safaris, our team of local tour guides, travel agents, and travel writers, all born and raised in Kenya, is committed to helping you tour Kenya like a local.
 Our Most Booked Kenya Tour Packages from Nairobi and Other Safaris
 The Top 10 Best Things to Do in Nairobi and Neighboring Areas 
If you are looking for a 1-day safari in Nairobi or a 2-day safari from Nairobi, the destinations below should be among your top picks. You can't go wrong with any of the selections below. 
 1. Nairobi National Park – The Capital's National Park
Nairobi is the only city globally with a game park on its fringes. Nairobi National Park lies 10 kilometers south of Nairobi city center and is Kenya's oldest national park.
You can book a Nairobi National Park safari with us and enjoy its more than 400 mammal species. These include lions, cheetahs, giraffes, African black rhinos, buffalos, and waterbucks. The park will treat you to more than 400 endemic and migratory bird species if you are a bird lover.
Due to its location, right at the heart of Nairobi city, a Nairobi National Park tour offers a beautiful view of the city scrapers and a backdrop of open grass plains. The park is also a favorite among camping fanatics. It offers breathtaking picnic sites where you can spread your shuka and relax. 
It is also ideal for game viewing and picnics. The park is open 365 days from 8 am to 5 pm. 
 Why You Should Visit Nairobi National Park
The only wildlife park across the globe within a city
Home to black rhinoceros, currently listed as endangered species
Kenyan oldest national park – gazette on Dec 16th, 1946.
Home to more than 100 mammal species, including 4 of the big five (Leopard, Buffalo, Rhino, and Lion)
Its rich birdlife with more than 400 different bird species
It offers a chance to see some of the large predators, including the hyena, cheetah, leopard, and lions
Nairobi National Park safari walk and animal orphanage is located here
Walking trails at the hippo pools
It a large number of herbivores – buffalo, wildebeest, eland, zebras and more
It's open all year round
Nairobi safari walk 
 Nairobi National Park Entry Fee Guide 
You should always check the Nairobi National Park entrance fee from the official KWS website here. That said, here is a breakdown of the Nairobi National Park entry fee:
| | | | | |
| --- | --- | --- | --- | --- |
| Travel Months  | Non-Resident Adult  | Non-Resident Child  | Resident/Citizen Adult  | Resident/Citizen Child  |
| March – June  | USD 40 | USD 20 | KES 500 | KES 215 |
| July – February  | USD 60 | USD 20 | KES 400 | KES 215 |
 2. Nairobi National Museum 
The museum was established in 1929, and it is located three kilometers from the busy city center along Museum Hill Road, roughly 10 minutes drive from the Nairobi CBD. It is open 365 days a year from 08:30 am – 5:30 pm. 
A museum tour allows one to savor some of the most celebrated collections of Kenya's culture, history, nature, and contemporary art. It is the perfect destination for anyone looking to sample Kenya's rich heritage for both leisure and education purposes.
Other things to do at this museum of Kenya include exploring a variety of dining and shopping facilities and the serene environment of the museum's botanical gardens. The museum also houses fossils from the cradle of a man discovered along Lake Turkana, and bones believed to be from the Homo Habilis.
We suggest you combine your safari here with a visit to the adjacent snake park, where a wide variety of reptiles, including snakes, are housed.
 Main Attractions at Nairobi National Museum 
The Art Gallery
Botanical Gardens and the Nature Trail
Temporary Exhibitions
Shopping and dining facilities
Snake park
 3.  Giraffe Center
The giraffe center was established in 1979 by the African Fund for Endangered Wildlife as a conservation center for the endangered Rothschild giraffes. It is located approximately 3 kilometers from the city center and is one of the most exciting places to visit during Nairobi safaris. 
The organization gets about 90% of its revenue from the entrance fee from tourists and sales from its teahouse and gift shop. Your payments at the giraffe center contribute directly to improving conservation education in Kenya.
Nairobi Safaris to the giraffe center is always rewarding. The center is open daily from Monday to Sunday. The giraffe center is among the few places you can get up close, kiss, or pet the long-necked boys.
 4. David Sheldrick Elephant Orphanage 
Best safari in Nairobi are rewarding, and as such, the giraffe center is not the only animal orphanage within its border. There is also the David Sheldrick Wildlife Trust which lies approximately 10 kilometers from the city's heart.
It opens for one hour between 11:00 am and 12:00 pm daily, and a visit here will bring you face-to-face with elephants. The orphanage allows animal lovers to see elephant handlers feed the little tusky giants with huge milk bottles. 
You can foster a baby elephant for USD 50 per year; only you don't have to haul it back home. The center also takes care of orphaned rhinos.
 5. Maasai Market
You cannot afford to stay in Nairobi and fly back without some souvenirs of your visit. You have savored the Nyama Choma and the Tusker, but you will need a souvenir to remind you of "Kiamatawa." A Kikuyu word meaning "The city of lights" about Nairobi's bright lights.
This is where the Maasai market becomes a must-visit affair. The Maa culture is mainly synonymous with strictly upheld culture and norms. This market offers a loud array of curios from the Maasai tribe and other Kenyan cultures.
Before you venture out, it's advisable to acquaint yourself with the official market days that spread across each week. Though it's called a market, the location changes every other day.
You can catch the artisans and their handicrafts on Tuesdays at the Kijabe Street Park next to the Nairobi River. On Wednesday, the action moves to Capital Center along Mombasa road. You can visit the same on Thursday at The Junction Mall along Ngong road.
On Fridays, the curios, paintings, and Maasai shuka's can be found at the Village Market. The High Court parking and Prestige Plaza along Ngong road are market days on Saturdays, while the action wraps up at the Yaya Center and High Court Parking on Sundays.
Next time you want to fly back with an exotic Kikoi or a traditional Kiondo, make sure you mark your date and polish your bargaining game; the prices are friendly.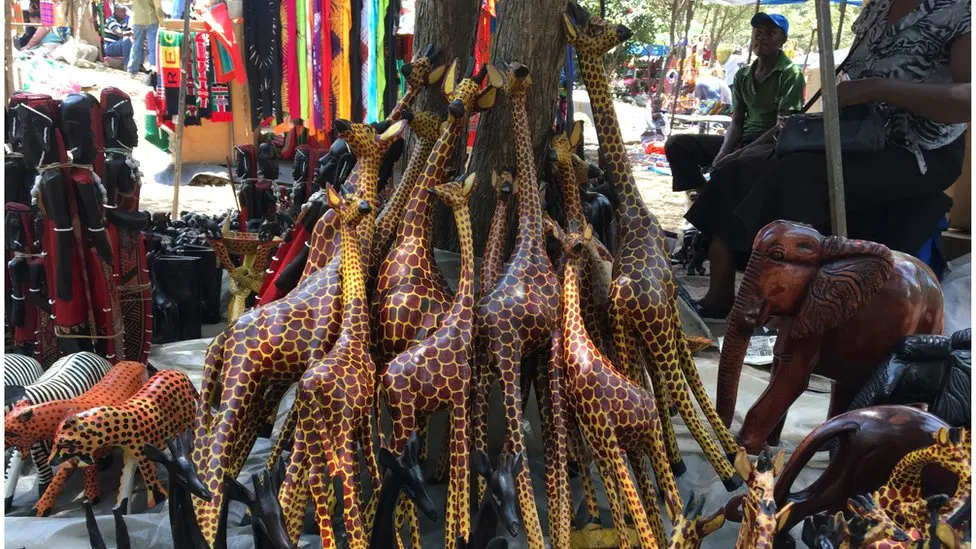 6. Karen Blixen House
To many Kenyans, the name Karen is associated with a leafy suburb where the "who is who" within the country's elite resides. However, few can link the name with the famous Danish-born writer Karen Blixen.
The up-market suburb is named after the colonial settler, who lived with his husband before returning to her homeland. Her colonial-styled home became a special attraction after the Out Of Africa Oscar debut in 1985.
 7. Bomas of Kenya
The Bomas of Kenya was established in 1971 as an initiative to preserve the traditions of the various Kenyan communities by the Kenya Tourist Development Corporation. Today, it is one of the must-visit places during Nairobi safaris. 
It is located 7 Kilometers from Nairobi CBD and only 1 mile from Nairobi National Park, and it's the best place to sample the different cultures of Kenya's 43 tribes.
"Boma" is a Swahili word that means "Homestead." It's a fitting name since Bomas of Kenya hosts replicates of Kenya's traditional villages that offer intriguing anecdotes about each tribe's setup, crafts, dancing, music, and more.
The Bomas are built using the exact structure and techniques used by the local communities to give visitors an authentic touch, much like what you would find in the rural areas of Kenya.
Bomas of Kenya is also popular due to the occasional traditional dances that range from some coastal "Chakacha" to "Mwomboko" and Luhya's "Isukuti" dance. It boasts an inspiring auditorium that can hold up to 3,500 people to watch the various performances, including more than 30 traditional dances from different Kenyan tribes.
The most famous are performances by Masai warriors and the Samburu. Some hosted events include theater, music, poetry readings, fashion show, seminar, and sports. You can also sample traditional Kenyan cuisine at Utamaduni restaurant.
Besides the main attractions (Traditional Homesteads and dancers), Bomas of Kenya has a large wooden play area for small kids, a small craft shop, and a variety of other small attractions.
 8. Brew and Bistro Lounge
There are many exclusive nightspots where you can relax after Nairobi safaris, but the Brew and Bistro Lounge, Piedmont Plaza, along the busy Ngong Road, goes unrivaled. The locals say it's where "barbies" go to relax. Barbie is a Sheng (local language that blends English and Swahili), meaning the well-up in society.
The Brew and Bistro Lounge offers a unique dining adventure in one of the most exciting atmospheres in Nairobi. It has an outdoor terrace and a lounge where you can sit with other international travelers and locals to feast on delectable bites while sipping specially curated cocktails and brews.
During the happy hours, usually from 5:00 pm to7:00 pm, the mojitos, in-house brews, and exotic Kenyan "koroga" drinks or cocktails sell at discounted prices. Don't miss the chance to sing your throat out during the various Brew and Bistro Lounge karaoke nights.
 9. The National Archives
If the Nairobi National Museum is anything to go by, The National Archives is the place to go at the city's heart. It is opposite the Ambassador Hotel and a stone's throw away from the Hilton hotel. 
The Archives has everything from artifacts Joseph Murumbi, Kenya's first vice president, left behind to Kenya's colonial journey.
 10. The Karura Forest
Remember, Nairobi is the only city with a national park within its periphery, right? There is even more. Tucked around the city's northern suburbs is Karura forest, one of the world's biggest urban forests with the right touch of nature.
Nairobi safaris to Karura forest often entail a day to picnic or just savor the peaceful nature along the forest's trails. You can sample several Mau Mau caves and reconnect with the experience of Kenya's freedom fighters, explore the karura forest's breathtaking waterfalls, watch birds or take a bike ride.
The World-famous Nobel Prize laureate and environmental crusader Wangari Maathai fought nail and toe to preserve this forest from uncanny developers. So, during your Nairobi safari to the Karura Forest, why don't you plant a tree? It will help you understand and participate in improving Nairobi and the globe!'