Planning a Kenya Safari with Kids? - Things to Know, Guide, and More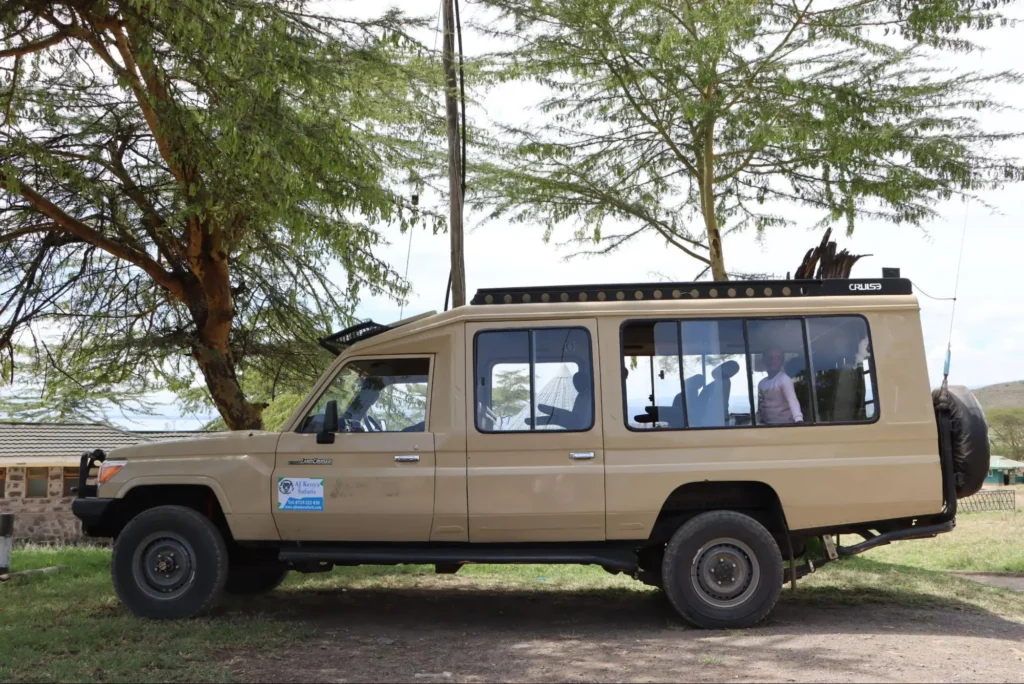 Kenya is one of the most popular family safari destinations in the world. It is home to the Masai Mara – the backdrop of the great migration and the big 5 -, pristine white sand beaches, and national parks and conservancies that make Kenya safari with kids memorable. 
In this article, Harrison, our Kenya family safaris director, discusses some practical tips to have the best Kenya safari with kids. But before that, here are our contacts and some of the best family packages you can book with us.
Book Your Kenya Safari with Kids with AjKenyaSafaris.com Today
Our Top and Most Booked Kenya Safari with Children and Other Packages
5 Things You Should Know During a Kenya Safari with Kids
Taking your children on a safari can be daunting, but you can have the best family safari with the right travel company and proper planning. You should remember these tips to have the best safari for kids.
Consider the Age of Your Kids if You Want the Best Family Safari in Kenya
Believe it or not, the success of your Kenya family safari is highly dependent on the age of your children. Children under 2yrs will barely know that they are in Kenya and might not do well with the long haul flights or three-hour game drives.
Caring for such small children in a very different environment might be quite a tussle for mummy, leaving her with no time to enjoy the trip. Some 3yr olds might do well, but the best-recommended age for children to come for a Kenyan safari is 5yrs and above.
Some lodges, especially those inside the parks, have an age limit of 6yrs. For example, The Ark and the Treetops lodges, both inside the Aberdare National Park, do not allow children less than 5yrs. 
Other safari providers require a family with small children to take their safari vehicle (instead of sharing with other clients).
For the best African safari with kids, you want your child to be able to sit by itself in the safari vehicle instead of holding them the whole way.  Holding them can be pretty exhausting, plus it's not the best position to view the animals or take photos.
Prepare Your Kids Mentally to Have a Succesful Kenya Safari with Children
Kids need to know what to expect during their Kenya safari. While the utter amazement that awaits your kids in Kenya cannot be explained beforehand, you can take time to prepare the kids. This can include telling them which animals are found in Kenya, looking at their pictures, or watching animal documentaries.
This is an excellent time to dig up the Lion King, whose setting was inspired by Kenya's Hell's Gate National Park. Explain what kind of a vehicle they will travel in and what a typical day on safari entails.
Have them tell you what excites them and see if you can fit it into the itinerary. This way, the safari will be great for everyone, and the kids will know what to look for while in the jungle.
When in Kenya with Kids, Long Drives Are a No if You Have a Toddler
Games drives are the essence of safaris in Kenya. It's how you see the animals- by being driven around the parks in open-air vans. Most tour operators will conduct game drives in the mornings and late afternoon or evening. 
These are the best time to see the animals as they come out in search of breakfast or dinner. A typical game drive will last anywhere between 3-4 hours. It's no secret that kids get bored quickly, and when they get bored, they get fussy. Younger ones will throw tantrums, quickly ruining everyone's time.
Plan to have one game drive per day and look into doing other activities for the rest of the day. A camp with a watering hole is recommended as you can watch all the animals as they quench their thirst from the comfort of your room or verandah without being restricted in a car.
It's also advisable to choose a lodge or camp with a swimming pool where kids could have fun in the afternoons.
Keep the Kids Engaged to Have the Best Safari for Children
Even the most curious kids will lose interest at some point. Game drives are long, and it might take a lot of time before you spot something interesting to see. To pass the time, have the kids participate in the game drive by doing activities such as:
Taking photos- using phone or disposable cameras
Looking at the animals through binoculars
Ticking off animals seen in an animal chart. You can have a reward system for whoever ticks off the most animals.
Coloring an animal book. Have the kids match and color the animals in the book as they look at them.
Travel with Professional Kenya Safari Guides
Your trip is as good as the guide. Your comfortability is our priority. Our guides are more than good; they are Kenya safari experts and perfectionists.
Best Safari for Kids - Exploring the Best Family-Friendly Safari Destinations
Many activities break the monotony other than game drives while on a Kenyan safari with kids. The activities range from horse riding, cultural visits to Masai villages, walking safaris (which might have age restrictions) to learning an art such as beads making and more.
Most camps at the Masai Mara will have authentic Masai guides who can teach kids things like the Maasai 'signature jump' or give them warrior stories. Besides the mainstream national parks, Kenya is home to smaller conservancies where a family with kids might have a more relaxed or customized safari. 
Ol Pajeta Conservancy in Laikipia is one such example. It offers the mainstream game drives, but it has a chimpanzee sanctuary where kids can enjoy learning more about the primates. The attractions also have a blind rhino they can feed by hand, and a protected rhino area where they can learn about the world's last two remaining northern white rhinos. 
The Animal Orphanage, David Sheldrick elephant orphanage, and the Giraffe center offer a similar experience. You may also consider heading to Diani, voted Africa's leading beach destination, for a surreal beach experience.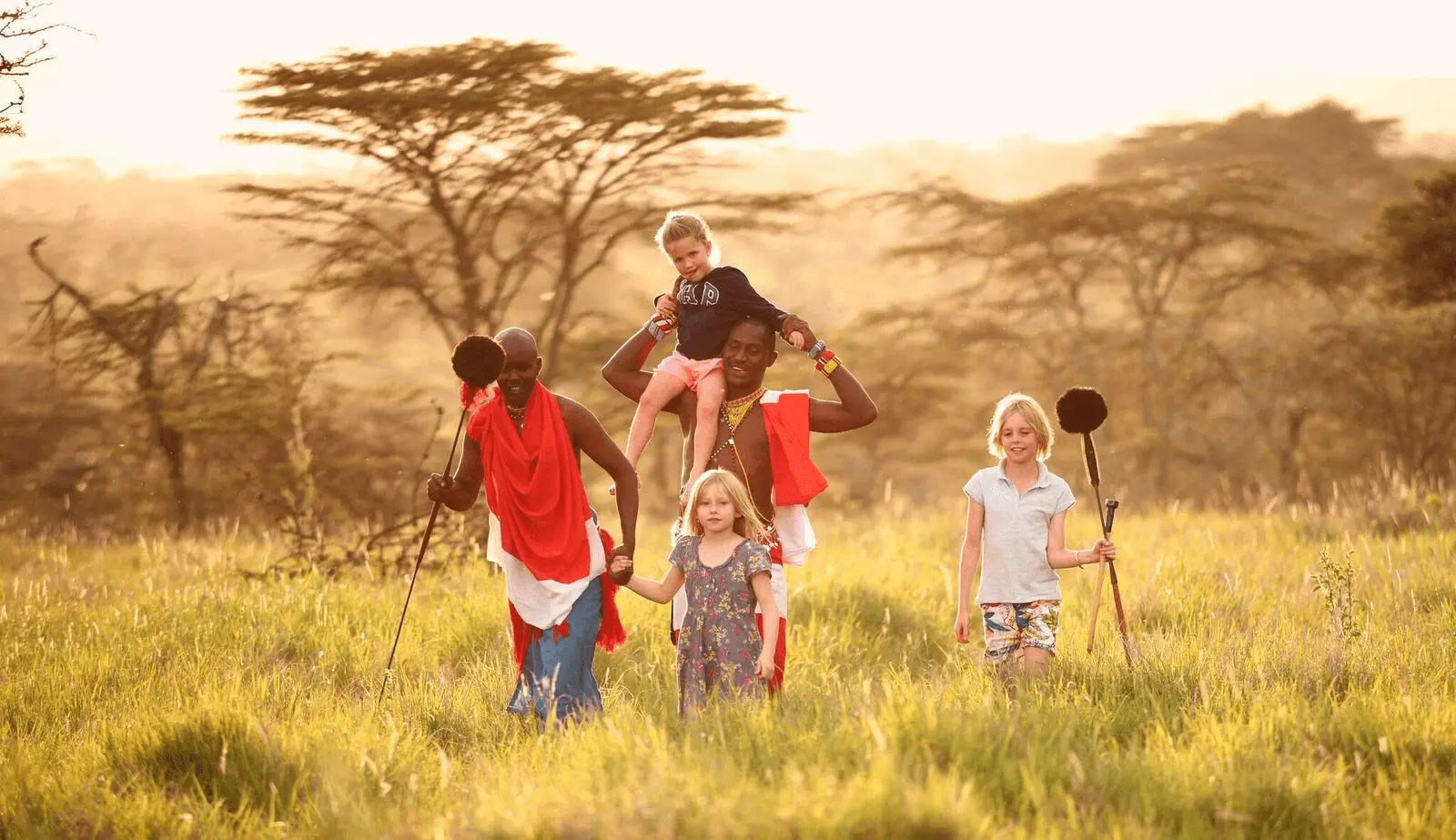 The Best Accommodation for Kenya Safari with Kids - Guide
It is best to book a safari lodge or a camp with a family unit with two bedrooms or interconnecting rooms to have the perfect safari for kids. This will ensure that you have the kids under your watch the whole time.
Some camps, however, have children sleep in different tents with their parents. While this is perfectly safe, some parents, especially those with younger kids, may feel uncomfortable with this kind of arrangement.
If that is you, look for a camp with large tents to accommodate a family of four or more. Cottages might be an excellent choice for large families. Inquire whether the camp has a children's playground or room as this might come in handy in the afternoons.
Some camps offer rates for meals with drinks, including afternoon tea. Occasionally, you may opt to have a game drive with a picnic lunch, where the guide will advise you on an appropriate place to stop.
Even if you have arranged for the main meal, it is important to ensure that you bring some snacks and water. The last thing you want is hungry kids with 2 hours left on the game drive.
Another heads up; you probably need to get those little mischiefs to visit the toilet before heading out for your game drive. Little pressed kids are not a tale you will want to live to tell.
Kenya Safari with Kids – Guide to Clothing and Footwear
The weather in Kenya is relatively moderate. Early morning game drives at the national parks are windy or chilly in the open land cruisers or pop-up roof vans.  Be sure to pack jackets, a scarf, and hats for this time of day.
During the day, it is advisable to wear long-sleeved t-shirts to protect against the sun and insect bites. Long pants and a jacket are advisable for the evening. Pick comfortable canvas shoes or crocs for footwear as much time is spent inside the vehicle.
Your binoculars are another essential you will regret leaving at home. A pair for the adults and one for the kids is recommended.  Remember that purchasing a new wardrobe for your Kenya safari with toddlers is unnecessary.
Family Holiday in Kenya – Vaccination, Medicine, & Safety
Each family will have unique medical requirements. Carry any medicine that the kids regularly take, including emergency medication for allergies. The Yellow Fever vaccine is recommended when visiting certain parts of Kenya and as an overall precaution.
Malaria is prevalent in some areas, such as the western part of Kenya, but will be non-existent in high altitude areas like the Mt. Kenya region. Either way, carry over-the-counter malaria medicine as a precaution. 
You can also carry a child-friendly insect repellent to keep off annoying insects. 
Also, remember that no place is entirely safe. Most camps and lodges have good security but beware that you are in the wild. Keep an eye on your children and warn them against wandering off.
While out on game drives, avoid shouting at animals, feeding them, or throwing things at them, which might provoke them to attack.