4 Days, 3 Nights Masai Mara & Lake Nakuru Safari - Itinerary & Price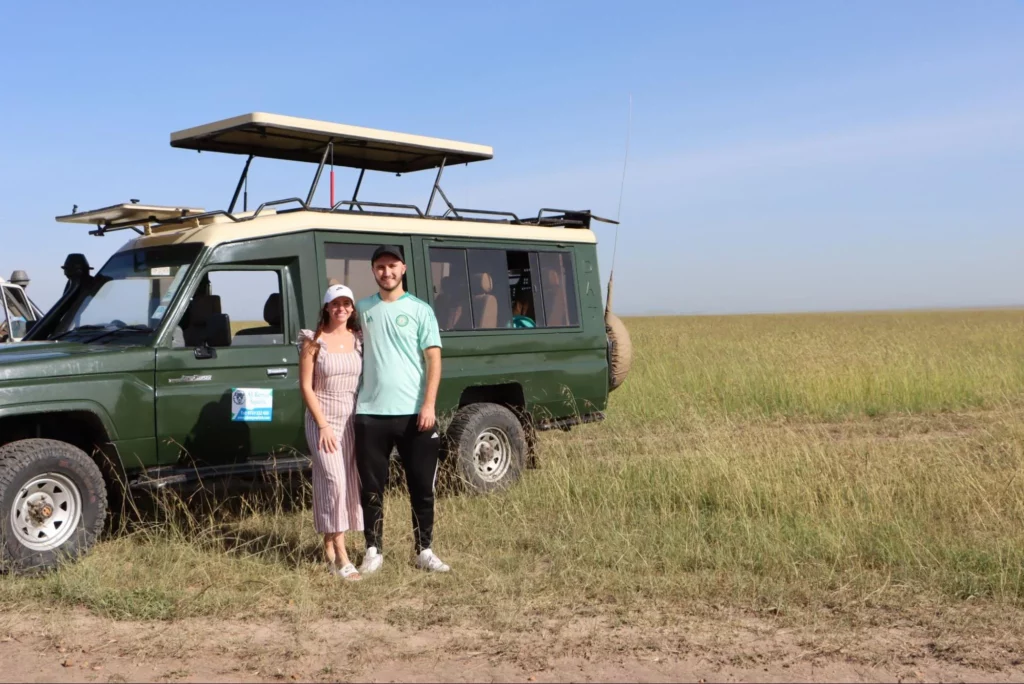 Our 4 Days Masai Mara and Lake Nakuru Safari from Nairobi introduces you to areas in the Masai Mara chattered by none. In 4 days, you will film and take photos of all the big 5 safari animals in their natural habitats, and if you opt to, have a bush dinner or a bush breakfast. 
You will also see millions of greater and lesser flamingoes in Lake Nakuru National Park and take a hot air balloon ride in Masai Mara. If you plan your 4 Days Lake Nakuru and Masai Mara safari between July and October, you will witness the largest show on earth, the Masai Mara wildebeest migration in action.
The Masai Mara and Lake Nakuru national park boast one of the highest concentrations of the big 5 safari animals and the big cats in Kenya. Masai Mara and Lake Nakuru are hands down the best ways to spend 4 days in Kenya for wildlife and nature lovers. 
Contact Us to Book your 4 Days Masai Mara and Lake Nakuru Camping Safari
We invite you to connect with us via phone or WhatsApp at +254-748-258-880 or email via james@ajkenyasafaris.com or safarioffers@ajkenyasafaris.com. 
We are the local experts of Kenya travel, and we promise to make this your best 4 days Lake Nakuru and Masai Mara safari yet!
The Summarized 4 Days Lake Nakuru and Masai Mara Safari.
Trip Details
Highlights
Day 1

Arrival in Nairobi, Transfer to Lake Nakuru, & Game Drives

Overnight at Lake Nakuru Lodge

Day 2

Morning Game Drive at Lake Nakuru & Transfer to Masai Mara

Overnight at Sentrim Masai Mara

Day 3

Full Day Game Drive with Picnic Lunch at Masai Mara

Overnight at Sentrim Masai Mara

Day 4
Morning Game Drive, Visit a Maasai Village, and Road Trip to Nairobi.
Items Included
Professional Safari Guide, Park Fees, Game Drives, Full-Board Accommodation, and More
Items Excluded
Optional Hot Air Balloon Safari, Tips and Gratuities, Visas, & Money Transfer Fee
Safari Price
Per Person Sharing From USD 1162
The Detailed, 4 Days, 3 Nights Masai Mara & Lake Nakuru Safari
What should you expect during your 4 days safari to Lake Nakuru and Masai Mara? Here is the detailed itinerary of the safari.
Day 1: Pick Up from Nairobi, Transfer to Nakuru, & Game Drives 
Our seasoned Masai mara safari director will pick you up at the Jomo Kenyatta International airport, your hotel, or your residence at the agreed time. You will then drive in our 4×4 safari land cruiser with a pop-up roof for optimal game viewing of Lake Nakuru National Park.
The lake is 161 km away from Nairobi, roughly a 3 hours drive. The drive will take us through the spectacular Rift Valley escarpments, where we will stop momentarily for a photo or two.
We will stop for another forty-minute break in Nakuru town to buy snacks and other essentials you might need throughout your 4 Days Masai Mara Safari & Lake Nakuru safari. Thirty minutes later, we shall be at the Lake Nakuru National Park.
What to See and Do in Lake Nakuru National Park 
Some of the highlights of your first game drive in Lake Nakuru include sightings of millions of flamingos, cape buffaloes, white and black rhinos, giraffes, zebras, leopards, and lions. You will get a chance to film the flamingoes, Giraffes, and over 400 bird species in Lake Nakuru. 
In total, the lake is home to over 56 mammal species. Lake Nakuru has two types of flamingoes: the lesser and the greater. Depending on the season, you will see thousands to millions of them.
Try to see if you can distinguish between the greater and lesser flamingoes. If it proves challenging, our guides will be at hand. We will drive across the park slowly before stopping at the Makalia waterfall. We will then drive to one of the best camping sites in Nakuru for the night.
Expert Hint: Nakuru has some of the best nightlife destinations in Africa.
If everyone in your team is of legal drinking age (18 years in Kenya), we will organize and take you to a safe and secure resort. Here, you will dance and have fun the Kenyan way. This is also your chance to try Tusker, Kenya Flagship beer. International whiskeys, beers, and spirits are also available.
We retire for sleep and to rejuvenate early. 
Day 2: Morning Game Drive in Lake Nakuru & Transfer to Masai Mara 
Day two of your 4-day Masai mara and lake Nakuru safari from Nairobi start with a quick morning game drive around Lake Nakuru National Park after a hefty breakfast. Morning game drives present the best chance to spot the highly elusive leopards as they move out in search of breakfast.
The big 5, elephants excluded, will be easy to film as they roam free around the park searching for food and water. 
We will then leave Lake Nakuru and commence our drive to Masai Mara. Masai Mara National Reserve is located 260 Km from Nakuru, and the drive will take us close to seven hours, the late afternoon being our best shot at timely arrival into the Masai Mara.
We make time for a brief, 2-hour break at Narok for Lunch and any by-the-road photography sessions you might have in mind. We get to the Mara at the fall of dusk.
Our guide will check you into your Masai Mara safari lodge and leave you to relax. On the menu on this day is a campfire and local and international cuisines.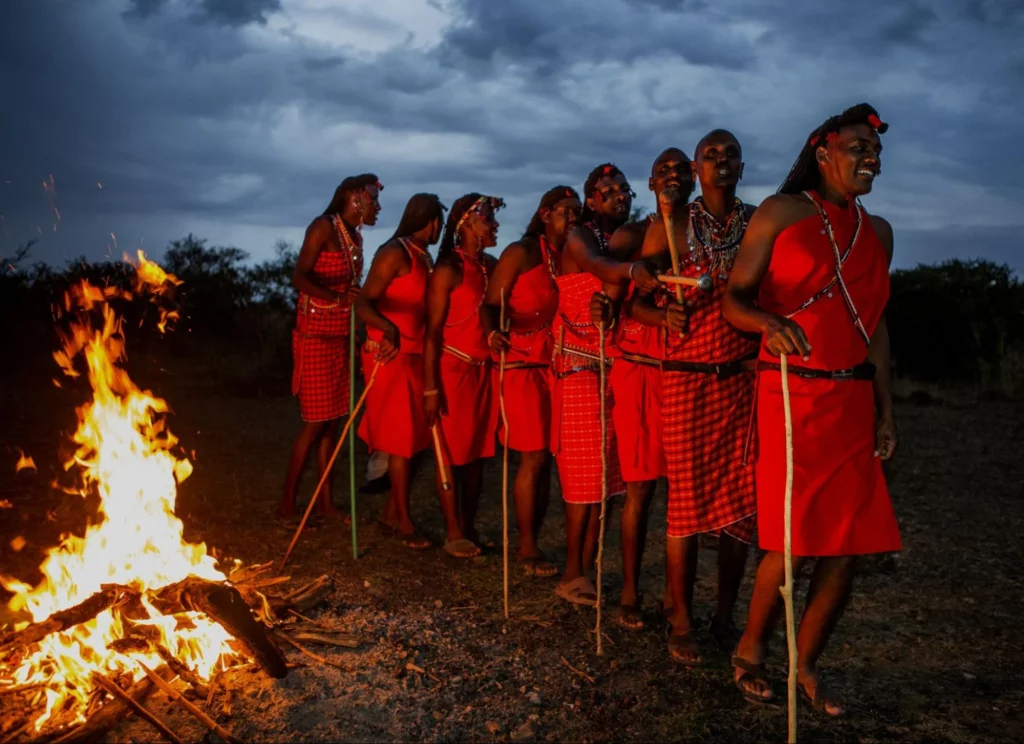 Day 3: Full-Day Game Drive at Masai Mara with Packed Lunch
The Mara is inexhaustible, and truly the best Africa has to offer. Today, the plan is to show you exactly why the Masai Mara is Africa's leading safari destination. We will take you to the Masai Mara National Reserve through the Talek gate, driving you across its savannahs, dotted with wildlife, to the Mara Triangle.
The mara triangle is separated from the rest of the Masai Mara National Reserve by the crocodile-infested Mara River, forming a triangle shape. You can access this attraction while staying in one of the hotels located inside the triangle. 
The mara river separates the Masai Mara from the Tanzanian Serengeti National Park. The Triangle makes up 1% of the entire Masai Mara ecosystem, but it holds more wildlife than any other park. You will catch all the big 5 within two kilometers squared or less on a lucky day.
Interestingly, the triangle acts as the let-in and let-out for the over one million wildebeests and zebras from the Serengeti. Some explorers who book this 4 Days Masai Mara lake and Nakuru safari between June-July get a chance to witness the river crossing.
The actual river crossing occurs several times between June-July. It is hard to predict exprecisely when it will happen. You must be in the central park to catch the best migration activities. 
While most first-timers are interested in witnessing the river crossing, the true magic is the over 1,245,000 wildebeest, 200,000 Burchell's zebra, 18,000 elands, and 500,000 Thomson's Gazelle roam the plains of the Mara from July to September. Sitting on our Maasai shukas on the ground, we will delight at the magnificent view of the Mara as we munch our previously packed lunch.
Our next stop will be at the Narok, the second division of the Mara River. The Narok is as plentiful as the Mara Triangle regarding its wildlife population. Of the 95 different wildlife populations in the park, expect to see the big five and an assortment of other wildlife, including the gazelles, mongoose, baboons, impalas, and hippos.
The over 500 bird species also come well distributed here, with common sightings including the ostriches, rollers, vultures, cranes, falcons, and storks. 
For the Mara sundowner, we serve you a bottle of your best wine as you take in the quieted ambiance of the breathtaking Mara. Your 4 days on Masai Mara camping safari with us will be filled with adventure.
Each stop will highlight how wonderful our country is and us, the seasoned team of local tour guides that will make your trip safe and truly memorable.
Day 4: Optional Hot Air Balloon Safari, Morning Game Drive, & Transfer to Nairobi 
An optional hot air balloon safari marks the end of our 4-Day Masai Mara Lake Nakuru Safari from Nairobi. The ride takes you to areas in the Mara unreachable by car or foot. It floats you through the hundreds of animals grazing or pouncing on prey on the ground.
To see is the awe-inspiring meander of the hippo-infested Mara River and the escarpments lining the Mara. The ride ends our Masai Mara budget camping safari with a delicious champagne breakfast, after which you get a transfer back to Nairobi.
FYI: The hot air balloon is romantic and memorable, but it comes at a high cost of $450 per person. So, we usually substitute for budget-conscious travelers with a visit to a Masai village.
From here, the safari guide will take you to Nairobi. You will arrive at the airport in the evening. Kwaheri (Bye). We hope to welcome you to Kenya again.
Items Included in the 4 Days Masai Mara Lake Nakuru Budget Camping Safari
All pickups and transfers 
Services of a professional safari guide
Exclusive use of a 4×4 safari land cruiser 
Minera bottled drinking water during the safari 
Park fees and government taxes
Full-board accommodation in Lake Nakuru National Park
Full-board accommodation at Masai Mara
Game drives at Lake Nakuru National Park
Game drives at Masai Mara National Reserve 
Lunch at Narok town during the transfer to Nairobi
A visit to the Masai village
Transfer to Nairobi (airport) 
Items Excluded from the 4 Days Masai Mara and Lake Nakuru Safari
Travel insurance, expenses such as excess baggage fee, laundry charges, and airtime
The optional hot air balloon safari (USD 450 per person).
Optional tips for porters and game guides
All other alcoholic drinks except Tusker, Kenya's flagship beer
Pre-travel expenses where applicable – Passports and visas
Christmas & New Year supplements of USD 50 Per Person Per Night
Money transfer fee when sending
4 Days Lake Nakuru & Masai Mara Camping Safari Price Per Person Sharing
| | |
| --- | --- |
| Dates  | Price Per Person Sharing |
| 3rd Jan – 6th April 2023 | USD 1162 |
| 7th April – 10th April 2023 | USD 1376 |
| 11th April – 30th June 2023 | USD 1162 |
| 1st July – 31st Oct 2023 | USD 1596 |
| 1st Nov – 15th Dec 2023 | USD 1209 |
| 16th Dec 2023 – 2nd Jan 2024 | USD 1539 |
The above price is based on two adults traveling together sharing a safari vehicle and a double room. Reach us to get a personalized quote for the safari if you are a solo traveler or more than two.