The Guide to the Best Masai Mara Safari Packages for Residents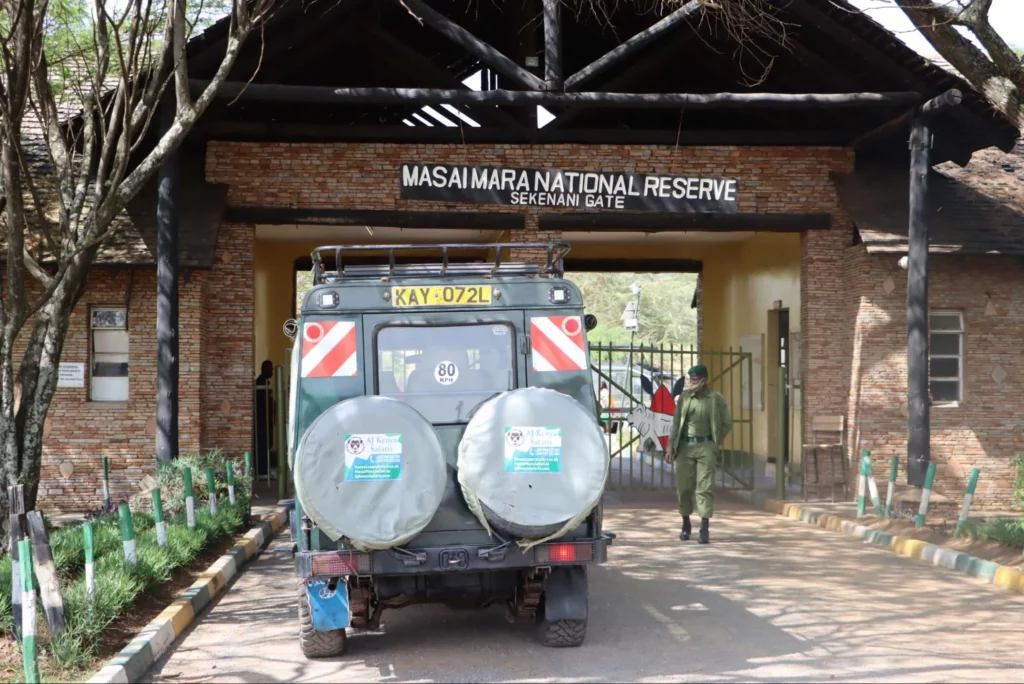 Masai Mara National Reserve is Kenya's (if not Africa's) most visited wildlife destination. That is evident when you consider it has scooped Africa's Leading National Park award for 6 times. Its global reputation as a must-visit destination for every safari enthusiast has been built over time, and you can do that with our Masai Mara safari packages for residents.
And its attractions, which you get to enjoy when you book our Masai Mara safari packages from Nairobi, rest on two elements: the Great Migration and the ease of spotting animals. At AjKenyasafaris.com, we have put together the best Masai Mara safari packages for residents from Nairobi for you.
What's better, our packages and deals are all inclusive, which means meals, transport in a luxurious safari land-cruiser, park fees, and everything else is included in the Masai Mara safari packages for residents price.
How to Book Our Masai Mara Packages for Residents
Book your Masai Mara safari now by sending us an email at  james@ajkenyasafaris.com or safarioffers@ajkenyasafaris.com.  You can also call or WhatsApp us at +254-748-258-880.
Our Most Booked Masai Mara Safari Packages for Residents
Things to Do with the Best Masai Mara Safari Packages
The Masai Mara safari experiences in this list are better combined to ensure that you enjoy this reserve to the fullest. They make your 4-day or 3-day masai mara safari from Nairobi a memorable one.
 1. Birdwatching at Masai Mara Game Reserve
Masai Mara is a destination that bird lovers should visit at least once per year. The park offers over 470 bird species, including large ones like ostriches, small ones, and over 40 birds of prey. Mara's grassland hides white stalks, plovers, kori bustards, secretary birds, and ground hornbills.
The swampy sections are a haven to different cranes and storks like saddle-billed storks. You can also view goliath heron, sacred ibis, white egrets, and yellow-billed storks. These areas also provide feeding grounds for kingfishers, with at least seven species looking for fish in the water.
Another type of bird you can find is the bird of prey, including martial eagles, vultures, and falcon.
 2. Hot Air Balloon With Champagne Bush Breakfast 
A hot air balloon ride over the grassland of Masai Mara is probably the most exciting way to experience this incredible ecosystem.
The one to one and half hour short flight enables you to experience a better view of the park and admire the attractions from the sky. These safaris start at dawn from various camps or lodges, with the balloon rising to the sky before the first sun's ray brightens the savannah.
You enjoy the smooth ride of the hot air balloon as you float over trees watching the elephants, lions, cheetahs, and other animals below. It also allows you to see the rivers and the forest of the Masai Mara National Park as you drift in the breeze.
You get to understand why the Maasais named this place "Mara", which means "spotted" – you see circles of scrubland, trees, and cloud shadows from the sky. The safari ends with a champagne bush breakfast that includes a freshly cooked meal in the savannah.
 3. Private Camping Cheap Masai Mara Safari Packages
Private camp safaris allow you to book a lodge, hotel, or camp and experience the thrill of Masai Mara. The host gives you personal attention to ensure that you enjoy the facilities on offer such as pools, bars, and view of Masai Mara from the hotel.
Some camps are positioned in strategic locations where animals come to drink water or graze.The camps are also surrounded by beautiful forests where different birds stay, allowing you to see turacos, hornbills, and trojans.
 4. Experience the Great Migration Tours
The Great Migration is an event that sees over 1.8 million wildebeest, zebra, and antelope cross into the Masai Mara from Serengeti National Park, searching for grazing pastures. It occurs between July to September and sees tourists flock to this side of Kenya.
Most people head to Masai Mara to witness the actual crossing of river Mara, a time when crocodiles go on a feeding frenzy. The actual river crossing occurs between July and August. That is not all because the action continues right at the riverbank where predators such as lions, cheetahs, and leopards lay traps for the exhausted animals.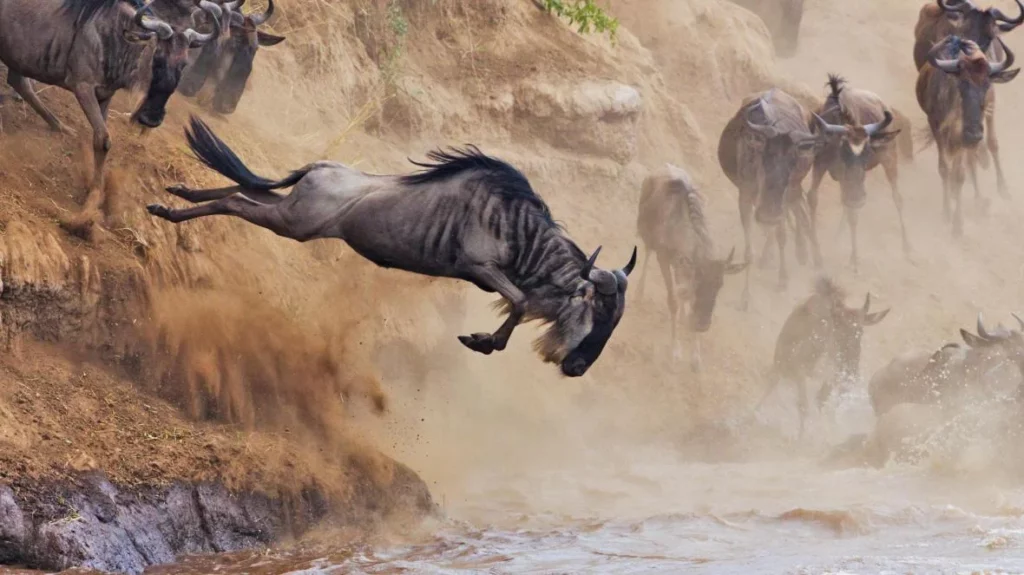 5. Bonfire Adventures and Experiences 
Bonfire adventures can make your evening more exciting after a long wildlife viewing day. It involves dining in the open, around a fire camp, and with music from the Maasais. You also get to hear the sound of hyenas, lions, hippos, and gnu while enjoying your dinner.
The experience should start with an evening sundowner, where you get to watch the sunset while sipping some wine. Bonfire adventures and sundowners are quite romantic and are ideal for lovers.
 6. Maasai Village Cultural Tour 
The Maasai community has been living in Kenya for a few decades and still preserve its traditions and customs. You can visit a Maasai village to experience their way of life, and one popular community is the Mara Rianda.
The community has traditional houses surrounding cattle resting areas. A visit to a Maasai village will see you get struck by the colorful life of this community.
 7. Morning, Afternoon, & Full-Day Game Drives 
The main event of Masai Mara National Reserve is game drives, and they take you to the savannah to look for all types of animals and birds. A game drive to this reserve provides you the opportunity to experience an unmatched adventure that is only made more exciting if you have a professional guide.
You can enjoy this adventure in a 4×4 safari van, but nothing matches the use of a 4×4 land cruiser with an opening rooftop. Some safari enthusiasts fail to understand that you can enjoy a game drive for the full-day, only booking the morning and afternoon ones.
Masai Mara Game drives also you spot all the members of the Big Five, hippos, wildebeest, antelopes, zebras, gazelles, hyenas, crocodiles, and hundreds of birds.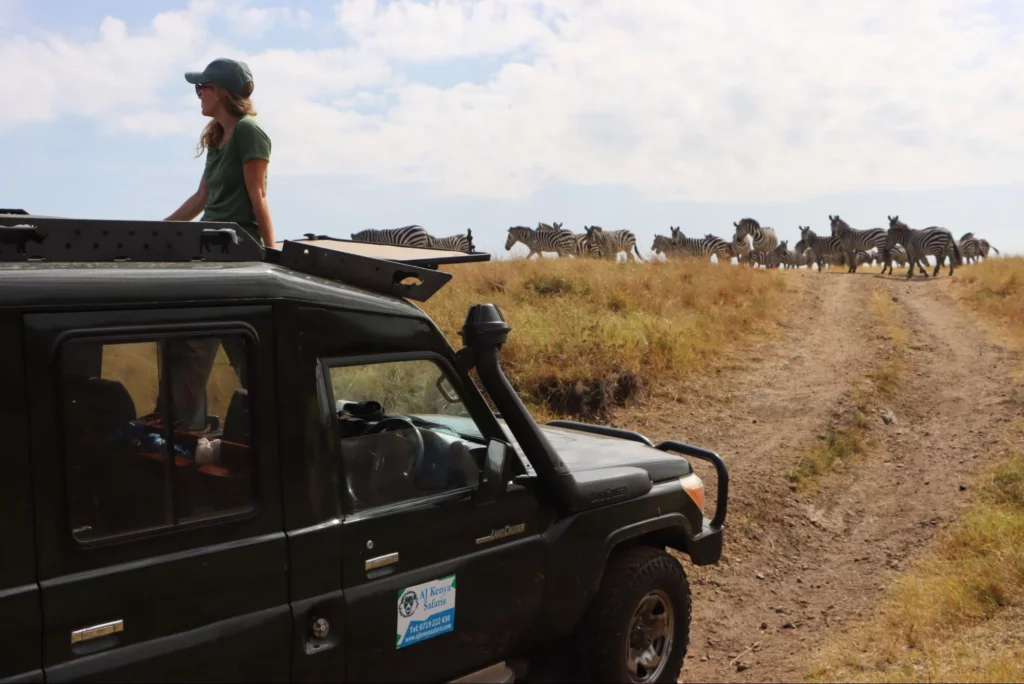 Masai Mara Safari Packages Price – Total Cost of Safari
Masai Mara safari cost can be cheap or expensive; it depends on what you want to experience. A cheap safari that includes game drives, accommodation, and meals can cost you about USD 200 per day per person for 2 pax.
For people looking for more luxurious options like accommodation in five-star hotels, buffet meals, hot air balloon rides, sundowners, and bonfire adventure experience, the price can be above USD 500 per day.
Masai Mara Safari Packages for Residents – Duration of Your Safari
Duration is the number of days you will spend at Masai Mara. At AjKenyaSafaris.com, we recommend you pick a 3-day, 2-Night Masai Mara Safari Package – it gives you enough time to see and experience everything without over-or-under achieving your experience.
Other leading safari providers might also recommend you take at least a 2-night safari such as our 3-Day, 2-Night Huduma Day Safari. Of course, you can stay in Masai Mara for over one week if you want to enjoy all the activities like walking safaris, hot air balloon ride, bush dinners, sundowners, game drive, and more.
Best Time to Visit Masai Mara for Residents
Masai Mara has pleasant weather and plenty of resident wildlife all year long, making it the perfect destination for a safari 365 days. With that said, the peak season comes between late June and late September during the Great Migration.
It is a bit crowded during the holiday seasons like in December and other public holidays. The other factor to consider when picking your visit time is the long and short rains. Short rains arrive in November and provide an excellent opportunity for photographers as the afternoon dust cools away.
It is the best time to capture the migrating birds, rush-green sceneries, and plenty of young ones. The excellent season continues to late March when the long rains set in and make it hard to spot the wildlife – it only lasts up to early May.
AjKenyaSafaris.com offers bountiful safaris Masai Mara packages that can meet your needs and we have other 100+ Kenya Christmas Vacation Packages. Kindly read our guide of the Best Time to Visit Masai Mara, Nairobi Safari packages and Kenya Safari Packages and Tours.