Christmas Vacation Packages - 3 Days, 2 Nights Masai Mara Christmas Package 2023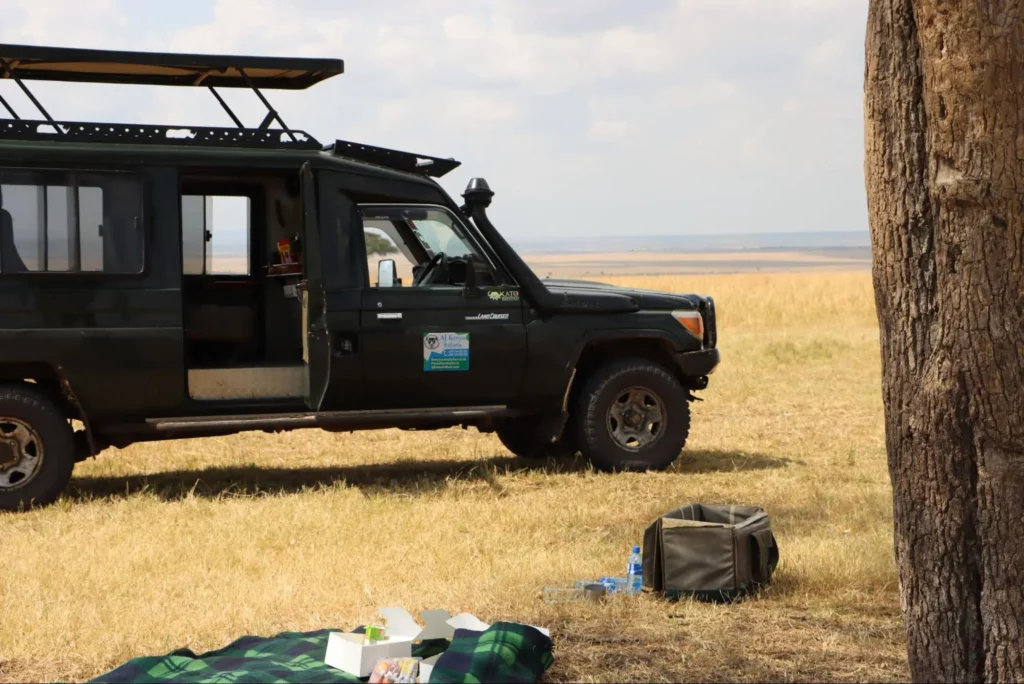 Kenya Christmas vacation packages are epitomized by game drives in the leading safari destination, Masai Mara National Reserve. The world-renowned premier national reserve needs little in the way of introduction. 
Its tawny, wildlife-packed savannahs and terrains are familiar to any nature enthusiast and those who have watched wildlife documentaries. Including the reserve on our Masai Mara Christmas Packages 2023 allows you to experience different safari activities to make your trip other-worldly and memorable.
Our broad selection of safari activities in this spectacular Kenyan gem has been carefully curated in close partnership with some of the best lodges in Masai Mara. With us, it boils down to your preferences and budget.
It's your choice whether you prefer to experience the splendor of the savannah by safari vans or 4 x 4 land cruisers, during the day or after dark, in lodges or tented camps. The choice is yours.
 Book the Best Kenya Christmas Holiday Packages with AjKenyaSafaris.com
Are you looking for the best Christmas deals in Kenya? Reach us today, and we will provide you with a customized safari to Kenya. We are available at +254-748-258-880 for WhatsApp and phone or email at james@ajkenyasafaris.com or safarioffers@ajkenyasafaris.com.
 Our 3 Days, 2 Nights Masai Mara Christmas Package Deals
| | | |
| --- | --- | --- |
| Masai Mara Camp/Lodge | Road Transfer Safari Price Per Person | Flying Package Price Per Person |
| Sentrim Masai Mara | USD 1010 | USD 1585 |
| Enkorok Camp | USD 1050 | USD 1625 |
| Dorobo Mobile Camp | N/A | USD 1692 |
| Sekenani Camp | USD 1250 | USD 1695 |
| Basecamp Masai Mara | USD 1260 | USD 1735 |
| Ashnil Mara | USD 1320 | USD 1745 |
| Mara Simba Lodge | USD 1182 | USD 1757 |
| Mara Big Five | USD 1200 | USD 1765 |
| Zebra Plains | USD 1260 | USD 1805 |
| Eagle View | N/A | USD 1822 |
| Mara Legends Camp | USD 1430 | USD 1955 |
| Mara Kimana Camp | USD 1510 | USD 1985 |
| Keekorok Lodge | USD 1424 | USD 1989 |
| Leopard Hills | N/A | USD 2052 |
| Sarova Mara Game Lodge | USD 1471 | USD 2115 |
| Ilkeliani Mara Camp | USD 1560 | USD 2195 |
| Mara Serena Safari Lodge | USD 1702 | USD 2227 |
| Mara Maisha Camp | USD 1720 | USD 2245 |
| Mara Crossing Luxury Camp | USD 1700 | USD 2285 |
| Lerai Safari Camp | NA | USD 2360 |
| Entim Private Wing | USD 2230 | USD 2705 |
| Entim Mara | USD 1890 | USD 2815 |
| Olare Mara Kempinski | NA | USD 2990 |
| Governors Camp | NA | USD 3031 |
| Sand River Camp | USD 2318 | USD 3093 |
| Little Governors Camp | NA | USD 3347 |
| Elephant Pepper Camp | N/A | USD 3424 |
| Mara Expedition Camp | NA | USD 4182 |
| Governors II Moran Camp | NA | USD 4615 |
| Governors Private Camp | NA | USD 4715 |
| Sala's Camp | NA | USD 5622 |
| Mara Nyika Camp | NA | USD 7078 |
| Mara Plain Camp | NA | USD 7090 |
The above price is based on two adults traveling together sharing a safari vehicle and a double room. They exclude Christmas supplements of USD 50 Per Person Per Night on 24th & 25th December and 31st Dec & 1st Jan and are valid during the festive season from 22nd  Dec to 2nd Jan.
Reach us to customize your safari if you are a solo traveler or traveling while three or more people. Hotels are subject to availability.
 Kenya In December: Top Activities to Do in Masai Mara National Reserve 
Here are some of the activities that our guests often enjoy when they visit the Masai Mara with us.
 1. Masai Mara Game Drives 
The main event of our Masai Mara Christmas holiday packages in Kenya is game drives. Our professional safari guide allows you to experience wildlife up close in their natural habitats.
We usually do our game drives in three shifts: morning game drives that start as early as dawn to catch up with the sun risers. This gives you the best chance to witness animals such as cheetahs, leopards, lions, elephants, and others before it gets hot later in the day.
As such, morning game drives are the most rewarding since you will find most animals very active and fresh, roaming around the savannah looking for food. After it gets hot, most of these animals head to the Mara River to quench their thirst; we often prepare our guests to have picnic lunches at the banks.
Afternoon game drives, a few hours after lunch, till late when the sun sets. This allows you to witness the awe-inspiring sundowners while catching up with animals hunting for their dinners and others basking to enjoy the warmth of the setting's sun.
This offers a great window to witness reptiles and other animals, such as Kobs, graze in groups and assemble together to rest.
Night game drives are not typical and are only done under strict tour guiding and escort of well-trained game rangers. These safari drives are most enjoyed by film and photography aficionados, who find delight in viewing more of the nocturnal animals in the park.
Masai Mara game drives are achievable throughout the year. The most rewarding times are the migratory period of the wildebeests and the Christmas green season when millions of migratory and permanent animals are present at the reserve.
 2. Masai Mara Guided-Walking Safaris
Our Christmas holiday packages in Kenya lets you reconnect with your spirit of adventure and follow in the footsteps of past explorers and Masai communities. Our guided walking safari on this pristine wilderness backdrop offers a once-in-a-lifetime chance to meet with Masai Mara's wildlife. 
During this adventurous trek, you will learn a lot about game tracking and witness some of the gems in the park that cannot be spotted from your safari vehicle. While walking safaris are not permitted in most parts of the reserves, we can arrange for this safari that goes for between USD 40 – USD 60 Per Person. 
 3. Masai Mara Hot Air Balloon Safari 
A hot air balloon in the Mara is possibly the best and most incredible way to consume the entire ecosystem in just a couple of hours. This allows you better view angles and perspectives of the area as you enjoy the reserve's beauty from the sky.
In most cases, the hot air balloon safari commences just before dawn, with the balloon rising as the first sunlight awakens the Mara. Relish the serenity and stunning views as you float above the plans watching wildlife beneath you.
 4. Masai Mara Maasai Village Visit 
We incorporate a cultural tour to Maasai Village to let you experience and participate in diverse cultural activities. Here, you can learn about Maasai's beliefs and way of life, experience their unique bomas (manyattas), and shop at their handcraft workshops and curio shops.