Great Wildebeest Migration in Africa - Packages, Price, When, & Where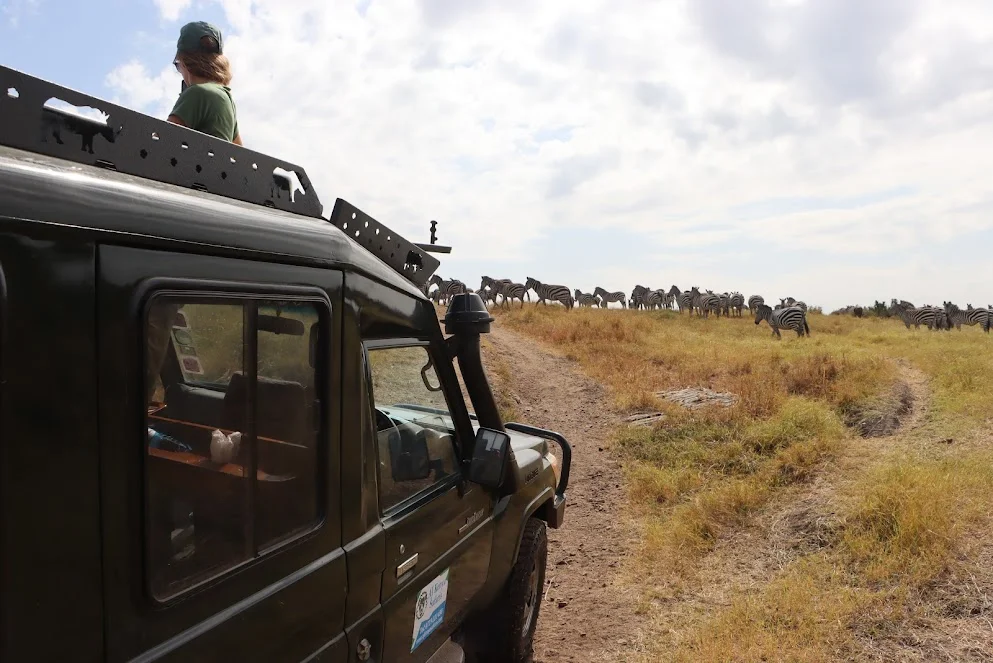 As a safari enthusiast, you should ensure you experience the great wildebeest migration in Africa once or twice in your lifetime. The great migration in Africa is one of the most spectacular safari events, and it takes place in the East African nations of Kenya and Tanzania.
It is an annual event that involves millions of wildebeest, zebras, antelopes, and other hoofed mammals migrating from the award-winning Serengeti National Park in Tanzania. Their destination, driven by survival instinct, is Kenya's most fantastic park, the Masai Mara Reserve.
Contrary to many people believe, the great wildebeest migration is a year-long affair. The animals converge between January and March at the Ngorongoro Conservation area in Tanzania. Here the grass and water are plentiful, perfect conditions for the birthing season.
It is estimated that over 40,000 calves are born in three weeks during the great migration in Tanzania. The great migration animals start moving towards Central Serengeti around April, and as days turn to weeks, they slowly move to the western corridor.
June finds them by the banks of the Grumeti River, where they continue heading north towards the Mara River. In July, they will arrive at the banks of the Mara River and begin the exciting crossing that makes up the great migration in Kenya.
You can enjoy this spectacle between July and October on the Kenyan side. You can learn more about this event at the great migration Africa Wikipedia.
The African wildebeest migration is a must-see safari phenomenon, but you must travel with a reliable safari company to enjoy it fully. The itinerary is also essential, as it directs what you will be doing, when, and how.
At AJ Kenya Safaris, we pride ourselves on 'walking the talk' when planning your wildebeest migration in Africa safari. We offer custom-made packages based on your budget, so you don't have to worry about Masai Mara safari costs.
The beauty of the Masai Mara is that there is something for everyone, from budget to luxury travelers. If you are thinking about a wildebeest migration in Kenya safari, here is one of our sample itineraries to act as a guide. Remember, we can customize your safari any way you wish.
Contact Us to Customize Your Great Wildebeest Migration in Africa
Book the wildebeest migration safari package in this piece or customize your safari by calling us or sending a WhatsApp message +254-748-258-880. 
We are also available through email at james@ajkenyasafaris.com or safarioffers@ajkenyasafaris.com. 
The Great Wildebeest Migration Summarized 4 Days Safari Itinerary 
| | |
| --- | --- |
| Trip Details | Highlights |
| Day 1 | Pickup from Nairobi, Transfer to Mara, and Evening Game Drive Accommodation at Various Places |
| Day 2 | Full-Day Migration Safari at Masai Mara Accommodation at Various Camps |
| Day 3 | Optional Hot Air Balloon Safari and Game Drives Accommodation at Various Lodges |
| Day 4 | Morning Migration Safari & Transfer to Nairobi |
| Items Included | Park Fees, Game Drives, 4×4 Land Cruiser, Full-Board Accommodation, Safari Guide, and More |
| Items Excluded | Tips and Gratuites, Money Transfer Fee, Local and International Flight, & Laundry Services |
| Safari Price | Per Person Sharing from USD 1360 |
4 Days, Detailed Itinerary of The Great Migration Africa Safari
This itinerary takes you through a typical 4-day, African wildebeest migration safari. We can get to the Masai Mara by road or air, and this itinerary is based on a road package.
Day 1: Arrive in Kenya, Transfer to Masai Mara, & Evening Game Drive 
As is customary with our Masai Mara road trips, we will pick you up at the airport by 6:00 am. It may sound a little early, but it does take a good couple of hours to reach the Masai Mara, and we like to stay on top of the itinerary.
Today, you will be traveling in a 4×4 safari land cruiser. It handles the road better and provides fantastic game viewing ability with an open roof.  Upon pickup, the safari guide will head out of Nairobi city and take the Southern Bypass before joining the Nairobi-Nakuru highway.
The air is cold and crisp this early, with promises of sunshine later. Your first stop is the Great Rift Valley viewpoint. The Great Rift Valley stretches 7000 km through Africa and the Middle East.
This expansive topographic valley will stretch as far as your eye can see at the viewpoint. This view is excellent for your first photos of the safari. There are plenty of curio shops at the site, a perfect chance for you to start stocking up on souvenirs.
After spending some time at the viewpoint, you head back on the road. The Kenya landscape views will keep you busy as the guide drive to your next stop, Narok town. This is also a great time to catch a nap for those not used to getting up too early.
On arrival at Narok town, you will stretch your leg, visit the bathroom, and this is also a great time to shop for any last-minute items. Remember, you will be in the bush for the next three days. The guide will then continue with the drive to Masai Mara.
In about two hours, you will be at the heart of the Masai Mara and in the vicinity of the 8th wonder of the world. The guide will pay your park fees and get your official ticket if you stay inside the park. Don't be surprised if you start seeing animals right from the gate!
The lodge/camp staff will welcome you with a cold fruit drink and show you to your rooms. It has been a long day, and the guide will leave you to relax for a while. You will then head out for an evening game drive from 3 pm to around 6 am. 
Day 2: Full-Day Game Drive at Masai Mara National Reserve – Experience the Migration
On the second day at the Masai Mara, you wake up early. Today, you will go on a full-day game drive, complete with packed lunch. This means that you will only be back at the lodge in the evening. 
Don't worry about the heat; we are armed with water and other drinks in the portable cooler. You will leave right after a hearty breakfast. Your first stop is by the Mara River, where all the action occurs. As the guide drive there, you will meet different herds going about their business.
Occasionally something interesting that warrants a stop happens. For instance, during the 2021 wildebeest migration, we met a giraffe giving birth. This was worth making a stop. You arrive at the Mara River, and a few safari vehicles have already arrived and situated themselves strategically.
The guide joins them and soon gets immersed in the happenings below. As is typical with the animal migration in Africa, thousands of wildebeests have assembled at the Mara River, trying to make their way across.
Large crocodiles await in the deep waters below, and the unlucky ones will not get to the other side. This is only the first hurdle; however, they encounter predators like lions, cheetahs, and hyenas as they dodge the hungry crocodiles.
Again, it becomes a game of survival for the fittest. Only the strongest, bravest, and most determined will enjoy the lush green grass on the other side. Without a doubt, you will take photos and videos that you will treasure for a lifetime. 
You watch the action all morning, and as the sun hits the top of the sky, you drive to a shaded picnic area for lunch. The great migration is always exciting, and it never gets monotonous. After a satisfying lunch, you head back to a different position by the river.
The banks are steeper in some places than others, and similarly, the water is deeper in some areas. This presents different dynamics for the wildebeest when they try to cross during the wildebeest migration from Serengeti.
The deeper the waters are, the more challenging it is to go across. It is also harder to see the predators hiding down below. You spend the rest of the afternoon enjoying the spectacle, and as it nears 4 pm, you start driving back to the hotel slowly.
There is always much to see on the way back, so the game drive never stops at the Masai Mara. Our guide will leave you to relax in your room, by the bar, or in the pool before dinner.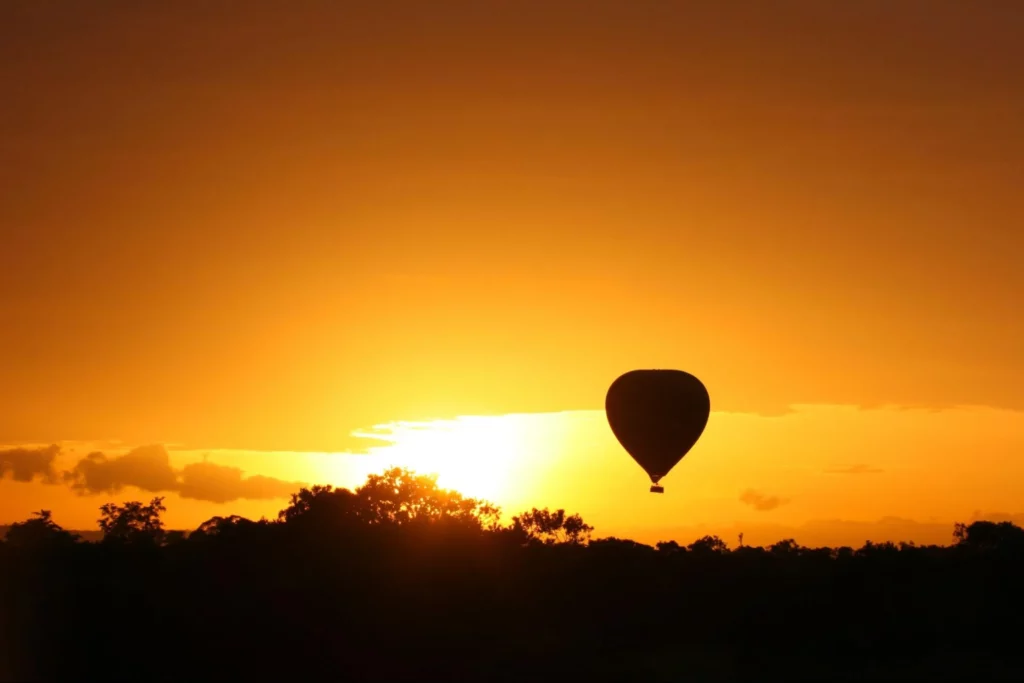 Day 3: Optional Hot Air Baloon Safari & Full-Day Game Drive at Masai Mara National Reserve 
You can opt to enjoy the second day like the previous day with a full-day game drive at Masai Mara National Reserve. An alternative is to stay the day with a hot air balloon safari and then game drive until evening. 
If you opt for a hot air balloon ride, the balloon company will pick you up from your hotel or lodge in good time to arrive at the launch site by 5.30 am. Here, you will have some coffee as the crew prepares the balloon. You will also get a safety briefing from the pilot.
When everything is ready, you will embark on one of the most exhilarating experiences. The crew will assist you in climbing into the basket. The balloon will then rise gently, answering only to the whims of the wind.
There is seeing the Masai Mara from the ground, but then there is seeing it from the sky. The vast savannah will open up before your eyes as you go up, revealing all its secrets. It will be easy to identify the animals, elephants, lions, cheetahs, wildebeest, zebras, etc.
You will see how the Mara River meanders across the park, the lone acacia trees, and the green grass below. Don't forget to take numerous photos! The balloon ride will wind down about an hour later, but things are about to get better. 
Waiting for you wherever you land will be a fantastic champagne breakfast. This is a great time to go over your photos or purchase professional ones from the crew. After breakfast, our safari guide will pick and head for full-day game drives at Masai Mara.
Day 4: Morning Game Drive, Visit a Maasai Village, & Transfer to Nairobi
This is your last day at the Masai Mara. As is customary with day trips, you will have breakfast at the lodge, then check out. You will have one more game drive before hitting the road back to Nairobi. The safari guide will make a stopover at a Maasai village.
Maasais are a Kenyan tribe steeped in a culture amid modernity. The Masai are also custodians of the Masai Mara, and they enjoy sharing their culture with visitors. The women make beautiful traditional huts out of soil and cow dung while the men care for cattle.
The young men, most of whom work within the Masai Mara, dress up and entertain with song and dance. You can learn how to make traditional beaded ornaments and buy some for your family back home. After an educative and exciting experience, the safari guide will take you to Nairobi. 
Depending on your schedule, the guide will drive you to a hotel or the Jomo Kenyatta International Airport.
Items Included in the Kenya Wildebeest Migration Packages Price
Pick up from JKIA on day 1
Services of a professional safari guide 
Bottled mineral drinking water during the safari
Exclusive use of a 4×4 safari land cruiser 
All park fees and government taxes 
Full-board accommodation at Masai Mara for three nights on sharing basis 
Game drives at Masai Mara on day 1
Full-day game drive at Masai Mara on day 2
Full-day game drive at Masai Mara on day 3
Game drives at Masai Mara on day 4
Visit a Maasai village on day 4
Transfer to Nairobi (JKIA) on day 4
Items Excluded from the Masai Mara Migration Packages Price
A hot air balloon safari – USD 450 Per Person 
Tips and gratuities to safari guide
Local and internal flights 
Laundry services 
Visas
Money transfer fee
Wildebeest Migration Safari Packages Price Per Person Sharing
| | |
| --- | --- |
| Masai Mara Camp/Lodge | Pricer Per Person Sharing |
| Enkorok Camp | USD 1360 |
| Sentrim Mara | USD 1420 |
| Zebra Plains Mara | USD 1430 |
| Apasio Mara Big 5 | USD 1510 |
| Basecamp Mara | USD 1525 |
| Apasio Mara Legend Camp | USD 1780 |
| Keekorok Lodge | USD 1816 |
| Ashnil Mara | USD 1867 |
| Mara Serena Safari Lodge | USD 1978 |
| Sarova Mara Game Lodge | USD 1981 |
| Mara Maisha Camp | USD 2020 |
| Mara Crossing Camp | USD 2080 |
| Ilkeliani Mara | USD 2200 |
| Entim Mara | USD 2290 |
| Emboo River Camp | USD 2510 |
| Elewana SandRiver Mara | USD 2587 |
| Olare Mara Kempnski | USD 3340 |
*The price is based on 2 adults sharing a safari vehicle and a double room. The rooms are subject to availability
Great Wildebeest Migration in Africa, Kenya – FAQs
What are some of the FAQs that travel enthusiasts would like to know about the great wildebeest migration? Here are the commonly asked questions about wildebeest migration in Kenya and Tanzania. 
 1. What Month is the Wildebeest Migration?
The great wildebeest migration occurs in two East African countries, Kenya and Tanzania. The migrating animals move from Tanzania's Serengeti Game Reserve to Kenya's Masai Mara Game Reserve in a circular motion as they share the same ecosystem.
You can see the migration at different times of the year in Tanzania, depending on where the animals are assembled. For instance, the animals congregate at the Ngorongoro Conservancy area between January to March.
They move to central Serengeti and then towards the Grumeti River from March to April. By July, they are prepared to cross into Kenya, and the best time to see them at the Masai Mara is between July and October, after which they move back to the Serengeti.
 2. What Month is the Great Migration in Kenya?
Although the great wildebeest migration takes place in Kenya between July and October, you can visit the country for a safari all year. However, it is important to note these times are not fixed, and nobody knows what drives the animals to migrate.
Scientists believe that they follow the scent of the rain (hence green grass), but there could be other explanations. For the most part, they seem to arrive in Kenya mid-to-end of July. Towards the end of October, they start moving back to the Serengeti, and the cycle starts all over again.
 3. Which is Better, the Migration in Kenya or Tanzania?
This is a common question that we get from our guests. As mentioned earlier, both the Serengeti and Masai Mara game reserves share the same ecosystem. They are very much alike, save for size, as the Serengeti is much more expensive than the Masai Mara.
The wildebeest migration in Africa is quite different in both places, and our first answer is always to visit both if you can! We understand, however, that this may not always be possible. These countries also boast some of the best beaches globally, Zanzibar and Diani Beach.
 4. How Much Does the Great Wildebeest Migration in Africa Cost?
The cost of your African wildebeest migration will depend on several factors. There is the cost of flights to and from your country and personal effects. The cost will also vary depending on the kind of accommodation you choose, the safari duration, and the type of transportation you use.
For instance, if you stay at a five-star tented camp, the cost will be higher than if you stay at a three-star lodge. Similarly, flying costs more than driving, and the longer you stay, the more expensive the trip will be.
The beauty of a Masai Mara migration safari in Kenya is that you can have a great time on any budget. Here is a rough guide of how much the trip costs, but this can change depending on your preferences:
A budget Kenya great wildebeest migration Safari package costs anything from $300 per person sharing per day.
A mid-luxury Kenya great wildebeest migration safari package costs as little as $450 per person sharing per day.
An all-inclusive luxury Kenya great wildebeest migration safari package costs anything from $700 per person per day.
5. How Far in Advance Should I Plan My Kenya Great Wildebeest Migration Safari?
The great migration in Africa constitutes the peak safari season in Kenya. This is the most sought-after time for a safari, and as you can imagine, there will be high demand for lodges/camps and transportation.
For this reason, we recommend that you start planning your safari well in advance, even as early as a year. There might also be lots of back and forth with your travel agent regarding various aspects of the safari.
Safari lodges, for instance, fill up quickly between July and October, and booking early enough will guarantee accommodation for you and your family. You will also be able to choose the accommodation of your choice, rather than being forced to choose between a few last-minute choices.
Similarly, flights may fill up if you need to fly between different places, but booking in advance might see you qualify for good discounts. We all know how expensive last-minute flights can be. 
When you start planning your safari early, you will have ample time to get your documents in order, renew passports, get necessary vaccinations, etc. You will also be able to do enough research on the country and places you will be visiting, which can significantly enrich your experience.