The 7 Best Photo Safari Destinations in Kenya and Packages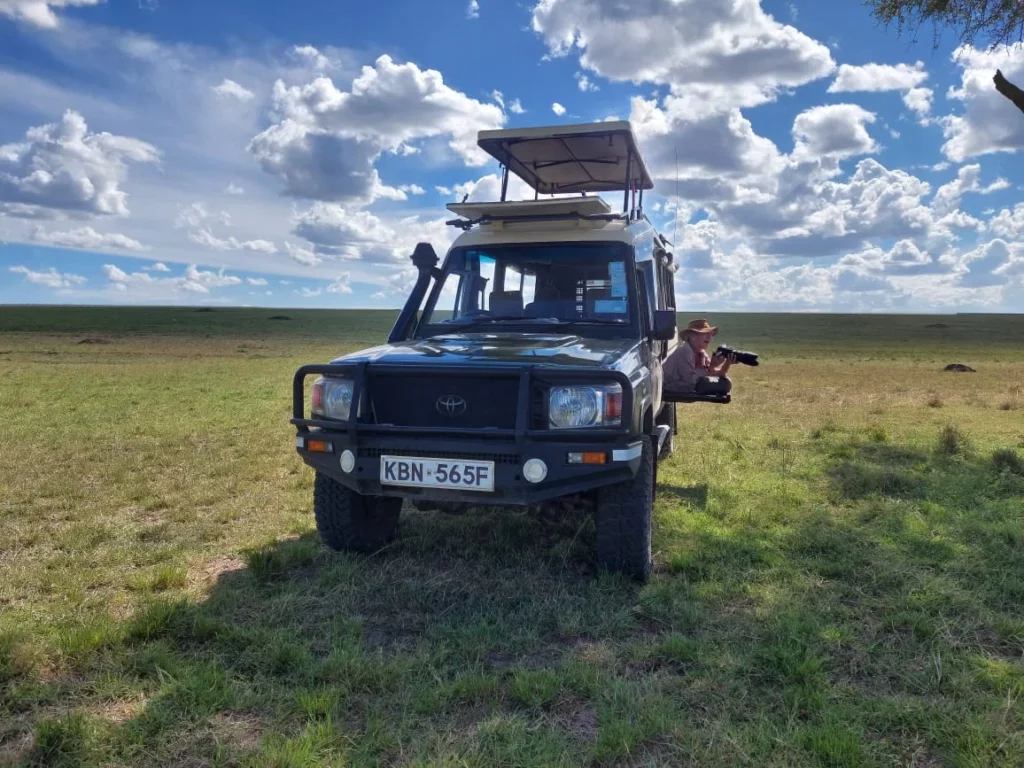 The best Kenya photo safari destinations set our travel soul's ablaze. They linger, and we wish our cameras could capture not only their look but also their feel. But which are the best Kenya photographic safari destinations?  
This article discusses the best places for a photo safari in Kenya. These are surreal African safari destinations that will take you and your camera through what is best described as the Holy Grail of photographic safaris in Africa. 
The article also highlights our best-value African photo safari packages. And guess what? For as low as $200, you could be off to a fun-loaded, African photo safari tour with our safari guide. 
Our photo safari guides were born and raised in Kenya. They are the local experts of Kenya safaris tours, and they will have you coming back for more. Their sea-depth knowledge and expertise come unmatched, their passion a light that will guide your every step. 
What's more, they know Kenya, Uganda, and Tanzania like the palm of their hands. So, whether you wish to go on a Masai Mara photo safari, Uganda photo safari, or a Tanzania photo safari with us, expect extraordinaire. Expect awe-inspiring mountain, lakes, and parks with sceneries and more/ 
How to Book Your Safari with Us 
At ajkenyasafaris.com, we are committed to helping you plan and book the best tour for you and your loved ones.  We are a team of travel consultants who call Kenya home, and nothing makes us happier than seeing the broad smiles on your face after taking your on lifetime trip.
Book your safari now by sending us an email at  james@ajkenyasafaris.com or safarioffers@ajkenyasafaris.com.  You can also call or WhatsApp us at +254-748-258-880.
Our Most Booked Kenya Safari Packages
Best Photo Safari Destinations in Kenya – The Best African Photo Safaris packages
Next, we share our best-rated Kenya safari packages and destinations  that give you a chance to capture awe-inspiring photos and videos.
 1. African Photo safari packages Destination #1. Masai Mara National Reserve
The Masai Mara has a soul of its own. A soul kept alive by its vibrant, completely dumbfounding flora and fauna. The park is one of the reasons the Great Rift Valley is so great. Its open grassland a magnificence your camera ought to capture.
 A selfless giver, the park shares her immense beauty with you, with over 95 mammal species and 400 bird species to see. The sunny weather makes those Kenya wildlife photos even better, the sunrise and sunset an opportunity you would hate to miss.
For the wildlife and scenery, we have the park's western escarpments with animals such as the Big Five, cheetahs, hyenas, elands, zebras, and impalas frequenting the place. 
The Mara Triangle is as fascinating, a point the spectacular Mara River helps put across. To capture is the great wildebeest migration, an occasion graced by over a million wildebeests and an almost equal number of zebras and impalas. 
The adrenaline-packed experience is levitating, those hippo-pounce-on-zebra shots a treasure you will thank us for. For aerial shots, we have the balloon ride, which is, in all honesty, the best way to experience the park. 
Also, fun to capture are the Maasais in their cultural villages.
 2. African Photo Safari Tours Destination #2. Amboseli National Park
Mount Kilimanjaro has to be the highlight of every Amboseli visit. The view from there is effortless, with the park offering Africa's highest-peaking mountain in angles any photographer would kill for.
Not one for boring, the park makes sure to keep your photo safari in Kenya as interesting as possible by entertaining you to its five incredibly different habitats. To make sure your Kenya wildlife photos are wholesome is the park's observational hill. The hill overlooking the swamp gives you a bird's eye view of the park, giving you a go at those prize-worthy shots.  
To capture is the large wildlife population, which heightens the park's appeal to insane lengths. Elephants, leopards, cheetahs, giraffes, zebras, lions, buffaloes, over 600 bird species, and wild dogs being among the must-sees. The elephant population is the highest in the region, their number nearing the 900 mark. 
An interaction with the local Maasai people is also on the cards.
 3. Kenya Photography Safari Destination #3. Lake Nakuru National Park
Mix that flamingo pink with a light baby blue, and you get Lake Nakuru… And there, right by its shores, is Lake Nakuru National Park. The KWS managed park spreads its magnificence over 69.5 square miles of land, right at the floors of the Great Rift Valley. To prove worthy of the title 'best photo safari destination in Kenya, is its seamless scenery encompassing picturesque marshy and woody grasslands. 
  There are over 56 different mammal species to photograph, some of which include the waterbucks, impalas, warthogs, Rothschild giraffes, white rhinos, the highly endangered black rhino, and the buffaloes. The nearby Lake Nakuru is a definite attraction largely for its popular flamingo-filled waters. Also to see are the great Makalia falls, known to draw in thousands of the 450 bird species in the park. To help with that perfect shot are the lion hill, baboon cliff, and out-of-Africa viewpoints.
 4. Kenya Photography Safari Destination #4. Hell's Gate National Park
To have inspired a movie as great as the Lion King is enough explanation as to why the Hell's Gate National Park made it to our list of the best Kenya tourist attractions. The scenery here is bananas, and the ambiance is the park's way of reminding us why she is more than just rock.
Your fingers will go numb at the camera flicking, for there's not an inch of the 68.25km Squares you will not want to capture. With the scenery comes soaring cliffs, water emptied gorges, rock towers, scrubbed volcanoes, and geothermal streams. To top it off is a wide array of wildlife, which includes the hartebeest, buffalo, baboon, zebras, Thompson gazelles, reedbucks, antelopes, and over 100 bird species.  
Also captured are the hot springs, Olkaria Geothermal Station, Mervyn Carnelly Hide, raptor nesting, and the tourist circuits. The photos you can take during game riding, rock climbing, biking, or hiking here.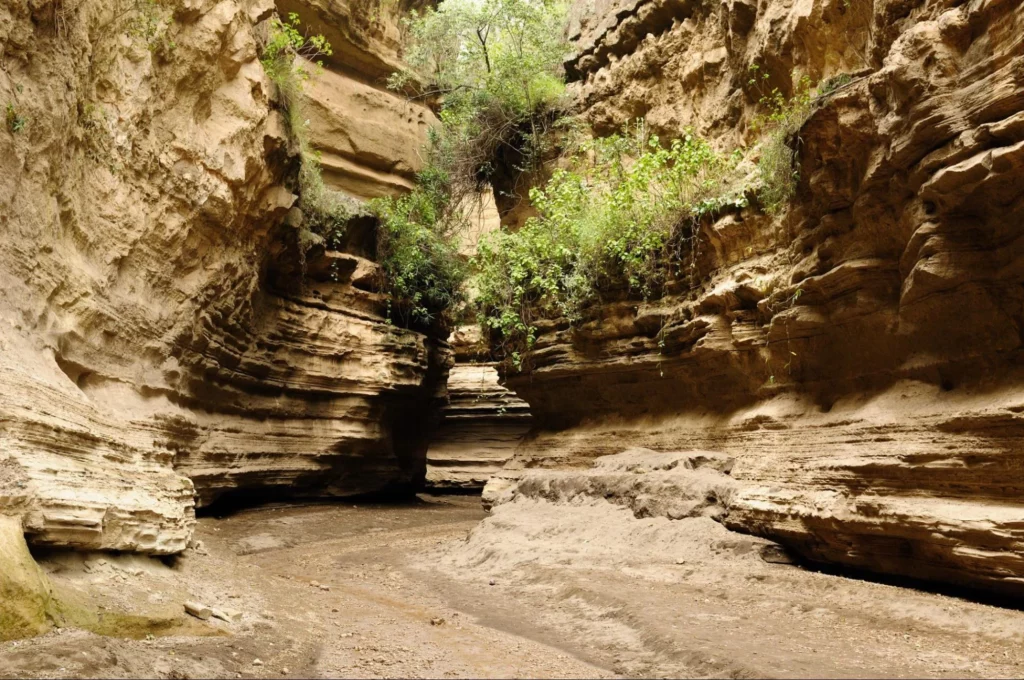 5. Kenya Photography Safari Trips Destination #5. Diani Beach Kenya
There's nothing quite like it. Nothing even close to the Diani magnificence. With as small as a 17 km shoreline, the beach, with its impeccable white-sandy beach, has managed to top the World Heritage list of 'best beaches in Africa' for 5 years in a row now. 
Its waters are a bewitching blue, its overall scenery a thing that will have your camera running wild. Blending perfectly with the insane amounts of Diani blue is the lush green forest that is the very life of this beach. 
A must-see is the coral mosque overlooking the beach, and the monkey sanctuary just next by. A boat ride will see you to the Shimba Hills, turtle information center, and Wasini Islands, which are equally taking.  
Boat rides, and activities such as kitesurfing, deep-sea diving, and skydiving, will help you capture this beauty.
 6. Best Photo Safari in Africa Destination #6. Lewa Downs
Lewa sits at the northern slopes of Mount Kenya with so much grace you'd be jealous. And there, from above it, brilliant views of the Samburu reserve, Mt. Ololokwe, and the great Ewaso Nyiro River. 
A ridiculously gorgeous landscape coupled with a great wildlife variety is what makes this conservancy such a great Kenya photo safari destination. The Grevy's Zebra population, for example, is the highest there is in the world, while the highly endangered black rhino population in the conservancy is the highest in East Africa. Other animals in the park include the sitatungas, big five, elephants, cheetahs, and the Oryx, among many others. 
The conservancy's open grasslands are remarkable, and to supplement them comes the gorgeous Lewa swamp, a stunning natural forest, and a view of the Mt. Kenya.   
Also to see is the Ngare Ndare Forest, which is an amazing combination of lush greenery, a waterfall, river, and huge amounts of elephants.
 7. Photographic Safaris in Africa Destination #7. Aberdare National Park
If sensational was a place, then it would definitely look like the Aberdares. The park's scenery is dreamlike, its open moorland and forested ravines the very definition of perfect. A must-see are its outstanding waterfalls, river valleys, and ridges. 
Calling the park home is an array of black rhinos, buffaloes, elephants, bushbucks, olive baboons, hyenas, leopards, warthogs, and the colobus monkeys. Rarities in the parks include the African wild cat, Giant forest hog, bongo, and the serval cat. 
A visit up the Karuru Waterfalls will have you interact with the over 250 bird species in the park. Common sightings include the sunbird, eagles, plovers, and the Francolins
 8. Photographic Safaris in Africa Destination #8. Ol Pejeta Conservancy
364 sq km in size, the Ol Pejeta is a wildlife conservancy cushioned between the slopes of the Mt. Kenya and those of the Aberdares. The conservancy's beauty is boundless, its wildlife-to-area ratio beating that of any park or reserve in the country. 
More than 1000 mammals call the conservancy home, as well as the big five and a large variety of the Grevy's zebra, Jackson's Hartebeest, cheetahs, and hyenas among many others. 
A photo safari here gives you the chance to take home pictures of the only two remaining northern white rhinos in the world. Also to see are the highly endangered southern white rhinos and close to 80 white rhinos. 
The Chimpanzee Sweetwater Sanctuary is also a delight. The sanctuary is a rescue for chimpanzees rescued from Central and West Africa.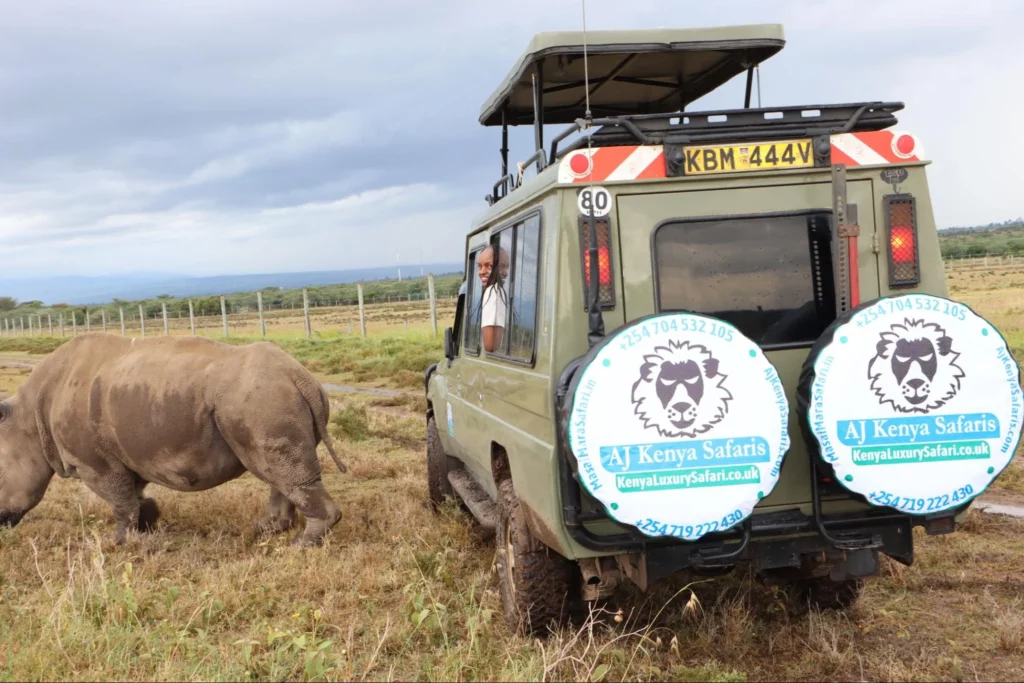 Why a Photo Safari with the AJKenyaSafaris?
Why should you consider taking a photo safari to Kenya with AjKenyaSafaris.com? Here are some of the reasons to book with us. 
 1. We are affordable
We know how hard you work, and that is why we work even harder to bring you Kenya safaris tours that do not leave a dent in your pockets. Our safaris are as good for the students as they are for the tycoons. They fit right into your budget, no matter how ridiculous the amount might seem. Paychecks are not the thing with us, your comfort-ability, fun, and peace of mind are!
 2. Our knowledgeable born and raised in Kenya safari guides
Your trip is as good as the guide accompanying you, and as you will later come to approve, our guides are the best in the market. Born and raised in Kenya, our guides could take you through the country blindfolded. Their knowledge is ocean floors deep, a thing only their hospitality matches. With them, you are assured of a great time. With them, you will feel right at home.
 3. Our flexible, tailor-made safaris
Our safaris are tailored to meet your every need and expectation; all you have to do is communicate your concerns through phone or Skype calls. Some of our deals include; airport transfers, multilingual tour guides and transport costs to and fro all the destinations.
Additional arrangements can be made for those traveling from India with kids or as a group. 
 4. Our expertise
Think travel, think us. We are your safest bet yet, if what you are looking for is a fun, unforgettable experience. We go over and beyond, relying on our previous experiences, to make sure that your photo safari experience is like none other.
Our highly positive online reviews are all the evidence you need. Mediocre isn't ever a thing with us.
 5. We are easily accessible
With us, you are a phone click away at planning the best photo safari of your life.