South Africa Safari Tour - Best Time to Visit, Destinations, and FAQs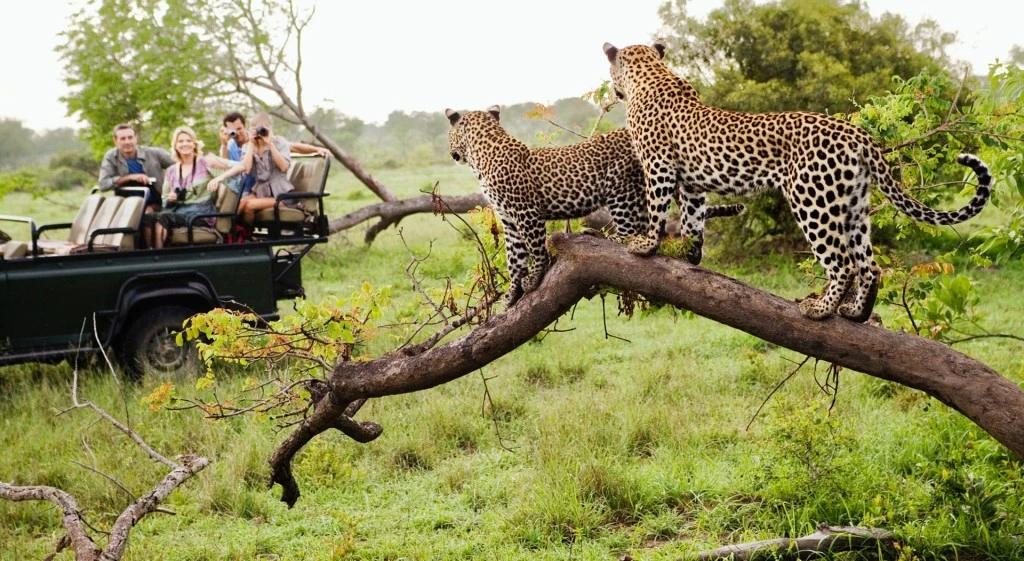 To say a South Africa safari tour is beautiful is simply an understatement. It is in every aspect sensational, with attractions like the Blyde Canyon, Hermanus, and the Drakensberg, blessing you with sceneries and wildlife you can't find anywhere else in the world.
S.A exotically combines culture, scenery, and landscape to create the once-in-a-lifetime safari experience every traveler truly deserves. It boasts over 10 UNESCO World Heritage Sites, mind-blowing beaches, captivating views, and a wide wildlife variety.
Add the Kruger National Park and Table Mountain to the list, and you have the perfect wonderland. The second best part is that South Africa safari tour packages are affordable. The South Africa Safari Tour price varies as follows: budget safari from USD 250, mid-luxury from 350, and luxury from USD 600 per person per day. 
In this article, our Africa safari experts will discuss the best safari and beach holiday destinations in South Africa.
Book Your South Africa Safari Tour with Us Now
Our Most Booked Africa Safari Packages and Tours
| | | |
| --- | --- | --- |
| Our Most Booked Kenya Safari Packages 2023 | Price Per Adult Sharing  | The Detailed Itinerary  |
| 1-Day Nairobi National Park & Giraffe Center Tour | From USD 119  | |
| 1-Day Nairobi National Park & Nairobi Animal Orphanage Tour | From USD 34 | |
| 3-Day Masai Mara Camp Packages | From USD 1015 | |
| 3-Day Masai Mara Christmas Packages  | From USD 1010 | |
| 3-Day Masai Mara Easter Packages  | From USD 985 | |
| 3-Day Masai Mara Festive  Packages  | From USD 1315 | |
| 3-Day Masai Mara Lodge Safari | From USD 995 | |
| 3-Day Masai Mara Packages  | From USD 955 | |
| 3-Day Masai Mara Packages from Nairobi  | From USD 995 | |
| 3-Day Ol Pejeta Easter Safari | From USD 1175 | |
| 4-Day Africa Migration Masai Mara Packages  | From USD 1360 | |
| 4-Day L. Naivasha & Masai Mara Easter Safari | From USD 1249 | |
| 4-Day L. Naivasha & Masai Mara Safari | From USD 1174 | |
| 4-Day L. Nakuru & Masai Mara Safari | From USD 1162 | |
| 4-Day Masai Mara Camp Packages  | From USD 1195 | |
| 4-Day Masai Mara Easter Packages  | From USD 1235 | |
| 4-Day Masai Mara Migration Packages  | From USD 1360 | |
| 4-Day Mombasa & Diani Safari  | From USD 937 | |
| 4-Day Mombasa & Diani Valentine Safari | At USD 1405 | |
| 5-Day Flying Safari to Masai Mara & Ol Pejeta Conservancy | From USD 3777 | |
| 6-Day Kenya Wildlife Safari from India  | From USD 1730 | |
| 7-Day Kenya Christmas Safari | At USD 3093 | |
| 7-Day Kenya Wildlife Safari | From USD 1884 | |
| 8-Day Kenya Wildlife Safari  | From USD 4413 | |
| 8-Day Wildlife & Beach Safari | From USD 1585 | |
| 12-Day Kenya Wildlife & Beach Safari  | From USD 4216 | |
| 18-Day Kenya Family Safari  | From USD 5849 | |
The Top 9 Best Safari and Beach Destination in South Africa
It is impossible to capture all the exquisiteness of South Africa in one article. However, our team has done an excellent job rounding up some of the amazing sites you should visit. Here is a list of places to visit for the best South Africa safari tours.
Victoria and Alfred Waterfront
Steeped in heritage and jaw-dropping backdrops, the V&A Waterfront is an iconic destination lying within the beautiful Cape Town city. The waterfront receives an impressive 25 million visits annually, solidifying its top position on the list of most frequented destinations in South Africa.
Guided walks around the 123-hectare attraction never run out of awe-inspiring scenes. With the walks comes an introduction to the V&A's fascinating landmarks, some of which date back to 1654.
Be on the lookout for the Pumphouse, Clock Tower, New Port Captain's Office, and the Robinson Dry Dock. There's no denying that Cape Town city – where The Victoria and Alfred Waterfront is housed, is eye candy.
African safari packages with airfare or a 15-minute helicopter ride around this city can help you savor its beauty. Highlights of the tour include the reputable Table Mountain, Clifton beaches, the Twelve Apostles hotel, and Camp Bay.
For marine aesthetics, enters the Two Ocean Aquarium. The aquarium mirrors the diversity and beauty created by merging the Indian and Atlantic oceans. You can see a spectacular showcase of thousands of sea creatures and plants through acrylic glass windows.
Other activities to engage in during South Africa safari holidays at The Victoria and Alfred Waterfront include; seafood sampling, cruising, visiting art museums, and wine tasting.
Tanzania is an East African country lying north of Uganda, east of the Comoro Islands, and northeast of Kenya. Like Kenya, the country is all glitz when it comes to its tourist attractions and destinations.
Its beaches are a fascination beyond words. Popular sites like Mt. Kilimanjaro and the Serengeti National Park are to wow you speechless during your safari and beach vacation in Tanzania. The Mafia Island, Off Pemba, and Zanzibar are only a scratch to the surface regarding the Tanzanian water wonders.
Other popular attractions within the country include the Ngorongoro conservation area, Olduvai gorge, the Tarangire, Lake Manyara National Park, and Stone Town. Its greatest accessory, however, is how effortlessly beautiful its culture and people are. 
A Tanzania safari introduces you to this beauty, showcasing the Swahili culture in its rawest, purest form. The best time to visit Tanzania is June to October. The country is accessible through the Julius Nyerere, Serengeti, and Kilimanjaro International Airports.
Kgalagadi Transfrontier Park
Northern Cape merges the Kalahari and Botswana National parks to form one of the largest desert parks in the world.
The park is technically not all desert because it falls within the Kalahari Basin and Okavango River Delta. To prove that it comes in all shades of spectacular are its crooked thorn trees, fiery sands, knee-high grasslands, and deep blue skies.
With its substantial wildlife, including the famous Kalahari lion, gemsbok, and meerkats, the park is undeniably beautiful to have a game drive.
Other popular wildlife species in the park include; hyenas, cheetahs, leopards, wildebeests, elands, hartebeests, and a wide array of bird species. Adding insanely to its pristineness is that the park lies minutes to hours away from urbanization.
You would love to explore the aquatic wildlife experience offered by boat rides down the Okavango delta, bush walks, fishing, night drives, and photography.
To the romanticists, the Cape of Good Hope might mean a scenic mass of rock that is the window to the two great oceans surrounding it. To the botanist, however, the cape might mean more than 1080 plant species, 14 of which are endemic.
Whichever point of view you take, one thing is sure; the good ole cape caters to all your entertainment or research needs. Located 60kms from Cape Town, a visit to the Cape of Good Hope is one of the best things to do in South Africa.
It was once believed to be the southwesternmost point of Africa, a belief the geographers later disproved. This did not, however, do much to stop the attraction from being a famous World Heritage Site attraction in South Africa.
Its calm blue waters are an open invitation to anyone who appreciates a cold swim, while its sky-high cliffs and lighthouses are there for the mesmerizing views. Other activities, like picnicking, hiking, mountain biking, surfing, and kite surfing will crown your visit.
The cape is also home to a wide variety of snakes, zebras, mongooses, lizards, baboons, porcupines, tortoises, ostriches, leopards, and elands. Additionally, the location is a birder's Holy Grail with seabird varieties ranging from seagulls, cormorants, albatrosses, and oystercatchers to garnets.
Other birds of prey, like the owls, eagles, falcons, goshawks, and kestrels are also available to give you the best South African safari holidays.
The rich variety of wildlife, scenery, and topography enfolded up in just 300kms of coastal land is magic only reserved for the Garden Route. This beautiful coastal stretch starts at the Witsand, goes through towns like the Plettenberg, and unwinds at the Tsitsikamma Forest.
In towns such as the Heidelberg and Storms Rivers, the route opens into scenic mountains, lakes, rivers, indigenous forests, and white sandy beaches. The mountains are a hiking favorite, while the lakes and rivers never run short of fish-hungry tourists and boaters.
Quiet walks among the tall forest treats are also worthwhile treats that can be turned romantic by idealistic picnic lunches. However, beach walks are not the only thing to do during South Africa tours to this destination.
Town to town, the activities diversify, each promising as much fun as the last ones. With George Town comes a coastal plateau nestled by the foothills of the Outeniqua Mountains. The area blesses us with lush greenery, knee-jacking views, and a serene ambiance.
Abseiling, site seeing, scuba diving, fishing, and wildlife viewing Are all on offer at The Garden Route. As the route unwinds, we are introduced to the Tsitsikamma National Park.
The park on the Indian Ocean's shores combines aquatic and land attractions to ensure an unforgettable South African experience. The area is protected, and with it comes a large bird variety, spectacular views, and fish species ranging from Kelp Gulls to Oystercatchers.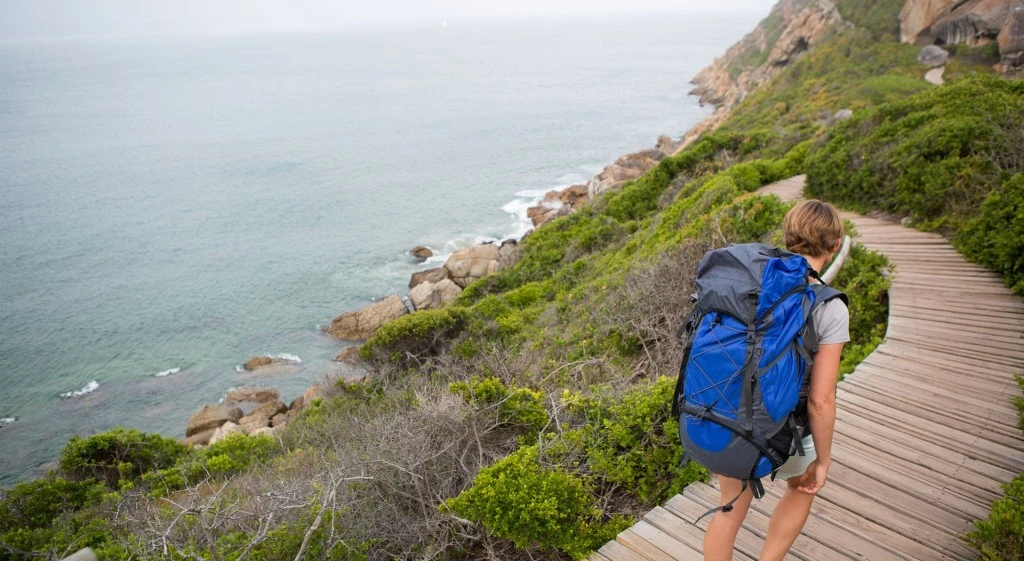 On South Africa's Eastern Cape lies the county's third-largest National Reserve; the Addo Elephant Park. The park stretches over three different kinds of topographies; the semi-arid region to the north, the Zuurberg Mountains, and the coast of the River Valley.
The park is the place to visit if fun looks like picturesque sceneries and 6,000-kilogram mammals to you. By recently expanding into the St Croix and Bird's Islands, the park has become the first park in the world to house the Big 7.
The Big 7 includes; the white shark, southern whale, lion, leopard, elephant, buffalo, and rhino. Within the park also lies a wide variety of birds, baboons, hartebeests, springboks, elands, bushbucks, kudus, zebras, reedbucks, hyenas, and gemsboks.
The elephants do seem to appreciate this kind of biodiversity, seeing that the 550+ elephant population is one of the densest in the world.
The name Drakensberg loosely translates to 'mountains of the dragons,' a name heavily influenced by the immense size of the Drakensberg Mountain. With its jagged peaks, lush valleys, and stunning backdrops, Drakensberg Mountain has been able to command the undivided attention of the quiet KwaZulu Province.
The 2900-meter-high mountain spreads well over 200 kilometers of land, with some of its peaks surging as high as 3,482 meters. Peaks such as the Mont-Aux-Sources, Cathedral Peak, and the Giant's Castle have turned the mountain into a photography and summit favorite.
Its striking waterfalls, highly appealing rock pools, fresh-water streams, and cagey caves also have a lot to do with its high appeal. The World Heritage Site-approved Ukhahlamba Drakensberg Park also lies within the mountain region.
The park's scenic beauty is unrivaled, as well as the 600+ rock paintings inscribed all over its caves. Camping on these serene grounds will do you lots of good, especially when you combine it with water rafting, abseiling, and hiking.
Other activities you can engage in include; horse trailing, canoeing, and local art shopping. You will most certainly also remember the crisp cold air and lustrous sunshine characteristic of the mountain region.
Annually, the southern whale travels thousands of miles to birth their younglings around this cool, serene area, an event graced by tourists from all around the globe. The ordinarily blue Hermanus waters are painted every shade by the countless boats waiting to witness the magical moment when a whale spurts from the ocean.
Stone thrown away lies the Hermanus Mountains, which are gorgeous, an addition to the already striking scenery. The mountains offer significant elevation for those who prefer the mountainside of view.
Hiking at the Fernkloof Nature Reserve is also rewarding. It allows you an interaction with the huge variety of coastal fynbos and birds that are characteristic of the area.
Also within Hermanus lies beautiful beach stretches that promise privacy, boating activities, horse rides, sunbathing, fishing, and wine-drinking picnics. The Hermanus Golf Course is a great place to relax and interact with the lively baboons carefully watching the players.
The Hermanus Wine Route is there for those who adore their wine glasses, and the neighboring Onrus Town is for lovers of art and crafts.
That you will encounter spectacular attractions while on the Panorama Route is not up for debate. Another accurate fact is that you will fall in love with the lush valleys and insane mountain scenery at the Blyde River Canyon.
Buried under deep lush greenery, the Blyde River Canyon is the largest canyon on the globe and among the deepest on earth. The canyon is a tourist attraction thriving point, with breathtaking waterfalls and geologies dotting its foothills.
One popular attraction is the Bourke's Luck Potholes, where the river Blyde and Treue meet, forming a spinning movement. The Three Rondavels and God's Window viewpoints will also have you picking your jaw from the floors with their unique views and ambiance.
Be on the lookout for wildlife such as monkeys, crocodiles, vultures, hippos, eagles, and louries. Bird watching is another great activity for hiking, walking, or horseback riding.
South African Safari Packages & Tours FAQs
What is the best time to visit South Africa for a safari? The dry months from May to September are the best time to visit. Wildlife is easier to spot, the roads more traversable, and the weather spectacular. Here are more FAQs about the South Africa safari tour:
1.  How Much Does a Safari Cost in South Africa?
The sky is always the limit with African safaris. This means that the higher you go on the luxury scale, the higher the cost of your African safari. The opposite is, however, not true.
South Africa safari falls into three categories to ensure you get the most out of your safaris, your pocket depth or shallowness. The first is the luxury South Africa safari, which covers the USD 600+ scale.
Mid-range safaris fall in the USD 350+ category, while budget safaris fall in the USD 250 category. Prices are heavily influenced by your South Africa safari lodges choice, the length of your safari, the selection of excursions and activities, and game drive vehicle choice.
2.  What is the Best Beach in South Africa?
Regarding its beaches, South Africa is not your average next-door neighbor. Hundreds of top-notch beaches dot its shores, the Umhlanga KwaZulu Natal, Sodwana Bay, and Coffee Bay being but a few.
It's a no-brainer when choosing the best of them all. The Umhlanga KwaZulu Natal takes the cake; case in point, its blue piercing warm waters, golden sandy beaches, gorgeous backdrops, and world-class accommodations and malls.
The Sodwana Bay, Melkbosstrand, Clifton, and Coffee Bay beaches are close contenders.
3.  How Much Does a Kruger Safari Cost?
Many factors come into play when ascertaining the price of your Kruger safari. Some include your accommodation choice, the length of your safari, excursions, activities, and game drive vehicle choice.
On the lower side, Kruger safaris fall within the USD 250 range per person per night but could go as high as USD 600+. Again, the prices are heavily dependent on several factors.
4. Is it Safe to Travel from Johannesburg to Kruger National Park?
South Africa safari tours from Johannesburg to Kruger National park are relatively easy and safe. Like every other country, South Africa is not exempt from a few insecurity cases. The usual caution is, therefore, encouraged.
Avoid traveling too early in the morning or very late at night to avoid misty conditions. Stopping by the side of the road is discouraged, as is driving alone in the dead of night.
The roads to the park are pretty busy and in tip-top condition, which acts to your advantage.
5.  Are South African Beaches Safe?
Going by international safety standards, South African beaches are very safe. Over 46 beaches in the country have been awarded the blue flag status, a global award that gauges how safe and well-managed beaches are.
Before the 2015 Mike Fanning incident, shark attack incidents were rare and far-spaced. Shark spotters have been planted on beaches throughout the country to revamp their security. No recent incidents have been reported.
6. Is Kenya or South Africa Better for a Safari?
If it is the wilder, open feel you are going for in your safaris, then Kenya is the country to go to. The country offers sceneries beyond words, huge wildlife varieties, and gorgeous biologically diverse landscapes.
Speaking of which, Kenya is sprinkled with national parks, some of which are in highly urbanized cities like Nairobi. South Africa is a more subdued wildlife destination since most parks are fenced and somewhat secluded.
The county, however, records the least incidences of Malaria, bilharzia, and other tropical ailments. Additionally, safaris in South Africa are generally cheaper and more family-friendly. Beaches in this country are also better developed.
7. Is South Africa Safe for Female Tourists?
Fear-mongering shrouds traveling to South Africa as a female issue. The high crime rates in South Africa are mainly why, but any frequent visitor will agree that the problem is highly exaggerated.
With adequate preparation, traveling in South Africa can be as safe as traveling in the safest countries in the world. Crimes are generally higher in townships than in tourist areas, regardless of which caution should be taken.
Not leaving your luggage unattended, avoiding dark, isolated places, and not walking alone at night are some precautions you can take.
 8.  Is it Safe in South Africa?
The insecurity issue in South Africa is one of the numerous travel advisories against the country, mainly by the US and UK governments, which has blown out of proportion. There is no denying that South Africa has a high crime rate, but traveling in the country has proved to be safe.
As with traveling in any new country, extra precautions must be taken. South Africa is not any different.
9.  What is the Best Month to Go for an African Safari?
The dry months of any country are the best month to go on a safari in that country. Wildlife is easier to spot then, the roads more traversable, and the weather spectacular.
The dry months, however, differ from country to country. In South Africa, for example, the dry months span from May to September.
Kenya has two dry seasons spanning from January to March and the other from July to October. On the other hand, Botswana is best to visit between May and October and Tanzania from late June to October.
10.  Which is the Safest City in South Africa?
Cape Town has been ranked as the safest city in South Africa. There are two sides to the coin, that is, urbanization. Among the highs includes tremendous levels of modernization, and among the lows is insecurity.
Cape Town is a very popular business and tourism city in South Africa, which has necessitated a heavy investment in its security.
As with all cities in the world, parts of Cape Town are considered unsafe; watch out. Other safe cities in South Africa include; The Garden Route, West Coast, Cape St. Francis, and Port St. John's
11.  Which is the Most Dangerous City in South Africa?
Pietermaritzburg, KwaZulu's capital city, was ranked the most dangerous city in South Africa according to the Number's 2020 crime index.
Three other South African cities appeared top ten on the list, Pretoria fourth, Durban fifth, and Johannesburg sixth. Overall, South Africa was ranked third among the world's most dangerous countries to visit.
12.  How Long Does a South Africa Safari Take?
South African tours can take as long as you want or as long as your pocket allows. Most wildlife safaris, however, average ten to seven nights. Nevertheless, modern trends like the two-week vacation rule have seen more people gravitate towards the 14 days.
You can enjoy as much wildlife, scenery, beaches, and landscape as you want in as few as four days. A good safari planner is all you need.