The Top 9 Things to Do in Diani During Your Diani Beach Safari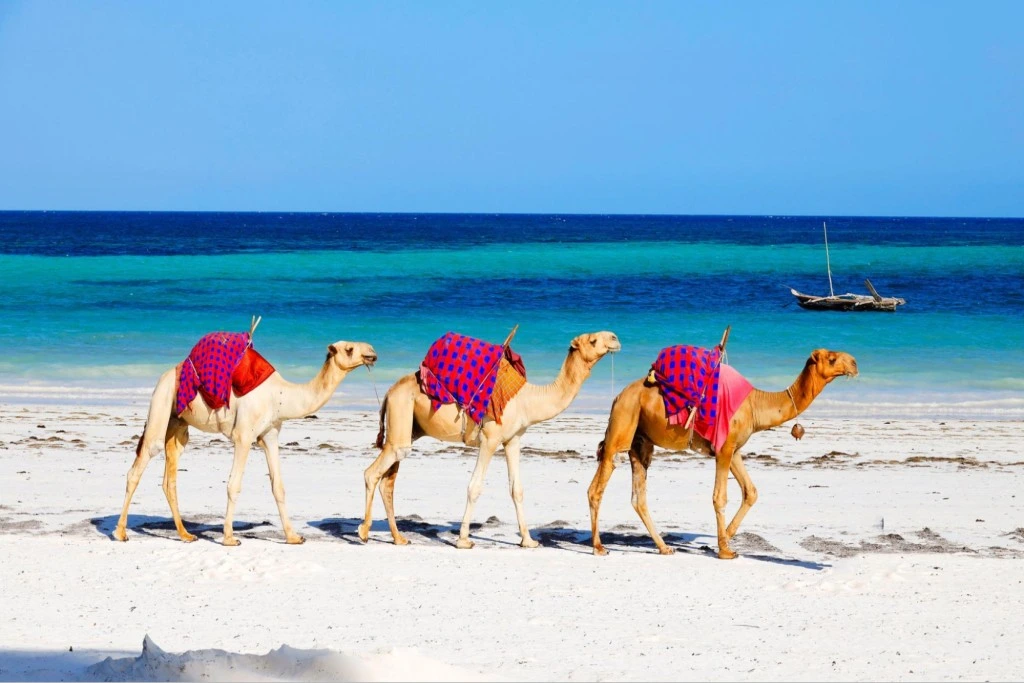 Diani Beach is a 20 km stretch of pristine white sand bordered by lush green forest and gentle shimmering ocean waves on the other. Repeatedly voted one of the 25 best beaches in Africa by CNN (mainly in the top three), a Diani beach safari will surely give you value for your money. 
Diani is the ultimate safari destination for those who love the sun, sand, surf, and mojitos! It is located along the Indian Ocean 30 km south of Mombasa, Kenya, and features smaller beaches, such as Tiwi and Galu, and islands like Chale and Funzi.
Diani Beach boasts some of the best hotels in Kenya, ranging from budget to extra luxurious, ensuring that everyone is catered to during their Diani Beach safari. You can access the destination by air through Mombasa International Airport (with a road transfer) or by flying directly to Ukunda Airstrip, located a few minutes from the beach.
Whether you are in Diani for your honeymoon, family outing, work-related activity, or just to relax, the Diani safari will exceed expectations at every turn.
How to Book Your Diani Beach Safari with Us
Our Most Booked Kenya Beach and Safari Package
The Top 9 Places to Visit in Diani and Things to Do in Diani Beach
Here are nine great activities to do in Diani that come highly recommended for your Diani Beach safari and should be among the top things to do in Mombasa:
1. Relax at the Beach or Hotel
If you find yourself on one of the most beautiful beaches in the world, the first thing you want to do is relax! Time seems to stop while lying on a beach bed with your favorite drink. 
The sand along Diani Beach is soft and therapeutic, welcoming you to take a walk. Feel your feet sink into the sand with every step. Taking a walk at sunset is especially magical as the sun sets on the horizon with its orange reflection hitting the water, creating a gorgeous and romantic background.
2. Indulge in Watersports
Diani Beach is a haven for watersports of all kinds. If you are seeking adrenaline during your Diani safari, you can try scuba diving, snorkeling, kite surfing, stand-up paddling, deep-sea fishing, or windsurfing. 
Water sports such as scuba diving give a rush and a unique opportunity to interact with Diani's undersea environment. A boat ride across the mangrove forest is recommended for those looking for a mellower.
If you dare, you can experience skydiving during your Diani Beach travel. This whirlwind activity starts with a briefing from our instructor after a plane takes you up to 10,000 feet. You will likely do 'tandem skydiving,' which means you will be securely attached to your instructor.
Upon achieving the desired altitude, it's time to jump! Your heart will be in your mouth for the next exhilarating 35 seconds as you free-fall to earth at a speed of 200km/hr. 
You will deploy the parachute at 5000 feet, and you can finally catch your breath and enjoy the rest of your descent back to earth from what will likely be one of the most memorable times in your life.
4. Visit the Kaya Kinondo Forest
The Kaya Kinondo is a sacred forest of the Digo people and a welcome change of scenery during your Diani travel. 'Kayas' are sacred forests in Coastal Kenya, mainly in Malindi, Kwale, and Kilifi districts. 
Kaya Kinondo, located in Diani Beach, is the senior most Kaya of the Digo people and the only one that allows visitors. A visit to Kaya Kinondo forest is an excellent opportunity to learn more about the Digo people, their culture, and the beliefs that abound to date, especially about their sacred forests. 
The Digo and, by extension the Mijikenda people, relied on the forest for economic uses. These include making bark cloth from its trees, medicines from the various plants, and spiritual reasons such as communing with their ancestors. 
Currently, the Kaya Kinondo Ecotourism Project promotes forest conservation and the people's social and economic growth. The forest is also home to 187 indigenous plant species, 42 rare bird species, and different butterfly species. 
Other residents include the rare Zanj elephant shrew and the endangered black and white Angolan colobus monkeys. 
Guests are requested to dress modestly to preserve the sanctity of the place. This includes wrapping a traditional cloth called kaniki on their waists before entering the forest and carrying any litter, among other rules. A guide or an elder always does the tour.
5. Drop in on the 40 Thieves Beach Bar & Ali Barbour's Cave
The Forty Thieves Beach Bar is an institution in Diani Beach. It is the go-to place to let loose during your Diani Beach Safari with a chilled drink and great music. The bar has great ocean views and is a great place to watch the sun go down. 
You can play pool or darts with friends or make new ones. No need to dash back to your hotel for a bite at the bar that serves meals such as pizzas, burgers, and grilled chicken. The electric atmosphere will have you return more than once before your Diani Beach safari is over!
Ali Barbour's Cave is a restaurant made around an actual cave that is believed to be 120,000- 180,000 years old. The cave is maintained in its original state with minimal alterations. Natural holes have been left open to create an atmosphere of dining under the stars. 
It offers mainly international dishes with a bias toward seafood. Try the seafood platter with king prawns, crabs, calamari, lobster salad, and octopus.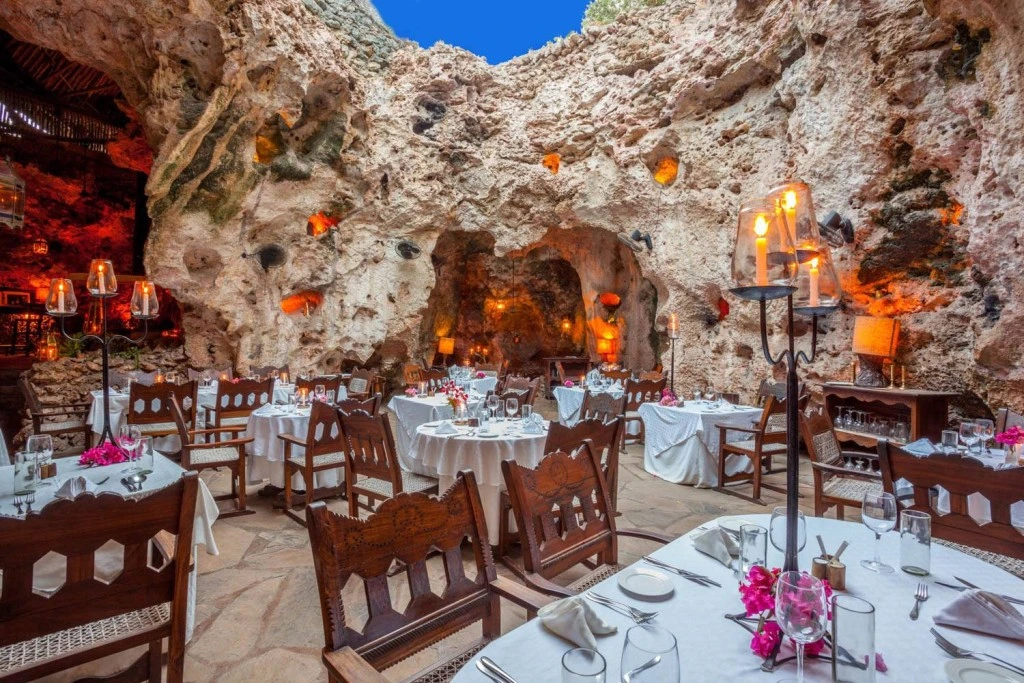 6. Day trip to Shimba Hills National Park
Shimba Hills National Park is roughly 35km from Diani Beach, less than an hour's drive away. The tour can be organized through your hotel or tour companies operating in Diani. 
Shimba Hills National Park is one of the most extensive coastal forests in East Africa and is home to the highly endangered sable antelope.
The park has a very high density of elephants which the Kenya Wildlife Service occasionally relocates to other parks such as Tsavo. Other animals you expect to find here include giraffes, buffalo, African bush babies, and leopards. 
You will also encounter rare and exciting species of animals such as Sykes monkey, serval cat, greater galago, black and red shrew, and the bush duiker. Bird watchers will not feel left out as the park has over 100 bird species and a variety of butterflies and other insects. 
Your guide will arrange for a picnic lunch by the picturesque Sheldrick Falls, which drop to an impressive 25m. Adventurous guests can also dip in the water before returning to the beach.
Diani Beach is full of surprises. Besides sandy white beaches, it also boasts an 18-hole championship golf course at the Leisure Lodge Beach Resort. Whether you are a seasoned player or an amateur golfer, this is the place for you. 
If you already play golf, there are cleverly designed water and sand obstacles to give you a bit of a challenge. For those who require some pointers, a professional is available on request.
Don't worry if you have never played golf before but would like to start. There is a professional coach on the ground to assist you in getting started, and you can hire or buy the necessary equipment at the golf shop on location. 
Go on a Diani Beach safari in October and participate in the 'Diani Beach Masters,' a golfing competition played over two days involving professionals and amateurs.
8. Pass by the Colobus Conservation Center
The Colobus Conservation was formed in 1997 to promote the conservation and protection of primates, specifically the Angolan colobus monkey. Located along Diani Beach Road, the conservation center offers one-hour guided tours of the facility, where you can interact with its fairy inhabitants. 
The tour goes through a beautiful nature trail as you learn more about Angolan colobus monkeys and other primates, such as baboons, vervets, and Sykes, who are not part of the project but are regular visitors.
9. Visit the Diani Beach Art Gallery