3 Day Masai Mara Safari from Nairobi - 3 Days Masai Mara Safari Itinerary, Price, & Guide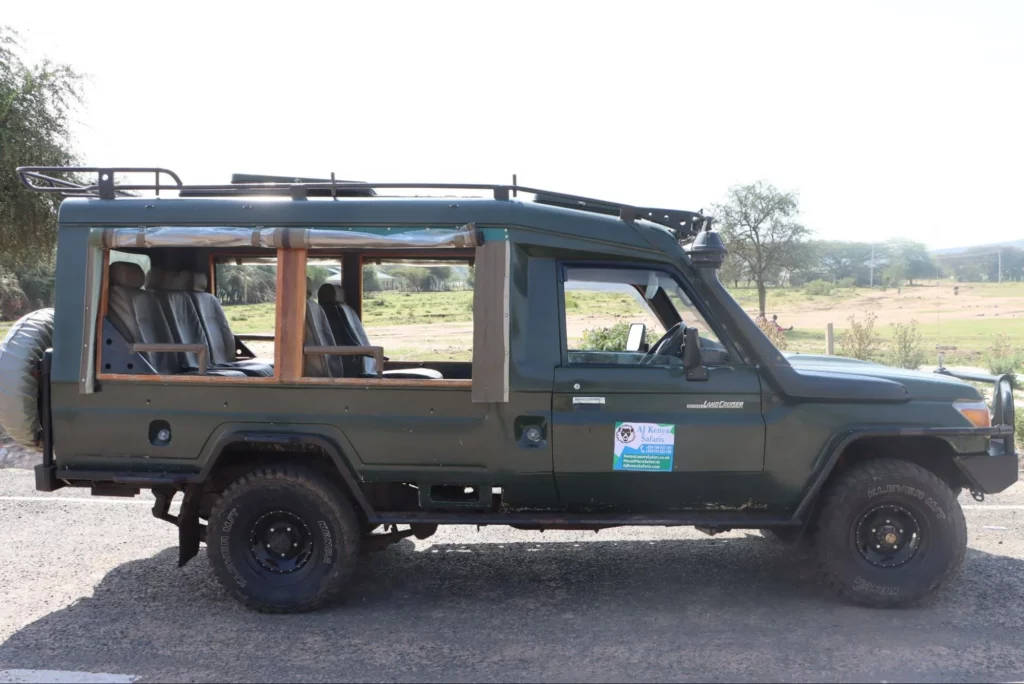 Welcome to our 3 Day Masai Mara Safari from Nairobi! When the Lord declared what he had created as beautiful, He indeed had to be looking at Masai Mara. Don't believe it? Book our 3 Days Masai Mara Safari from Nairobi and witness it yourself.
Masai Mara National Reserve is Africa's leading safari destination. It is the arena for the largest land migration on earth, the great wildebeest migration. Book your Nairobi to Masai Mara Safari for 3 days between July and October if you have your eyes on witnessing the Mara river crossing.
The Kenya Wildlife Service (KWS) estimates that Masai Mara is home to over 835 lions. It hosts all members of the Big 5 (buffalos, elephants, lions, leopards, and rhinos). And Masai Mara ecosystem boasts the highest wildlife density in Africa, including over 96 species of mammals and over 450 recorded bird species.
Book Your 3 Days Masai Mara Safari from Nairobi Now
We invite you to contact us on the phone or WhatsApp or phone via +254-748-258-880, and we will happily tailor-make the best Masai Mara safari from Nairobi for you.
Alternatively, please email us via safarioffers@ajkenyasafaris.com or james@ajkenyasafaris.com. We are the local experts of Nairobi to Masai Mara travel, and there is nothing we would love more than to show you the beauty of our country.
The Summarized 3 Days Masai Mara Tours from Nairobi Itinerary
Trip Details
Highlights
Day 1

Pickup from Nairobi, Transfer to Masai Mara, & Evening Game Drive

Overnight at Various Camps

Day 2

Full-Day Game Drive at Masai Mara with Packed Lunch

Overnight at Various Camps

Day 3
Morning Game Drive, Visit a Maasai Village, & Transfer to Nairobi
Items Included
Pickup and drop off in Nairobi, Services of a professional safari guide, Exclusive use of a 4xe safari land cruiser, Full-board accommodation at Masai Mara, Park Fees, and More
Items Excluded
Money transfer fee, Laundry services, Tips and gratuities, Flights, and Flying doctor cover
Safari Price
Per Person Sharing from USD 990
The Detailed 3 Days Masai Mara Safari Itinerary – Nairobi to Masai Mara Safari
Throughout the reserve stands scattered patches of thorny shrubs, and around the bushes, tribes of hungry antelopes nibbling the morning sun away. Meters away from the tribe lies an even more starved leopard, body on the ground, eyes set on the prize.
Hundreds of zebras, elephants, gazelles, and rhinos pass by, but Mr. is not one to be dissuaded; he knows what he wants. In a split second, the chase is on! That, ladies and gentlemen, is a typical day out in the Mara. And our 3 Days Masai Mara Safari Itinerary ensures you are all in on the fun.
Day 1: Pickup from Nairobi, Transfer to Masai Mara, & Evening Game Drive
The proficiency of our Masai Mara tour guides is only matched by our respect for time. That is why we are always at the airport an hour before the touchdown. After formally welcoming you, the safari guide will start the 6-hr drive to Masai Mara.
The road trip is full of interesting sightings, and you will make stopovers along the way. You will stop for about 20 minutes at the Great Rift Valley Viewpoint. Here you will take photos and then continue driving to Masai Mara.
The next stop is made at Narok town. This is the ideal time to visit the bathroom, stretch your legs, and even do some final shopping. You still have about 3-hrs of the road trip to cover from this town, meaning you will arrive at Mara by noon.
On arrival, the guide will check you into the hotel, leaving you to yourself for some 3-4 hours of well-deserved rest. Masai Mara has something for everyone. There are excellent budget Masai Mara safari camps and even luxury ones you can stay in. You can bet we offer both luxury and cheap Masai Mara Safari packages to meet everyone's needs.
Some of the superb places to visit during the Masai Mara safari from Nairobi include Mara Serena Camp, Basecamp Explorer, Mara Sopa Lodge, and Ashnil Mara Camp.
Evening Game Drives at Masai Mara – 3 PM
The Mara terrain changes like the wind. The next try to outdo the previous one by doubling its magnificence and wildlife variety. Our knowledgeable, Kenyan-bred Masai Mara safari guide will guide you through this expansive terrain.
The goal is to take you to the park's wildlife hotspots, bettering your chances of wildlife spotting and great photography. Your game drive is, in this case, deliberately slowed to allow you enough time to explore and fall in love with each terrain. Remember to bring your camera with you.
Some of the animals you will likely see on your evening game drive include the big five, giraffes, antelopes, impalas, hyenas, and many big cats, including the lions.
Day 2: Full-Day Game Drive at Masai Mara with Packed Lunch
Morning game drives in Masai Mara are a window to her soul and the primary reason it remains Kenya's leading tourist destination. You set out for the game drive at 6:00 AM after breakfast but with your packed lunch.
Morning game drives are quieter, more intimate, and the best shot you have at spotting the elusive Mara cats. You will, on your path, trod on hundreds of grazers nipping on the dewy morning grass. If you look closely, you will likely see a bush-camouflaged prey readying itself for a kill.
You move at the speed of the jungle, careful not to scare away the herds of grazing impalas and wildebeests. Please leave it to our highly trained Kenyan-bred guide to guide you to the best locations for the best game viewing and photography opportunities.
Staying Inside The Mara Triangle
If you stay inside the Mara Triangle, you are in for a treat. The triangle is the least visited by tourists and the most crowded by wildlife. To the southwest lies the Serengeti border, to the northwest the Siria Escarpments, and east the Mara River.
On day 2 of your 3 Days Masai Mara Safari from Nairobi, the guide concentrate on the north of the triangle, best known for the Kichwa pride. The pride is a group of 60 adult lions divided among four prides.
Masai Mara National Reserve Migration
How many days in Masai Mara are enough for the wildebeest migration? Those who book this 3 Days Masai Mara Safari from Nairobi between July and October get to be on the best viewing side of the Great Wildebeest Migration.
The event involves over a million wildebeests, 200,000 impalas, and nearly 500,000 zebras crossing from the Serengeti to the Masai Mara through the Mara River. What are the odds of crossing a river filled with crocodiles and hippos and making it past the banks dotted with the even more dangerous lions, cheetahs, and leopards? Book this 3 Day Masai Mara Safari from Nairobi and find out.
Before heading to the evening game drives, you stop to sample a packed lunch of your best delicacy. The drive branches further north towards the Tanzanian border. You explore the rich scenery and diverse vegetation for about three hours before returning to our lodge or camp.
Day 3: Morning Game Drive, Visit a Maasai Village, & Transfer to Nairobi
Masai Mara's morning game drives never get old. They are the perfect way to start your day. Today, you will take breakfast, check out, and then head for this game drive. You will enjoy the morning drive to around 10 am, the ideal time to head to a Maasai village.
Visit The Maasai Village
The guide will drive out of the park and head for the Maasai village. The Maasais' are colorful people rich in culture and traditions. Your Maasai village visit gives you a better understanding of their world-famous cultural practices.
It opens you up to their outside-the-rest-of-the-world and lets you in on their mutually beneficial friendship with the Mara wild. The visit lasts about 1-hr, and then you start the drive back to Nairobi. You will arrive at JKIA in the evening.
Items Included in the 3 Days Masai Mara Tours from Nairobi Price
Airport pick-ups and drop-offs
A private, well-versed tour guide, Kenyan and multilingual
Round-trip transport to all attractions and destinations as per the itinerary (4×4 Jeep)
Budget (economy), comfort, superior comfort, or luxury hotels, lodges, or tented camps
Meals on safari (full-board depending on the budget)
Masai Mara game reserve entrance fees
Bottled drinking water in the safari vehicle
Evening game drive at Masai Mara on day 1
Full-day game drive at Masai Mara with packed lunch on day 2
Morning game drive at Masai Mara on day 3 if you are staying inside the reserve
Visit a Maasai village on day 3
Items Excluded from the 3 Days Masai Mara Safari Package Price
Pre-travel expenses (e.g., passports and visas)
Travel insurance
Easter Weekend and Christmas supplements of USD 100 Per Person Per Night
Costs such as baggage fee, laundry charges, luxury drinks such as champagne, etc.
Tips and gratuities
Money transfer fee
Hot air balloon safari
Total Safari Price Per Person Sharing of Masai Mara Safari for 3 Days – 2024
| | | | | |
| --- | --- | --- | --- | --- |
| Masai Mara Camp/Lodge | April & May | Jan – Mar, June, & Nov | July – Oct | 15th Dec – 3rd Jan 2025 |
| Sentrim Mara Lodge | USD 1035 | USD 1125 | USD 1755 | USD 1455 |
| Mara Maisha Camp | USD 1195 | USD 1375 | USD 2375 | USD 2075 |
| Basecamp Masai Mara | USD 1193 | USD 1215 | USD 1925 | USD 1625 |
| Mtito Safari Camp | USD 1085 | USD 1205 | USD 1905 | USD 1605 |
| Malaika Camp | USD 1245 | USD 1325 | USD 1965 | USD 1665 |
| Ashnil Mara | USD 1100 | USD 1219 | USD 2149 | USD 1611 |
| Sand River Camp | USD 1593 | USD 1931 | USD 2705 | USD 2405 |
| Enkorok Mara Camp | USD 990 | USD 1100 | USD 1790 | USD 1490 |
| Entim Mara | USD 1435 | USD 1565 | USD 2655 | USD 2355 |
| Ilkeliani Mara | USD 1305 | USD 1415 | USD 2425 | USD 2125 |
| Keekorok Lodge | USD 1030 | USD 1192 | USD 2031 | USD 1731 |
| Mara Crossing Camp | USD 1295 | USD 2165 | USD 2965 | USD 2563 |
| Mara Serena Safari Lodge | USD 1085 | USD 1228 | USD 2115 | USD 1815 |
| Masai Mara Sopa Lodge | USD 1003 | USD 1150 | USD 1868 | USD 1568 |
| Sarova Mara Game Lodge | USD 1248 | USD 1430 | USD 2215 | USD 1804 |
| Mara Intripend Camp | USD 1245 | USD 1485 | USD 2813 | USD 2385 |
The above price is based on 2 adults traveling together sharing a safari vehicle and a double room. Reach us for a personalized quote for the safari if you are a solo traveler or more than two.
3 Days Masai Mara Safari Tour Guide, Expert Tips, and FAQs
Going on a Kenya safari is pretty exciting, especially if it is your first time. Flying from your home country to Nairobi and into the Masai Mara might cause some anxiety, and we fully understand that. For this reason, our Masai Mara experts have come up with expert tips and additional information that might be useful as you prepare for this once-in-a-lifetime adventure.
1. Can You Walk in a Safari?
The Mara looks even more surreal by foot; the grass greener, the wildlife more real. Our highly trained Masai Mara Maasai guides will guide you through this surreality. They will ensure you get close but at a safe-distance-encounter with the reputable flora and fauna.
Masai Mara walking safaris are serene and twice as exciting as the rides. They take you through the rich and rough Mara terrain and allow you an intimate interaction with its wildlife. They also allow you a quiet time of reflection and are the best time to take those Kenya Safari souvenir pics.
2. How Much is Hot Air Balloon in Kenya? Is Hot Air Balloon in Masai Mara Worth It?
The view from up there is magical enough to make you a believer. It is captivating and unique, making the USD 450 in balloon safari charges seem like pocket change. The ride begins at the first light of sunrise and floats you through the life-worth Mara plains.
It goes lower to allow you a better view of the wildlife and higher to allow a bird's eye view of the show-stopping scenery. A Masai Mara hot air balloon safari glides you through the spectacular forests, riverine habitats, and forested escarpments. The ride ends with a champagne bush breakfast.
3. How Much Does a Masai Mara Safari Cost?
There is no one size fits all price for a Masai Mara safari. For this reason, we have designed several Masai Mara packages that you can choose from depending on your budget. These include budget, mid-luxury, and luxury packages.
Each of these packages is designed to show you the splendor of the Mara regardless of how much you spend. We trust you will return with extraordinary memories that will last a lifetime.
4. How Do You Get from Nairobi to Masai Mara?
There are two main ways to get from Nairobi to Masai Mara. The first way, which is the fastest, is to fly. Masai Mara flights leave daily from Nairobi's Wilson Airport. A flight takes about 45 minutes.
The second way is to go via road. A road transfer from Nairobi takes about 5-6 hours in a custom-made safari vehicle.
5. What Airport is in Masai Mara?
Masai Mara Game Reserve does not have one major airport but various airstrips located in different areas of the park. We will arrange for your flight to land at the airstrip nearest your hotel or camp.
Upon arrival, your driver will be waiting to take you to the hotel. Depending on the distance, you will have your first game drive en route.
6. Can You Drive from Nairobi to Masai Mara?
Yes. You can drive from Nairobi to Masai Mara. The distance is about 260KM, and the drive takes roughly 5-6 hours. The distance might increase slightly depending on the location of your hotel.
Driving to Masai Mara is exciting as it lets you see Kenya's countryside up close. One of the best moments of the drive is the mandatory stop at the breathtaking Great Rift Valley Viewpoint.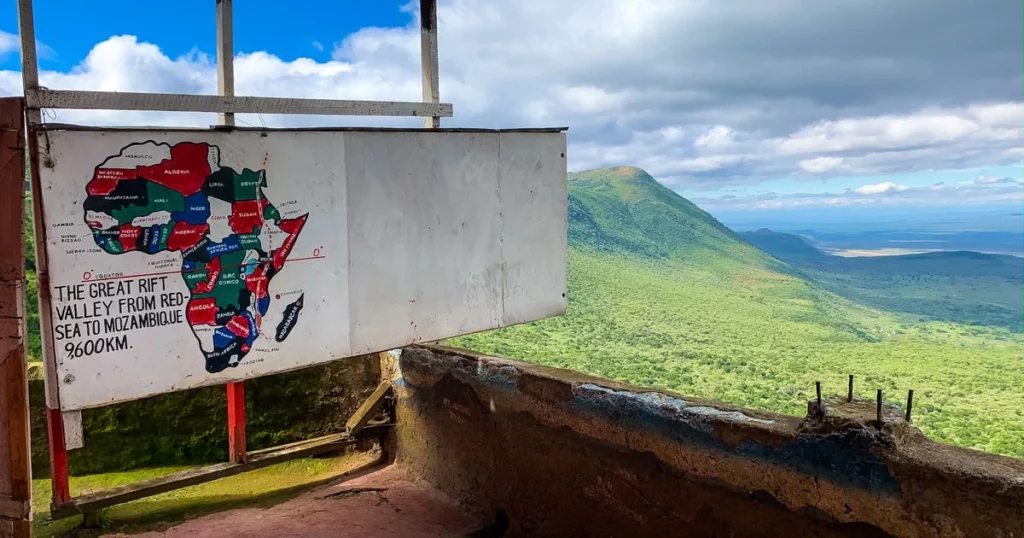 7. How Many Days in Masai Mara for a Great Safari?
The length of your stay at the Masai Mara will mainly depend on your budget and itinerary. In our experience, we recommend that you need a 2-night safari from Nairobi to enjoy the Masai Mara fully. 
If you are going by road, the first and last half-day will be taken up traveling. That gives you time for four game drives. 
 8. How Far is Amboseli from Masai Mara?
Amboseli National Park is about 462.7KM from Masai Mara. It is on the floor of Mt. Kilimanjaro, close to the Kenya-Tanzania border. Driving from Masai Mara to Amboseli takes slightly over 8.5 hours. A safari from Masai Mara to Amboseli will see you spend a night at Lake Nakuru, Lake Naivasha, or Nairobi. A flight takes about 1.5-hr.
Amboseli National Park is famous for its large herds of elephants and breathtaking views of the snow-capped Mt. Kilimanjaro.
 9. How Do You Get to the Serengeti?
Depending on where you are coming from, you can fly directly to Kilimanjaro International Airport in Arusha, Tanzania, where most Serengeti tours start. From Arusha, you can take a domestic flight into the Serengeti. 
If you are going by road, a transfer from Arusha to Serengeti will take 8 hours in a custom-made safari vehicle. If you are in Nairobi, you can take a connecting flight to Arusha and then Serengeti.
 10. What is the Best Time to Visit Masai Mara from Nairobi?
The best time to visit the Masai Mara is between July and October when the wildebeest migration occurs. During these months, millions of wildebeest move from the Serengeti, crossing the dangerous Mara River into the Masai Mara Reserve. 
If you cannot travel between these months, do not worry, you can visit the Masai Mara at any time of year and still have a fantastic adventure
 11. How Much Does Kenya Safari Cost?
A Kenya safari can cost as much or as little as you would like. International flights will take a large chunk of your budget, which cannot be escaped. We will advise you on all available budget options considering the length of the safari, the number of places you wish to visit, and the means of transport. 
The price of this 3-Day Nairobi to Masai Mara Safari starts from as low as USD 925 per person based on two adults. 
 12. What Month is the Wildebeest Migration?
The wildebeest migration takes place between July and October every year. This migration is one of the most exciting natural phenomena in the world, earning its place as one of the world's wonders.
Every year millions of wildebeest make the treacherous trip from the Serengeti to the Masai Mara. As they cross the Mara River, they will find hungry crocodiles waiting, and the battle for survival is won only by the strongest.