Meet Our Passionate Team of Travel Experts
Safaris are not just safaris with us, they are eccentric escapades. We let you see Kenya through our experienced eyes. We discover her together and inevitably fall in love together. We add that extra glam to your safari. We are the difference between a normal tour and a mind-blowing adventure. We are the AjKenyaSafaris.com team.
Our team wasn't just assembled, it was built from scratch through careful selection of the lucky few that through a series of tests, qualified to be one of us. We value you, and that is why we obsess over even the tiniest details to ensure your encounter with us is nothing short of a commemorable exploit.
Skilled, experienced and passionate; we are perfectionists and we love what we do. Kenya is our birthplace and we promise to show you her beauty, better than anyone else.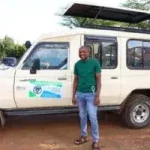 James Gatheru
James, 28, is a seasoned safari director with tons of experience in the tourism sector. He has been part of the team since joining the company in (2014), a journey he has so far described as life changing. Born and raised in Kenya, James is what you would describe as a triple threat; skilled, knowledgeable and good at what he does. 
He loves the ocean, "therapeutic," he says. The animals running unrestricted in the wild, in his own words, free his spirit. He claims to have never seen anything as captivating as the sunrise in the Indian Ocean. James is the man to have in that tour van.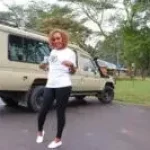 Lydiah Mwangi
Lydiah is a breath of new air in AjKenyaSafaris.com. Although she is new to the company, her impact has gone far from unnoticed. She works closely with Lynnette Kangethe to ensure that your airplane tickets and hotel reservations are made in time. 
She is the cheerful voice that picks up your call and replies to your online enquiries. She explains our company operations and outlines the services that we offer. She is the girl with the magic wand, making everything happen with the swiftness of a deer.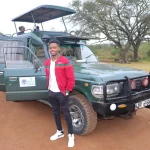 Henry Kuria
Henry is your go-to guy, a safari leader that has, through many years of experience, perfected the art of keeping his clients lively and engaged. He is the guy to get stuck in an elevator with; witty and one with a keen ear. 
He says Maasai Mara is magical, but compares asking him to pick his favorite Kenyan destination to asking a mother to pick between his kids, that is Henry for you; one with Kenya at heart. One who has visited and mastered every corner of the country and one who prides himself in the beauty his motherland has to offer.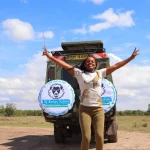 Agnes Nyaguthii
An enthusiastic outdoor lover, Agnes has been involved in close to a hundred tours and safaris. You'll find her in the field showing tourists around, engaging them in vibrant conversations and giving precautionary advice to those under her care. 
It is this passion that saw her leave a lucrative job in the corporate world to join the travel industry. She has mastered the art of communication and according to her, nothing comes second to her work. She loves the feel of white beach sands under her feet, trying out new camping sites and hiking mountains.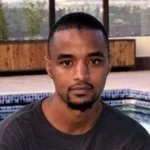 Armstrong Kimathi
Armstrong came into the travel industry 6 years ago after leaving a 4-year-old career in the corporate industry, a move he says was a long way coming. Leisure travel is one of his fortes and he additionally thrives in the travel counseling department. 
He loves anything to travel and that is perhaps one of the many reasons why he has the country's terrain on his fingertips.  Armstrong's dedication, exuberance, and passion for his work are precious assets to AJ Safaris and Tours.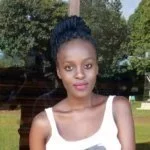 EVA  Njogu
Eva is a Kenyan, born and raised, freelance travel journalist. She has not only traveled across the country, but also had the chance to travel and write about some of the most captivating nations in the world. She has a passion for photography, traveling, blogging and bungee jumping. 
She has been featured in a number of local itineraries and travel guide books.  She describes the world as a piece of canvas, 'draw it as you see it. The beauty in the world is yours to see, feel and create.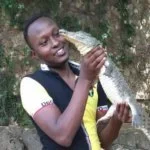 Ian Waruingi
Ian was born into the travel industry to parents owing a local travel company in coastal Kenya. His affair with the industry began at the tender age of six, and nothing has simmered it down since. He has a deep appreciation for nature and it is this passion that has seen him tour countries such as Mexico, Thailand, Italy and England. 
He has an eye for beauty and a heart for breathtaking sceneries. You can feel the energy in the way he talks about his motherland Kenya. He enjoys relaxing and having a cold can of beer on hot evenings along the shore of the Indian Ocean, hiking Mt. Kenya with his dog Tommy and taking a bus to nowhere.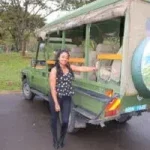 Lynnette Kangethe
Lynnette is the woman behind the screen. She is enthusiastic about corporate travel and you can tell that by the way she is always first to get into the office. Her skill has been perfected by years of working for several renowned travel companies in the country. 
She is the woman that books your airline tickets and makes your car and hotel reservations. Her computer is his passion, but she also wouldn't mind a week or so in the Amboseli National Park.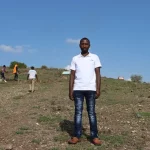 Harrison Kamau
Travel is his work, passion and life. Meet Harrison, the guy that has been to almost, if not all, towns in the country. Although has always had an interest in seeing the world and interacting with the different kinds of people in it, Moses just recently joined the travel industry. 
He has traveled widely in places such as Uganda, Botswana, Kenya, Europe and South Africa. He loves discovering new places, having coffee with strangers and gushing about his world's exploits and adventure. He is a travel encyclopedia, one you can look to for knowledge about destinations, hotels and basically anything that has to do with travel.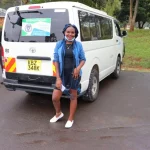 Lydiah P.
Energetic, full of life and passionate about travel; that is Lydia for you. She has been in the travel industry for almost a decade now and has an impeccable track record to show for it. Lydia arranges safaris and trips for clients and so far, so good, her clients have had nothing but praises. 
She is highly organized and extensive in conducting researches that ensure that her clients dream safaris come true. Her specificity and attention to detail is admirable and she firmly believes that 'average equals to work not done at all'. She enjoys walks in parks, breakfast in five-star hotels, picnics by the ocean and dinner in yachts.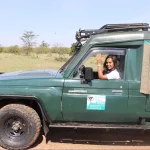 Gladys Waruguru
Gladys in-depth knowledge and lovely personality has earned her a spot as the company's favorite contact. She specializes in group safaris but is also as skilled in planning for personalized ones. Her bubbliness and positivity is perhaps one of the reasons everyone looks up to her as a mentor. 
She has helped shape and organize the company's staff into the splendid team it is today. She loves working and appreciates the fact that she is, in a way, able to help people create lifetime memories. She loves the thrill of danger and that is why skydiving, bungee jumping and deep-sea diving are some of the must-dos in her bucket list.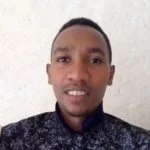 John Gathungo
John is a veteran traveler who loves nothing more than meeting and socializing with new people. His extensive knowledge of the country and passion for his work are of incalculable advantage to his clients. His three years of experience have earned him skills in the management and planning of successful safaris. 
His communication and friendliness also come a long way into boosting our client base to almost double the amount it was two years ago. He loves the ambience the sea creates, reading travel journals, making new friends and diving at the Malindi's Marine National Park.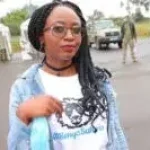 Loise Muriithi
Kenya means more than home to Loise, Kenya means love, beauty unappreciated and at times unnoticed and most importantly, Kenya means life to her. She has seen it all, she has been to the mountains, deep seas, parks and forests and that changed the definition of Kenya to her. 
She now knows Kenya as a mother that has nurtured and breathed life into one of the most beautiful lands in the continent. She carries this definition with him to the field. She is an eye opener to the clients she tours with. She takes you to destinations within the country that you didn't even know existed. She gives new meaning to travel.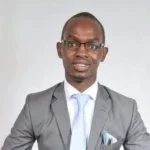 Patrick Njama
Patrick is our company travel consultant. This guy is the Einstein of the travel industry; he knows it all. His journey with the industry began at the tender age of eighteen and he hasn't taken off his travel boots since. He has toured most parts of Kenya and East Africa at large but says he is yet to see anything as enchanting as the wildebeest migration at the Serengeti National Park. 
He plans customized itineraries and safaris in the country. He enjoys swimming in the ocean, exploring new destinations, watching wildlife and a night stroll within the ever graceful Nairobi city.