The Ultimate Lamu Travel Guide and Things to Do at Lamu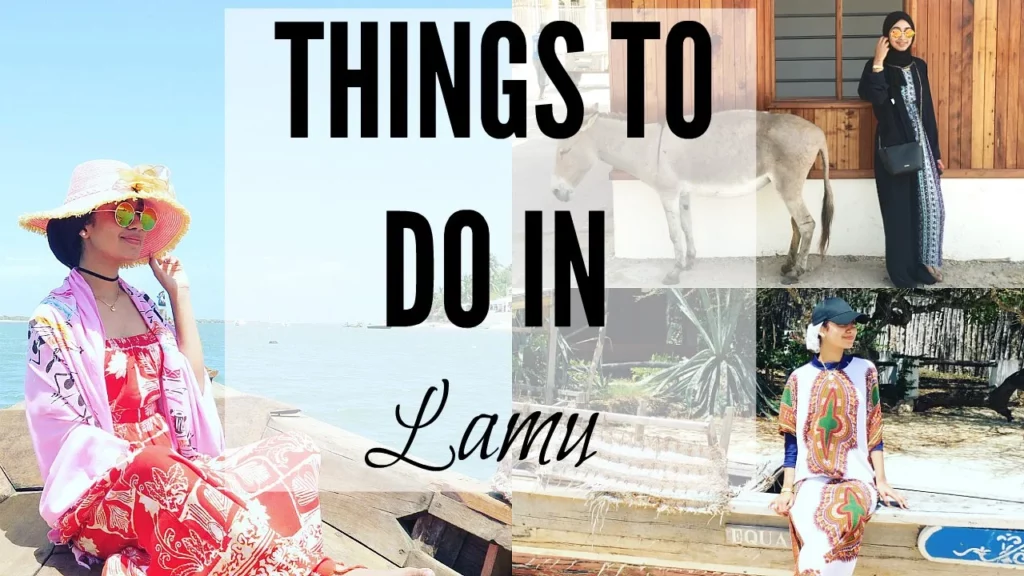 What are the best and unique things to do at Lamu? Approximately 314 km north of Mombasa, lies Lamu Town, a town located on Lamu Island which is part of the Lamu archipelago. The town sits quietly on the shores of the Indian Ocean, its deep history, splendid beaches, and culture the only thing not too modest about it.
Its architecture too is world-class, the Portuguese, Turk, Arab, and Swahili influences around it undeniable. AjKenyaSafaris.com gives you an in-depth view of this UNESCO World Heritage Site in our Lamu travel guide from Nairobi. 
We will do our best to highlight some of the best Lamu beaches you must visit and things you must do on this island of tranquility. Our plan is to introduce you to its rolling dunes, Arab inspired courtyards, historical ruins, fine art, museums, and marine reserves.
Welcome to Lamu, the town of winding streets. The sleeping historical giant in the guise of a silent peaceful town.
Are You Looking for the Best Things to Do at Lamu?
At ajkenyasafaris.com, we are committed to helping you plan and book the best tour for you and your loved ones.  We are a team of travel consultants who call Kenya home, and nothing makes us happier than seeing the broad smiles on your face after taking your on lifetime trip.
Book your safari now by sending us an email at  james@ajkenyasafaris.com or safarioffers@ajkenyasafaris.com.  You can also call or WhatsApp us at +254-748-258-880.
Our Most Booked Kenya Safari Packages and Lamu Itinerary
The Ultimate Lamu Travel Guide 
Lamu Island is a great travel destination for those looking to explore some of Kenya's unique history and culture. Visitors can enjoy the laid back atmosphere of Lamu town and explore the narrow, winding streets filled with traditional architecture.
Best Time to Visit Lamu
Like it is with most Kenyan tourist destinations, Lamu beach is best visited during the dry season when the weather is hot and dry. The longest dry season in the country runs from July to October, the shortest running from January to February. 
However, the Kenyan coast experiences moderately good weather all year long. You can visit the best Lamu beach at any time and have a good vacation.
How to Get to Lamu from Mombasa
The easiest and most convenient way to get to Lamu from Mombasa is by taking a ferry. The public ferry departs twice a day from Mombasa Old Port at 8:30am and 2:30pm. The journey takes approximately two hours depending on the weather conditions. You can also opt for a private boat or arrange a charter with one of the many local companies in Mombasa.
Is Lamu Safari for Travel?
Lamu is generally considered to be a safe destination for tourists, with no significant safety concerns reported. The local authorities take steps to ensure the safety of visitors, and tourists are advised to take common-sense precautions when traveling.
 For example, it is recommended that travelers avoid walking alone at night, and to be aware of their surroundings in unfamiliar areas. Lamu also has a strong police presence to provide additional security and peace of mind to visitors. 
In addition, the island has a good healthcare system, with both private and public clinics offering medical assistance in case of injury or illness. Overall, Lamu is a safe destination for travelers.
Best Restaurants in Lamu 
Lamu restaurants serve delicious dishes made with fresh local ingredients. Seafood is a speciality for which Lamu is well known, and can be found in many of the restaurants in the area. Here are some of the best restaurants in Lamu:
The Majilis Restaurant & Lounge – This restaurant serves traditional Swahili cuisine and offers views of the Indian Ocean. It has an outdoor seating area perfect for family gatherings and romantic dinners.
The Majlis Beach Bar & Grill – This beachside eatery serves up traditional Swahili dishes with a modern twist. The restaurant offers great views of the Arabian Sea and is a great spot to enjoy sunset cocktails.
The Old Town Restaurant – This restaurant serves up an array of Swahili dishes made with fresh ingredients. It also offers seafood specialties and traditional Lamu recipes.
The Lighthouse Beach Bar & Grill – This family-friendly beachside eatery serves a variety of grilled seafood, as well as traditional Swahili cuisine. The restaurant also offers a variety of cocktails, as well as an amazing sea view.
The Sea View – This rooftop restaurant serves up traditional Swahili dishes with a modern twist. From here, you can enjoy stunning views of the Arabian Sea while indulging in delicious food.
What to Wear in Lamu
When visiting Lamu, it is best to wear lightweight, breathable fabrics such as cotton and linen. Cotton shirts are ideal for days spent exploring the cobbled streets of Lamu's towns or relaxing on the beach, whilst lightweight linen trousers are suitable for evenings out at the many restaurants and bars in the area. For added protection against mosquitoes, choose long sleeved tops and trousers.
It is also important to consider the weather in Lamu when choosing what to wear. During the day, temperatures can reach high levels and it is often humid, so it's best to opt for light colours which will not absorb as much heat. On cooler days, you may want to layer up with a light jumper or scarf. And when out and about, don't forget to slip on sunglasses, hat and sunscreen to protect yourself from the sun's rays.
The local style in Lamu is quite laid-back and comfortable, so avoid dressing too formally unless you are attending an event. Women generally choose flowy dresses or loose-fitting trousers matched with a light shirt, whilst men tend to stick with shorts and t-shirts.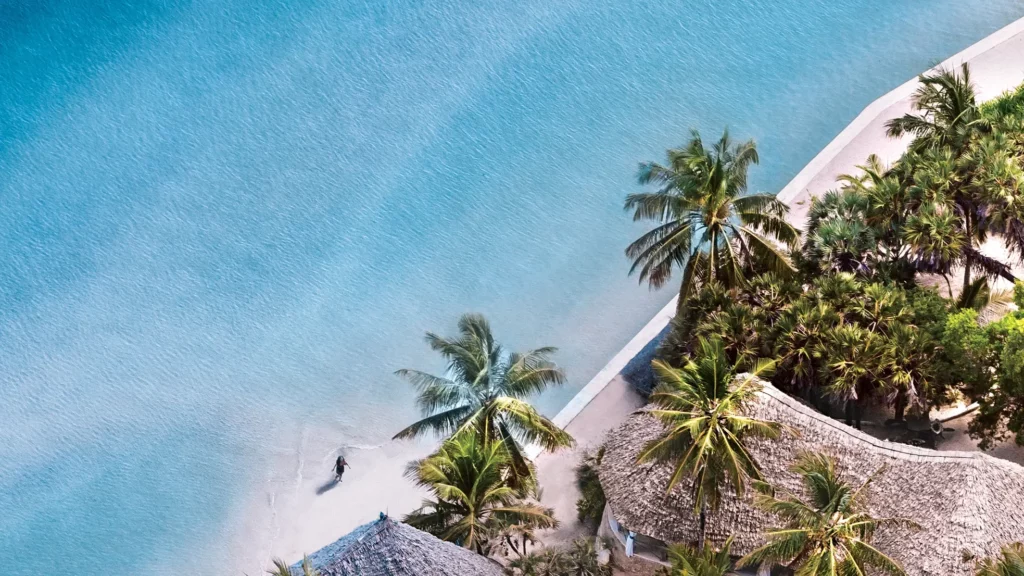 Top 9 Unique Things to Do at Lamu – Outdoor Activities Lamu
Lamu is a charming island off the coast of Kenya. It is known for its stunning beaches, laid-back lifestyle and centuries-old Swahili culture. There is no shortage of things to do in Lamu, whether it be an activity-filled day out or a relaxed afternoon by the sea.
 1. Lamu Beaches
Pristine and almost secluded, Lamu beaches are the meditation you never thought you needed. Their shorelines, like is characteristic of Kenyan beaches, complement their silky white sands, deep-blue waters, humongous palm trees, warm breezes, and magnetic ambiances. 
Here are two of the best Lamu beaches. 
Shela Beach
If it's peace and quiet you are looking for, you are more than likely to find it by the Shela Beach shorelines. The beach sits 2km from Lamu town, on an isolated spot graced by a beachfront like none other. 
12 km long, the beach is known for its calming walks overlooked by views of the beautiful Indian Ocean. In the far distance, the sandy dunes are visible, their surroundings overtaken by shrubby green undergrowth. 
How to Get There
Bohemian Lamu Island doesn't care about roads or cars, the only means of transport available being boats and donkeys. Being only two kilometers away from Lamu, you could walk to the beach which comes with the plus of exploring Lamu at large. 
The option of boarding a boat or water taxi is also available. 
Manda Island
Perfect is rare but if you were to find it, it wouldn't be in a place other than the spectacular Manda Island. Quiet and intimate, the Manda Beach nestles a stone throw's distance from Shela and is as stunning, if not more.
The beach combines bush and beach experiences treating guests to miles of its beautiful coastline as well as a rich bird and wildlife assortment. Bushbucks and buffaloes form part of this happy treat. Walks down its shores are levitating as well as other activities like snorkeling, water skiing, kite surfing, and deep-sea diving. 
 2. Lamu Old Town
On the narrow pathways of Lamu Town, you will pick up traces of the cultural and architectural souvenirs resulting from its many interactions with the exterior. That, in itself, is the most striking part of this town. 
Lamu is 700 years of Swahili, Arab, Portuguese, Turkish, and German interactions. Its architecture, carved wood doors, interior courtyards, and winding stone verandas, a strong indication of this. 
Being the oldest town in Kenya, Lamu is an archive of history -perhaps one of the reasons it made the UNESCO World Heritage Site list. Its museums you must stop-by, for nothing is as intriguing.
Certain as death you will be impressed by its dreamy scenery, surrounded by clear waters and guarded by graceful wavy dunes. And by its friendly to a fault people, ready to welcome you with a warm plate of their best Swahili delicacies. 
Prepare to spend days on end marveling at how the town beautifully blends natural wonders, shores, sea, and sand. 
Fun fact: 
Cars find it impossible to navigate the narrow streets of Lamu, and so donkeys, camels, bicycles and boats are the only available means of transport.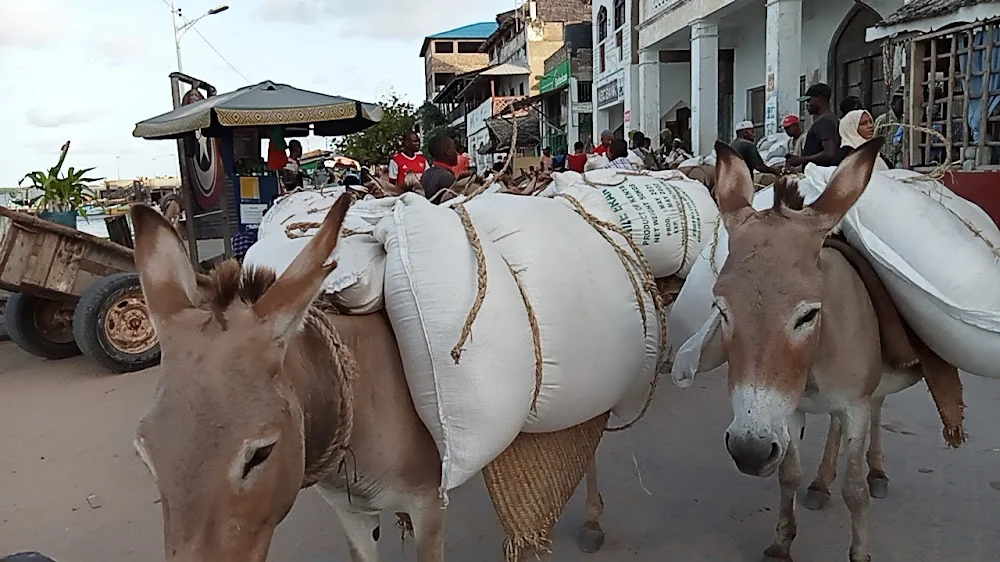 3. Lamu Museums
To be honest, Lamu feels like one big museum but there are 3 publicly designated museums. The first is the Lamu Fort which was erected in the 19th century- between 1814 and 1821- by the then Lamu ruler Seyyid Said.
The fort first played the role of a military base, it being the place where weapons used to defeat the Mazrui rebels were stored. The Fort also acted as a symbol of the Mazrui control over Kenya's coast. 
In 1910, the Britons turned the fort into a prison for the MauMau, a role played till 1984. With the fort comes incredible history and excellent Swahili Poetry collections. Also within lies an exhibition that showcases everything environmental conservation. 
Second is the Lamu or Swahili House which overlooks the drool-worthy Manda Bay and a beautiful mangrove forest. The architecture employed here is genius, its Swahili setup taking us back to the 18th century. 
You would be delighted to know that before the house was repossessed by the National Museums of Kenya, it belonged to a wealthy Swahili Merchant. So are you interested in learning about how the 18th century well-to-do lived? You now know where to go.   
The third is the German Post Office which documents the Germans' ploy to conquer the East African coastal soils. The office was in 1888 as a trade and communications center. Though it closed in 1891, deep history still exists here, the National Museums of Kenya, centuries later, opening it up to the public. 
 4. Takwa Ruins
The Takwa Ruins are debris of an old Swahili town that was abandoned around the 18th century. Deep history runs through here, the most fascinating site being the large pillared mosque beneath which a Sheikh is buried. 
The town, history has it, was a casualty of the long frequent wars between the Takwa and Pate people. Access to the ruins, because it is located in the shallow waters, must be through shallow drafts. 
The ruins are a perfect photography spot as well as picnics and camping. Click here to read our in-depth Malindi travel guide or here to learn how you can plan adventure Kenya safaris with us.
 5. Kiunga Marine National Reserve
The KWS run Kiunga Marine Reserve is your chance at a glimpse of the captivating subaquatic world.
The Reserve, 60km long, is located on the northern side of the Indian Ocean coast. 
Showcased are over 50 calcareous islands and coral reefs that boast insane amounts of sea life.
You get to swim or watch, on glass-bottomed boats, the large variety of sea life here which includes sea turtles and rare dugongs. 
The mermaid-tailed Dugong, for those who believe in mermaids, is where the Mermaid myth is believed to have originated from. 
Fun fact
The Kiunga Reserve is the leading breeding place for at least nine mangrove species, five sea turtle species, and the roseate terns. 
 6. The Pate Island
Pate Island resulted from early Arab activities on the Kenyan coast, after which it served as home to a few cast-out Omani Rulers. The Pate Island's Siyu Town is where to learn Islam, other worthy attractions being the Faza, Kizungitini, and Mtangawanda towns. 
Pate Island has the stunning Situ Fort to offer as well as a beautiful, serene scenery which can be enjoyed on dhow or ferries.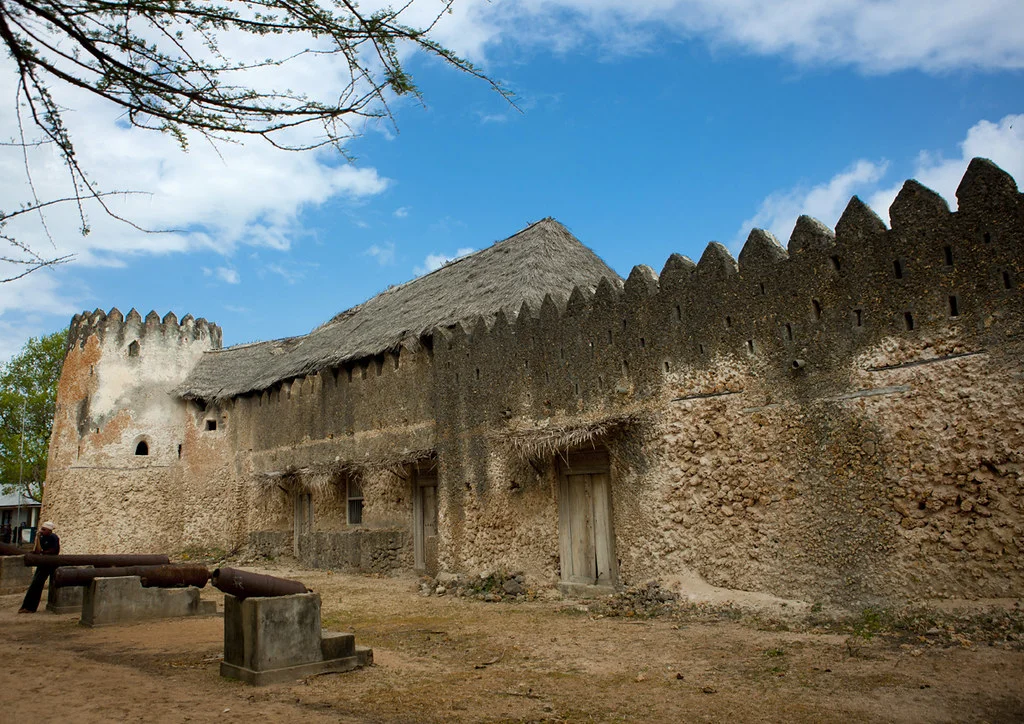 7. Donkey Sanctuary
Donkeys are royalty in Lamu and as such, a palace is dedicated to serving their highnesses, the Donkey Sanctuary. The donkey sanctuary houses 3,000 donkeys which are rehabilitated and treated here. 
The burdened creatures at times suffer at the hands of cruel owners which motivated a UK based organization to start the sanctuary. You get to learn a lot about donkeys here. Donations are highly appreciated. 
 8. The Lamu Island Festival 
The Lamu Island party never dies. Year in and year out, a variety of festivals are hosted to celebrate the historical and Islamic identities of Lamu. The Festival of Maulidi, for example, is an Islamic festival hosted to celebrate Muhammad's birthday- Lamu's version of Christmas in simple terms. 
The festival is a beehive of activities, donkey competitions, swimming races and tug of war all games you can participate in. The New Year here is ushered in with a dhow race. The Lamu Cultural Festival is another one you would hate to miss. 
The festival is a big deal here, people from around the world arriving in droves to witness it. The festival is done in honor of the Swahili culture. 
 9. Baraka Gallery 
Fans of art, African art mostly, would be delighted to know that there is an art gallery dedicated just to them. The Baraka Art Gallery is a collection of art from Africa and beyond.  Maasai belts you will find easily here, as well as the popular African carvings.
Kindly see our Kenya Safari Packages and Tours, Nairobi Safari Tours, and Masai Mara Safari Cost Guides.