Wildebeest Migration Wonder of the World - Masai Mara Migration Price, Itinerary, & More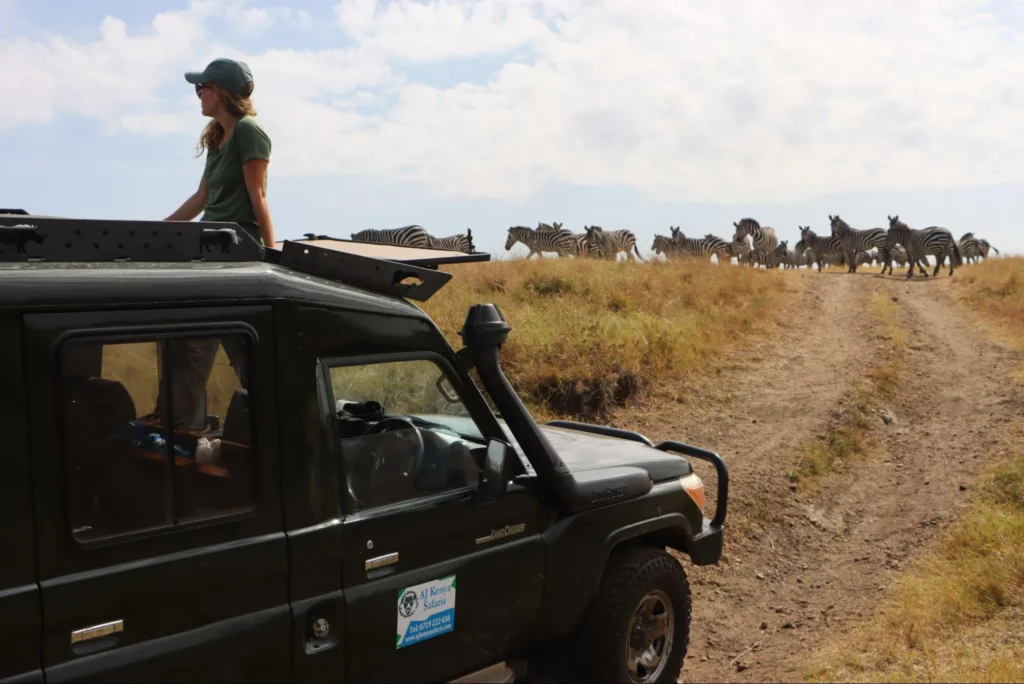 The Kenya wildebeest migration is arguably the most facilitating event in the world. The circular movement of millions of wildebeests, zebras, antelopes, and other grazers annually between Serengeti National Park and Masai Mara Game Reserve. 
Scientists cannot precisely tell how the wildebeests know when to migrate or how they know the way. One plausible explanation is that they follow the rain's scent, which is fascinating.
If you want to experience this wildebeest migration wonder of the world, we advise you to visit Kenya from July to late September, as this is when the animals will be at the Masai Mara. 
You are probably also wondering how much it costs to book wildebeest migration safari packages. Cost is influenced by several factors, such as your duration of stay and type of accommodation. This review will give you a proper breakdown to help you as you plan.
Most importantly, you must be wondering how a migration safari works, what happens while you are at the Masai Mara, and how it feels to watch hundreds of wildebeest cross a crocodile-infested river.
As luck would have it, we had the privilege of witnessing the Masai Mara migration, and we are happy to share our first-hand account of the most fantastic show on earth with you. We have done that with our 3-day or 4-day Kenya animal migration safari packages and itinerary. 
Wildebeest Migration in Kenya – Book Your Great Migration Safari Today
Your Kenya wildebeest migration safari starts here. Book the packages in this piece or customize your safari by calling us or sending a WhatsApp message to +254-748-258-880. 
We are also available through email at james@ajkenyasafaris.com or safarioffers@ajkenyasafaris.com. 
The Summarized, 4 Days Kenya Wildebeest Migration Safari Itinerary 
Trip Details
Highlights
Day 1

Pickup from Nairobi, Transfer to Mara, and Evening Game Drive

Accommodation at Various Camps

Day 2

Full-Day Migration Safari at Masai Mara

Accommodation at Various Lodges

Day 3

Optional Hot Air Balloon Safari and Game Drives

Accommodation at Various Lodges

Day 4
Morning Migration Safari & Transfer to Nairobi
Items Included
Park Fees, Game Drives, 4×4 Land Cruiser, Full-Board Accommodation, Safari Guide, and More
Items Excluded
Tips and Gratuites, Money Transfer Fee, Local and International Flight, & Laundry Services
Total Safari Price
Per Person Sharing from USD 2490
Our 4 Days Detailed Great Migration in Kenya Safari Experience Itinerary 
As a travel company, one of our goals is to share Kenya's beauty with our clients. But we cannot share what we don't know or haven't experienced. Our team often visits the Masai Mara to experience the wild beast migration in Kenya.
Day 1: Pick Up from Nairobi, Transfer to Masai Mara, & Evening Game Drive
As we usually do with Masai Mara road trips, we leave Nairobi bright and early. Most of our clients arrive in Nairobi by 4 am. We pick them up from the airport and start the road trip by 6 am. 
This is so that we can arrive at the Masai Mara in time for lunch and an early evening game drive. We take the Southern bypass out of Nairobi and join the Nairobi-Nakuru highway. 
Our traditional first stop of the journey is the Great Rift Valley View Point, about an hour from Nairobi. This is a mesmerizing spot where you can see the vast expanse of the Great Rift Valley stretching as far as your eyes can see.
There are plenty of curio shops where you can start picking up souvenirs for your family. After taking the obligatory first photos of the trip, we return to the road. Our next stop will be Narok town.
We arrive at Narok town a couple of hours, about 3-hrs later. Some of the guys take the chance to stretch their legs, others visit the bathroom, and others do final shopping. From here, it takes about 2-hrs to get to the most sought-after game reserve in the world – Masai Mara. 
We can all feel the excitement building up as we near the gates, as this is the best time to visit the reserve. After completing payments (since we stay inside the park), we head to our home for the next three or four days.
We are welcomed warmly with a glass of cold mango juice or other drinks and check-in. Usually, when we bring guests, we allow them to relax and rejuvenate for the rest of the afternoon before going on an evening game drive. 
Evening game drives offer great chances to witness a hunt as the predators look for dinner. You can tell that the next few days will be amazing!
Day 2: Full-Day Game Drive at Masai Mara National Reserve – Experience Migration
On the second day, we rise early and meet at breakfast. After the long journey yesterday, we all slept soundly, with the sounds of different wild animals echoing in the distance. The buffet is delicious, but we don't linger. 
The migration is in full force, and we don't want to miss a second more. Because of this, today we are taking packed lunch, graciously prepared for us by the hotel. This means we will be gone all day without returning for lunch.
We pack up our gear and head to the Mara River, where all the action is. On our way, we encounter hundreds of wildebeest that have already made the lucky cross, gazelles, zebras, antelopes, and numerous other species.
As we approach the Mara River, we can hear the buzz, sounds, and excitement from a distance. The animals make a loud splashing sound as they jump into the uncertain waters. There is safety in numbers here, and the wildebeest cross in their hundreds.
We take our position near other tour vans and set up equipment on our van's open roof. We quickly get enthralled by the action taking place down below.
As the animals come down the steep slopes of the elevated banks, some slip and fall their heads first into the water. Thousands more wait by the banks, and one by one, they jump in.
The steep climb out of the water is tough for some who will soon launch for a pride of lions waiting patiently. We suddenly notice some action in the middle of the river. A zebra has fallen prey to three large crocodiles, and it will not win this battle no matter what it does.
We get engrossed in the action and lose track of time. The rumbling in our tummies reminds us that it is lunchtime. We head off to a popular picnic spot near the Mara River, where we enjoy chicken sandwiches and cold juice and marvel at what we just witnessed.
We will have a lot of fun going through all the photos. As the afternoon turns into dusk, we head back to the hotel, exhausted but enthralled. I look forward to a warm bath and a cold beer. New adventures await us tomorrow.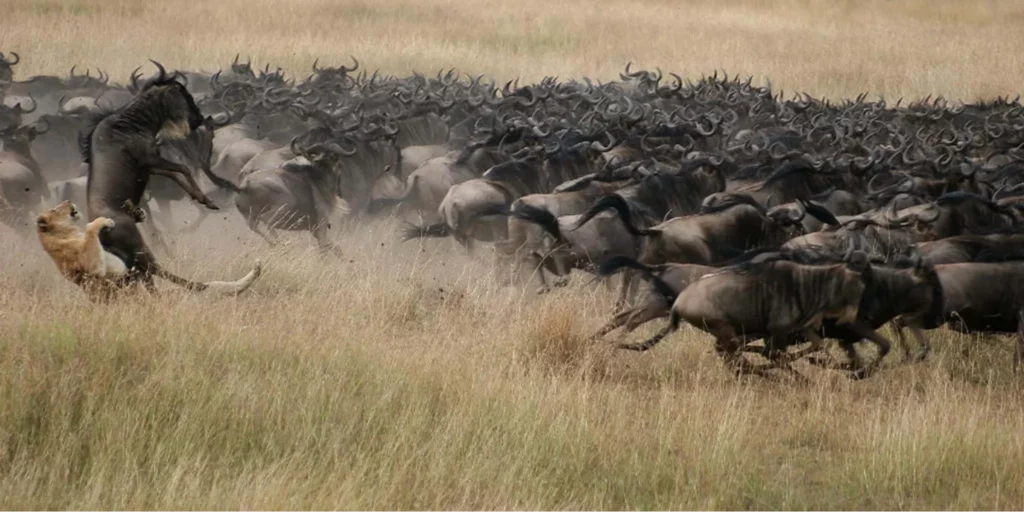 Day 3: Optional Hot Air Balloon Safari Followed by Full-Day Migration Safari – Experience the Migration
Day three is usually more of the day two great migration in Kenya, but with a morning twist – a hot air balloon ride over the Masai Mara. Only a helicopter safari excursion can rival a hot air balloon experience over Masai Mara.
You can opt to start your day with this 1-2-hr ride over the dotted Mara, which ends with a champagne breakfast right in the jungle. The operation begins at around 5 am, with the morning pick up from the accommodation. It ends at approximately 9.30 am. Time to continue with game drives.
Today, we take some time away from the Mara River to explore the rest of the park. Numerous herds of animals have made it across, and the park is buzzing with action.
Everywhere we look, the open green plains are filled with both predators and prey. We encounter a herd of elephants by some acacia trees and a lone leopard up a tree. The day is also a success, and we return to the camp at dusk.
Day 4: Morning Game Drive, Visit a Maasai Village, and Transfer to Nairobi
As is the norm on our last day at the Masai Mara, we pack up and check out our rooms after breakfast. We will have one final game drive on this last day as we head out of the park. This is a great chance to see anything we might have missed during our stay.
In our case, we head straight back to the Mara River to catch some action as we depart. There is much to see, and soon it is 10 am, and we reluctantly drive out of the park for a Maasai village.
We have made friends in the village over the years, and we usually head there to see how they are faring. As usual, Kilusu, the head of the village, entertains us with stories in broken Swahili and English and soon has us laughing our hearts off.
We always arrange for our clients to visit a Masai Village and interact with this unique Kenyan tribe during our planned Masai Mara safari visits. The Maasais, to date, stubbornly cling to their traditions in the face of modernity.
The women still make manyattas (traditional houses) from a mixture of soil and cow dung, and the primary responsibility of little boys is to herd cattle and goats. Maasai morans (warriors) dress up and entertain our guests with singing and dancing. The famous Masai jump is particularly fascinating for most guests who like to try it.
This is usually a great chance to buy authentic jewelry made from beads and other traditional materials. After, the long 5-hr drive to Nairobi begins. We sometimes encounter some traffic occasioned by ongoing road construction on the highway, but we make it to Nairobi, tired but safe and sound.
On a typical trip with guests, we would drive you back to Jomo Kenyatta International Airport if you were heading back to your country. If you are visiting other areas in Kenya, we transfer you back to your hotel in Nairobi or take you to the next destination.
Items Included in the Kenya Wildebeest Migration Packages Price
Pick up from JKIA on day 1
Services of a professional safari guide
Bottled mineral drinking water during the safari
Exclusive use of a 4×4 safari land cruiser
All park fees and government taxes
Full-board accommodation at Masai Mara for three nights on sharing basis
Game drives at Masai Mara on day 1
Full-day game drive at Masai Mara on day 2
Full-day game drive at Masai Mara on day 3
Game drives at Masai Mara on day 4 when staying inside the reserve
Visit a Maasai village on day 4
Transfer to Nairobi (JKIA) on day 4
Items Excluded from the Masai Mara Migration Packages Price
A hot air balloon safari – USD 475 Per Person
Tips and gratuities to safari guide
Local and internal flights
Laundry services
Visas
Money transfer fee
Wildebeest Migration Safari Packages Price Per Person Sharing – 2024
| | |
| --- | --- |
| Masai Mara Hotel/Camp/Lodge | Pricer Per Person Sharing |
| Mara Intrepids Camp | USD 3907 |
| Masai Mara Sopa Lodge  | USD 2490 |
| Mitito Safari Camp | USD 2545 |
| Malaika Camp  | USD 2635 |
| Basecamp Mara | USD 2575 |
| Tipilikwani Mara Camp | USD 2905 |
| Keekorok Lodge | USD 2734 |
| Ashnil Mara | USD 2911 |
| Mara Serena Safari Lodge | USD 2868 |
| Sarova Mara Game Lodge | USD 3010 |
| Mara Maisha Camp | USD 3110 |
| Mara Crossing Camp | USD 2965 |
| Ilkeliani Mara | USD 3325 |
| Entim Mara | USD 3670 |
| Heritage Mara Explorer  | USD 4207 |
| Elewana Sand River Mara | USD 3739 |
| Mara Ngenche Safari Camp | USD 3805 |
*The price is based on 2 adults sharing a safari vehicle and a double room.
Wildebeest Migration Wonder of the World – FAQs
We usually get many questions from people who would like to experience the wildebeest migration of Kenya. Here are some of the commonly asked questions about the Masai Mara migration.
 1. What Month is the Great Migration in Kenya?
The great wildebeest migration takes place in Kenya between July and October. At this time, thousands of wildebeest, zebras, antelopes, and eland will have circled back from Tanzania's Serengeti Game Reserve, arriving at the Mara River in July.
However, there is no set date when the migration begins and ends, as the animals have intrinsic knowledge of when to move to the Masai Mara and when to go back to the Serengeti.
 2. What is the Best Time to Visit Kenya?
Ideally, the best time to visit Kenya is between July and October, when the wildebeest migration occurs. However, Masai Mara is a vast, wildlife-rich park that will thrill you regardless of what time of the year you visit.
In other words, you will still see numerous animals and have a wonderful trip, no matter the time of the year. Spending Easter, Christmas, or New Year in the wild can be remarkable.
 3. How Much Does Kenya Migration Safari Cost?
Several factors determine the cost of a Kenya animal migration safari or Masai Mara migrations safari. One of these factors is the duration of your stay. The longer you stay, the higher the cost.
Another factor is where you stay. The Mara has all types of accommodation, ranging from budget to super luxurious. Again, your preferences here will determine costs. 
The means of transport is another factor. Flying, for instance, is faster but more expensive. If you are going by road, taking a 4*4 safari jeep/land cruisers will be more costly than a nine-seater open rooftop van.
Lastly, if you want to enjoy extra activities such as a balloon ride, helicopter excursion, or romantic bush dinner, these may push your cost higher.
On average, this is an example of how much you can expect to spend at the Masai Mara for two people sharing. 
A budget Kenya migration Safari package costs anything from $300 per person sharing per day.
A mid-luxury Kenya migration safari package costs as little as $450 per person sharing per day.
An all-inclusive luxury Kenya migration safari package costs anything from $700 per person per day
 4. How Many Days Do You Need in Masai Mara?
As mentioned, the Masai Mara is a vast park. During the wildebeest migration in Kenya, we recommend that you plan a minimum of 3-night or 4-day. Of course, the longer you stay, the more chances you will see more, particularly during the great migration.
If you are short of time, we advise a minimum of two nights at the very least.
 5. How Do You Get to the Masai Mara?
There are two main ways of getting to the Masai Mara, and we can arrange either based on your preferences. First, you can fly to the Masai Mara from Nairobi's Wilson Airport. This takes about 45 minutes.
The second option is to go by road, which takes about six hours, either by a 4*4 land cruiser or pop-up van. You can hire a private van for your party or share it with other guests for the road trip.