The Best Nairobi National Park Day Tour Itinerary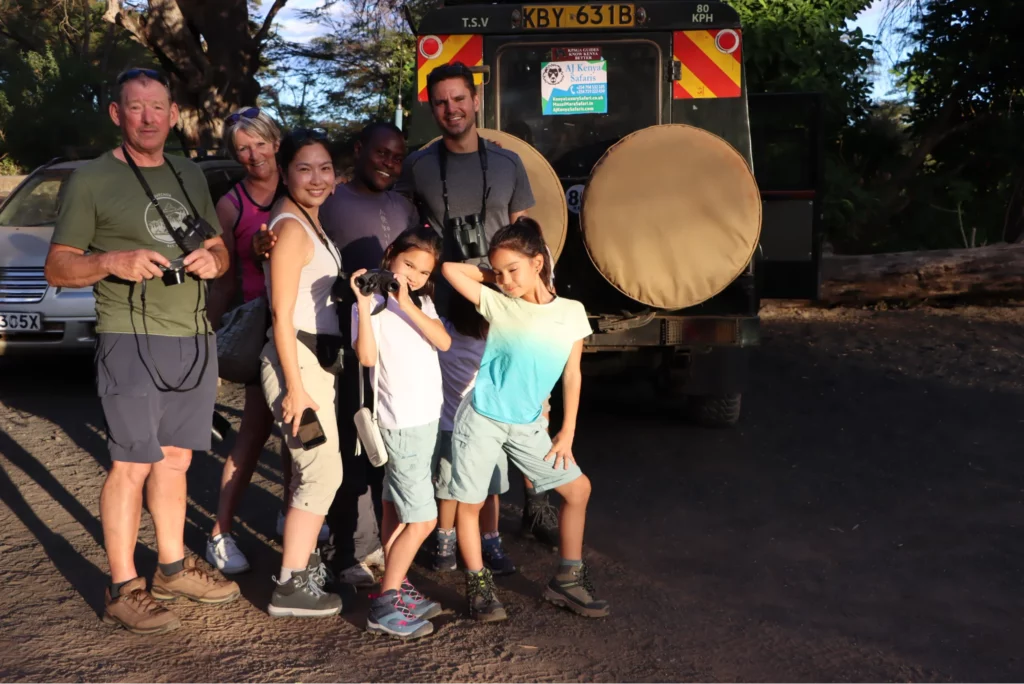 Nairobi National Park Day Tour offers an exciting experience to explore the wildlands of Kenya from the comfort of a jeep. The park is home to a variety of wildlife including lions, giraffes, zebras, hippos and more! 
Nairobi National Park is the only park within a major city anywhere in the world. Located along Nairobi's Langata Road, the park is only 7 km from the CBD and an obvious choice for day tours. It is because of the park's location within the city that Nairobi is fondly known as 'The World's Wildlife Capital.'
Having a national park in its confines means that it is only in Nairobi that you could be having a business meeting in the morning and be able to join a half day tour of the park in the afternoon. This is definitely one of the best places to go for a Kenya Safari while in the Kenyan capital.
Book Your Nairobi National Park Day Tour Packages
At AjKenyaSafaris.com, we offer a wide variety of safaris that ranges from day trips to several weeks tours. Whether you are looking for a Nairobi National Park day tour or half a day tour, we can always provide you with the best tour. 
You can reach us at +254-748-258-880 through WhatsApp/phone or james@ajkenyasafaris.com or safarioffers@ajkenyasafaris.com through email. We offer the best safari in Masai Mara and 
The Summarized, Nairobi National Park Day Tour Itinerary
| | |
| --- | --- |
| Activities  | Highlights  |
| Activity 1 | Pickup from JKIA, Hotel, or Apartment  |
| Activity 2 | Nairobi National Park |
| Activity 3 | Nairobi Animal Orphanage  |
| Activity 4 | Nairobi Safari Walk |
| Activity 5 | Transfer to JKIA, Hotel, or Apartment  |
| Items Included  | Park fee, 4×4 safari land cruiser, bottled mineral drinking water. Professional safari guide, pickups, & transfers  |
| Items Excluded  | Lunch & snacks |
| Safari Price | Nairobi National Park Day Tour Cost From USD 159 – Based on 8 Pax |
The Detailed, Nairobi National Park Day Tour Itinerary
The tour begins in the morning with a pick-up from your hotel in Nairobi or another nearby location. You will then embark on a thrilling safari drive around the park, head to Nairobi Animal orphanage, & Nairobi Safari Walk.
Activity 1: Pickup from Hotel, Apartment Airport, or JKIA – Transfer to Nairobi National Park
A day tour to Nairobi National Park starts at dawn with pick up at your hotel, apartment, or Jomo Kenyatta International Airport  around 6 am. Our experienced tour guide will meet you before heading to the Nairobi National Park.
As with other national parks, early morning is a good time to catch predators in action as they look for breakfast. The park is only 7 km from the CBD where most of the hotels are located, and you should be there by 6.30am. After paying entry fees, you are well on your way to an adventure filled day.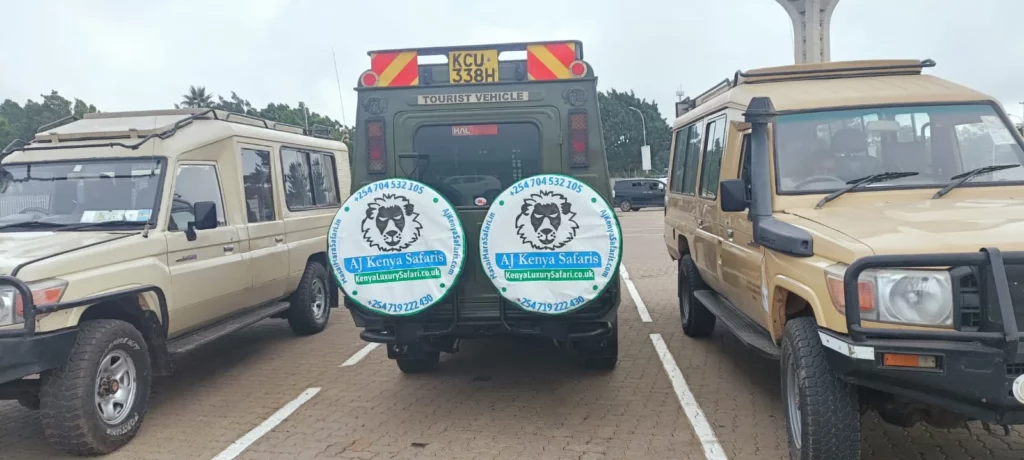 Activity 2: Game Drives at Nairobi National Park
You will begin to see animals as soon as your drive starts, as herbivores such as zebras, giraffes, antelopes, and gazelles are in abundance. Predators such as lions and leopards might be harder to spot, but an experienced tour driver/ guide will know which areas to search. If you are lucky, you may witness a hunt, which is one of the most exciting experiences when out on a game drive.
The morning will pass by fast as you get pre-occupied with spotting the more than 100 species of animals that inhabit this park. A day tour at Nairobi National Park is equally exciting for bird lovers and if keen you can be able to spot some rare migratory bird species.
The Narogoman dam is the biggest artificial dam in the park, and it makes for a good picnic site. The Impala observation post is one of the best picnic sights, offering a panoramic view of the park and located in a grassy area surrounded by acacia trees. It is well maintained with bathroom facilities.
There are plenty of other activities for those taking a full day tour including taking a walk at the hippo pools, checking out the historic ivory burning site and visiting the Nairobi Safari Walk.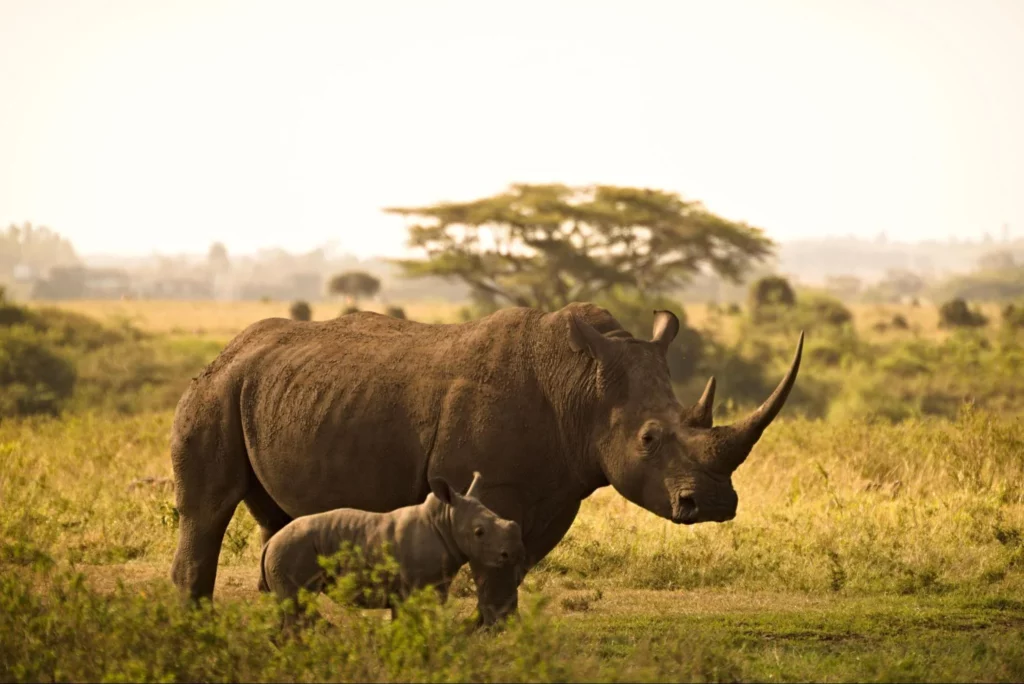 Nairobi National Park Review 
The Nairobi National Park is the oldest park in Kenya, established in 1946 and covering 117sq km, quite a small area compared to other national parks in Kenya such as the Masai Mara and Tsavo. Its dominant ecosystem is grassland savanna, but it also features wetlands, forests and rock valleys. 
Nairobi National Park is vast, teeming with wildlife of all species, and still close enough to the city that skyscrapers act as a beautiful background presenting a unique contrast. The park boasts 4 of the big 5 including lion, rhino, buffalo, and leopard, among 100 other animal species. Bird lovers are not to be disappointed as the Nairobi National Park has over 400 migratory and endemic bird species.
The climate in the park is similar to most of the country, hot and dry between January- March, hot and wet between April- June and warm and wet between July- October and is open all year round. The park also has in its vicinity an animal orphanage and the Nairobi Safari Walk, both quite popular with day tours.
There are some man-made dams in the park which act as a source of water in the dry season, attracting many grazers to the banks.
The Athi River runs in the southern edge of the park acting as a natural boundary and featuring 'hippo pools' where visitors can take guided walks as they look out for crocodiles and hippos in the pools. Baboons and monkeys are also an attraction in this area due to the riverine forest by the river. Find out more at Nairobi National Park website.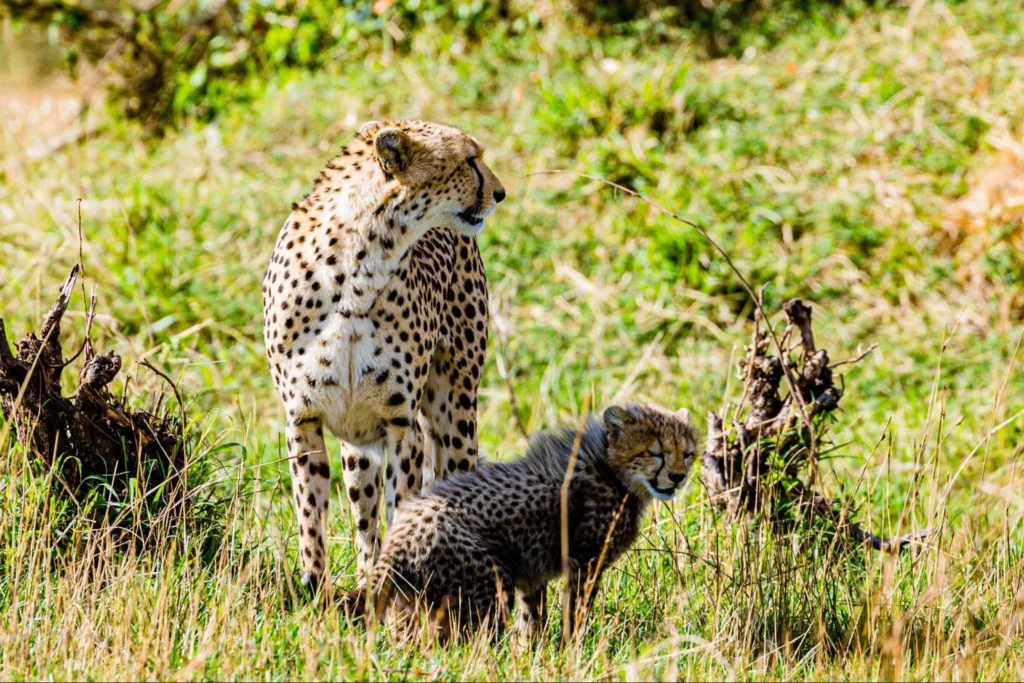 Historic Ivory Burning Site
Kenya is home to thousands of elephants, but unfortunately, over the years, poaching of these gentle giants for their tusks has reached unprecedented levels, not only in Kenya but in Africa as a whole.
In 1989, Kenya's then president Daniel Arap Moi led Kenya's first ivory burning ceremony, where 12,000 tons of accumulated ivory tusks were set ablaze as a symbolic gesture with the aim of highlighting the plight of elephants.
In 2016 Kenya once again led the world in setting ablaze the largest ever stockpile of ivory in Africa not only to ensure that this ivory does not profit anybody economically but also to demonstrate that elephants are 'worth more alive.'
These two burning sites at the Nairobi National Park are a sober reminder that we must all do our part to conserve elephants and rhinos not only for ourselves but future generations.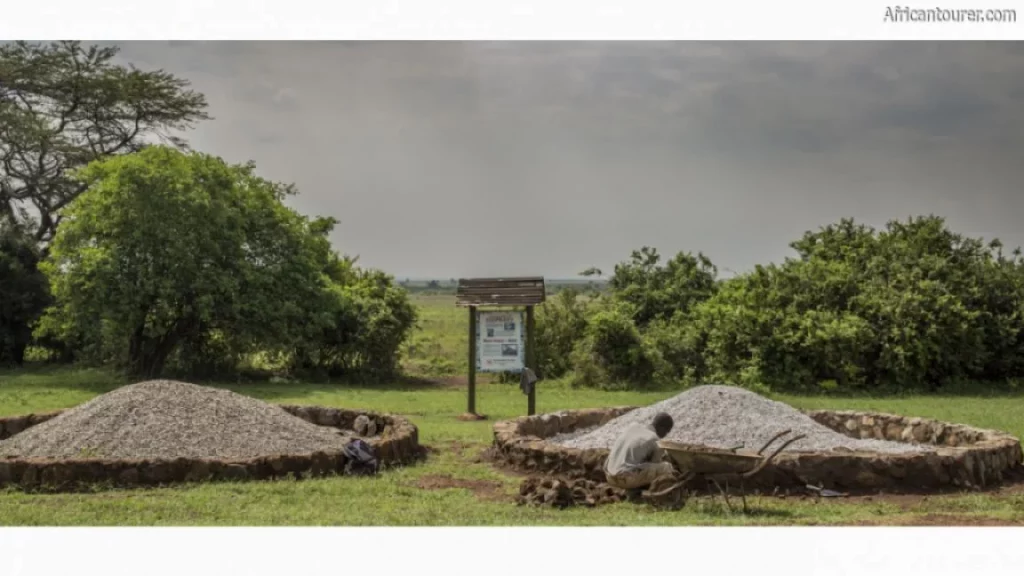 Activity 2: Visit Nairobi Animal Orphanage
The Animal Orphanage located inside Nairobi National Park is a treatment and rehabilitation center for wild animals that have been orphaned, injured or are sick. It hosts different species of animals including lions, hyenas, baboons, monkeys and basically any animal that requires rehabilitation.
The orphanage also acts as an education and training center and is quite popular with Kenyan school children who often go for tours. It is strictly not a must-see for tourists visiting the Nairobi National Park on a day tour but parents with small children might find it suitable as it allows for close up views of the animals.

Activity 3: Visit Nairobi Safari Walk
Having spent the morning of your Nairobi day tour touring the park in a safari vehicle, the afternoon is a good time to explore on foot. The Nairobi Safari walk is a raised, snaking boardwalk that transverses three major ecosystems in the park- wetlands, savanna, and forest, amply showcasing Kenya's diverse natural habitat.
At the Safari walk, you will encounter different animal species such as the rare bongo, pygmy hippo and albino zebra, a variety of reptiles and birds and over 100 local tree species. The first ecosystem you will encounter is the wetland, and as the name suggests the water is covered in papyrus and water lilies. Look out for crocodiles, as well as the elusive pygmy hippo.
In quick contrast, the wetland gives way to the savanna ecosystem which hosts a large number of animals including the albino zebra, white rhino, antelopes, giraffe, hyenas and many more species. Different points of the boardwalk are designed to give you a closer view of the animals so be sure to take advantage of this.
After the savannah ecosystem, you will encounter the woodland area, filled with indigenous trees and plants, quite an educative section for nature enthusiasts. There are signposts with names of trees and plants also indicating their traditional uses.
The Nairobi Safari walk section should take roughly two hours, and this is a good time to bring your Nairobi National Park day tour to a close.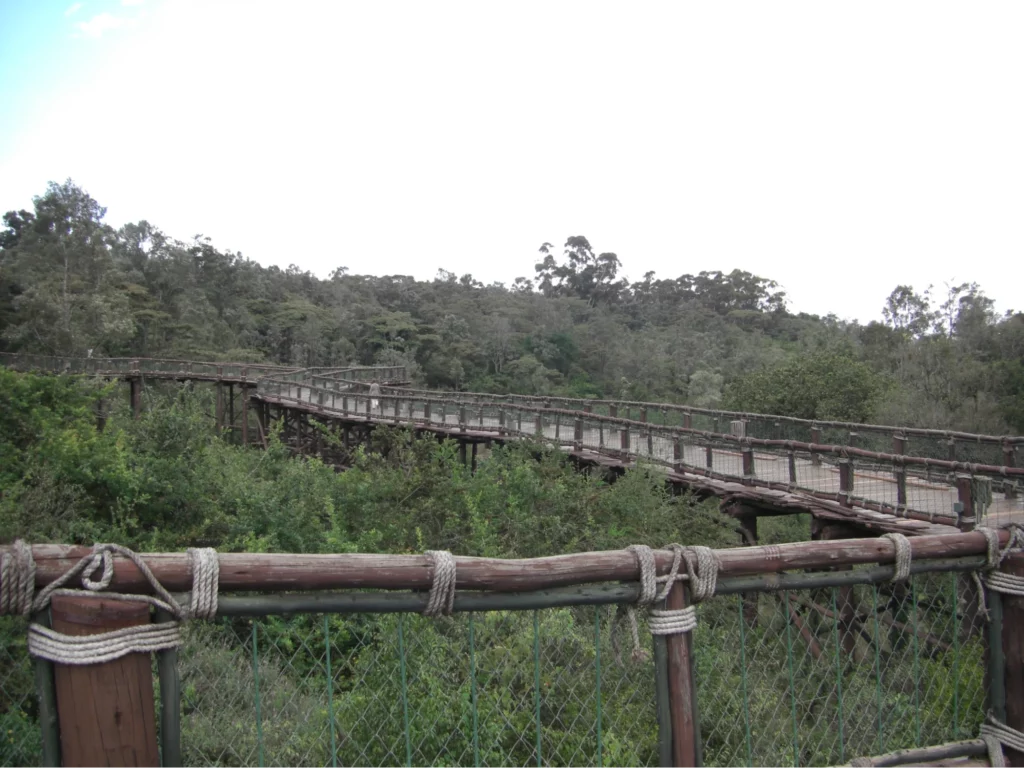 Activity 4: From Nairobi National Park to JKIA, Hotel or Apartment
Your tour comes to an end after a full day of exploration in Nairobi National Park. We will transfer you back to your hotel in Nairobi City or JKIA.
Items Included in the Nairobi National Park Day Tour Price
Pickup from JKIA, hotel, or apartment 
Use of a 4×4 safari land cruiser or safari van
Professional safari guide 
Bottled mineral drinking water 
All park fees 
Nairobi National Park game drives
Visit Nairobi Animal Orphanage 
Visit Nairobi Safari Walk
Transfer to JKIA, hotel, or apartment 
Items Excluded from the Nairobi National Park Tour Prices
Visas
Lunch and snacks
Money transfer fee
 Tips and gratuities 
Nairobi National Park Tour Van Charges
| | |
| --- | --- |
| No. of Travellers  | Price Per Person  |
| 1 Pax | USD 430 |
| 2 Pax | USD 275 |
| 3 Pax | USD 224 |
| 4 Pax | USD 198 |
| 5 Pax | USD 182 |
| 6 Pax | USD 172 |
| 7 Pax | USD 165 |
| 8 Pax | USD 159 |
Nairobi National Park Day Tour Prices for Safari Land Cruiser
| | |
| --- | --- |
| No. of Travellers  | Price Per Person  |
| 1 Pax | USD 570 |
| 2 Pax | USD 345 |
| 3 Pax | USD 271 |
| 4 Pax | USD 233 |
| 5 Pax | USD 210 |
| 6 Pax | USD 196 |
| 7 Pax | USD 185 |