Top 9 Must-Visit Destinations During Nairobi Safari Tours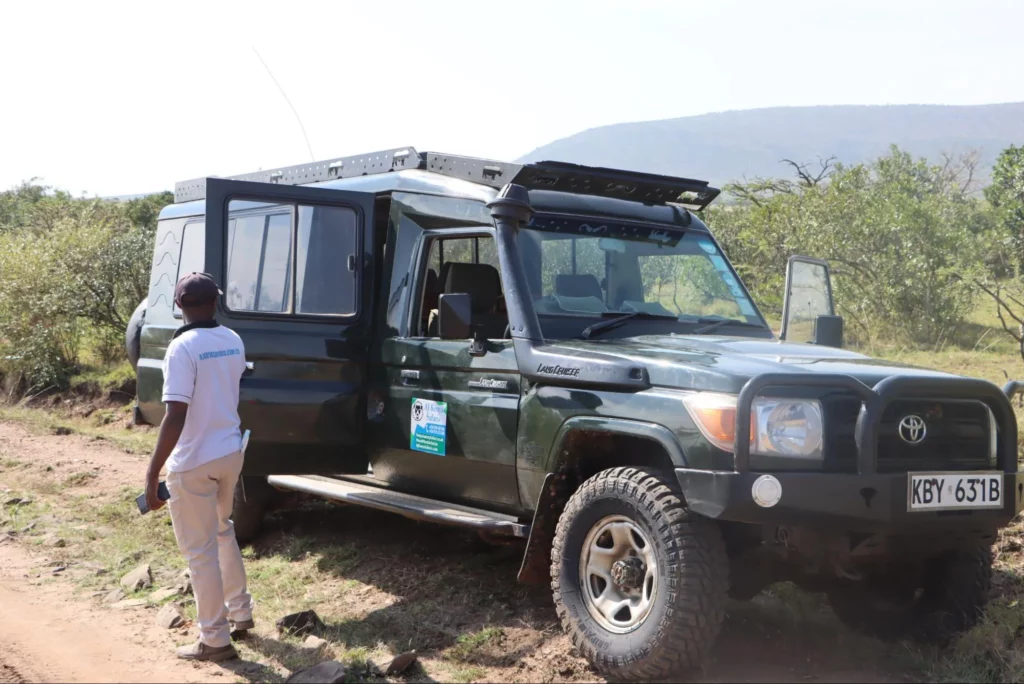 Nairobi safari tours offer a unique opportunity to explore the vast African savannah, home to diverse species of mammals, birds and reptiles. With the help of a qualified and experienced professional guide, you can embark on an adventure to spot lions, elephants, giraffes, zebras, antelopes and more. 
Our all-inclusive packages offer a range of activities, safari vehicles, safari guide, and safari guide. Our knowledgeable guides will share their expertise and knowledge of the African savannah, its landscapes, flora and fauna during the best nairobi safari tours.
Book Your Nairobi Safari Tours from Nairobi Now
You can reach us at +254-748-258-880 through WhatsApp/phone or james@ajkenyasafaris.com or safarioffers@ajkenyasafaris.com through email. We offer the best safari in Nairobi and Kenya in general.
Our Most Booked Kenya Trip Packages and Other Safari
The Top 9 Destinations to Visit During a Nairobi Safari Tours
To most people, Nairobi safari tours and enjoyment go hand in hand. However, there are a lot of intricacies involved in planning a successful Nairobi safari. If you fail to do your homework and plan your trip to Nairobi meticulously, the truth is that your safari and entire stay in Nairobi might not be as exciting as it should be.
 1. Wine, Dine, and Dance in Some of Africa's Best Hotels and Restaurants
There was a time when due to rampant carjacking, mugging, and massive corruption, Nairobi was nicknamed Nairobbery – those days are gone. Today, the government of Kenya has restored Nairobi to what it has always been; by day, a hectic East Africa business hub; and by night, a malaria-free tourist attraction endowed with cool evenings, animal conservancies, and tropical gardens that are best enjoyed with a bottle of cold Tusker (the local beer).
Nairobi hosts some of Africa's best dining places such as Carnivore Restaurant, Hilton Nairobi, Nairobi Serena Hotel, and Intercontinental hotel; and the best places for dancing and interacting with the warm hearty Kenyans such as skylux lodge, Havana restaurant, Njuguna's place, and more.
These hotels and lodges are also great places for you to mingle with Kenyans and sample their cuisine. Perhaps, the most popular local cuisine is 'nyama choma,' which refers to charcoal grilled meat served with a variety of traditional Kenyan vegetables such as the medicinal amaranth (famously known as 'terere' in Kenya).
What's more, you don't have to mortgage your organs to wine, dance, and dine in Nairobi. The Carnivore is a decent restaurant where you can sample the real African cuisine and nightlife on a selected day for as little as $30.
Normally, the weekend, especially Fridays, is the best time for you to wine and dance, take a quiet drink in your Nairobi hotel of choice, or simply enjoy a walk in the streets. For solo travelers, senior travelers, and small group travelers, Nairobi safari tours cannot be complete without a taste of Kenyan bear, cuisines, and nightlife.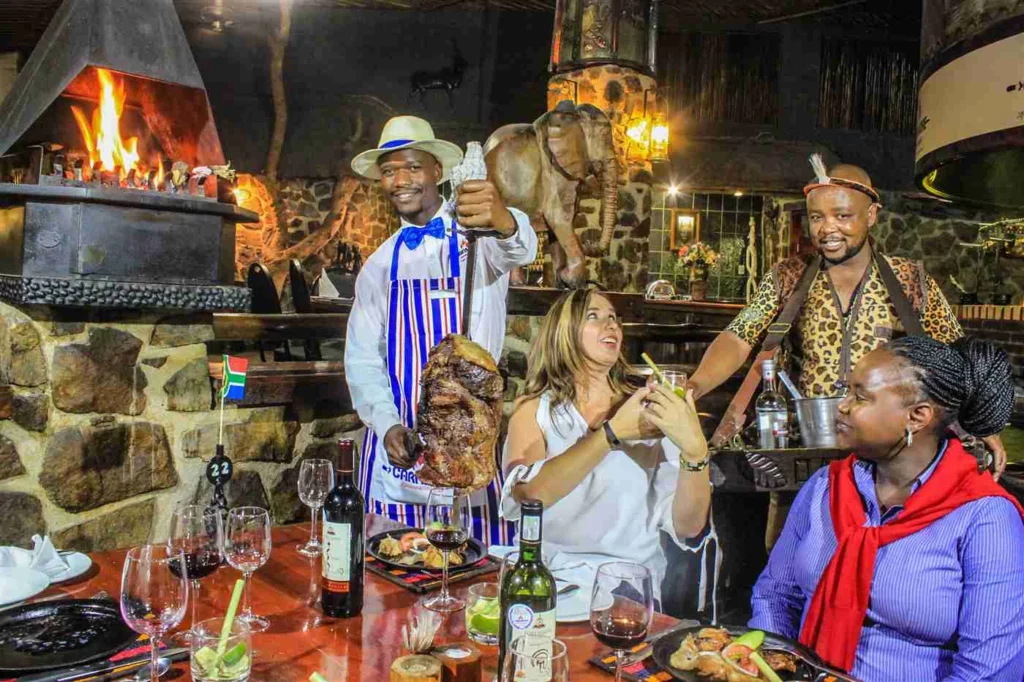 2. Take a Nairobi Day Tour to Nairobi National Museum
The Nairobi National Museum is situated less than 3 kilometers from the central business district, and it's the best place for anyone who wants to learn about the diversity and the history of various communities in Kenya. The museum was opened in 1910, but it closed in 2006 for renovation, and it opened its doors to the public in 2008 as a complete museum with dining and shopping facilities.
Some of the things to do during a Nairobi safari tour to the national museums of Kenya include savoring Kenya's history, culture, nature and Kenya's contemporary art in its true magnificence. Also, within the museum, you will find the popular Botanical Gardens and Nature Trail, and the Snake Park.
The Nairobi National Museum is home to thousands of preserved animal bones and tools believed to have been used by primitive man, and here, you will get to learn other historical facts related to Kenya and East Africa.
The National Museums of Kenya is a great place for senior travelers, sole travelers, and small group travelers. Children below the age of 15 might not see a lot of fancy things at this destination, and if you must visit the museum during your Nairobi safari tours, we recommend limiting the stay to 4-6 hours.
Of course, our seasoned guides can show the kids around the snake park, as you enjoy the rest of the museum.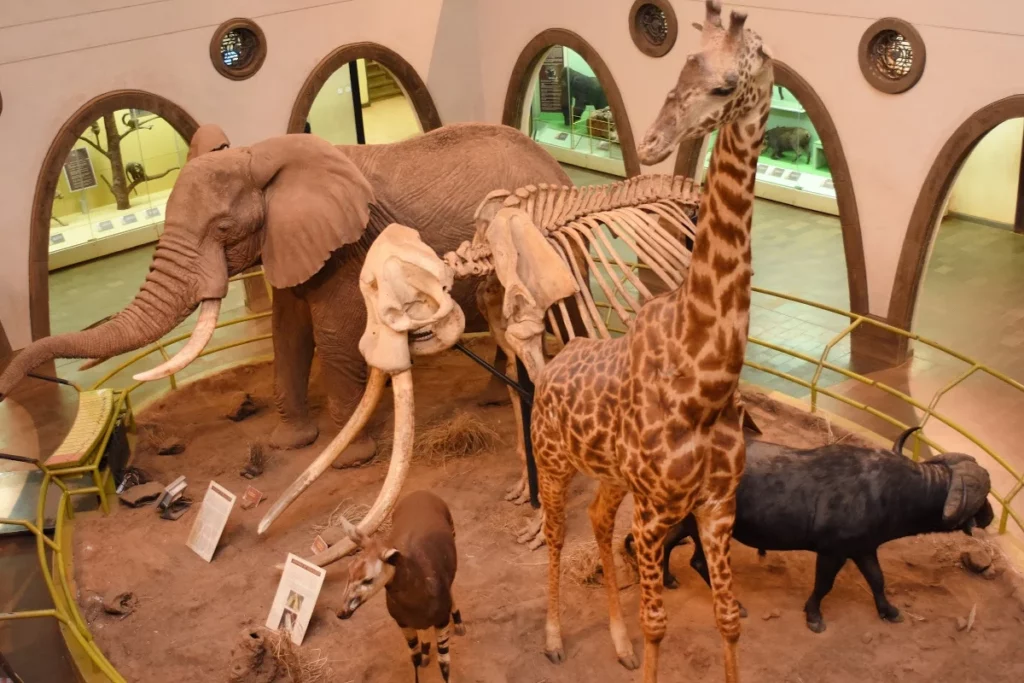 3. Karen Blixen Museum
It is not surprising that the Danish writer, Karen Blixen decided to write the book 'Out of Africa.' Nairobi upholds ecotourism and values its wildlife, and a day tour to Karen Blixen Museum will open your eyes to this reality.
The museum is located in Karen, a suburb located just a few kilometers from the central business district. It is perched in the farmhouse where the Danish writer, Karen Blixen, lived between 1914 and 1931.
Karen left Kenya after a series of tragedies, but the farmhouse has since then been converted into a museum. A tour of Karen Blixen Museum is an intimate experience.
Karen monogrammed books still line the shelves of this 100 plus years old house, and in one corner, you will find the Lantern that Karen used to hang on the Veranda to let her ill-starred lover know she was home.
Such historic buildings are cherished by Kenya's ecotourism. Everything in the house has a significant meaning, and if you are a lover of history, Nairobi safari tours to this museum will be worth the bill.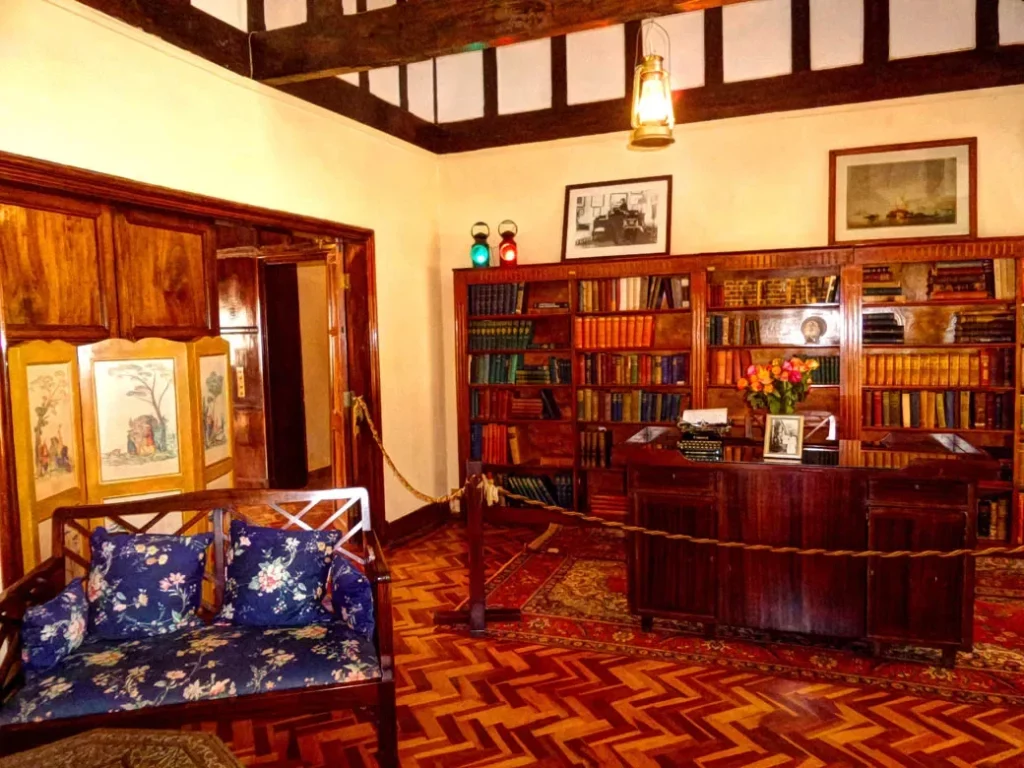 4. David Sheldrick Wildlife Trust
David Sheldrick elephant orphanage works together with the Kenya Wildlife Services to offer hope to baby elephants that are often orphaned to serve the greedy ivory trade. The orphanage was established by Dr. Daphne Sheldrick and David Sheldrick whose experience with elephants spans a lifetime.
It took them almost three years to design and perfect a milk formula that was strong enough to rear a baby elephant, but today, thanks to support from animal's lovers from all corners of the world, the trust has saved well over 150 baby elephants. You may support this program by adopting a baby elephant for as little as $50.
Adopting doesn't mean you will take the baby elephant home with you, but rather, the trust will keep you updated on the progress of your cute baby, including sending your photos of him or her. LOL.
Since David Sheldrick is housed near Nairobi National park and it only opens for visitors for 1 hour, between 11 am to noon, it's best combined with a day tour to Nairobi National park.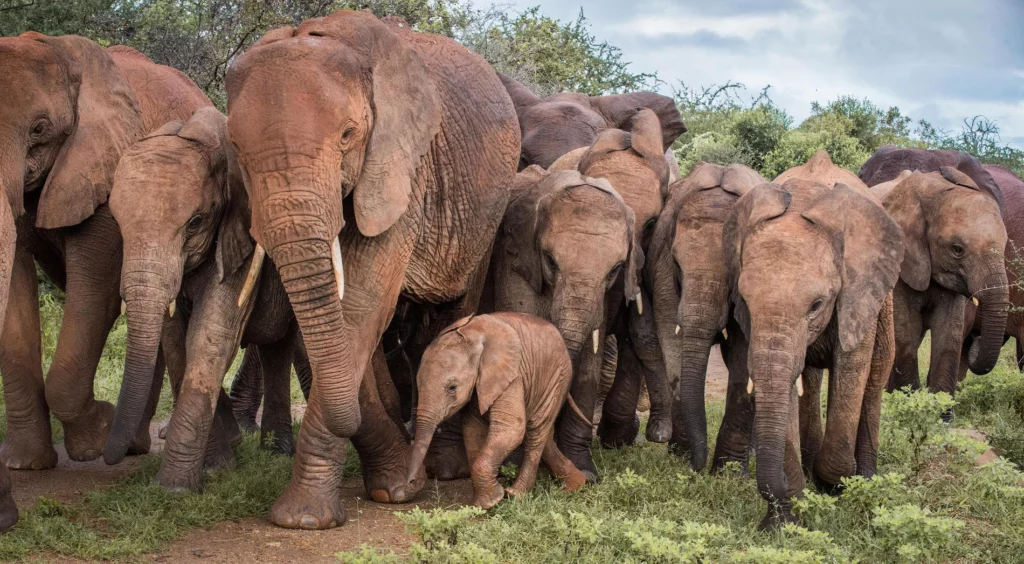 5. The Giraffe Center: Hard Feed and Eat Dinner with the Long-Necked Boys
The Giraffe Center, established by the African Fund for Endangered Species, was originally established to protect the endangered Rothchild giraffe, but over time, AFEW expanded its mandate to offering conservation education to Kenyan youths and school kids.
The center is located about 5 kilometers from Nairobi's Central Business District, and it gives people on a Nairobi Safari Tours a great chance to get up close and personal with the long-necked boys. The center offers conservation education to kids free of charge, and about 90% of its income is derived from its gift shop and the teahouse.
As such, a Nairobi tour to the giraffe center is also a chance to help the local communities as you enjoy the beauty of Kenya.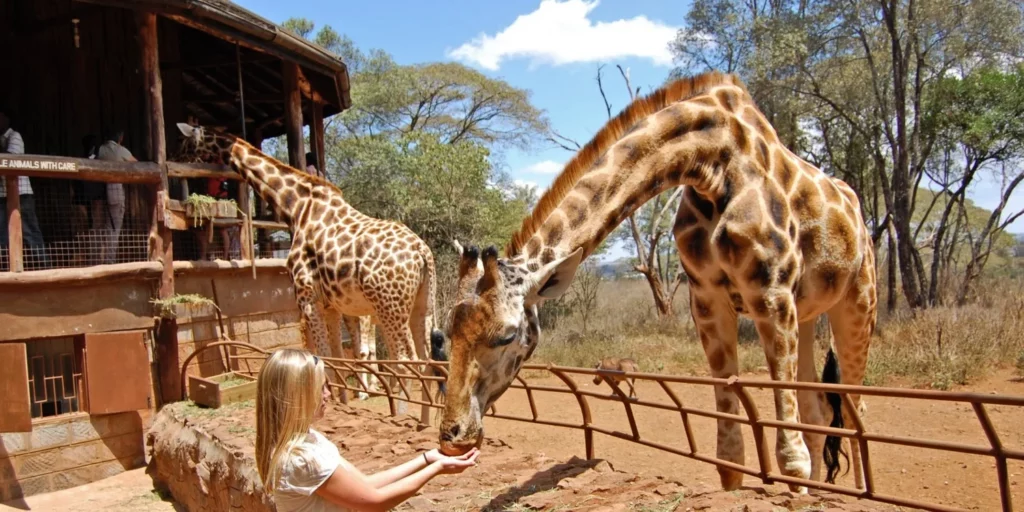 6. Nairobi Safari Tours – Visit the National Park Early and Get a Chance to Stroll Along the Safari Walk
Your Kenyan safari is not complete with a walk in this natural park. Safari Walk gives you an opportunity to take a walk while viewing nature. It starts right at the gate of Nairobi National Park and extends into the park.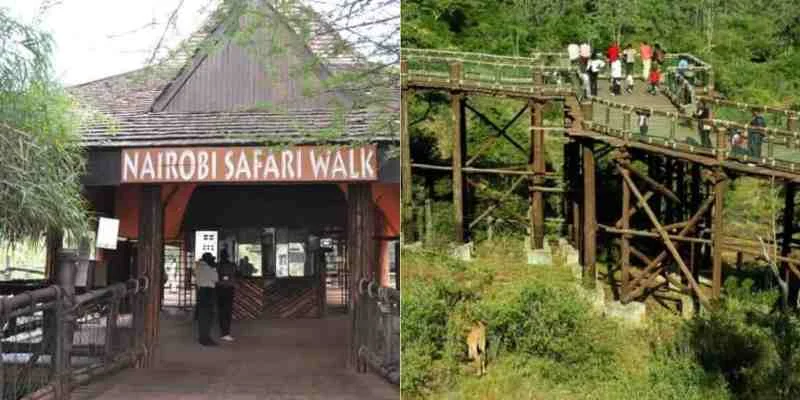 7. Sample Kenyan Culture at The Bomas of Kenya
If you are looking to sample the real traditional life of a Kenyan, this is the place for you. The word Bomas is coined from the Kenyan name for a homestead – 'Boma'. The Bomas of Kenya has traditional Kenyan homesteads from Kenya's 43 tribes all around. Most of them have picturesque mud architecture and you will find the inside of the houses astoundingly cool.
If you would love to engage in some dancing, the traditional dancers at Bomas of Kenya will take you through it and teach you how to shake your waist and shoulders the Kenyan style. At Bomas, you will also get a chance to interact with Kalenjin warriors, Swahili taarab music dancers, Kikuyu women dancers, and various people from the Akamba tribe.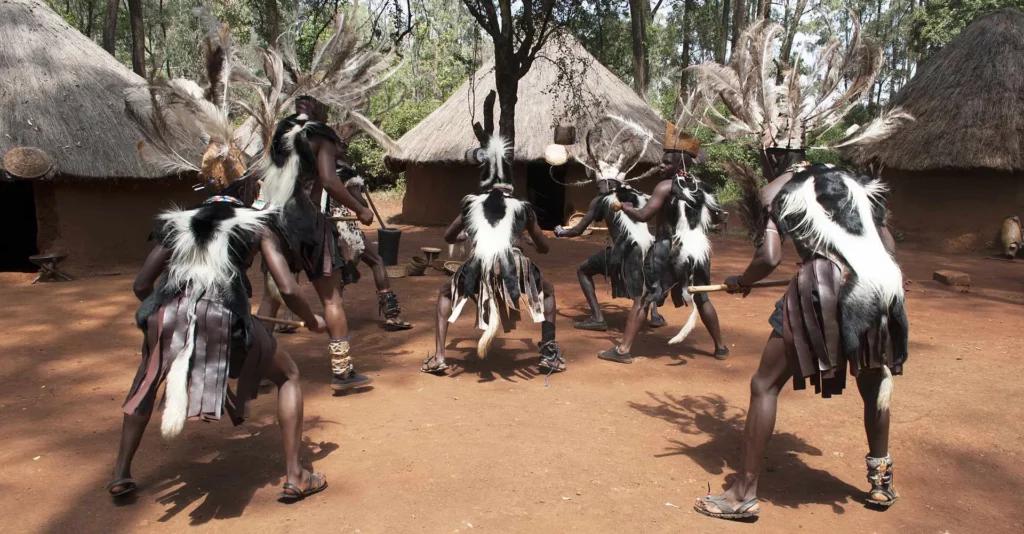 8. Kazuri Bead Factory and Pottery Center
The word 'kazuri' means something good looking. At this center, you can purchase ceramics and various types of beads. For the ladies, this is an opportunity to get spoiled with various African beaded accessories.
Here, you can find both personal and household accessories for as little as $5. So you can even buy souvenirs for your family and friends.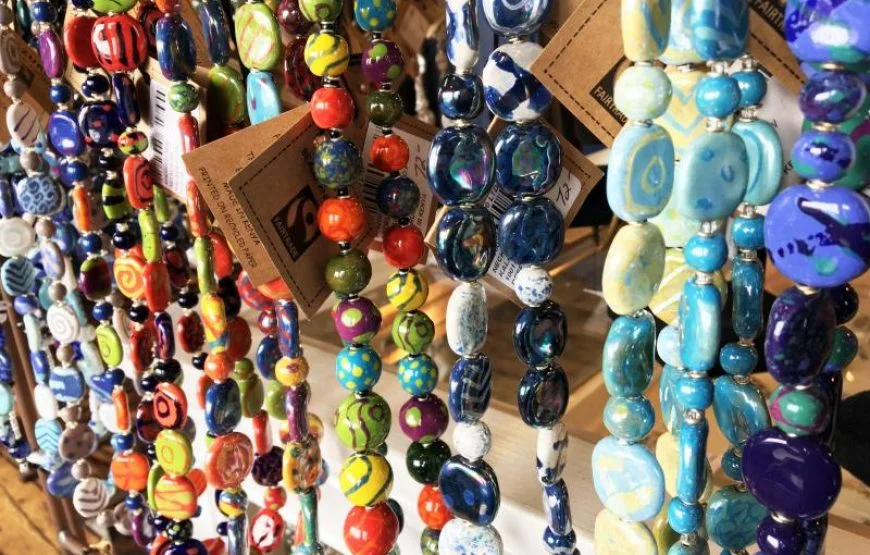 9. Other Interesting Things You Can Do in Nairobi
While in Nairobi or Kenya Safari: Take a bus ride through the city. I would advise you to take a ride to Runda. This is a suburb close to the central business district. Most of the expatriates live here. Go to Karura forest. You can still get a bus ride to Karura forest for a picnic.
Try to greet people in the local dialect as you interact with them. Kenyans are generally friendly, and they always respond to any greeting. Have fun as you enjoy Nairobi and watch out for our part 1 of Nairobi Safari.