The Classic 8 Days Kenya Safari Itinerary - Itinerary, Activities, & Price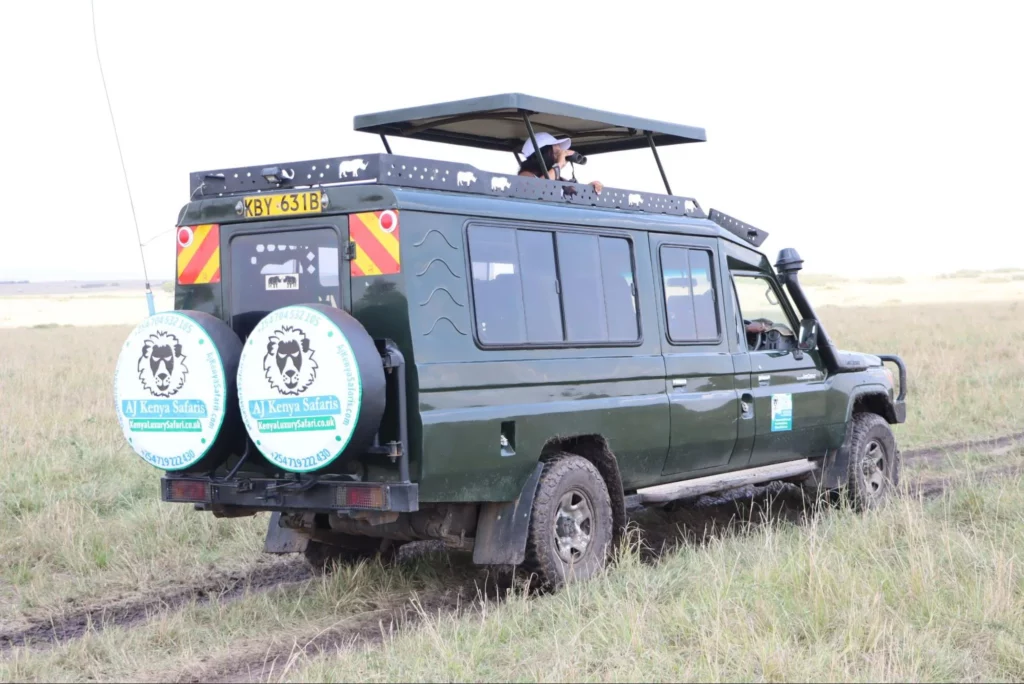 We believe in the various kind of beauty at AjKenyaSafaris.com. That's why we have planned this 8 days Kenya safari itinerary to show you our country's wildlife and ecological diversity to give you an authentic, out-of-Africa safari experience. 
Our 8 days Kenya safari package is expertly crafted to offer you a memorable safari experience while staying in the best Kenya safari lodges and camps. The 8 days, 7 nights itinerary takes you to destinations that will have you rethinking your definition of beauty.
First, the 8 Days, 7 Nights Kenya Safari Itinerary introduces you to the unapologetically beautiful Lewa Downs. And for a walking game-scenery aesthetics, it takes you to Crescent Island, which is combined with a boat ride at Lake Naivasha. 
But in between Lewa Downs and Lake Naivasha, the safari takes you to Ol Pejeta. Do you remember Sudan? He was the last male northern white rhino that, sadly, died in 2018. 
He was staying in Ol Pejeta, and this is the only safari destination in the world where you can see the two remaining northern white rhinos. Combine that with cycling at Hell's Gate National Park, right after Crescent Island, and you have the adventure to remember forever. 
Of course, no Kenya tour itinerary is complete without visiting the Savannah grasslands of the Masai Mara National Reserve. You will spend three days in Masai Mara. 
This gives you multiple opportunities to see and take surreal photos of the Big five, film a cheetah on the hunt, go for a hot air balloon safari, and visit a Maasai village. Saving the best for the last, your Kenya itinerary 8 days package ends with a visit to the magnificent Giraffe Center. 
Book Our 8 Days Kenya Safari Itinerary Safari today 
You can cover the best destinations in Kenya with our 8 Days, 7 Night Kenya wildlife safari itinerary. Book this safari today via phone or WhatsApp at +254-748-258-880 or email at james@ajkenyasafaris.com or safarioffers@ajkenyasafaris.com. 
The Summarized, 8 Days, 7 Nights Kenya Classic Safari Itinerary 
Trip Details 

Highlights 

Day 1

Pickup from JKIA, Flight to Lewa Downs, & 1-Night Stay

Overnight at Lewa House

Day 2

Transfer to Ol Pejeta &  Game Drive at the Conservancy 

Overnight at Sweetwaters Serena Safari Lodge

Day 3

Transfer to Naivasha & Board Ride at Lake Naivasha & Walking Safari at Crescent Island 

Overnight at Kiboko Luxury Camp

Day 4

Cycling at Hell's Gate National Park

Overnight at Kiboko Luxury Camp

Day 5

Transfer to Masai Mara & Evening Game Drive at the Reserve 

Overnight at Sekenani Camp

Day 6

Full-Day Game Drive at Masai Mara with Packed Lunch

Overnight Sekenani Camp

Day 7

Hot Air Balloon Safari, Visit a Maasai Village, & Evening Game Drive at Masai Mara

Overnight Sekenani Camp 

Day 8

Morning Game Drive, Flight to Nairobi, Visit Giraffe Centre, & Transfer to the Airport 

Items Included 

Exclusive use of a 4×4 safari land cruiser, All park fees, Full-board accommodation, Local flights, Hot air balloon, Game drives, Transfers, Service of a professional safari guide, Bottled mineral drinking water, e.t.c 

Items Excluded 

Money transfer fee, Laundry services, Flying doctor cover, Holiday supplements, and Tips 

Safari Price 

Per Person Sharing USD from 4413
The Detailed, 8 Days, 7 Nights Kenya Classic Safari Itinerary
Our 8 Days, 7 Night itinerary is a true definition of a Kenya safari from Nairobi and back to the capital. Here is the detailed safari. 
Day 1: Pick up from JKIA, Flight to Lewa Down, & Spend 1-Night (Game Drives and Other Activities 
As our client, you are our own number one priority. Our professional safari guide arrives at the airport one hour before you land, so you can be sure someone is waiting for you in Kenya. 
Your private tour guide takes care of your every need, so you can sit back and enjoy the safari. After greeting you, the tour guide will brief you about the safari and welcome you to your transfer vehicle.
You have a short drive, of about 30 minutes, from JKIA to Wilson airport to catch a morning flight to Lewa Downs. On arrival, you will meet our local team waiting for you to transfer you in a luxurious 4×4 Safari vehicle.
The guide will help you check into the Lewa House for some well-deserved rest before the first game drive of the 8 days Kenya tour.
Lewa Downs is some 250 km from Nairobi, a distance covered by plane in less than an hour. The conservancy incorporates the Ngare Ndare forest, an indigenous forest nestled on the slopes of Mt. Kenya.
Today, you tour around the UNESCO-approved world heritage site, first meeting the eastern black rhinos that account for the 12% of eastern black rhinos in Kenya. Expect to see generous amounts of the Grevy's zebra, sitatunga, and of course, the big five. 
The over 350 Grevy's zebra in the park is the highest in any park worldwide. The day ends when the sunsets, the perfect time to head to the accommodation for dinner and rest.
Day 2: Transfer to Ol Pejeta Conservancy, Game Drives, & Meet the Northern White Rhinos 
Lewa Downs to Ol Pejeta mini-trip will only take one and a half hours, seeing that the conservancy is only 70 KMs away. With a 4×4 safari land cruiser, you are introduced to the conservancy's grandeur, our knowledgeable guide ensuring you don't miss an inch of it.
The guide drives you along the conservancy's wetlands, semi-arid grasslands, riverine forests, and woodlands, only stopping for brief moments to capture and admire the magnificent views of Mt. Kenya.
To look forward to is the big five; rhino, lion, elephant, buffalo, elephant, and the leopard, which come in plenty here. Also, expect to see the; bat-eared fox, hyenas, hippos, giraffes, monkeys, dik-dik, gazelles, impalas, elands, jackals, and African wild dogs.
You make a stop-over at the Ol Pejeta Endangered Species Boma, which is in all honesty, the most intriguing part of Ol Pejeta. Here, you learn about the two northern white rhinos that are the only remaining of their kind in the world.
Also, within the Boma are Jackson's hartebeest, two black rhinos, several Grevy's zebras, and six southern white rhinos. Feeding Baraka the blind rhino is so gratifying.
Lunch is in the jungle, after which you head to the Sweetwaters Chimpanzee Sanctuary, a nature preserve aimed at protecting orphaned indigenous chimpanzees. The more than 40 chimpanzees live in groups.
A visit to the Ol Pejeta is incomplete without a night game drive, which comes at an extra cost. The drive helps you spot nocturnal animals such as the lions, aardvarks, bat-eared foxes, white-tailed mongooses, and even the highly elusive leopard.
Other activities at Ol Pejeta include; lion tracking, horse and camel rides, and game walks.
Day 3: Transfer to Naivasha, Boat Ride at Lake Naivasha & Walking Safari at Crescent Island 
Nanyuki is a stone's throw away from Ol Pejeta; 3.5-hrs away, to be precise. The short drive will see you make a stopover at Equator Marker in Nanyuki and Thompsons Falls in Nyahururu.  
The drive will see you settle at Lake Naivasha Sopa Resort by noon, take lunch, relax for a few hours, and then head to the lake and Crescent Island. You walk along the lake's grass-shrouded banks, taking in the spectacular view of the long stretch of blue that spreads over 139km² of land. 
Lake Naivasha boasts over 400 bird species, each as captivating and intriguing as the next. Expect to see staggering amounts of pelicans, fish eagles, flamingoes, warblers, blue sunbird, storks, grebes, and herons.
A boat ride is, of course, on the cards. You get an exclusive tour of the lake, introducing you to this charmer, the highest of lakes in the Great Rift Valley. The boat ride gives you a better perception of the lake, introducing you to vegetation such as the papyrus and the yellow fever trees, known to attract the hippos.
The boat ride is best combined with a visit to Crescent Island, a destination that will see you come across the animals on foot. Game viewing in Cresent Island is rewarding, with an impressive amount of giraffes, hippos, buffaloes, antelopes, monkeys, and warthogs.
Dabbed Naivasha's best-kept secret, Crescent Island is a game sanctuary that was created in 1988 as a boost to the then water-starved Lake Naivasha. The game sanctuary is nature's abode known to allow one-on-one interactions with the game life.
You take a guided safari walk around the attraction. Some animals include warthogs, zebras, impalas, hyenas, giraffes, hippos, buffalos, wildebeests, waterbucks, Kongoni, gazelles, and over 200 bird species. The game sanctuary stretches over a small land area, making the interaction even more intimate.
The splendidly beautiful island merges its waters, flora, and fauna in marvelous ways, making it perfect for nature photography.
Day 4: Cycling at Hell's Gate National Park – Full-Day with Packed Lunch 
The Hell's Gate National Park, also within Naivasha, is a 41-minute drive from the lake. You will explore this natural wonder on day 4 of your 8 days Kenya Safari Itinerary. Hell's Gate has scenery to die for, which is, perhaps, one of the reasons high-grossing box office movies such as The Lion King and Tomb Raiders have drawn scenes from it.
There is a lot of scenery and landscape here, but the two towers are first. The Fischer and Central towers are a terrific way to experience the park. From the top of any of them, critical areas in the park are highlighted, tripling its beauty to insane lengths. 
The two towers attract rock climbers from across the globe. To quip your curiosity are the Obsidian Caves, nature's masterpiece covered in rock with a black crystal-like appearance. 
Of interest in the caves are the sheen obsidians, which are effects produced by air bubbles that pile up, forming an exciting pattern of froths. The caves are a great learning opportunity and, on top of that, offer great photography opportunities.
The Lower Gorge is one of the highlights of the Hell's Gate National Park. You get an hour-long of the place, exposing you to the magnificent hot-water springs, rock forms, imaginative strata, and waterfalls (both cold and hot).
Before heading to the grassy plains, you pass by the geothermal stations for a wildlife interaction session. The plains are commonplace for gazelles, giraffes, buffalos, antelopes, elands, and hartebeests. Although rare, lions, cheetahs, and leopards can be found here.
You head to the rocky areas for the Chanler's reedbuck, klipspringer, and hyraxes, before heading to the park's cliff for a chance to interact with the over 103 bird species. Cycling is the main activity you can engage in at this World Heritage UNESCO site as you explore the park.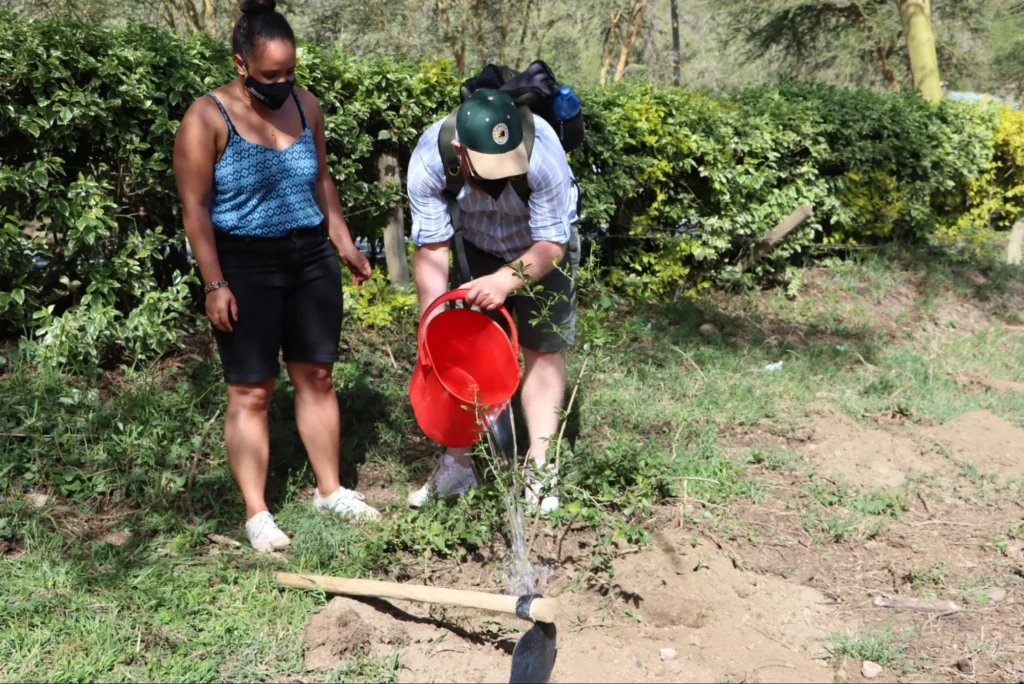 Day 5: Transfer to Masai Mara & Evening Game Drive at the Reserve 
Masai Mara is a 285 km, 5-hour drive away from Naivasha, making day 5 of your 8 days safari package a road trip.  The trip will see you make a stop 109 km and 2 hours later, at Narok town, to stretch your legs and buy any supply you might need.
From here, the rest of the 3-hr drive will see you arrive at Masai Mara by around noon. It is the perfect time to check in, take lunch, and relax before heading out for an evening game drive.
The evening game drive, starting around 3 pm, will see you come face-to-face with the best of Masai Mara. It will introduce you to what you can expect to see during your stay at the reserve.
Day 6: Full-Day Game Drive at Masai Mara with Packed Lunch 
You wake up to a well-prepared breakfast at the lodge, after which you head out to the reserve for a game drive. Our well-versed, Kenyan-born guides take you to the liveliest parts of the Mara Plain, ensuring you get your money's worth of experience. 
In a 4×4 safari land cruiser, you will journey across the awe-inspiring vistas, rich wildlife, and infinite plains that make up the Mara. But the highlight has to be wildlife. The Masai Mara accounts for 25% of the country's total 70% wildlife population. 
The lions are particularly many here, with their population being among the largest in the world's parks. Also, expect to see a generous amount of hyenas, jackals, cheetahs, foxes, gazelles, wildebeests, elands, zebras, impalas, giraffes, duikers, and of course, the big five.
The great wildebeest migration is an excellent treatment for those who book the tour between July and October. The migration witnesses the movement of over 2 million wildebeests and zebras to and fro the Mara through the scenic Mara River.
A picnic lunch is arranged for mid-day, after which you resume your game drives. The second half of your tour explores the vast bird population, which currently stands at 450. The guide allows for photography sessions for nature photographers.
Day 7: Hot Air Balloon Ride, Visit a Maasai Village, & Evening Game Drive 
On day 7 of your Kenya Safari 8 Days, you cruise around the Mara in a hot air balloon, discovering parts of it that the long grasslands and shrubs had hidden from your view. With the balloons, the vast Mara plains condense into a stretch of land you could explore within an hour.
The ride ends with a champagne breakfast right in the jungle. From here, our safari guide will pick you up and take you for a morning game drive as you head to a Maasai village.
Our guides have developed strong ties with the Maasai here, making your Maasai experience even more raw and wholesome. The Maasai are proud of their culture, so expect to be pulled in for a dance or two. 
With them come stories and myths of the Masai Mara and of how they have, for decades long, survived the brutal plains. Their art pieces are to-die-for, so come ready for a bargain.
The cultural experience ends around noon, the perfect time to head to the lodge for lunch and rest. However, the day is not over since you have an evening game drive from 3 pm. 
Day 8: Morning Game Drive, Flight to Nairobi, Launch at Carnivore Restaurant, Visit Giraffe Centre, & Transfer to JKIA
Masai Mara game drives never get old, which is why you have another game drive today. This drive will continue to around 11 am, the ideal time for catching a noon flight to Nairobi.
Upon landing, our Nairobi safari guide will pick you up and take you to Carnivore Restaurant for lunch. Make sure you try Ostrich and Crocodile meat at the restaurant. You will then head to Giraffe Centre. 
The Lang'ata-based Giraffe Centre was founded in 1979 to find a solution to the rapidly dwindling population of Rothschild's Giraffe. The giraffe population was speedily decreasing due to the destruction of their natural habitats.
You get to feed, pet, kiss, and take pics from raised platforms with the 6m high creatures. Also, within the center comes free-roaming warthogs and a nature trail that allows you to discover the nearby Gogo River Bird Sanctuary.
From here, the safari guide takes you to Jomo Kenyatta Airport for your flight back home. This marks the end of your adventure-packed, 8 days Kenya tour itinerary. Kwaheri (Bye). Hope to see you soon.
Things Included in the 8 Days Kenya Safari Itinerary Price 
Airport pick-ups and drop-offs
A private, well-versed tour guide, Kenyan and multi-lingual
Round-trip transport to all attractions and destinations as per the itinerary (4×4 Jeep)
Budget (economy), comfort, superior comfort, or luxury hotels, lodges, or tented camps
Meals on safari (full board depending on the budget)
All park fee and government taxes 
Bottled drinking water in the safari vehicle
Game viewing drives
Visit the destinations as outlined in the itinerary 
Hot air balloon safari
Flight as included in the itinerary 
Things Excluded from the 8 Days Kenya Safari Itinerary Price 
Evisas and Epasses 
Laundry services 
Tips and gratuities 
Flying doctor cover 
Items of personal nature and other expense 
Money transfer fee
Safari Price Per Person Sharing for the 8 Days, 7 Nights Kenya Safari
| | |
| --- | --- |
| Dates/Month  | Price Per Person Sharing |
| 1st Jan – 31st Mar 2023 | USD 4569 |
| 1st Apr – 30th Jun 2023 | USD 4413 |
| 1st Jul – 31st Oct 2023 | USD 5568 |
| 1st Nov  – 1st Dec 2023 | USD 4547 |
| 22nd Dec 2023 – 2nd Jan 2024 | USD 5566 |
The price is based on 2 adults traveling together. Kindly reach us to get a more customized quote.