The 13 Days, 12 Nights Kenya Group Tours Itinerary and Guide
Kenya has beautiful beaches, fantastic wildlife, and rich cultural heritage. Kenya group tours and safaris will take you on a superb team adventure that includes game watching, mountain climbing, and relaxing at beautiful beaches. 
Kenya is one of the top tourist destinations in Africa. It is a picturesque country perched in the Eastern part of Africa and is fondly referred to as the origin of the classic wildlife safaris of the 1920s. The wildebeest migration at the Mara in Kenya has been rated as one of the world's eight wonders of 2018.
At AjKenyaSafaris.com Ltd, we have the best Kenya group tours, whether you are into game watching, picnicking, or water sports. 
How to Book Your 13 Days Kenya Group Safari with AjKenyaSafaris.com
We are available by Phone or WhatsApp at +254-748-258-880. You can also reach us at james@ajkenyasafaris.com or safarioffers@ajkenyasafaris.com. 
Our team is ready to assist you in planning the best group tour for you and your friends or even join one of our group's safaris.
The Summarized, 13 Days, 12 Nights Kenya Group Tours Itinerary 
| | |
| --- | --- |
| Trip Details | Highlights |
| Day 1 | JKIA Pickup & Tour of Nairobi City |
| Day 2 – 5 | Spend Time at Masai Mara National Reserve |
| Day 6 | Spend Time at Lake Nakuru National Park |
| Day 7 – 10 | Mount Kenya Climbing Safari |
| Day 11 -13 | Spend Time at Mombasa and Watamu Beach |
| Items Included | Pickups, Transfers, Safari vehicle, Park fee, SGR tickets, Accommodation, Meals, & More |
| Items Excluded | Flying doctor cover, Money Transfer Fee, Tips & Gratuites, Flights, and Expenses of persona nature. |
| Safari Price | Per Person – Based on 6 Adults |
The Detailed, 13 Days, 12 Nights Kenya Group Safari Itinerary 
At AjKenyaSafaris.com, the customer is King. We offer tailor-made itineraries that will suit your preferences. This is merely a guide to some of the sites we include in our package.
We offer group trips all year round and have group safaris for small teams of 4 to 8 people. We also have bigger groups of 10 to 25 people, and you can join one of the groups if traveling alone. Below is a guideline of what to expect during the 13 Days Group Safari Tours in Kenya.
Day 1: Welcome to Kenya & Tour of Nairobi City and Neighboring Attractions
Our hospitable guides will pick you up from the airport when you arrive.  You will immediately spot them standing at the waiting bay with your name on a placard. They are multilingual, so you don't have to deal with the language barrier. 
We have planned an all-day trip around Nairobi to get to know this city. Remember to pack the necessary personal items that you will require all day.  Your first momentary stop will be at KICC (Kenyatta International Convention center).
This iconic landmark is visible from miles away and is a suitable compass guide if you get stranded while taking an evening walk alone in the city center. Take pictures near the statue of the republic's first president, Mzee Jomo Kenyatta. 
You head east after that for the 10 minutes drive to the Nairobi National Museums. Here you get to see Kenyan artifacts on display. 
The Karen Blixen museum at the foot of the Ngong Hills will be your next stop. It is situated in the leafy Karen suburbs. You get to see snippets of this Danish settler, the author of the famous book 'out of Africa.' Get to purchase African souvenirs from the gift shop here.
From here, you head to the nearby Giraffe center. You are just in time to interact with these graceful animals. This is the breeding center for the endangered Rothschild Giraffe. 
If time allows, you shouldn't leave without paying a visit to the nearby David Sheldrick's Elephant Orphanage. Here you meet the adorable baby elephants in their safe house. The calves are later taken to the Tsavo National Park once they are strong enough to fend for themselves.
On your way back, you stop at The Carnivore Restaurant for an array of delicious meals ranging from beef and sea fish to crocodile meat. Late afternoon lets you drive to the Nairobi National Park and look at the beautiful African gazelles lazing around. With your binoculars, you can also watch various bird species.
You head to the hotel for check-in and call it a day. We will be hosting you at one of the best Nairobi hotels. The guide will leave you to refresh and catch a wink. This will allow you to try Kenyan Cuisine, such as the Kienyeji and Nyama Choma (Grilled Meat).
However, if you are more of a night person, our helpful guides will direct you to some casinos for games. For music, there are entertainment clubs and cinemas for film lovers. For your convenience, there are banks and Forex bureaus around the city center. 
Do not shy away from interacting with the friendly Kenyan people and say 'Jambo' (Hello) as you take your strolls. A bit of advice, though, retire early to get enough rest for the trip tomorrow.
Day 2 to 5: Spend Time at Masai Mara National Reserve 
If you love company, Kenya safari group tours are known to be the most exciting wildlife tours. You start early to beat the Nairobi traffic. Our cheerful guides pick you up after a quick breakfast at the hotel. 
You are heading to the wild, and some antimalarial drugs would come in handy. Park some bug repellant also during your Kenya group safari , if possible.
Getting to the Masai Mara National Reserve 
The drive to Masai Mara is approximately 6-hour from Nairobi. You will be making a stopover at the Great Rift Valley, Narok Town, and Maasai village. The Great Rift Valley is about 1.5-hour away from Nairobi and will let you experience this trough. 
You will be passing through NarokTown about 2-hr from the first stop. Here you can shop for anything you might need during your stay in Masai Mara. The next visit will be to a Maasai village for a cultural experience.
You will get to meet these hospitable people who have courageously preserved their culture and lived in the forest for most of their lives. Grab this chance to purchase some souvenirs of this African tour by buying the beautiful handcrafts and beaded adornments on sale. 
The beautiful Maasai Shuka (Loin cloth) will be of service in the evening when hanging out around the bonfire. You get to the tented camp or lodge in the early afternoon. After settling in, it's time to freshen up and get some snacks.  
If you're not too tired, you can head out for the enchanting afternoon game drive. The king of the jungle and his feline counterparts are just getting ready for the afternoon hunt. Our guide will show you the ferocious big five doing their best in the survival for the fittest contest. 
Enjoy the beautiful sunset in the serene wildlife conservancy. You return to the luxurious lodge for dinner and retire for the night.
The Wildebeest Migration at the Mara – July to September
Every year, from July to September, about 1.8 million wildebeest, zebra, and antelopes migrate from the Serengeti in Tanzania to the Mara in search of greener pastures.  It's no exaggeration that this has been termed one of the world's Eight Wonders.
You rise early and head out for the game drive after breakfast. The aim is to catch the hunters in their morning hunt before they disappear to sleep off the day. Our Kenyan-born Maasai guides will pack a picnic basket for lunch and refreshments for the day. 
Because they are well versed in the territory, there is no chance of missing capturing the mighty lion, hyenas, and leopards scavenging for food from weak prey.
Today, catch the wildebeest fighting it out with crocodiles as they arrive at the Mara in their quest for greener pastures. Photograph this epic moment and feel the thrill of the Big Cat Diary.  You will have lunch by the river while watching peaceful gazelles, zebras, and giraffes quench their thirst.  
The adventure culminates with a trip to the local village for some 'Nyama Choma' and a beer. You retire to the lodge in the late afternoon and repeat the day's activity for the next two days before heading out for more adventure on day 5.
Day 6: Head to Lake Nakuru National Park
From the expansive Mara, our Kenya Group safari leads you to the Great Rift Valley in search of a different adventure. The destination is the peaceful Lake Nakuru National Park. You arrive here in the afternoon just in time for some lunch and refreshments at the chosen Nakuru hotel. 
Here you will be humbled by the sight of hundreds of pink flamingos in perfect coexistence. Grab a refreshment and watch buffalos and rhinos come out to feed in the beautiful sunset light. Lake Nakuru is also home to hundreds of birds and other wildlife, including 4 of the big 5. You retire early in readiness for your trip tomorrow.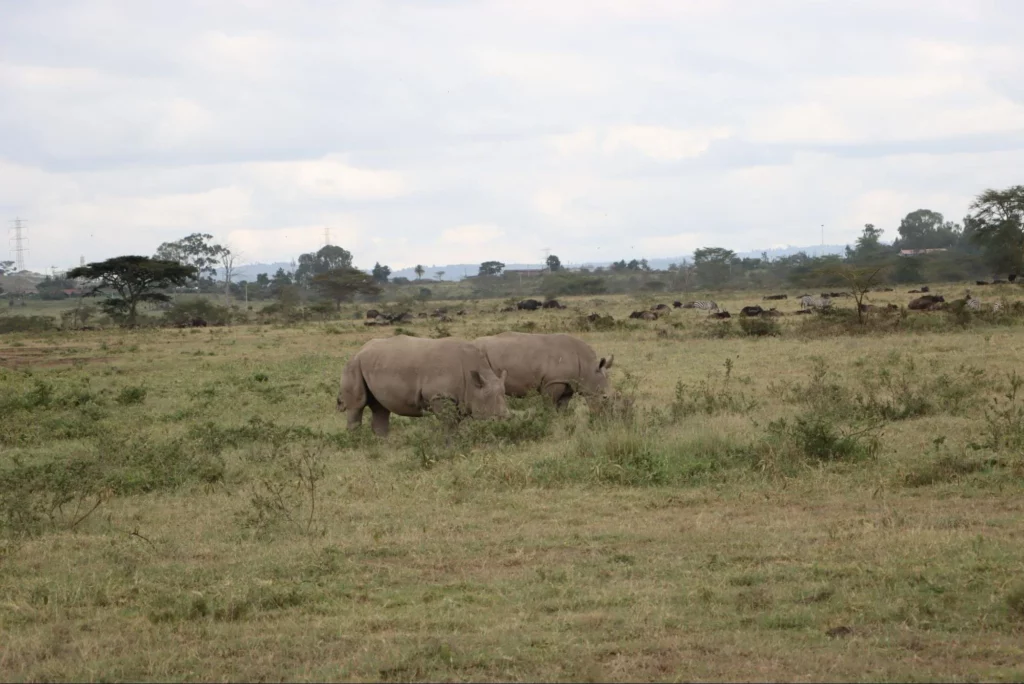 Day 7 to 10: Kenya Joining Safari – Mt Kenya Climbing
 You leave Nakuru just after breakfast for the 8-hour journey to the foot of Mt. Kenya. The long trip will allow you to interact and learn more about your group mates. Your first stop along the way will be at the Great Rift Valley viewpoint. 
The scenic view at the top displays the expansive valleys far below. We take some snacks and refresh briefly while purchasing beautiful artwork from the gift shop here.
Your destination is Mount Kenya. This is the highest Mountain in Kenya and the second highest in Africa at 5,199m (17,058 feet). While on this road trip, you will enjoy the green scenery of the rich Kenyan Highlands. 
You stop for lunch at a hotel in Nyeri. You then get to the foot of Mount Kenya in the late afternoon. Darkness creeps in early here, and the plan is to spend a whole night in the wild at the comfortable bunkhouses. You set up camp and get ready to tell stories over a campfire before retiring for the night.
Small Group Tours in Kenya: Mountain Climbing
You rise at dawn to see the glistening snow at the mountain peak. After breakfast, our guides will lead you to the trekking routes to flex your muscles. After a morning of footing it out, you take a rest before it gets too hot.  
Lunch is picnicking at one of the stopovers along the route. You continue in the late afternoon to advance before calling it a day at five in the evening. You set up camp, take supper and retire for the night.
The next day, you will try to reach Point Lenana. By midday, it's time to climb down in readiness for the journey back to Nairobi. You have a late lunch at Nayuki's hotels and then get a transfer to Nairobi to board a 10 pm train at SGR Nairobi Terminal. 
Day 11: A Day Trip to the Mombasa Town – Fort Jesus & Haller Park 
For a warmer climate, the morning will meet you at the exciting coastal city of Mombasa. Our coastal team will pick you up from the SGR Mombasa terminal and take you for breakfast in a Mombasa hotel.
Alternatively, you can catch a morning flight from Nairobi to Diani on day 11 if you opt out of the night's SGR. You will spend the night at a Nairobi hotel and then get a transfer to JKIA in the morning.  On arrival, you take the 40 minute flight to the magical city of Mombasa. 
You will have a morning tour of the city, Fort Jesus, and other attractions. You head to Mombasa old town. Here you will explore the narrow streets and ancient buildings reminiscent of the Old Portuguese, Omani Arabs, and Turkish traders who lived here. 
You will spot donkeys riding in plenty here. The locals hold Donkey pageants annually. You cannot leave without shopping for antiques, spices, fragrances, and souvenirs. You then spend time visiting the old landmark, Fort Jesus. The Portuguese built it between 1593 and 1596 to guard the ancient port of Mombasa.
You will then head for lunch at a Mombasa hotel.  After lunch, you enjoy a tour of Haller Park. Here you get to see giraffes, zebras, buffalos, waterbucks, and hippos. 
Birds are abundant, including weaver birds, pelicans, and storks. Turtles, tortoises, and crocodiles are also residents here. You head back to the beach resort later in the evening.
Day 12: Spend Time at the Hotel & Visit the Beautiful Watamu Beach
Today you will get time to rest as you explore the beaches in Kenya. You can opt to remain in the hotel and enjoy services such as massage or go swimming in the ocean.
Day 13: Kenya Group Safari:  Beautiful Watamu Beach
It is the last day of your Kenya group safaris, and we want to wrap it up with beautiful memories before you say 'Kwaheri' (Bye). You head to the Marine Park for a taste of aquatic life after breakfast. You can view turtles and different species of fish here. 
It will be adventurous to try out water skiing and windsurfing till lunchtime. Afterward, the plan is to unwind and relax at the beautiful Watamu Beach. This is the perfect opportunity to laze around and enjoy the expansive sea view before you as you get a sun tan. 
Grab some fruit juice or a beer and relax under the palm trees. This is the last day of the Kenya group tours, so we want to stretch it to the final hour before you part. You leave at five for the evening flight back to Nairobi and connect with your international one.
Items Included in the 13 Days Kenya Group Tours Safari Price
All pickups and transfers from day 
Services of a professional safari guide 
Bottled mineral drinking water during the safari 
All park fees and government taxes
Full-board accommodation 
SGR tickets 
Game drives for Masai Mara and Lake Nakuru 
Nairobi city tour 
Mt. Kenya climbing safari
Diani attractions 
Items Excluded from the 12 Nights Kenya Group Safari Tour Price 
Tips and gratuities to safari guide
Local and internal flights 
Laundry services 
Visas
Money transfer fee
Safari Price for the 13 Days, 12 Night Kenya Group Tours – Based on 6 Adults