Cheap Hotels in Mombasa | Cheap Hotels in Nairobi | Cheap Hotels in Kenya Review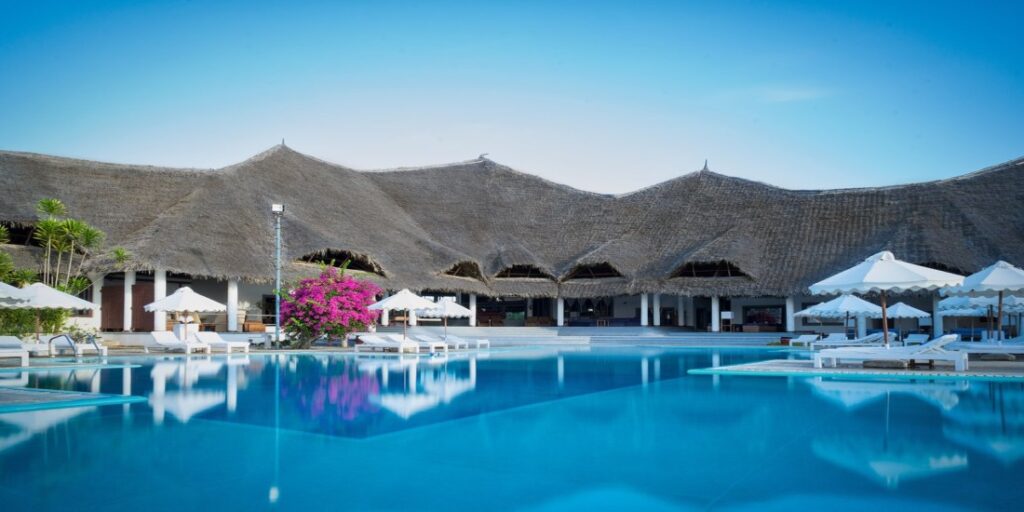 You might be under the impression that luxury Kenya holidays are only for the money, but nothing can be further from the truth. You can have it all, a cheap Kenya safari holiday and mind-blowing experience, without having to blow your hard-earned fortune away. That's all thanks to the hundreds of cheap hotels in Kenya.
Our safari team has gone around the country and put together a list of the top 10 cheap hotels in Mombasa, Nairobi, and other parts to give you the perfect balance between luxury and price.
Book Your Safari with a Stay at a Cheap Hotel in Kenya Today
Our Most Booked Safari Packages with Stay at Cheap Hotels in Kenya
Review of Top 10 Cheap Hotels in Nairobi, Mombasa, Naivasha, and Other Parts
You can go wrong with the accommodations in this list whether you are looking for cheap hotels in Naivasha, Nakuru, Nairobi, or any other part of Kenya. They are price-friendly and still provide the quality service you decisive during your safari in Kenya.
Cheap Hotels in Nairobi - Ndemi Place
This cheap Kenya hotel is located in the Kilimani Suburb of Nairobi, a 15-minute drive from the CBD. The man who coined the phrase 'heaven on earth must have had the Ndemi Place in mind. A weekend getaway here will leave your adventurous soul yearning for more.
One of the most attractive features of this cheap Kenya hotel is the perfectly manicured gardens that make it an oasis of tranquility despite the hustle and bustle surrounding it. From the way the hotel's staff speak and attend to you to the manner the chefs prepare their mouth-watering delicacies, Ndemi place, in plain terms, is a paradise on earth.
The hotel's highlights include breakfast-in-bed, lip-smacking meals, and free Wi-Fi. Other incredible services at Ndemi Place are meals on request,  meeting facilities, a tourist information desk, ample parking space, and taxi services.
Among the affordable hotels in Nairobi CBD, the accommodation has a deluxe spa, conference, and events area and offers airport transfers. Those who want to keep fit can visit the nearby Nairobi Tennis Academy for a vigorous game session or the Impala Sports Club, which is only a kilometer away.
Be sure to check out the Adams Arcade if you want to do some shopping to complement the cheapest hotels in Nairobi.
Cheap Hotels in Mombasa - Makwetu Resorts
Mesmerizing in every aspect, the Makwetu Resorts is a place that will have you picking that jaw from the floor.  The Makwetu Resorts is the place to visit if you want a Kenya safari packed with fun-filled family activities such as team-building and get-togethers. 
The fantastic resort is located in Nyali, only 4.8 km from Mombasa, and offers a priceless view of the beautiful Indian Ocean. Its ambiance is beyond words, while the tranquility and beauty the place has to offer is a memory you will live to treasure.
The resort highlights include extraordinary relaxation gardens, a private pool, and free WI-FI. The furnished and serviced apartments are spacious with self-catering facilities ideal for groups' tours, family holidays, and friends' trips to the Kenyan coast.
And this cheap hotel in Kenya is only a 5-minute drive away from shopping centers and leisure facilities such as the Nyali Golf Course, Cinemax and City Mall shopping complexes, the Tamarind Restaurant, and the Wild Water Theme Park.
You can also take an 11-minute drive to Mombasa, which is the home to the thrilling Fort Jesus, Kilindini Harbor, Haller Park, and the Mamba Village. If you plan to stay in Nyali, Makwetu Resorts should be your number one option.
Cheap Hotels in Kenya - The Tamani Jua Tao Resort
A garden and a beach in one place sounds fantastic, right? Well, that is what the Tamani Jua Tao Resort comprises. The holiday destination is on the famous Lamu Road, a kilometer from the highly commercialized Malindi town and a 2.5-hour drive from Mombasa International Airport.
Lovers of history and culture will fall head over heels with the place, mainly because the resort, through its architecture and design, makes close reference to the rich Swahili culture. Each of the 11 villas in the resort is beautifully designed. 
While residing in this cheap Kenyan hotel, you can visit the Bio-Ken Snake Farm, which is 20km away, and the Watamu National Marine Park, which is 26km away. Quite easily one of the best hotels in Kenya, the resort boasts beautiful tropical gardens and attentive staff who will make your stay worthwhile.
The tantalizing cuisine, all-day-long free internet access, car hire services, horse riding, swimming, and diving all come at a ridiculous price.
Cheap Kenya Hotels - Galu Inn, Diani Beach
You can find this great inn at Diani Beach, located in Mombasa, a world-renowned tourist destination. If you are looking for a vibrant and exciting stay, this is the place for you. The services offered here come second to none, and the meals are delicacies that will leave your taste buds begging for more.
Galu Inn is only a 5-minute walk from the sandy beaches of the Indian Ocean. The interior décor in the hotel rooms is made up of a Mediterranean and Lamu style, giving a purely African feel that instantly makes you feel at home.
The rooms come with a television, mini bar, room safe, tea and coffee makers, mini-fridge, laundry services, air conditioning, telephone, and blow dryers. Galu Inn offers thrilling outdoor activities, large pools, modern restaurants, and exemplary breakfast-in-bed services at a small price.
If you are an adrenaline junkie, be sure to try skydiving, windsurfing, or scuba diving, all available in Diani and can be arranged easily at the hotel reception. This 'cheap lodging near me' destination is definitely worth your time.
Crystal Bay Resort, Watamu
Nothing beats a Kenyan holiday spent at the Crystal Bay Resort. The resort, a 1 ½ hour drive from Mombasa, is set on a beautiful bay overlooking the glorious Watamu Beach. The resort has 76 rooms facing the lush gardens or the beach, all decorated in a beautiful Lamu style of rich wood and art.
All rooms have a private bathroom, air conditioning, ethnic-style beds with mosquito nets, a mini-fridge, a telephone, and a safety deposit box. Crystal Bay Resort has two restaurants, the main restaurant in the middle of the resort and a romantic beach restaurant offering fantastic views of the bay.
The seafood here will leave you begging the chef for a recipe. We don't guarantee that you will get it. You would be pleased to know that the hotel is only a breath away from the Watamu National Park and the widely talked about Watamu Marine Park, which means more fun for you and your dear ones.
Are you looking for ways to cut down your stress levels? Then look no more than to a stay at this hotel that should be number one on the list of hotels in Kenya that are a must-visit.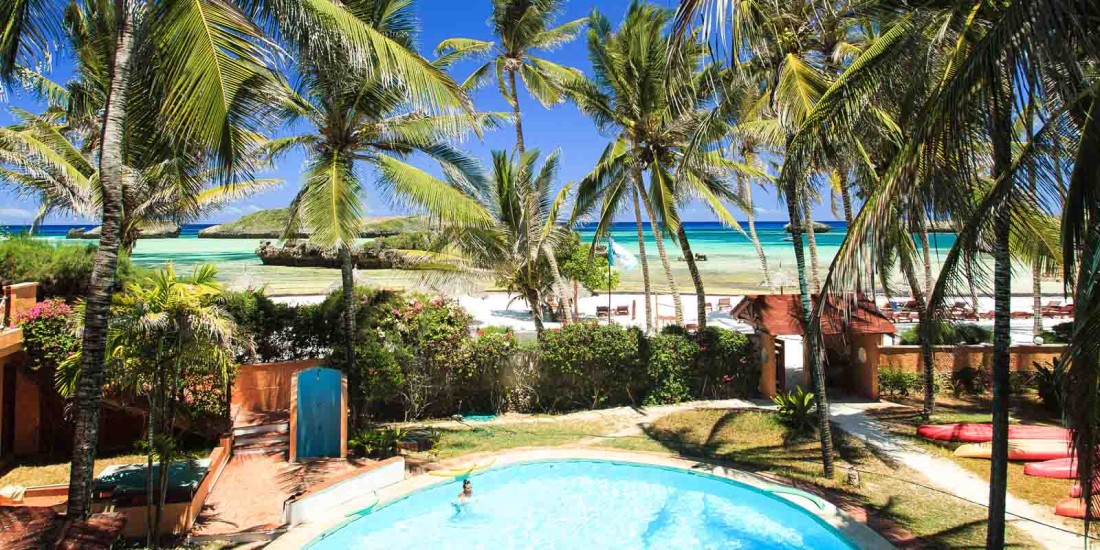 Cheap Hotels in Kenya - Kiboko Bay Resort, Kisumu
Kiboko Bay Resort is only 10 minutes away from Kisumu town. It is nestled along Dunga Beach on Lake Victoria's beautiful shores, the largest lake in the East African region. Kiboko Bay resort offers accommodation in beautifully designed safari tents for an 'out of Africa' feel and one cottage ideal for families.
All rooms have mini-fridges, tea and coffee makers, hairdryers, hot showers, and hand basins. Dinner is not just another meal here; you can have it specially delivered to your room or served by the beautiful breezy lake.
You can also engage in activities such as fishing or boat riding or have your favorite drink at the resort's bar on a lazy sunny afternoon. Carry your camera because this is the only place in the region that allows you to capture the striking moment when the sun shoots up from the lake.
The Kiboko Bay Resort will arrange for one to go on a Kenya safari at the Ndere Island National Park- the best place to see the priceless view of the Winam Gulf or for a tour of the Impala Park.
Le Savannah Country Lodge, Kisumu
Nothing says cheap Kenya holiday better than the Le Savannah Country Lodge. This perfect Kenya holiday location is situated on Robert Ouko Estate, just 2 km away from Kisumu CBD. The accommodation facilities here are per world standards, giving you an option of deluxe, executive suites, and a two-bedroom apartment.
Each hotel room has free WI-FI and DSTV, air conditioning, a television, a coffee machine, and a spacious seating area. Tantalizing meals are served at the restaurant, and this cheap Kenya hotel is known for its Saturday barbeque feasts. Cool down after a busy day in the large hotel swimming pool.
Visit the Kisumu Museum, which is only 1.7km from the lodge. You can also shop at the Eco Market Mall, Kiboswa Market, West End Shopping Mall, and the Milimani Shopping Center, all within a one-mile radius.
It is definitely worth staying at one of the most beautiful resorts in the region.
Looking to make your holiday as exciting as possible? If yes, then the Lamu House Hotel is the place for you. The hotel is located in Lamu, 240 km from Mombasa, and a stay here will leave you with pleasant memories.
The rooms at Lamu House Hotel are all different, each with a unique design and character. A spacious bathroom and private terrace complete the ambiance. The Moonrise restaurant will amaze you with beautifully presented and tasteful Swahili dishes, but it can also churn out a pizza on request.
The pleasant interior decor, the free internet services, the outdoor pool, and dhow activities all found at this cheap Kenya hotel are what is needed to turn your holiday into an extraordinary affair. Lamu is also home to the Lamu beaches, Lamu Museum, Lamu Fort, the German Post Office Museum, the Swahili House Museum, the Takwa Ruins, and the Kiunga Marine National Reserves.
Cheap Kenya Hotels- Subira House, Lamu
Subira is a Swahili word for patience. The Subira house is where to go if you want a peaceful holiday away from the hustle and bustle of the city. It is an Arab-style eco-friendly resort nestled in the beautiful Kenyan town of Lamu behind the old Fort and Lamu market.
For lovers of history, you will be amazed to know that Subira House was built 200 years ago by a wealthy Sultan who lived there until 1972. With a such rich history, the house is protected by the Lamu Conservation Trust.
For accommodation, the house has seven chambers and countless galleries. The spacious terraces in the place allow you to see the breathtaking view of the city kilometers away. Some of the highlights of the house are a free internet connection, delicious meals, and beautiful gardens.
This owner-run house is one of the cheap Kenya hotels offering real luxury and comfort for less.
Dea's Garden Guest House, Naivasha
Dea's Garden Guest House is a stunning private guest house beautifully erected on the shores of Lake Naivasha. The guest house is, in straightforward terms, heavenly.
Dea's Garden offers accommodation in two beautiful detached cottages as well as rooms in the main house. Meals are a personal affair here as most herbs, vegetables, and salads are grown on-site in an organic garden.
Your weekend is going to be a lifelong adventure here. The tranquil surroundings, the stunning gardens, and the large pool will leave you refreshed and rejuvenated.
Lake Naivasha is a few minutes away. Look out for the groups of hippos in the water and the abundant birdlife, or you can take a boat ride around the lake or to Crescent Island.