Review of the Top 5 Best Luxury Mombasa Hotels and Activities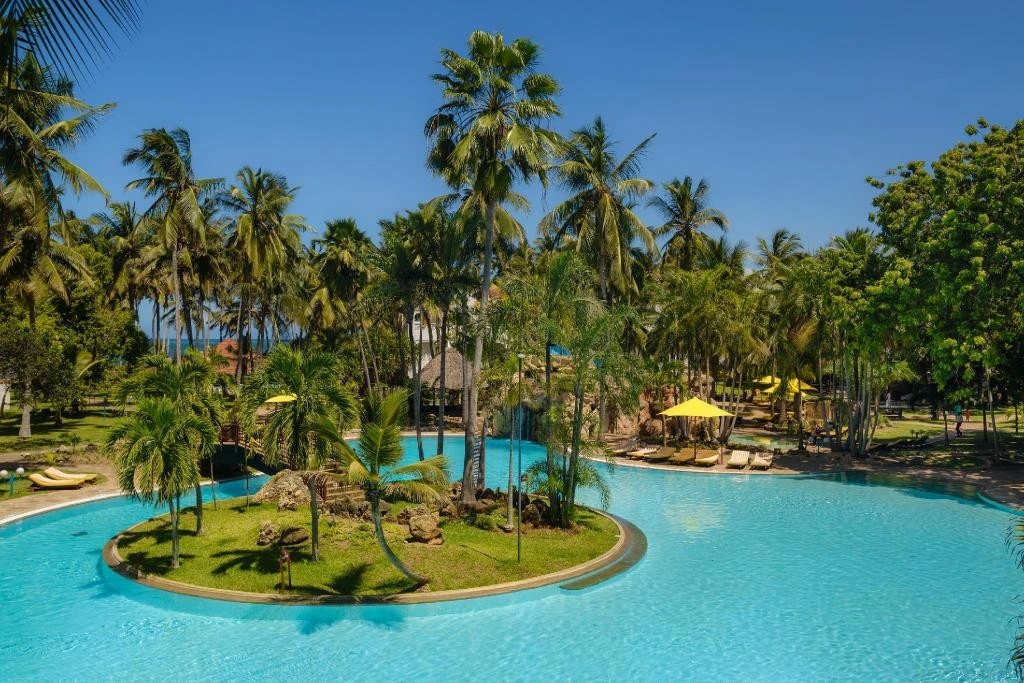 The coastal city of Mombasa is arguably one of the most picturesque destinations in the world. It is popular for its invigorating shorelines, impeccable weather, rich culture, and luxury Mombasa hotels.
Add a pleasant climate and serene ambiance to this list, and there lies the reason why the city is the most sought-after vacation spot in the country. And as you know, a vacation is only as good as your hotel. 
Accommodation in Mombasa is unparalleled in terms of its affordability, luxuriousness, scenery, meals, and comfort. Our Mombasa beach holiday specialists have written this article to give you the best Mombasa resorts.
What's more, the piece has lots of fun activities you can add to your Mombasa safari to sweeten it.
How to Book Your Luxury Mombasa Hotels Safari with Us
Our Most Booked Mombasa Safari Packages and Other Deals
The Top 5 Best Luxury Mombasa Hotels Reviewed
There is an accommodation option for every varying need and style of a traveler in Mombasa. Here is a comprehensive list of the five Mombasa Resorts.
Best Hotels in Mombasa #1 – Sarova Whitesands Mombasa
There is a surrealness to the lush tropical garden at the Sarova Whitesands. It might be the mesmerizing view of the ocean nearby or the pristine location in which this Mombasa hotel nestles.
Either way, the Sarova Whitesands is one of the best hotels in Mombasa. Chic with an Arabic touch, the resort features two presidential suites and 338 guest rooms designed in ways set to raise the Kenyan sophistication bars. 
But that still pales compared to the resort's exciting beach and outdoor activities, making it among the luxury Mombasa hotels. The resort boasts a total of 5 swimming pools complemented by a ton of exciting water sports, a beachfront spa, water slides, and waterfalls. 
Its dining options are also impressive, and its three bars and restaurants are the best among hotels in Mombasa, Kenya.
Sarova Whitesands Rooms and Suites 
The Sarova Whitesands rooms are categorized into 5: 
Garden Facing Rooms 

Pool Facing Rooms 

Premier Sea-Facing Rooms 

Premier Sea-Facing Family Rooms 
Aside from being catered to by hosts with special needs know-how, 3 of the Sarova Whitesands rooms are special needs equipped. 
On the other hand, the suites are categorized into studio suites, one-bedroom suites, and presidential suites. All except for the studio suite have twin beds. The studio suite has a double bed.
Sarova Whitesands Facilities 
The Sarova presidential suites are situated in secluded spots of the 2-acre property, where the views are at their finest. The suites feature two master ensuite bedrooms, a bathroom, and Jacuzzi. 
Also featured are; a fully stocked bar, kitchenette, parking, and a private butler. All rooms in this Mombasa hotel have a satellite TV, a private viewing balcony, a coffee maker, free WI-FI, hairdryers, mosquito nets, a private bar, an air conditioner, and a telephone.
Whether a Sea-facing or garden-facing room, breathtaking views will make your Kenya safari memorable.
Beach Hotels in Mombasa #2 – Serena Hotel Mombasa
Serena Hotel is a family-friendly hotel popular for its outstanding amenities and services. It is strategically positioned at a pre-eminent location within Shanzu Beach, giving you superb access to the beach. 
With the hotel comes surreal views of the azure waters of the Indian Ocean, an experience made even more worthwhile by its serene ambiance. A total of 164 rooms are featured in the hotel, all of which are impeccably styled, spacious, air-conditioned, and spotlessly clean. 
The rooms are also TV equipped with mosquito nets, minibars, and private bathrooms. Other facilities within the hotel include free parking, WI-FI, laundry, food and drinks, and beachfront lounges.
Serena Hotel Mombasa Rooms 
The Serena Hotel rooms are categorized into 9. They include;
32 village standard rooms

18 village sea view rooms

48 garden rooms

40 superior rooms

8 village sea view superior rooms

8 family rooms

2 Lamu suites

6 Zanzibar suites

2 Luxury suites
Serena Hotel Mombasa Facilities 
Surrounded by extensive gardens, nature trails, and grounds, there isn't a more scenic hotel within Mombasa. The hotel also features a striking beachfront sprinkled with a couple of tall, lush palm tree lawns.
The fully-equipped fitness center, spa, ice-cream parlor, squash court, butterfly and turtle watch program, and hair salon are also looked forward to.
Five Star Hotels in Mombasa #3 – Voyager Hotel Mombasa
Off the cosmic waters of the Indian Ocean sits a plush 4-star hotel offering unmatched sunlit comfort, cuisines, and beach glamour. This energetic ship-themed Mombasa hotel has earned its reputation by hosting the grandest family entertainment events and animation programs on the coast.
The hotel features 236 spacious cabins, which, if not overlooking the beautiful ocean, are surrounded by the most mesmeric lush garden ever. Rooms are bright and spotless with flat-screen TVs, viewing balconies, in-room safes, mini-fridges, and coffee makers. 
Some rooms have mosquito nets, while some come with a separate lounging area.
Voyager Hotel Mombasa Rooms
The superior double rooms in the Voyager Hotel come with a sea view and are fit for a maximum of three people. On the other hand, the family rooms are fitted with two large beds, accommodating a maximum of four guests.
Last but not least is the standard twin room with a garden view. The rooms have two single beds with a maximum of 3 guests, two adults, and one child.
Voyager Hotel Mombasa Facilities 
Four bars, a sports bar, and a 24-hour lounge bar are how the Voyager Hotel Mombasa keeps you on your toes. The hotel also features three specialized restaurants making some of the most delicious cuisines.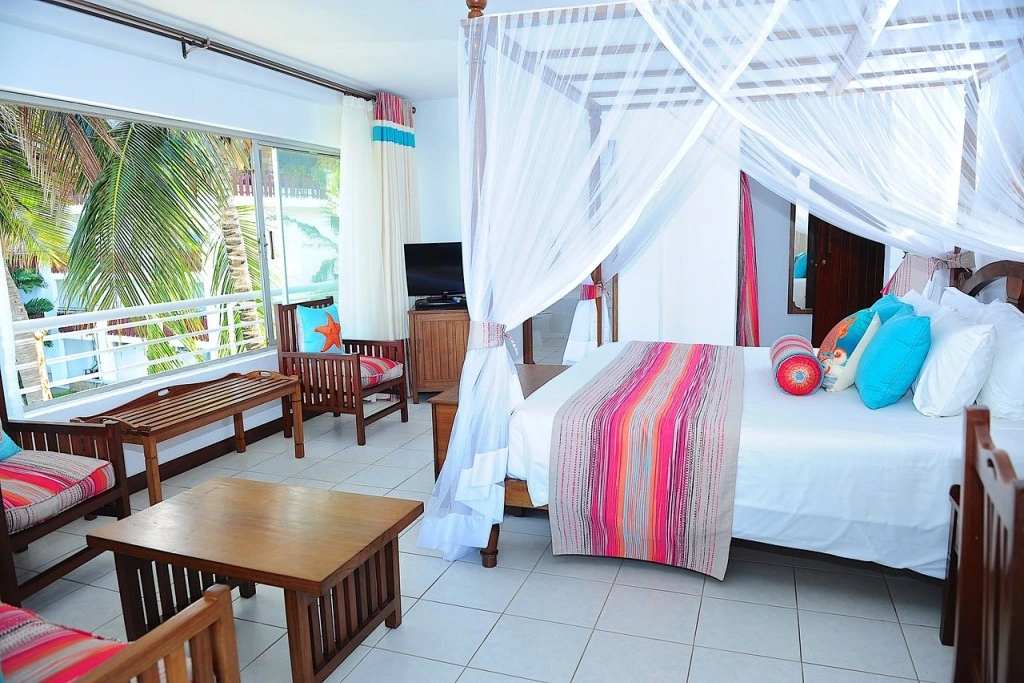 5 Star Hotels in Mombasa #4 – Pride-inn Hotel Mombasa
Pride-inn hotel lies 20km from Mombasa Town and is undoubtedly the best among luxury Mombasa hotels. With the hotel comes delectable ocean views and the honor of being graced by the loveliest beachfront on the coast.
Also within the hotel is an outdoor swimming pool, fitness center, shared lounge, 24-hour reception service, spa, and convention center.
Their luxury and charm characterize pride-inn rooms, and lucky are you who get to have either the pool-facing or sea-facing room. Each room is spacious, wheelchair accessible, tastefully furnished, and thoroughly cleaned. 
Pride-Inn Hotel Mombasa Rooms
Their rooms are classified into; superior rooms, superior family rooms, sea-facing rooms, accessible rooms, and interconnecting rooms.
With the rooms come Flat-screen TVs, Private bathrooms, 24-hour cleaning services, and Direct-dial telephones. Other facilities include Mini-fridges, Reading desks, Free high-speed WI-FI, Individually controlled air conditioning, Hairdryers, a Private balcony, and In-room services.
Pride-inn Hotel Unique Features 
The pride-inn aqua park is a highlight worth a mention. It features several water cannons, unwinding slippery slides, climbing frames, and a ginormous water bucket that pours into the swimming pool on the guests swimming below it.
Skilled water guards are on watch 24/7, so the security of your kids is not something you have to worry about.
Buffet breakfasts are also available daily at the Pride-inn, and African cuisines, seafood, pizzas, and buffets are served at the convention centers and spas.
Luxury Mombasa Hotels #5 – Reef Hotel Mombasa
On the north coast of Mombasa, right at the soles of Nyali Beach, sits the Reef Hotel overlooking the blinding sands of the ocean. The hotel has been in business for 40 years now, expecting nothing short of perfection in their treatment of you.
To fuss over at the Reef Hotel are the stylishly plush rooms categorized into garden view rooms, sea view rooms, and family rooms. The garden-facing and sea-view rooms are fitted with a twin bed, though they have space for an additional bed upon request.
The family rooms have one double bed and two single beds located on the ground floor for convenience reasons.
Reef Hotel Mombasa Rooms
All the rooms are air-conditioned and have safety deposit boxes. Other features include a desk, private viewing balcony, mosquito net, telephone, satellite TV, WI-FI connection, round-the-clock room service, and laundry services.
Breakfast buffets and delicious African cuisines are available daily at the hotel's restaurant. Also available within the property is a children's playground hi.